10 Best Coffee Franchise Opportunities in the UK for 2021
Update: 23.03.2021
British people enjoy having a cup of coffee while talking with their close people or colleagues in a pleasant place. According to a survey, Brits drink more than 70 million cups of coffee each day. Coffee shops can be seen in shopping centers, petrol stations, tourist attractions and other crowded places. This leads to the conclusion that coffee shop is a profitable business worth starting. One of the best options for entrepreneurs who wish to open a coffee shop is to buy a franchise of a well-known respected coffee brand. We have selected the 10 Best Coffee Franchise Opportunities in UK for you to choose the one which you'd like.
Here are the top 10 best Coffee franchises in the UK
Coffee-Bike
Founded in: 2010
Franchising since: 2011
Franchise units: 200+
Initial investment: $290,000 - $725,000
Royalty Fees: 6%
Coffee-Bike is one of the fastest growing franchise systems in Europe.
The company has over 250 franchise partners in 18 countries. Coffee-Bike offers tried and tested business model selling coffee, juices and snacks.
---
Gloria Jean's Coffees
Founded in: 1979
Franchising since: 1998
Franchise units: 200 - 500
Initial investment: $145,000 - $290,000
Royalty Fees: 6%
Gloria Jean's Coffees was Founded in: Australia more than fifteen years ago with the ambition to serve the best coffee in the country. Today, with coffee houses in 39 markets around the world, much has changed within our business except one thing: our passion for excellent coffee, our dedication to doing business with heart, and our unwavering ambition to be the most loved and respected coffee company in the world.
---
Dunkin' Donuts
Founded in: 1950
Franchising since: 1955
Franchise units: 12,000+
Initial investment: $228,620 - $1,691,200
Initial Franchise Fee: $40,000 - $90,000
Ongoing Royalty Fee: 5.9%
Ad Royalty Fee: $2 - 6%
Dunkin' Donuts is an American global doughnut company and coffeehouse. The chain's products include doughnuts, bagels, other baked goods, and a variety of hot and iced beverages. 30 cups of coffee are being sold by DD every second and around 2.9 billion donuts and munchkins globally each year. DD crafts a special donut that reflects the local cuisine and culture for each country it's in.
---
Cafe2U
Founded in: 2004
Franchising since: 2005
Franchise units: 85
Initial investment: from $25,000
Cafe2U offers premium, espresso-based coffee, hot chocolate, and sweet treats directly to the consumer at non-traditional locations all across the country, such as places of work, business areas, industrial estates, events and sporting occasions. Each Cafe2U franchise owner is equipped with a state-of-the-art Mercedes-Benz Vito van fully compliant with all Food Safety and Local Government requirements. The business now boasts a network of more than 80 vans and was the fourth largest coffee business in the UK.
---
Esquires Coffee
Founded in: 1993
Franchising in UK since: 2000
Franchise units: 130
Initial investment:$300,000 - $370,000
Initial Franchise Fee: $30,000
Royalty Fee: 6%
Esquires Coffee is a global franchised coffee chain, serving 100% Fairtrade and organic coffee. The brand was Founded in: Canada in 1993 with the goal of delivering amazing coffee, in cool environments, and with remarkable service. Today, Esquires is a fast charging coffee brand in the U.K. and Ireland.
---
Starbucks
Founded in: 1971
Franchising since: 1977
Franchise units: 28,000+
Initial investment: from $565,500
License Fee: $315,000
Starbucks Corporation is an American coffee company and coffeehouse chain. Starbucks was Founded in: Seattle, Washington in 1971. It's nearly impossible to open Starbucks store as franchise in US or Canada, but in other countries, especially UK there is always a possibility. Starbucks takes good care of their employees and it spends more money on their health insurances than it does on coffee beans.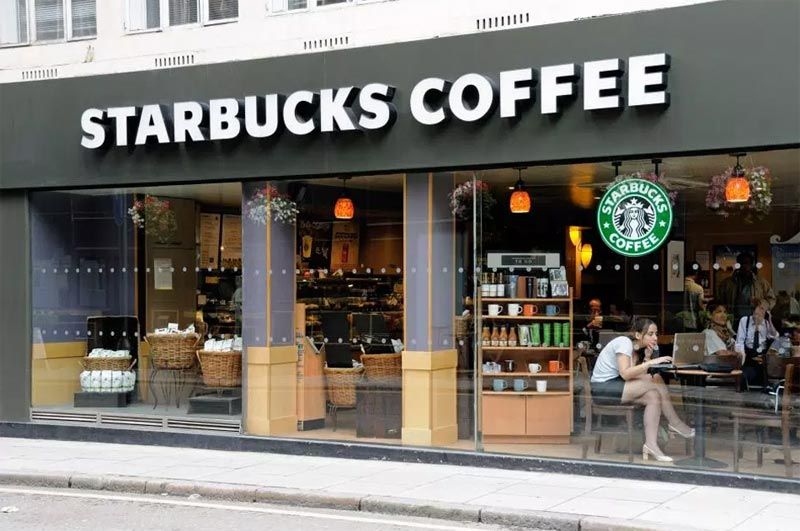 ---
Costa
Founded in: 1971
Franchising since: 1975
Franchise units: 3,400+
Initial investment: from $1,000,000
Founded in: 1971 in London by the Costa family, Costa Coffee is a proud British franchise success story. Costa franchise is the UK's largest and fastest growing coffee shop franchise; and with over 3400 Costa coffee shops in over 31 countries, it is the second largest coffee shop chain in the world.
---
Really Awesome Coffee
Founded in: n/a
Initial investment: from $13,000
Really Awesome Coffee is the UK's leading mobile coffee franchise, serving gourmet hot drinks and quality foodstuffs to customers at local businesses and events from our unique mobile cafes. With years of experience both building and operating mobile coffee vans our conversions are a refined product designed with the barista / driver in mind.
---
Krispy Kreme Donut Corp
Founded in: 1937
Franchising since: 1947
Franchise units: 1,000+
Initial investment: $12,500 - $25,000
Initial Franchise Fee: from $12,500
Krispy Kreme Doughnuts, Inc., together with its subsidiaries, operates as a branded retailer and wholesaler of doughnuts, coffee and other complementary beverages, and treats and packaged sweets. The company operates through four segments: Company Stores, Domestic Franchise, International Franchise, and KK Supply Chain. It owns and franchises Krispy Kreme stores.
---
Auntie Anne's
Founded in: 1988
Franchising since: 1989
Franchise units: 1,900+
Initial investment: $199,475 - $385,100
Initial Franchise Fee: $30,000
Ongoing Royalty Fee: 7%
Ad Royalty Fee: 1%
Auntie Anne's, based in Lancaster, Pennsylvania, is an American chain of pretzel shops founded by Anne F. Beiler and her husband, Jonas, in 1988. Auntie Anne's serves products such as pretzels, dips, and beverages. Auntie Anne's also provides franchising opportunities.
---
View all coffee franchises
DIDN'T FIND WHAT YOU WANT?
ASK THE EXPERTS