Most Popular 8 Gym Franchises in The Philippines for 2021
Update: 07.06.2021
Gym franchise has a lot of pluses compared to other businesses. First of all, it doesn't depend on a season of the year, it is in demand entire year. Secondly, healthy lifestyle is getting more and more popular, being promoted by celebrities on social networking sites. Thirdly, making people fit and healthy is rewarding. A well-established franchise with a popular brand name will be a sound decision if you choose to start your own gym business. Because you will not face any obstacle with attracting visitors and unresolved issues with running the business. If you feel ready to start your own gym, consider our list of the most successful gym franchises in the Philippines.
Here is Most Popular 8 Gym Franchises in the Philippines:
Tapout Fitness
Founded in: 2014
Franchise units: 25
Franchise fee: $30,000 - $50,000
Investment: $93,800 - $440,900
Tapout Fitness is a fast growing franchise company that offers Martial Arts infused fitness facilities for adults and children of all levels. Our clubs feature Tapout Fitness branded boxing, kickboxing, boot camp and high intensity interval training (HIIT) classes, which are complemented by some of today's hottest group fitness programming.
---
Anytime Fitness
Founded in: 2001
Franchising since: 2002
Franchise units: 4,000+
Initial Investment: $107,524 - $722,796
Ongoing Royalty Fee: $449 - $549/mo.
Ad Royalty Fee: $300/mo.
Anytime Fitness is a 24-hour health and fitness club headquartered in Woodbury, Minnesota. The gym facilities are open 24 hours a day, 365 days out of the year. A new member joins an Anytime Fitness club every 3 minutes. With over 155 clubs open in the UK already, the company has had steady growth throughout 2018 and aim to have 250 clubs open by 2020.
---
UFC Gym
Founded in: 1992
Franchising since: 2004
Franchise units: 100+ worldwide
Initial Investment: $151,000 - $4,217,000
Royalty Fees: 4-6%
UFC GYM is the first to combine mixed martial arts, functional training, and traditional fitness. UFC GYM's Train Different techniques create an experience that delivers immediate lasting results in a safe and fun environment. Franchise models are Signature Club, Core by UFC Gym and Class by UFC Gym. Franchise locations offer group fitness classes, private training, group training and MMA-style youth programs. Most facilities feature a functional training area, heavy bags, cardio and strength equipment, and a retail section.
---
Winners Gym
Founded in: 1982
Franchise units: 4
Investment Range: from $31,000
Franchise fee: from $4,800
Winners Gym boasts of the birthplace of weight training instructors, who learned the basics of fitness training from the gym. Through the years they honed that knowledge of body-building into a respected sports conditioning activity. Now is the best time to franchise a Winners Gym and advocate a lifestyle of health and fitness in your own area.
---
IronPinoy Fitness
Founded in: 2000
Investment Range: from $2,800
IronPinoy have become one of the recognized brand in the Philippine Fitness industry. It started as a website by Bong Pico and Oscar Gan to cater fitness and bodybuilding enthusiasts in the country. And since the year 2000, IronPinoy has evolved into a global brand. They offer three kinds of franchises, but they also offer an Associate Gym Franchise starting at Php150,000. Their assistants will be able to help you fit your franchise to your needs, and make your gym business more profitable and successful.
---
Snap Fitness 24/7
Founded in: 2003
Franchising since: 2004
Franchise units: 1300+ worldwide
Investment Range: $160,000 - $320,000
Royalty Fees: $529/mo.
Snap Fitness is the world's fastest growing health club chain with a global presence of 2500 + clubs spread across US, Canada, Mexico, Australia, New Zealand, England, Egypt and Philippines. Snap offers a more sustainable alternative to traditional `big box` health clubs with lower investment (operational) costs and much better returns. With a focus on providing members with the best equipment, guidance, and value-added services to help them achieve results, Snap Fitness is a global leader in fitness franchises.
---
360 Fitness Club
Founded in: 2010
Franchise units: 5
Initial Investment: from $96,000
Franchise fee: from $9,600
The 360 Fitness Club is one of the new gym franchise business opportunities in the country, to cater the needs of people passionate about their fitness. 360 Fitness Club business plan includes the brand's signature fitness programs. They offer what they call "functional fitness" or exercises functional for everyday productivity – perfect for working people. They offer a compact program where gym goers can complete a complete a circuit in 30 minutes.
---
Curves
Founded in: 1992
Franchise units: 10,000+ Worldwide
Initial Investment: $25,000 - $40,000
Franchise fee: $39,900
Curves is the only "one-stop shop" which caters specifically for women. Here they can lose weight, gain muscle strength, gain aerobic capacity, and raise metabolism. The brand tells us that they are not just all about getting into fitness, health, and moving away from disease. Their program offers more holistic goals than just gaining strength and losing weight – they envision women reaching their goals in a community of support and encouragement.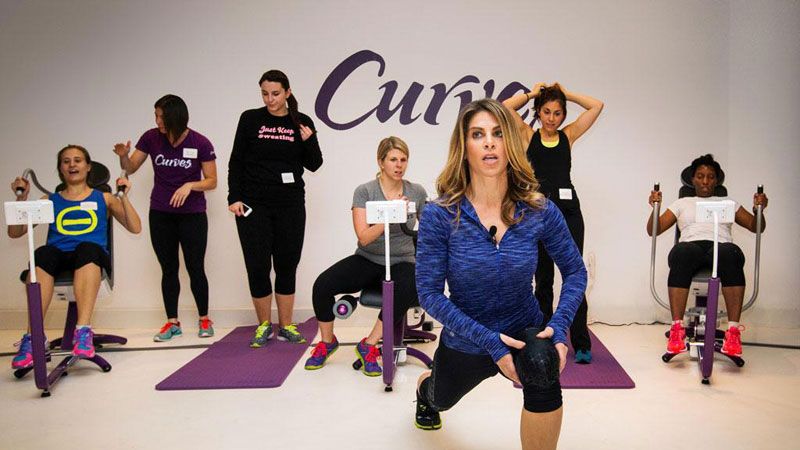 ---
View all Gym Franchises
DIDN'T FIND WHAT YOU WANT?
ASK THE EXPERTS