The 5 Best Bagel Franchise Businesses in USA for 2021
Update: 04.06.2021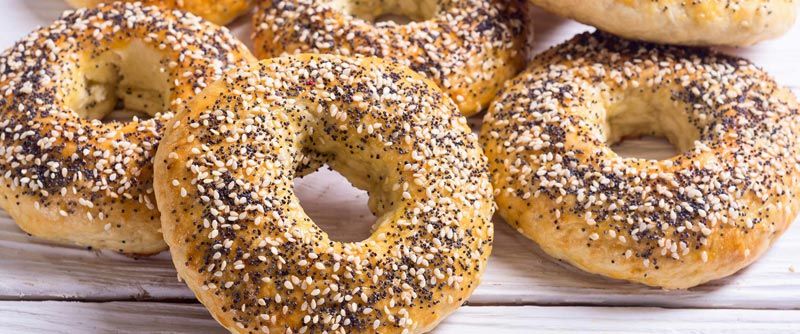 Bagels are quick on-the-go meals of many Americans. Therefore, Bagel Franchise Businesses are quite successful in the USA. There are many franchise concepts which are far ahead than just simply selling bagels. They offer many interesting ideas like running a bakery cafe or serving bagels and gourmet muffins, together with an assortment of delicious sandwiches and salads. A savvy entrepreneur with trainings and support of a franchisor will quickly get payback from a bagel franchise business. If you feel like ready to start your own bagel business, check out the opportunities offered by Top 5 bagel franchises in the USA.
Here are the top 5 best bagel franchise businesses in the USA
Big Apple Bagels / My Favorite Muffin
Founded in: 1993
Franchising since: 1993
Franchise units: 80
Initial investment: from $284,500
Royalty Fees: 5%
Big Apple Bagels franchise is on the forefront of the fast casual dining boom. The Big Apple Bagels® restaurant concept was developed to delight not only customers, but our franchise owner-operators as well. As a Big Apple Bagels® franchisee, you'll be able to produce freshly baked Big Apple Bagels brand bagels, My Favorite Muffin brand gourmet muffins, a wide assortment of delicious sandwiches and salads, and serve our own Brewster's brand of brewed coffee and specialty drinks. If you share the passion for excellence on which the Big Apple Bagels® concept was founded, we invite you to consider this franchise opportunity and encourage you to review our Franchise Support, Training, Investment, Photo Gallery and Frequently Asked Questions.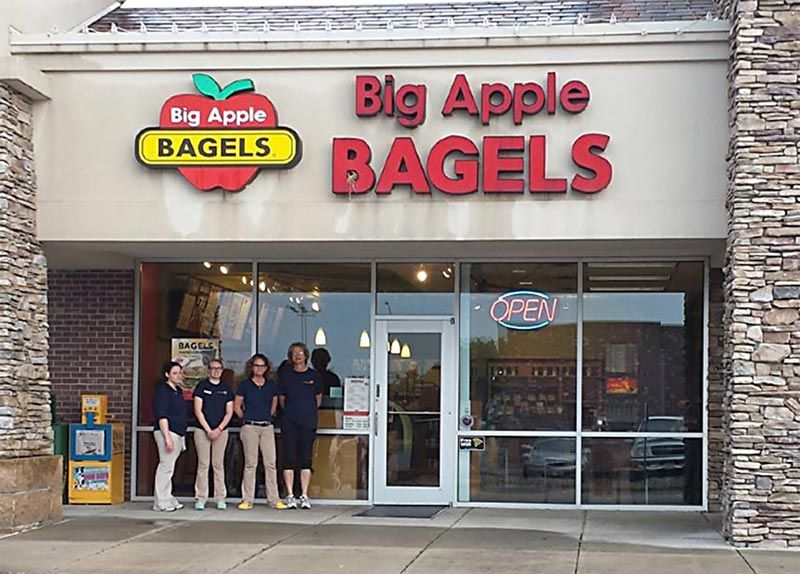 ---
Manhattan Bagel
Founded in: 1987
Franchising since: 1987
Franchise units: 90
Initial investment: from $521,300
Royalty Fees: 5%
Manhattan Bagel brings a famous baking heritage to our customers' desire for varied flavor sensations creating a uniquely appealing place. Our authentic food includes our award winning boil and bake bagels, and goes right on to our mouth watering, freshly baked pesto focaccia bread sandwiches served as breakfast or lunch Tostinis. If you have a passion for the restaurant business and you possess the business acumen necessary for success, we sincerely hope you'll review this site further and consider becoming a proud franchisee of Manhattan Bagel.
---
Brooklyn Water Bagel
Founded in: 2009
Franchising since: 2011
Franchise units: 18
Initial investment: from $250,000
Royalty Fees: 6%
Believing that there are no shortcuts to creating quality products, The Original Brooklyn Water Bagel Co. never deviates from the old-world artisan recipe for making bagels and uses only the freshest, high-quality ingredients, including our proprietary water. We are currently searching for highly qualified franchisee candidates to partner with us to propel the growth of our concept. Many current and new trade areas are available for the right individuals.
---
NYC Bagel and Sandwich Shop
Founded in: 1995
Franchising since: 2007
Franchise units: 8
Initial investment: from $118,500
Royalty Fees: 5%
NYC Bagel and Sandwich Shop, the #1 bagel franchise in the country could be the opportunity you have been looking for! At NYC Bagel and Sandwich Shop, we take great pride in our food and our exceptional franchise opportunity. We strive to provide our franchisees with the best tools and knowledge to run a successful local business, and we encourage owners to learn the skills that will allow them to own multiple units. Prior experience is not required. NYC Bagel and Sandwich Shop will provide you with both pre-opening and operations training to run your store and to train others to assist you.
---
Between Rounds
Founded in: 1990
Franchising since: 1992
Franchise units: 2
Initial investment: from $124,500
Royalty Fees: 5 - 7%
Between Rounds is a bakery cafe and bagel shop franchise that offers a wide range of menu items for all day parts and operates out of a fast casual dining environment while keeping a neighborhood/independent feel. If you're looking for a franchise opportunity with unlimited growth potential and location flexibility, consider Between Rounds. Offering a combination of breakfast restaurant, bakery cafe, and sandwich shop that appeals to all markets and demographics, we're confident that a franchise investment in us is an investment in your future. With Between Rounds you can be confident that you're getting the real deal.
---
View all food franchises
To know more about all stages of franchise development read our article Franchise development. How to develop a franchise.
DIDN'T FIND WHAT YOU WANT?
ASK THE EXPERTS