The Top 12 Preschool Franchise Businesses in USA for 2021
Update: 04.06.2021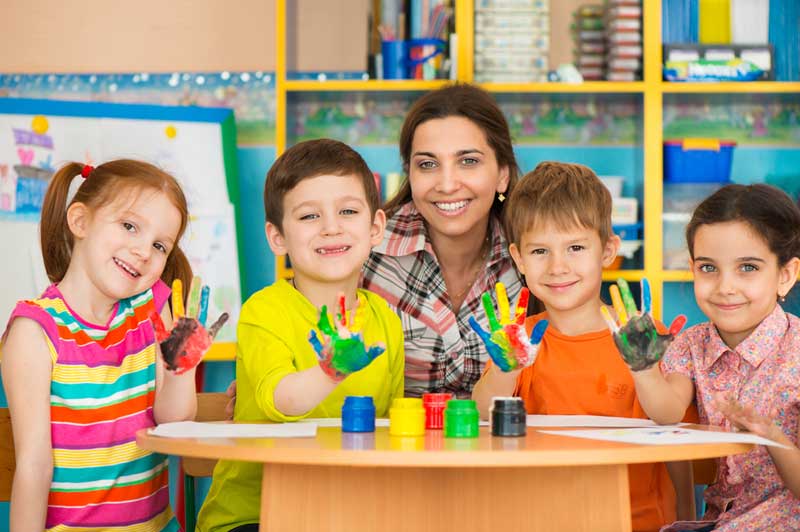 According to data from Sageworks, Preschool businesses in the U.S. have consistently increased sales in recent years. The tendency is due to the fact that parents become more aware of the benefits of early education. Managing businesses related to kids is both profitable and rewarding. However, it could be also a challenge for a new entrepreneur as such a business requires a lot of permissions, knowledge of psychology and methodology, a good marketing approach, etc. With our Preschool Franchises the processes of running the business become easier. The franchisors offer a proven educational concept, successful marketing approach and support to their franchisees.
Here are the top 12 best preschool franchise businesses in the USA
The Learning Experience Academy of Early Education
Founded in: 1979
Franchising since: 2003
Franchise units: 192
Initial investment: from $494,549
Royalty Fees: 7%
With over 300 centers open or under development, benefit from owning America's fastest growing childcare franchise that is recognized as a leader in the early education industry. Our team of experts will find the location, negotiate the lease, help coordinate the build-out and then hand you the keys. No prior education experience necessary. Operational support includes everything from licensing, finance, training and day-to-day operations.
---
Kiddie Academy
Founded in: 1981
Franchising since: 1992
Franchise units: 205
Initial investment: from $400,000
Royalty Fees: 7%
Investing in a Kiddie Academy franchise is more than a business venture. It's a life-changing decision serving the growing educational needs of young families nationwide. As a Kiddie Academy Franchisee, you'll have the dedicated support of our full-time subject matter experts. Our experienced team will help you establish goals and give you the tools needed to achieve them. We're here for you every step of the way—from site selection to Grand Opening and beyond.
---
The Goddard School
Founded in: 1986
Franchising since: 1988
Franchise units: 482
Initial investment: from $619,900
Royalty Fees: 7%
The Goddard School uses the most current, academically endorsed methods to ensure that children have fun while learning the skills they need for long-term success in school and in life. The goal of The Goddard School Franchise is to provide franchisees with an extensive support structure to ensure the consistency of programs and services for the customers and to offer guidance to franchisees as they achieve their goals as business owners. Besides being a recession-resistant business opportunity, owning a preschool franchise helping to shape young minds can also be emotionally fulfilling.
---
Primrose Schools
Founded in: 1982
Franchising since: 1988
Franchise units: 382
Initial investment: $553,180
Royalty Fees: 7%
Primrose Schools is the leader in early education and child care franchises. Our business model rests on our commitment to delivering service excellence while continually raising the bar in everything we do. We support our Franchise Owners with everything they need to thrive and grow, starting with our exclusive, time-tested Balanced Learning® approach. Primrose Franchise Owners come from all different backgrounds: finance, tech, real estate, healthcare and sales to name a few. The characteristics they all have in common are strong relationship-building skills, a desire to do meaningful work and a passion for our family-focused brand.
---
Discovery Point
Founded in: 1988
Franchising since: 1990
Franchise units: 44
Initial investment: from $405,570
Royalty Fees: $4,700-$6,000 per month
Discovery Point is a leading education-based childcare franchise founded in 1988. We deliver an unrivaled franchisee support system, a whole-child approach to instruction, and strategic guidance into integrating our brand and your presence in the local community. In the end, you own a business delivering your own personal vision of quality childcare, but you are never without the support of our industry leading team.
---
Lightbridge Academy
Founded in: 1997
Franchising since: 2011
Franchise units: 27
Initial investment: from $549,230
Royalty Fees: 7%
If you're looking to make a difference in the world, in your town and in our future, Lightbridge Academy provides a way to do it, while owning a great business. Tap into this growing, $40 billion industry with a company that will be with you from the moment you become a franchisee – from real estate selection through opening your center and beyond.
---
Miracle Method
Founded in: 2002
Franchising since: 2015
Franchise units: 9
Initial investment: from $199,000
Royalty Fees: 7%
Building Kidz School franchise enables you to own a profitable and rewarding business by leveraging our operational excellence and unparalleled curriculum to prepare children for lifelong success while directly benefiting your community. We will guide you through location acquisition, licensing, marketing, and operations. After Opening Day, our regional directors will support you to ensure quality control, operational efficiency, and effective marketing to maximize your profits and minimize your risk. Owning your own Building Kidz campus is not only personally rewarding, it is a sustainable and highly profitable business!
---
KidsPark
Founded in: 2002
Franchising since: 2015
Franchise units: 17
Initial investment: from $215,000
Royalty Fees: 7%
KidsPark are hourly childcare centers which are for preschool and school age children. If you are a business-minded individual who wants an entrepreneurial opportunity to contribute a needed service to your community, take a close look at KidsPark. As a KidsPark owner, you will share a reputation for quality, a proven method of operation and an innovative program. Our Ideal candidate is comfortable being the face of the brand, marketing savvy, business minded, ambitious and detail oriented. Previous childcare experience isn't necessary. We have documented every step of owning and operating a KidsPark franchise.
---
Montessori Kids Universe
Founded in: 1988
Franchising since: 2013
Franchise units: 11
Initial investment: from $431,260
Royalty Fees: 6%
When you purchase a Montessori franchise with Montessori Kids Universe, you are beginning a journey towards financial success and a commitment to making a difference in the lives of children. We are proud to provide the best model of early childhood education; the best franchise brand in the child care sector and the best corporate culture. We provide you with the complete suite of tools, resources and world class support necessary to strengthen your development as an impact-driven leader. Together, as the Montessori Kids Universe family of schools, we are changing the face of early childhood education across the globe.
---
Adventure Kids Playcare
Founded in: 2004
Franchising since: 2006
Franchise units: 11
Initial investment: from $344,250
Royalty Fees: 5%
Adventure Kids Playcare is a unique drop-in child care and entertainment center for kids ages 6 wks – 12 years old. Kids can explore, play and learn while in a safe and secure environment. If you have a passion for children and a desire to begin a needed business in your community providing parents with "guilt- free" childcare when needed; then check us out! We are seeking unique individuals to award our AKP franchises. Qualified applicants must have an energetic and positive personality, love being around children and making a difference in their lives, and possess strong people skills.
---
KLA Schools
Founded in: 2007
Franchising since: 2009
Franchise units: 15
Initial investment: from $475,000
Royalty Fees: 6%
KLA Schools is an upscale preschool franchise that provides early childhood education for children three months of age up to age six. KLA Schools Franchise is a financially fulfilling opportunity that continues to expand nationwide! With over ten schools operating, we are looking for qualified franchisees who are passionate about the education of young children to join the growing KLA family! Our support team aims to provide our franchisees consistency of programs and services as well as the guidance they need as members of the KLA Schools family.
---
Genius Kids
Founded in: 2001
Franchising since: 2011
Franchise units: 30
Initial investment: from $239,900
Royalty Fees: 6%
Education is a lifelong process and Genius Kids makes it fun, exciting and enriching by equipping the child with critical life skills of confidence, communication and love for learning, incorporating smart board interactive technology and public speaking. Genius Kids is one of the fast growing preschool franchise with true value to provide high quality education. The first step to become a Genius Kids franchisee is a conversation with our representative so that we can introduce ourselves to one another. We're interested in your background, your goals and your experience.
---
View all preschool franchises
DIDN'T FIND WHAT YOU WANT?
ASK THE EXPERTS