Briskly Franchise Offers - Cost & Fees
Briskly is a technological platform of full value self-service. Briskly opens up new opportunities to create a store with selling goods without shop assistants in any place only in 1 month. We urge you to begin your own business with the platform, Briskly.
Briskly products:
Briskly Pay – self-service cashbox
Briskly Direct – self-service waiter service
Briskly Box – automated store
Briskly DIY Kit – automatic solution of smart lock
Neural network
Briskly is a technological platform which allows the buyers not to stand in line. Become a partner of Briskly – launch technologies and innovations in your city!
Cooperation options
Briskly Box Store-Container
Automated store without shop assistants. The main feature of the store is that the buyer comes into the store, takes the necessary goods and comes out from the store, losing no time for payment and a long waiting at queues. Only buyers who have special Briskly application may come into the store, they need to scan the application. Lots of cameras located all over the store that watches the conscientiousness of the buyers.
In the case of paying, the money is charged from the app as soon as the buyer comes out of the store.
Investment from $30,660
Where the store-container can be set?
Separate kiosk;
Container built in the working store;
Store-container inside the business centers;
In sleeping areas and rural areas;
In the foyer of living houses.
Advantages:
24-hour access to the store;
Entry and exit is carried out by using a mobile application;
The principle of scan & go is used. Buyer scans purchases and pays via the phone application or at the self-checkout.
Equipment kit
Automatic solution "smart lock"
Investments: Equipment kit "smart lock" = $720.
Initial purchase from 10 locks = $7,200.
A representative of Briskly application
Connection of Briskly application to stores.
Benefits of Briskly stores are:
Shopping control device;
Increasing customer loyalty;
Increasing the average check;
Acquiring;
Sending checks to fiscal data operator and a client;
Reduction of employees` operating time off;
Technical support.
How much does Briskly franchise cost?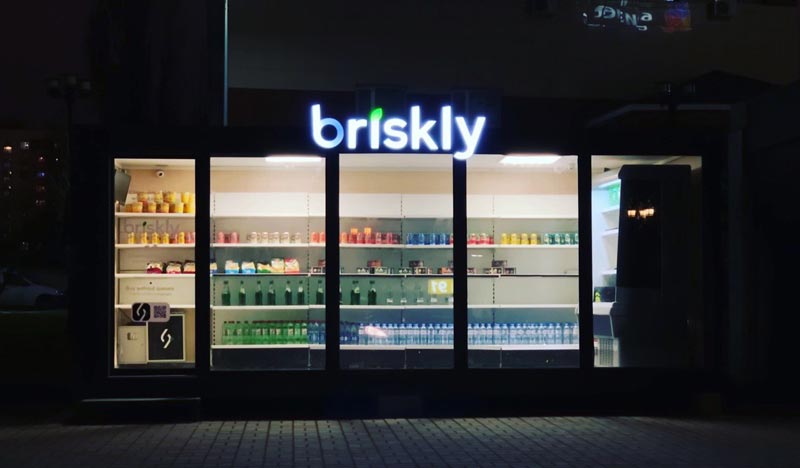 Who is our franchise for?
Shop owners
The opportunity to connect the application to Briskly stores in own region.
Room owners
The opportunity of setting the store-container inside the office center or commercial premise.
Businessmen in the sphere of catering
Equipment kit "smart lock" which makes the vending machine from refrigeration equipment.
The system of remote order Briskly will increase the revenue in your shop, will reduce staff burden and increase the loyalty of your customers, exceed customers` expectations.
Briskly has a total initial investment range of $7,200.
Initial investments: from $7,200
Payback period: from 6 month
Average monthly turnover: $7,670
Royalty: none
Franchise fee: none
Other current payments: 10% from a transaction
Request Free Info