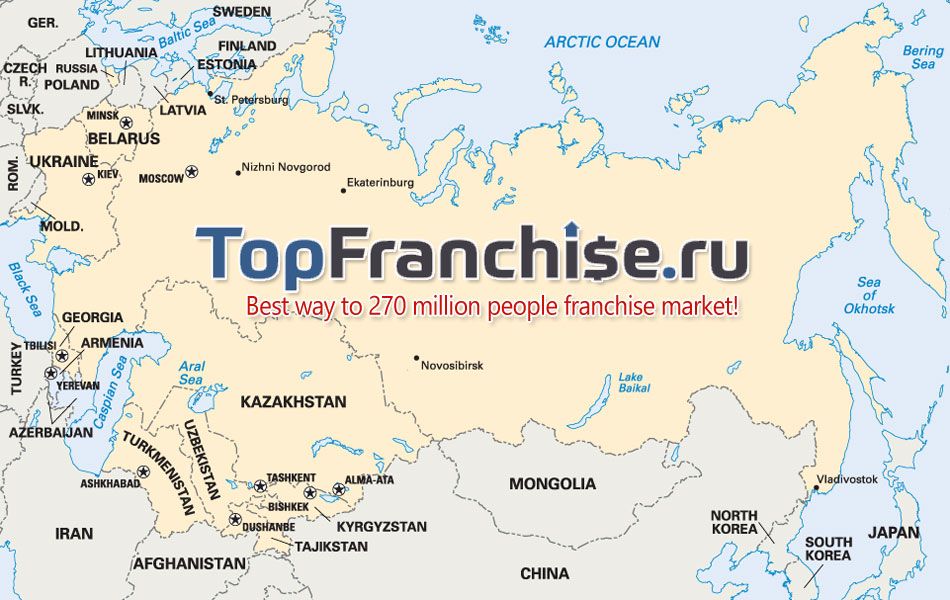 Best way to the Russia & CIS franchise market!
270'000'000 people - CIS market, and they want new!

1'300 official franchising companies in 2015, and only 6% are world-knownbrands!

30% growth rate per year!

YOU MUST BE THE FIRST!
Adaptation of your franchise for Russian market
Legal basis
Adaptation of the Operation manual
Web-site translation
Marketing services
Organisation of sales and franchising process
Sales on the CPA basis
Realisation of master-franchise model

- The leading online resource for franchise opportunities in the CIS
- 145 000 of target visitors per month! Only by target requests:
franchise catalogue, best franchises, buy franchise, etc.
- High conversion in submitting the form!
- Optimization of your offer for better sales!

History and Statistics
Current traffic - 148 549 in January, 2017 ↑
Current sources of traffic – limited traffic from Google and Yandex, only by target requests:
franchising, buy franchise, best franchises...
Page views – 3,72
Time on site – 06 min 15 sec
More about our traffic on SimilarWeb
Our international clients and friends:

TOP-20 search requests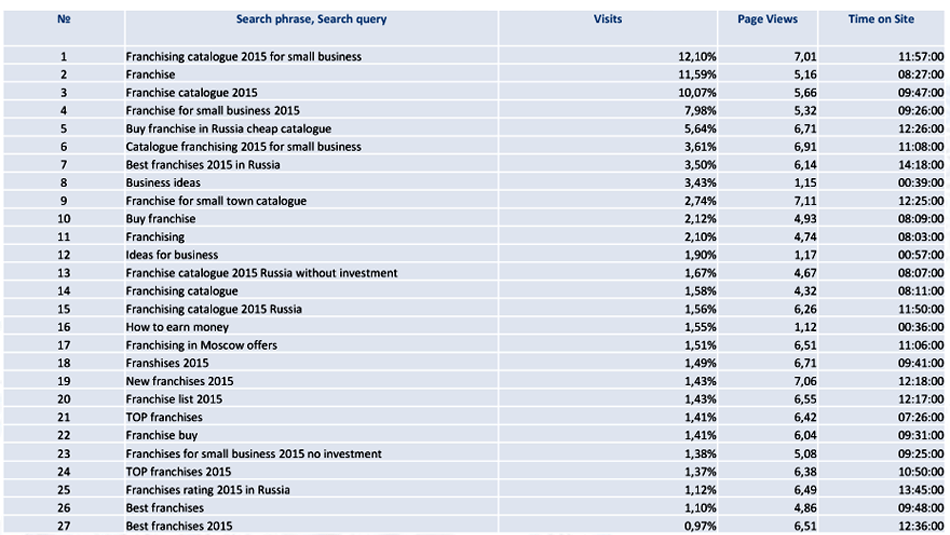 Listing in the catalogue
Price:

6 months – $590

12 months - $990 (save $190)
Price includes :
• Translation and adaptation of your franchising offer for russian speaking investors
• Placement of info about a franchise or commercial offer (services, goods, franchise, wholesale offer) at TOPFRANCHISE.RU
• SEO optimization of your franchise for target requests
• Creation of your Personal Account to track statistics and manage leads
• E - mail newsletter to subscribers of the portal at least once in 2 months
• Reviews about your franchise without time - limit! Search results by request "Franchise – Your Company Name – Reviews" are
placed at the highest positions in Google and Yandex.
• Placement of your information notice at the home page www.topfranchise.ru for 7 days per listing period
• Consulting services for optimization of your franchise offer and increasing the quantity of leads for your Personal Account
• Editing your offer description by request (but not more often than once in a month)
• Statistics of your page visitors
Contacts