Franchise of the tip payment service «tips.tips»
Franchise of the tip payment service «tips.tips»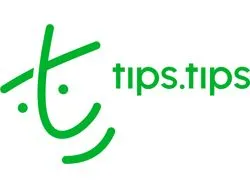 About the brand «tips.tips»
«tips.tips» is a franchise of P2P fintech web service for connecting and automating non-cash tips through the recognition of on-screen or printed QR codes by camera.
«tips.tips» solution suits vide range of jobs, where tips is part of business model, often over 50% of the salary in such areas such as: waiters and bartenders, couriers and orders collectors, masters of beauty salons, bloggers, streamers and others.
Now you don't need to pay in cash or tips a check.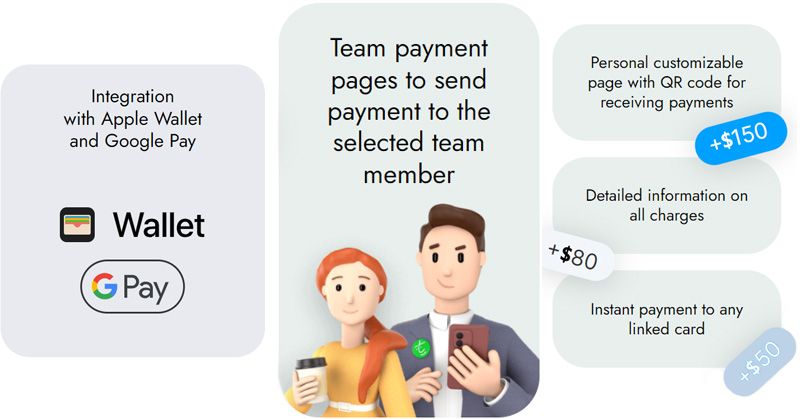 «tips.tips» offers a reliable P2P fintech solution to the new reality, where customers most often do not carry cash, which is a significant barrier to tipsroom for anyone who ignores this trend.
«tips.tips» service does not require any additional applications for the sender, which is important and easy for the sender to immediately thank the employee with a tips. It is equally easy accessible for online and offline industries and use cases, that allows to connect various industries to the «tips.tips» service depending on regional sectors digitalization readiness.
«tips.tips» aims at global QR codes payment market, which is valued at $8.07 billion in 2020, and is projected to reach $35.07 billion by 2030, growing at a CAGR of 16.1% from 2021 to 2030.
«Tips» culture vastly varies in different regions of the world, «tips.tips» generates QR codes that, depending on regional etiquette and industry specifics, may be applied to uniform, menu, receipt, car interior, stream overlay, desktop.
«tips.tips» service is suitable for following sectors:
Tips in HoReCa

The world's leading tips «tips.tips» offers a reliable P2P fintech market is the United States. The HoReCa market in the U.S. had a turnover of $880 billion in pre-COVID year 2019. According to Upverse.com, the average tips in the U.S. is 15% of the order, with 77% of customers leaving a tips. That translates to an annual national tips volume of $101.6 billion. In the long run majority of this market will be fully contactless and digital.

The volume of the tips market in European countries is comparable to the American one. The turnover of the HoReCa market in the European Union in 2019 amounted to 1.1 trillion dollars. The average tips in the EU is 13% of the order amount, while 65% of customers leave tips. This means that the annual amount of tips in the EU is 94 billion dollars.
Donations to content creators.
FRANCHISE OFFER
Access to «tips.tips» service is provided in the client-server format. After franchisee connects his local financial partner for merchant acquiring, customers that franchisee brings to the platform, can start using the product.
The franchisee is only expected to enter into a partnership with a local merchant acquiring partner to start the business. The franchisee is not required to have technical knowledge, as the cost of integrating with the local merchant acquiring partner is part of the franchise offer.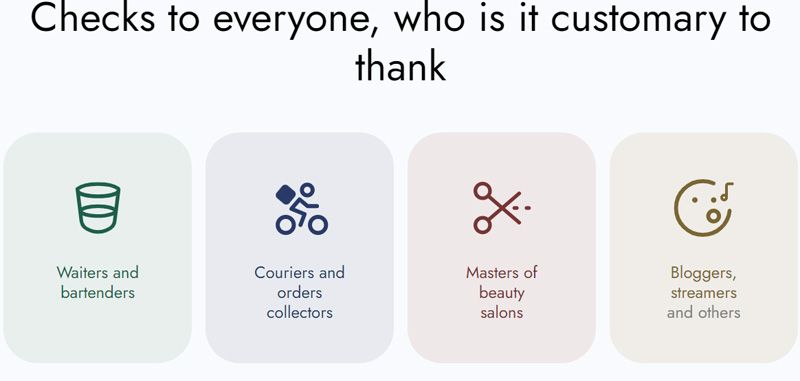 How much does the «tips.tips» franchise cost?
«tips.tips» has a franchise fee ranges from $50,000, with a total initial investment from $9,800.
Initial investments: from $9,800
Payback period: 8 months
Average turnover per month: $1,740,000
Royalties: 1%
Franchise fees: from $50,000
Other current payments: none
Request Free Info

BUSINESS MODEL
In order to receive revenue, franchisee acts as exclusive agent at dedicated territory and need to find local partners that are interested in Tips.Tips service to connect them to platform in accordance with franchise guidelines.
Franchisee will receive platform commission from dedicated territory from all transaction volumes of all businesses and users whom use Tips.Tips service.
Revenue for franchisee depends on volume of turnover of platform transactions and chosen commission fee level minus merchant acquiring, that is provided by chosen local financial partner.
Requirements to buy franchise
Financial ability to pay the Franchise Fee
Existence of a legal entity able to legally conduct business on chosen territory
«tips.tips» franchise may be particularly interesting to partners with following background:
Entrepreneurs in the service sector of hospitality and HoReCa companies
Brand, IT consultants specialized in hospitality and HoReCa sectors
Banks and merchant acquiring professionals
FRANCHISE ADVANTAGES
«tips.tips» includes vide variety of benefits both for sender and recipient sides in comparison with outdated solutions for organizing the process of receiving and distributing tips. The key advantage is the completely transparent commission, paid once, entirely by the sending party, which is only 5%*. Service requires only bank card number CVC code for validation and does not request any personal data from receiving side.
The franchisee should cooperate with any local bank with minimum rates for a partnership on the implementation of trade acquiring.
Compared to the inclusion of tips in the total check, where income tax and personal income tax are deducted from the amount**, requiring the work of an accountant and reporting, in «tips.tips» only deducts interest on merchant acquiring and platform commission, which together amount to 5%* for the sending party.
Another competing hardware solution is dedicated POS terminal exclusively for tips, that provides straight (in some cases - tax free**) tips transaction between sender and recipient sides, which do not provide such flexibility in terms of availability, use scenarios or low commission rates.
«tips.tips» service requires no additional equipment other than the sender's smartphone and a physical or digital QR code of the recipient, which is generated in the service.
---
* subject to change in accordance to local currency enquiring tariffs
** depends on specific country regulation
Starting investments from:

$9,800

Company type:

IT, Service

Year company was founded

2013

Year of launching franchise

2022

Franchised companies

0

Owned companies

1
You need more information?
Send a request to get free consultation from the official representative of the company
Vitaliy Dagirov
Director of development
Complete your request
The information is provided from public sources on the Internet
Interested? ASK QUESTIONS ABOUT THE FRANCHISE
Daria Bystrova
Director of development
Feedback
Ask a question about the franchise