Ace Handyman Services – Home Improvement & Repair Franchise
Ace Handyman Services – Home Improvement & Repair Franchise

Ace Handyman Services Franchise Opportunities
Ace Handyman Services is one of the top providers of repair and maintenance services in the USA. It has been on the market for over 20 years, and it continues to gain popularity to this day. Andy Bell who recognized a void in the home repair market and saw an opportunity found the brand in 1998. The company was called Handyman Matters, and it began franchising in 2001. The success of the establishment was off the charts. In 2019, Ace Hardware gained the company, and the business got a new name — Ace Handyman Services. Now it has franchises in over 110 territories throughout the USA.
The company provides a wide range of home improvement and remodeling services to home and business owners. Thanks to the professionalism of workers and the best technologies, the brand is highly recognized and has a huge client base. An Ace Handyman Services franchise is a great opportunity to start a profitable and recession-resistant business. There is always a demand for handyman services. It is unnecessary to have previous experience in this segment. The company has an excellent training program for franchisees. Join now and start a business in a booming industry with countless opportunities for growth!
WHY SHOULD YOU CHOOSE AN ACE HANDYMAN SERVICES FRANCHISE?
Well-Proven Business Model. Over 20 years of successful operation in the market.
Rich Experience. The brand has a long history of providing handyman services, and the franchisor shares its experience with franchisees.
Strong Culture. The company advocates high values and a positive work culture.
Cutting-Edge Technologies. Ace Handyman provides a complete package of high-tech tools that make your business operation more comfortable and easier. It also has state-of-the-art CRM and POS systems.
Freedom. They do not tie you to any office or retail.
Quick Launch. Set up a franchise within 90 days.
Marketing. The brand has an excellent marketing team that has developed efficient strategies aimed at making the launch and operation of every franchise achieve success right away.
High-Quality Service. The franchisor trains all franchisees on all aspects of providing top-notch handyman services that make customers always turn to Ace Handyman.

TRAINING
All franchisees have to undergo a one-week training program that takes place in Denver, Colorado. Future partners will learn everything there is to know about running an Ace Handyman franchise. The brand has over 20 years of operation in the industry and has brought the teaching methods to perfection. There is also training for your employees on software, phone scripts, performance skills.
Ace Handyman is fully invested in your education to ensure you get your franchise up and running fast and properly.
MARKETING & ADVERTISING
Ace Handyman franchisees are provided with marketing solutions. The brand has a whole team dedicated to meet franchise owners' business needs. The company has enough resources to ensure that they recognize your franchise and you have a constant customer flow.
Brand's marketing plan includes help with grand opening, online and offline methods for attracting customers to your enterprise, product marketing strategies, targeted ads, acquisition and retention programs, and user-friendly website. Ace Handyman also provides tools that simplify the process of booking and appointment setting, and notify customers via newsletters and emails.
ACE HANDYMAN SERVICES FRANCHISE COMPETITIVE ADVANTAGES
Booming Industry
Support Center Team
Family Values
High-Quality Customer Service
Comprehensive Training with Support Every Step of the Way
Cutting-Edge Technologies
Regional Director Support
Recruiting and Hiring Platform
Easy and Fast Launch of a Franchise
Comfortable Schedule Allowing Time For Personal Life

How much does the Ace Handyman services franchise cost?
Initial Investment: $112,577 - $159,097
Required Net Worth: $250,000
Royalty: 6%
Brand Fund: 2%
Franchise fee: $65,000
Business Basics
Industry: Home Improvement, Repair & Restoration
Industry Size: Over $400 Billion
Current № of territories: 305
VetFran Discount: 10% discount
SBA Registry: Yes
Semi Absentee Model: No
Support & Training: Yes
Ownership Path
Introductory call: You can get all answers to the questions you may have about this business. Ace Handyman representatives will give you an idea of how everything works and what to expect.
Financial matters: You'll get acquainted with the amount of investment you need to contribute in order to get your future franchise up and running, and look at financing reports of other franchisees, so you'll know what profit you expect in the future.
Review of the FDD: You learn more about your responsibilities and different aspects of running this business, and determine whether it's a good fit for you. If you have questions on any points of the document, you can get answers from the team.
Training: Franchisees get comprehensive training in order to get the knowledge and business skills required to run Ace Handyman franchise. You get ongoing support along the way.
Learn about technology: Ace Handyman Services provides a whole extensive package of technologies that make franchisees' life easier and customers' experience richer. The brand's team shows you how to manage it efficiently.
Meeting with brand leaders: You may have a face-to-face gathering with brand executives and learn more about the company's values and people who you are going to work with.
IDEAL FRANCHISE CANDIDATE
The brand's ideal candidate is an ambitious entrepreneur who has a drive to start their own business. Ace Handyman Services has a well-established business model that has long proved to be working like a well-oiled machine, so future franchisees should adhere to this model to ensure the success of a franchise. The brand is looking for leaders who have no problem managing and motivating a team of employees to deliver positive results. The perfect candidate is a person who shares the Ace Handyman Services values and ideas, and wants to bring the best possible experience to its customers.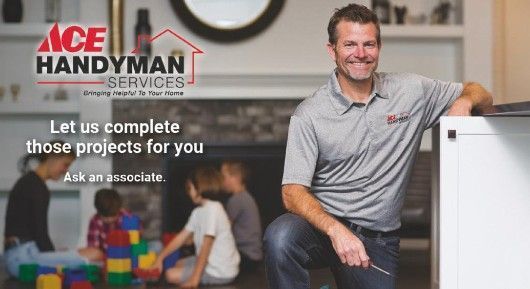 Starting investments from:

$112,577

Company type:

Service

Year company was founded

1998

Estimated Number of Units:

225
You need more information?
Send a request to get free consultation from the official representative of the company
Alex Depase
Complete your request
Information provided: Global Franchise Exchange
Interested? ASK QUESTIONS ABOUT THE FRANCHISE
Alex Depase
Franchise Representative
Feedback
Ask a question about the franchise