Antal Franchise for Sale - Global Executive Recruitment
Antal Franchise for Sale - Global Executive Recruitment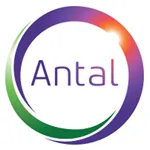 Antal Franchise Opportunities
We are global talent solutions specialists.
Having formed in 1993, Antal has rapidly grown across the globe, penetrating and having a major presence in all key talent markets, including strategically important developing markets such as China, India and Russia, enabling us to become a leading global recruitment specialist in each of our specialised disciplines.
27 Years
130+ Offices
35 Countries
5 Continents
1500 experts
What is the Franchise Opportunity?
At Antal we help professionals like you, leverage your career experience and your industry network, to develop an open-ended substantial income from the companies in your industry, by starting-up a high-end Recruitment company of your own. Recruitment is the world's leading services industry, demand for mid-senior level talent is critical for both large and small companies, recruitment also brings appealing client fees, for example the income levels that of our recent partners have achieved in their first twelve months are in excess of 120K, making 'Year 2' earnings of greater than 250K their ambition.
So, in short...
You bring the industry knowledge and network and We teach you all you need to know about recruitment, Executive search and how to build a strong and profitable business. We provide all the Tools, Resources, Coaching, Business Support and Marketing to make a winning partnership!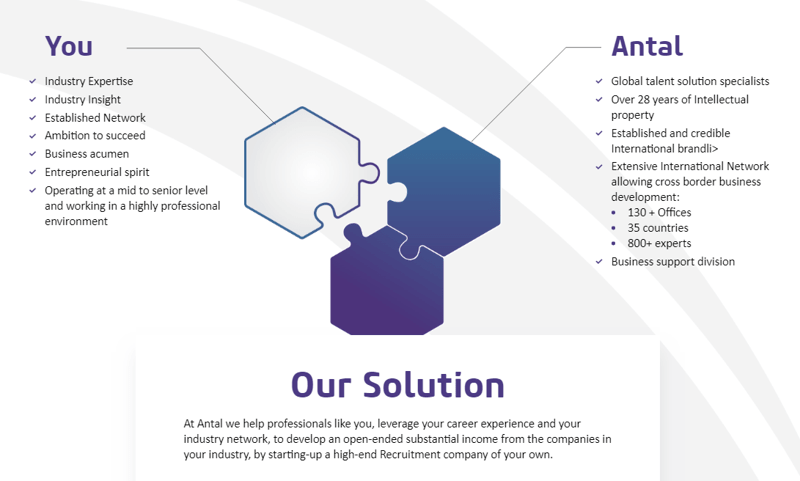 Antal Franchise Offer
Learning & Development
Prior to you joining the Antal Network we take you through a suitability evaluation, where we require you to provide a Business Plan adjusted to your market and audience, with our support.
To operate our prestigious franchise you must carry out our three week Antal Training Course, which entails the following schedule:
2 Week - Pre-Induction Course, involving:

Defining your niche
Activating and Establishing your Network
Preparing to go to market

1 Week – Classroom Induction Course, involving:

360 degree process of recruitment cycle
Marketing & PR
Your own custom-made Office page on Antal
Personalised Proposal Documents
Showcase yourself, your office and your expertise to our 350,000+ social media audience
Access to library of marketing material, print and digital (personalised brochures, social media assets, banners and more)
Support from our Marketing team in Headquarters (UK).
Access to any group pricing for applications and job boards such as LinkedIn
Operational support
Starter Kit – how to set up a recruitment business including best advice from existing owner
Smooth integration into the Antal process and network with ongoing strategic & operational inputs
Access to over 60,000 placements and client testimonials to create trust with client companies
Operational support like IT set up, Sales Brochure, Presentation Material, all relevant stationery articles including standardised Letterheads, Business Cards, Invoice Templates, Branded templates
Terms and Conditions Document to aid in easy business closing and support in debt collection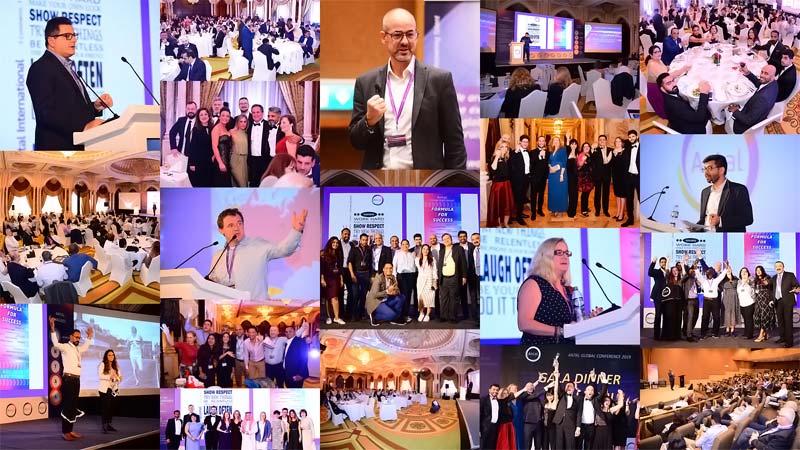 How much does the Antal franchise cost?
Initial investments: from $25,000
Royalties: 12%
Franchise fees: price determined by location
Other current payments: none
Request Free Info

Antal Franchise Business Model
Recruitment income generated through invoices to clients based on successful placements. Fees typically 20-35% of annual salary of each person recruited by the client. A detailed business planning and forecasting session will map expected earnings, ROI and cash flow through the business.

Antal Franchise Advantages
Global leaders in recruitment franchising
Made approaching 100,000 placements in over 72 countries worldwide, supporting our clients in their own international expansion. With offices in key locations globally, our global and local networks, market knowledge and skills, ensure we get the best talent in front of our clients regardless of geographic locations, putting Antal at an advantage compared to traditional recruitment agencies. Globalization of markets increasingly requires international recruitment solutions.
We are the experts
We believe it is our experience, sector expertise and market knowledge coupled to the fact that our people, senior ex-industry professionals, lead our market specialisms, which is a major differentiator in making us unique in the talent consultancy and recruitment arena.
The Antal Framework
We do not restrict your business to a National level, we allow you to work Internationally, providing International recruitment solutions.
You have over 800 Antal recruitment colleagues to work with and share business with. Owners have the opportunity to work together on assignments and to share international capabilities and delivery of talent.
We give you access to our International Client database, which has been built over 28 years. Allowing you to approach clients, where Antal International is already known as a credible brand across SME and MNC's.
Our philosophy
"Sharing information knowledge and experience for the benefit of our clients, candidates and colleagues".

At the moment we can not connect you to the representative of this franchise.

Find other similar franchises in our catalog!
You need more information?
Send a request to get free consultation from the official representative of the company
Polly Rogers
Complete your request
The information is provided from public sources on the Internet
Ask a question about the franchise