Blaze Pizza Franchise Opportunities
Blaze Pizza owns and operates a chain of fast-casual pizza stores in the United States. It provides signature pizzas, salads, and drinks and desserts. The company sells T-shirts and gift cards online.
The company was founded in 2011 and is based in Pasadena, California. It also has locations in Indiana, Arizona, Wisconsin, Tennessee, Atlanta, Alabama, Florida, Oklahoma, and Colorado; Canada, Saudi Arabia, Bahrain and Kuwait. As of 2018, Blaze Pizza owns and operates a chain of 265 franchises in the United States and 12 ones outside the country.
How to open a Blaze Pizza franchise?
Ensure you have adequate capitalization.
In order to open a Blaze Pizza franchise, you must have a net worth of more than $454,000.
Appreciate the investment required for a restaurant franchise.
You will need to consider building and real estate costs, the cost of equipment and signs, the costs of licenses and permits, the cost of uniforms, the cost of insurance, etc.
Evaluate your prior experience and strengths.
You should thoroughly evaluate your prior business experience before applying to become a Blaze Pizza franchise owner.
Assess market availability.
You will want to look at the market availability for Blaze Pizza franchises and see if there are available markets in your location of interest before proceeding with the franchising application.
Submit your application.
Your application will be reviewed by the Blaze Pizza franchise team. You will be emailed a confirmation receipt upon reception of your online application, where we will additionally provide the contact details of the franchise owner.
Receive approval & opening your Blaze Pizza franchise.
You will receive franchise approval once your financial and background checks are completed. Approval will only be given to candidates who meet all the requirements of franchise owners.
Request Free Info

How much does Blaze Pizza franchise cost?
Blaze Pizza has the franchise fee of up to $30,000, with total initial investment range of $454,400 - $1,131,000.
Initial investments: $454,400 - $1,131,000
Liquid Cash Requirement: $500,000
Single Blaze Pizza Restaurant
| Name of Fee | Low | High |
| --- | --- | --- |
| Initial Franchise Fee | $30,000 | $30,000 |
| Architect Engineer | $15,000 | $27,000 |
| Permits | $1,100 | $13,000 |
| Equipment | $144,000 | $169,000 |
| Furniture and Fixtures | $14,000 | $83,000 |
| Smallwares | $10,000 | $25,000 |
| Signage and Graphics | $11,000 | $42,000 |
| Grand Opening Kit, Menu Boards | $5,400 | $6,000 |
| Computer Equipment & Information / POS Systems | $18,500 | $21,000 |
| Uniforms | $1,000 | $4,000 |
| Initial Inventory and Supplies | $10,000 | $21,000 |
| Pre-Opening Advertising | $3,000 | $22,000 |
| Grand Opening Free Pizzas | $3,000 | $5,000 |
| Insurance Deposits | $500 | $5,000 |
| First Month's Rent / Security Deposit | $3,000 | $24,000 |
| Initial Training | $5,000 | $5,000 |
| Liquor Licensing | $0 | $6,000 |
| Miscellaneous Opening Costs | $1,000 | $30,000 |
| Professional Fees | $1,000 | $5,000 |
| Additional Funds - 3 Months | $20,000 | $45,000 |
| Total Estimated Initial Investment | $454,400 | $1,131,000 |
Notes:
These estimated initial expenses are our best estimate of the costs you may incur in establishing and operating your Blaze Pizza Franchise. We do not offer direct or indirect financing for these items. In addition to our experience, the experience of our officers and our current requirements for Blaze Pizza Franchises, these estimates are based on the historical costs to open Blaze Restaurants during 2017. which, excluding food court locations, averaged approximately $767,000 per Restaurant in 2017.
The estimated initial investment for a Non-Traditional Restaurant, while still within the estimated range set forth above, may be lower than a traditional Blaze Pizza Restaurant, and these figures represent the approximate cost for purchasing, installing and equipping the Restaurant. Because they are typically located in a host facility, Non-Traditional Restaurants may require fewer leasehold improvements and equipment expenditures than traditional Blaze Pizza Restaurants. Opening inventory expenditures may be lower as well, but the initial investment in a Non-Traditional Restaurant depends on the type, location and configuration of the Restaurant and of the host facility.
The factors underlying our estimates may vary depending on several variables, and the actual investment you make in developing and opening your Franchise may be greater or less than the estimates given depending upon the location of your Franchise, and current relevant market conditions. Your costs will also depend on factors such as how well you follow our methods and procedures; your management skills; your business experience and capabilities; local economic conditions; the local market for our products and sen-ices; the prevailing wage rates; competition; and sales levels reached during your initial phase of business operations. All expenses payable to third parties are поп-refimdable. except as you may arrange for utility deposits and other payments.
Ongoing Fees
Initial Franchise Fee: $30,000
Ongoing Royalty Fee: 5-6%
Ad Royalty Fee: 2%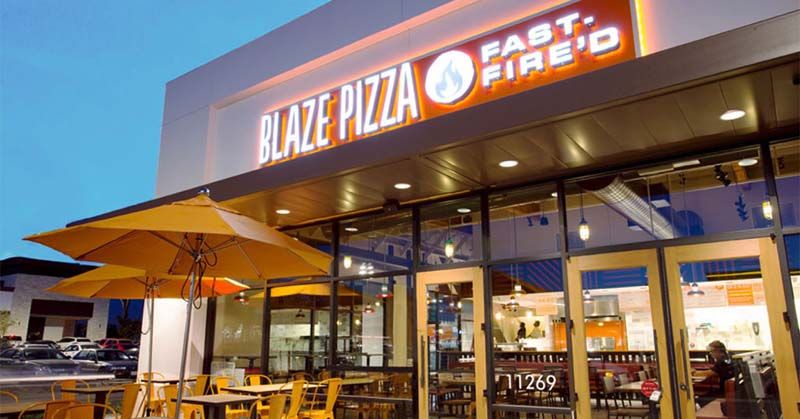 Are you interested in starting Blaze Pizza Franchise in the USA, Canada, Kuwait, the UAE, Saudi Arabia or another country?
We provide estimated franchise costs for some countries:
- In the United States, the total investment to start the Blaze Pizza Restaurant is around $454,400 to $1,131,000.
- In Canadian currency, the investment comes around Can$581,700 to Can$1,447,900.
- In currency of Kuwait, the investment comes around KWD 138,478 to KWD 344,670.
- In currency of the United Arab Emirates, the investment comes around AED 1,668,800 to AED 4,153,820.
- In Saudi Arabia currency, the investment comes around SR 1,71 million to SR 4,24 million.
Support Options
On-The-Job Training: 60 hours
Classroom Training: 20 hours
Blaze Pizza Franchise Info: http://blazefranchise.com/
Request Free Info