EcoMotive Hygiene Franchise For Sale – Automotive Products
EcoMotive Hygiene Franchise For Sale – Automotive Products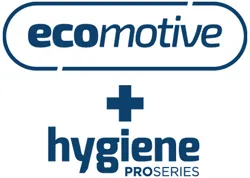 EcoMotive Hygiene Franchise Opportunities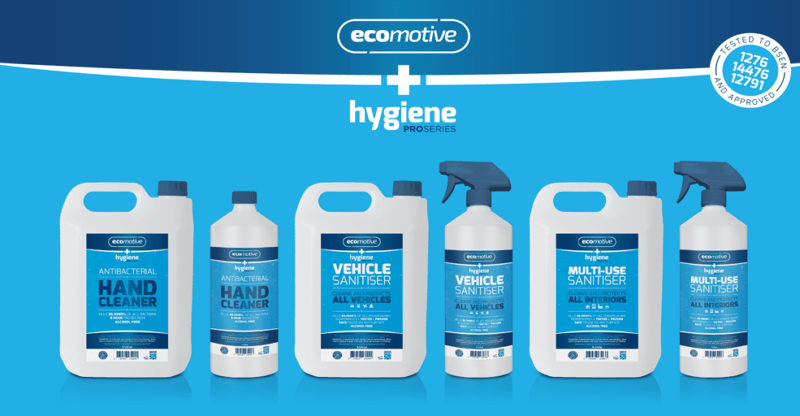 Operating from our UK headquarters in Leicester, we manufacture and distribute a range of Sanitisation products. The Hygiene PRO range delivers an innovative range of alcohol-free sanitising solutions for both skin and hard surfaces. All are formulated to provide the highest possible levels of sanitation but without the concerns of their alcohol-based counterparts.
Independent testing shows HygienePRO sanitisers kill 99.9999% of bacteria without the need for harsh chemical irritants and potentially hazardous alcohol content. With complete destruction in under 30 seconds, even the most potent of bacteria like MRSA, E Coli and Norovirus are no match for the cutting edge HygienePRO Formulation.
Taking somatisation levels to the next level, HygienePRO products also feature advanced shield technology to continue protecting long after application. An invisible barrier protects skin for up to 6 hours and hard surfaces for up to 30 days after application.
The products are developed and manufactured in the UK and used by a variety of customers across diverse industries, including car dealerships, haulage companies, Nursing Homes, Schools, Football Clubs, Doctors/Dentists, Garage Workshops and car rental companies.
Established in 2010, EcoMotive have developed a range of Sanatisation products.
All our products use our innovative, irritant and alcohol-free formulae delivering a safer non-flammable solution and have been proven to:
Kill 99.9999% of bacteria and viruses including all Coronaviruses.
BS/EN 1276. 12791 &14476 Tested and approved.
Sanitises in just 30 seconds.
Effective for up to 6 hours on skin.
Advanced 30-day protective shield on hard surfaces.
Safe non-flammable, alcohol free formulae.
Non-toxic and food safe.
Ph neutral (6.5-7.3).
No skin irritation.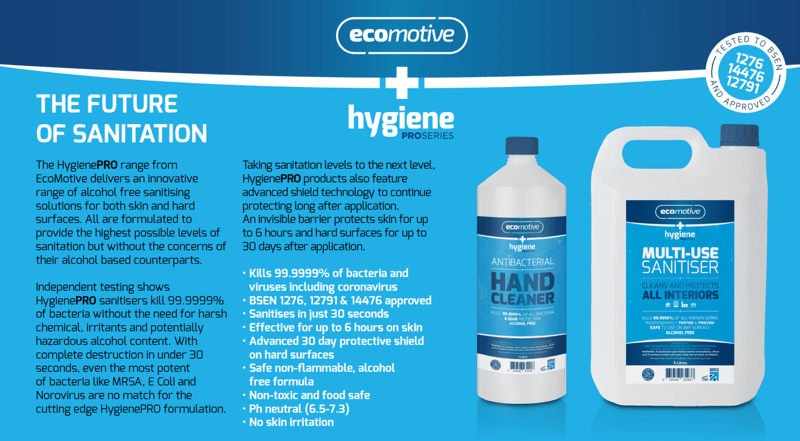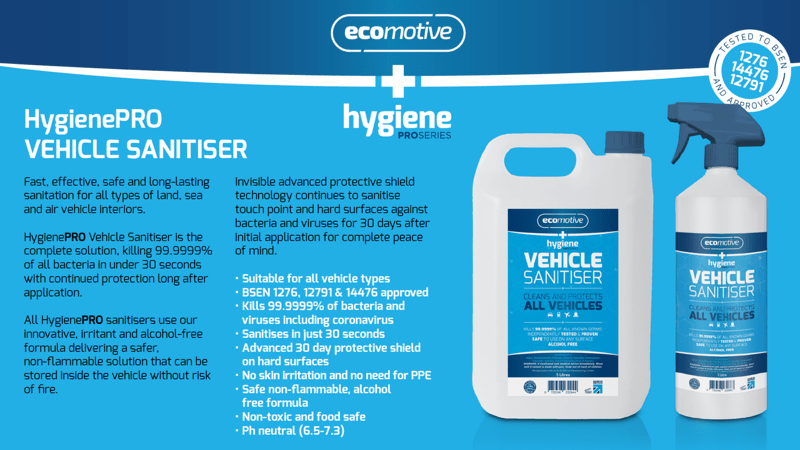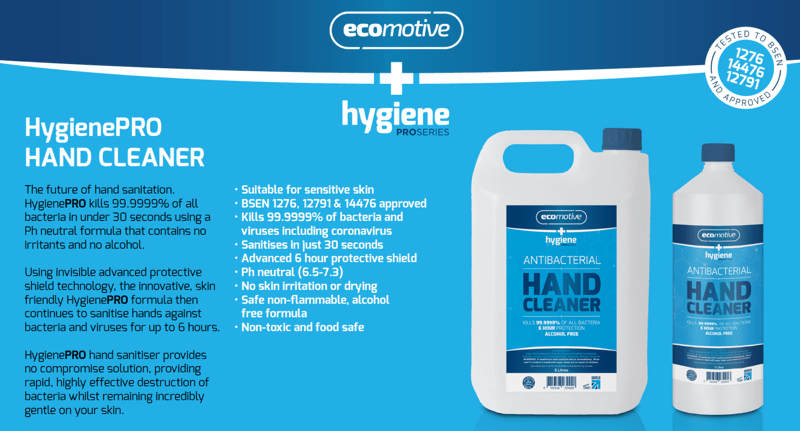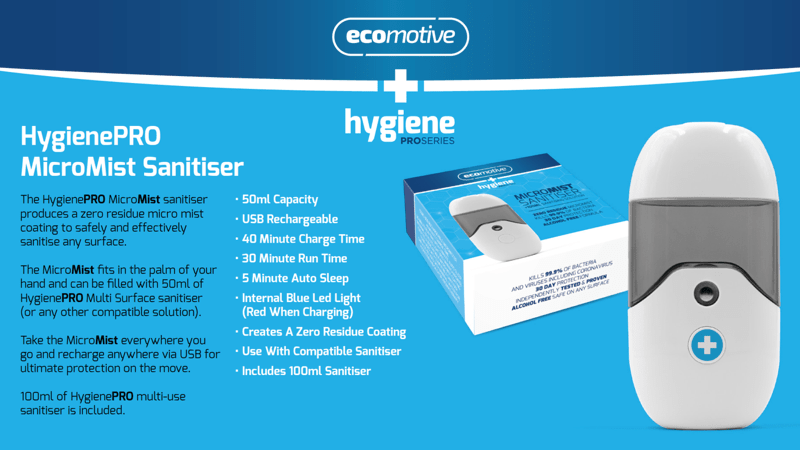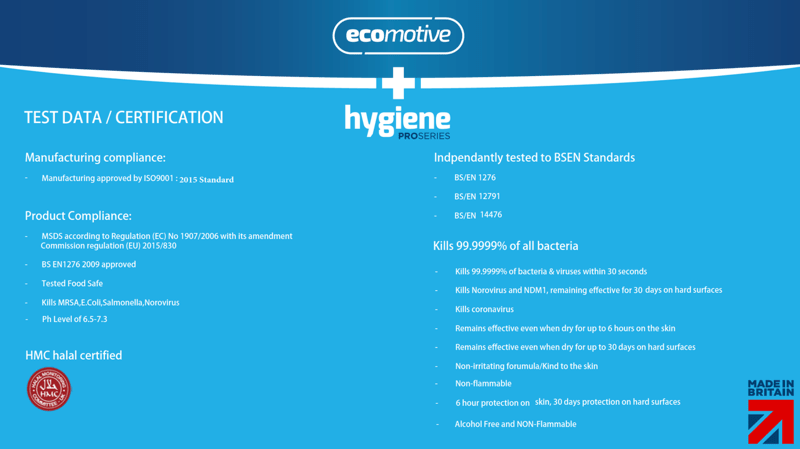 EcoMotive Hygiene Franchise Offer
We offer a "stock only" Exclusive Master Licence package for £15,000 where you are our sole distributor of our product range in your country. We are not charging for the right to distribute our sealant, nor will there be any royalties or on-going fees to pay - you pay only for the stock.(please call to arrange an appointment to discuss).
How much does the EcoMotive Hygiene franchise cost?
EcoMotive Hygiene has a franchise a total initial investment from $15,000.
Initial investments: starting from $15,000
Payback period: 4 months
Average turnover per month: $12,000
Royalties: none
Franchise fees: none
Other current payments: none
Request Free Info

Success story
My name is Hariom Patel and I am a franchisee of the Ecomotive range of products in the East Midlands, UK. Prior to starting my business with Ecomotive, I worked for over 12 years as an office manager. Due to the pandemic, I was made redundant. so I decided that it was time I started doing something for myself.
I saw an advert on the internet regarding becoming an Ecomotive distributor and decided to look into it.
The Nottingham area was available, so I decided to get as much advice as possible and also undertook training from the Ecomotive Team via Zoom. The team at head office was extremely helpful which gave me the confidence to start selling the product.
I have now established a good customer base from which I receive regular monthly contracts.
- Hariom Patel
EcoMotive Hygiene Franchise Business Model
As an example with fogging machine:
If you set up a premises fogging service offering Anti-Microbial Treatments by investing in a fogging machine you will achieve good returns.
If you employ your own people to to carry out the treatment you will get a return from the 5 litre barrel of £750 installing into small offeces of an average of 3 rooms. It takes less than 30 minutes to sanatise a 3 room office.
Requirements to buy ecomotive hygiene franchise:
Stock only packages are available from £15,000 – no franchise or royalty fees to pay.
Additional information
After securing a Master Licence, we will provide full back up support to get you fully operational. We have a team of experts to offer you technical and marketing expertise, allowing you to focus on moving forward with confidence.
How much does it cost to secure the exclusive rights for a country?
We offer a "stock only" Exclusive Master Licence package for £15,000 where you are our sole distributor of our product range in your country.(subject to terms being agreed) There are no charges to becomming a distributor of our products nor is there any royalties.
EcoMotive Hygiene Fanchise Advantages
We see potential markets in the following areas:
Motor vehicles
Hospitals
Garage workshops
Motor dealerships/showrooms
Fleet operators
Ambulances
Doctors/Dentists
Food Manufacturers
Work Place/Offices
Nurseries & Schools
Funeral Homes

At the moment we can not connect you to the representative of this franchise.

Find other similar franchises in our catalog!
You need more information?
Send a request to get free consultation from the official representative of the company
Complete your request
The information is provided from public sources on the Internet
Ask a question about the franchise