Fast Shine Franchise For Sale - Mobile Car Wash Service
Fast Shine Franchise For Sale - Mobile Car Wash Service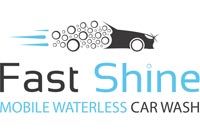 Fast Shine Franchise Offers - Cost & Fees
Fast Shine is the first on-site car wash, which uses only high quality eco-friendly materials and certified work specialists. Our unique company occupies a new niche in car washing services.
Now several main directions are being developed:
Washes on car parkings (business centers, shopping centers, housing estates, parkings near malls, etc.)
Car wash for corporate clients (car fleets of the companies, various road activities and state. institutions)
On-site car washes (can be ordered by phone or via mobile application)
Sale of car care products
Detailing (car care - nanoceramics, antirain, dry cleaning salon, etc.)
All partners of the Fast Shine are supplied with all the necessary consumable materials at the lowest possible prices.
Size of offices
There is no need for a physical space with Fast Shine car wash business in your town - services can be provided anywhere in the city and at any time. All the materials required to wash 3-4 cars can easily fit in a specialist's backpack. From the beginning you can work on car parkings or on-site, you send out the specialists to the client's location.
Franchise offer
The presence of the "Dealer" package provides the right to conduct activities under the Fast Shine brand in the territory of one city and the nearest regional centers.
Cost: 7,000 Euro.
Royalty: 100 Euro/month.
Investments
Initial investments: 8,000 EURO
Payback period: 3 months
Average turnover per month: 23,000 EURO
Royalties: 100 EURO
Franchise fees: 7,000 EURO
Fast Shine Mobile App customization
All the necessary detergents, microfiber towels, branded clothes
Software - Automated order management system Fast Shine
Step-by-step instructions on business organization, sample contracts, commercial offers, presentations
Primary accounting, legal and marketing support at all stages
Brandbook: layouts of booklets, business cards, plastic cards, stickers
Training materials: manuals, videos and text instructions.
Other current payments: 1,000 EURO
Budget for targeted marketing campaign.
Request Free Info

Additional information
What do you get when you become a representative of the Fast Shine Company.
Connecting to the database of orders for on-site car wash via mobile application
Necessary tools for work
Corporate attributes, company elements, brand symbolism
Dedicated page on the official website
The introduction of basic partnership programs
Franchisee participation in federal advertising campaigns
Recommendations for the organization of a large-scale advertising campaign
Training the management staff of our partners
Methodical and consulting trainings on corporate service standards and sales technology
Using the results of large-scale promotional events and marketing researches conducted by the franchisor
Continuous supply of creative resources
Permanent support of a personal manager
Franchise advantages
Partnership with Fast Shine makes our franchisee an official representative of the fastest growing company in new area. The company has already opened branches in over 30 cities worldwide. Participation in the Fast Shine franchise program gives you the ability to get all the benefits of an affiliate network and to participate in all federal advertising and PR campaigns.
Our own certified production of washing facilities makes us independent from third-party manufacturers and their pricing policies.

At the moment we can not connect you to the representative of this franchise.

Find other similar franchises in our catalog!
You need more information?
Send a request to get free consultation from the official representative of the company
Gerasimov Oleg
Complete your request
The information is provided from public sources on the Internet
Ask a question about the franchise