Tucano Coffee Franchise For Sale - Coffee Shop
Tucano Coffee Franchise For Sale - Coffee Shop

Tucano Coffee Franchise Opportunities
Tucano Coffee is not just a coffee shop. This is a mix of native Indians culture from Latin America and California specialty coffee.
In 2011, we opened our first coffee shop in Moldova. In just 3 years, in March 2014 we have opened the first one in Romania and only after a month, we already were in the United Arab Emirates.
Now Tucano Coffee is a dynamic international network comprised of 33 coffee shops located in 9 countries of the world.
Our purpose is to be there for you, offering all our support beginning from searching for the best place for your coffee shops, and ending with useful trainings during development process. Besides, don't forget about our knowledge base that we'll give you. It is truly priceless.
assistance in choosing right premises;
assistance in choosing right premises;
personnel training in our training center & online trainings with regular attestation;
a Startup module, that will provide solutions and will put in motion all the processes, so everything could work as a perfect mechanism;
a logistics center that will be always there for you and will offer you the best prices for consumables, furniture, cutlery, etc;
a local support of our team, one week prior the opening, during the opening and up to a week after the opening;
a global marketing plan;
marketing & design guidelines and manuals;
weekly process control in order to improve quality – a secret guest (mystery shopping), expert reviews, online guest surveys.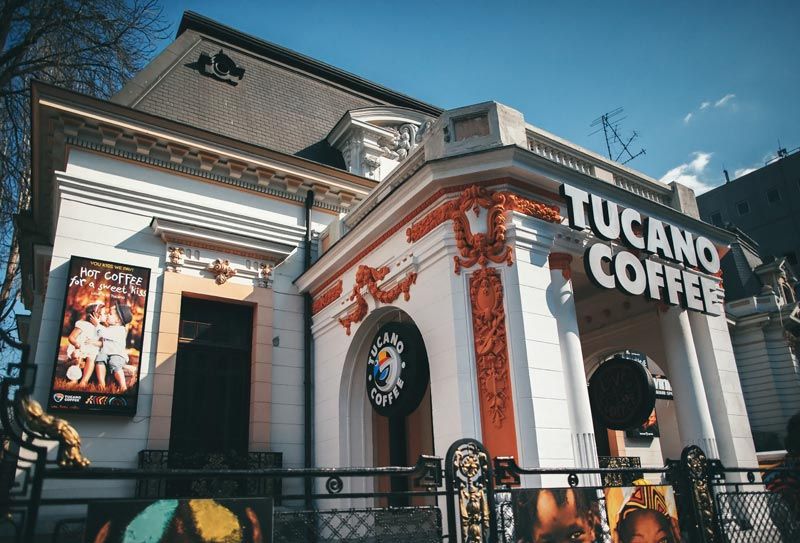 About the brand
For years I have been impressed by the rich culture of Amerindians, their uncommon character, colored and generous culture, which is mainly characterized by living in harmony with nature.
Later, traveling around the world, I found in each country a small café, which seemed remarkable for its special ambience. These cafes shared the same thing: warmth and harmony that are generated by the people who were talking without any rush, the flavors of good coffee, the sense of lack of formality and the love that persisted.
All these experiences taken together became the key factors in the creation of the concept of coffee shops "Tucano Coffee", which is based on ethno design, atmosphere and culture of countries where coffee is being cultivated.
The Toucan bird was chosen as symbol and name for the venue due to its colors which perfectly represent our ethno accent.
Good music always inspired me, especially rock culture. The slogan Love.Peace.Coffee, inspired from the culture of hippie epoch, start of rock'n'roll and freedom of thought, is the foundation of our culture and philosophy.
With regard to coffee, we decided to work on the segment specialty in order to develop the coffee culture; we want to popularize the fresh roasted coffee brought from the most exotic regions of the world. The dessert that combines perfectly with coffee is cheesecake, which is why we decided to focus on cheesecakes and American desserts prepared from natural ingredients.
Therefore, in 2010, we created an extraordinary team and launched the first Tucano Coffee in Chisinau. The Republic of Moldova is a perfect place to develop a new concept because it is a transit market between West and East which is open to everything new. A good "Feng-Shui" place was chosen in the old city and in November 2011 we launched the first Tucano Coffee.
Within a few years we have become leaders in coffee shops in Moldova, and we have opened some coffee shops in Romania, as well. When the request to open a coffee shop in the United Emirates popped in, we understood that our brand has great potential for development and decided to share our Love.Peace.Coffee philosophy worldwide.
Love.Peace.Coffee
Ruslan Cojocaru,
Founder "Tucano Coffee"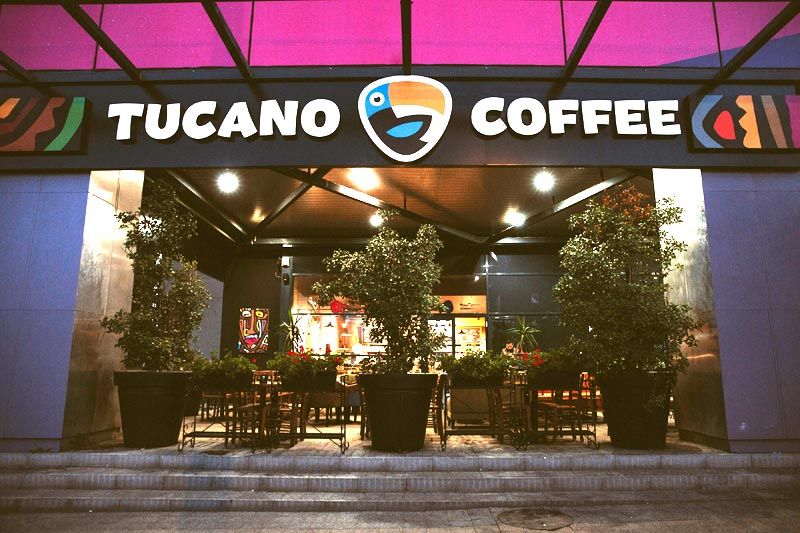 Our slogan – Love.Peace.Coffee reflects why Tucano Coffee is different
Love. We love our guests
We are friends with the guests. We know what they like, how they call their children and we wait for them like old friends. We are happy to help them.
We communicate with pleasure with our guests. At every visit we tell them something interesting or simply have a chat. We try to surprise them and overcome their expectations.
We have an individual approach towards each member of our Family. We know each other and respect our colleagues. Guests can be loved only when we have a team that is perceived as a family, where everyone is listened, and his or her individuality – considered.

Peace. We focus on Ambiance
We have a warm and a little exotic atmosphere that changes periodically. Warm colors and light, the wood, handmade accessories, photos with expressive and colored faces on the walls, books – all these together are designed to inspire peace. Every coffee shop is named and decorated in the specific style of a coffee producing country which has an interesting culture.
We like good music. Ethno rhythms, indie rock, jazz and blues are our preferred styles.
We organize special events. There is always something interesting happening at Tucano, either an evening of live jazz or guitar; an event about healthy lifestyle; a workshop of handmade objects; a movie projection, etc. Tucano is a place where beautiful people meet to share and create beautiful things.

Cjffee. We Promote the Culture of Specialty Coffee
Specialty Arabica Coffee 100% is also known as Premium coffee, Gourmet or controlled original coffee. Arabica coffee is the highest quality coffee which is cultivated in the most favorable micro-regions of the world.
We use only coffee beans freshly roasted in coffee shop, so they retain their flavors and freshness.
The beans are roasted "light" or "medium", so they do not lose the oils and flavor. It is a procedure that requires the professionalism of the Barista to prepare the coffee from such beans. This procedure allows preservation of flavor and the specific taste of each coffee bean.
We do not use preservatives and chemical flavors.
Our coffee mixes and mono-origin coffees are chosen with much care and love, being tested with a professional attitude by the best coffee experts from Europe.
We promote alternative methods for preparing coffee in our coffee shops (Pour Over Hario V60, Chemex etc.).
The coffee "Tucano Coffee" is prepared by the best Baristas instructed within the SCA program.
We use only Marzocco coffee machines which are compared with Ferrari cars in terms of quality.
Our coffee makes a perfect combo our natural cheesecakes, which are prepared from natural products.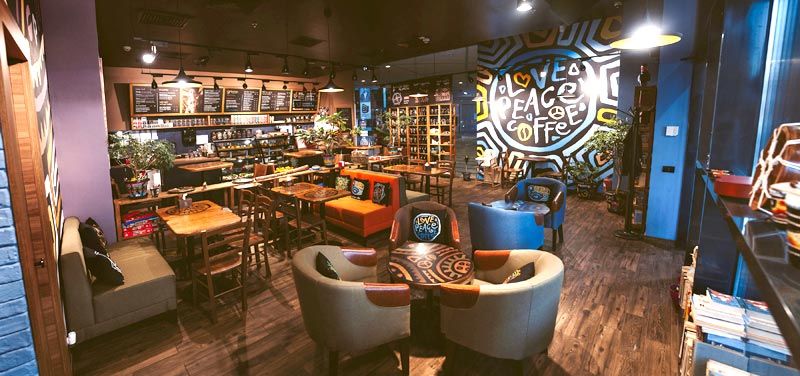 Wow
For us WOW means two things: Creativity and thinking Out of the Box. We always try to surprise our guests, partners and the team. We endeavor to be creative and innovative by offering our guests more than the best Specialty coffee and a WoW atmosphere. We prefer doing less but WoW.
How do we promote this value?
We salute and encourage creativity and originality of the members of our team in all regards: creative thinking at the work place, style of clothing, open communication etc.
We created a special hierarchical structure. We use titles and ranks from the navy to describe our roles depending on our tasks. (Admiral, Commander, Master, Sailor etc.).
We always look to surprise our Guests: inter-active games which can award them with a coffee, for example, in exchange of a kiss, creative workshops etc.
Open
To be open means to be honest, to trust and to be transparent with our information, including mistakes and the troubles of guests, partners and members of the team.
How do we promote this value?
We are sincere with the Employees, Guests and Partners, even when the truth is not always convenient.
We are always active on different media channels. We share our achievements on our corporate and personal social media accounts, as well as on our blog. We try to create an authentic Reality Show from every step we do, every happy moment, from mistakes and every learned lesson. With the time, this approach attracts synergistically new members in our Team, new Guests, Partners and Investors.
Green
We like nature. It is a continuous source of inspiration and energy for us. We like clean air, spring flowers and last but not least the mountains. We make efforts to protect Nature and we want to inspire our Guests to do the same.
How do we promote this value?
We plant a tree for every 15th drink ordered by our loyal guests at Tucano.
We do not use chemicals (preservatives, additives or dyes) in our products, we prefer only natural ingredients.
We created a range of Green Line products, which contain vegetarian meals, raw and low fat desserts.
We use only triple-filtered water in the preparation of beverages and dishes.
Our bags, packs and glasses are made from recycled paper.
From the very beginning, smoking was prohibited in our coffee shops. Moreover, we encourage the members of our team to quit smoking.
We initiated an NGO which provides special care to the parks from Chisinau (Moldova).
We have fun in team building activities that are organized as mountain trips.
Team
Througout the years, family was the most important value, which can be enjoyed only by those who are strong and united. We want to become a model family for every employee of Tucano Coffee.
Our aim is to help each other, both at the workplace and outside. We promote a friendly and warm atmosphere, together with values such as responsibility and receptivity. We trust each other.
How do we promote this value?
We allocate budgets for quarterly organized team building activities.
We establish common goals, by motivating and mobilizing the team.
We accept in our team people who appreciate out team work.
We offer help to each other based on universal principles.
We establish KPIs (in sales, quality management) and make efforts to achieve them.
Simple
For us, this value means truth, equality and respect for every person.
How do we promote this value?
We respect individuality because every person is unique. We also respect each other's opinions.
We show respect for the taste, preferences and desires of our Guest.
We always simplify the manuals, menu, trainings, communication etc.
Tucano Coffee Franchise Offer
Operating Conditions:
Royalty: 3.5 – 4.5% of revenue.
Marketing budget 1% of revenue.
Franchise fee €12,500 Europe and $9,000 CIS
Investments into a standard Tucano Coffee business unit make up from €96,000 in Malls and €130,000 Street locations
Average Standart coffee shop surface – 120 sq.m.
Mini concept:
Royalty: 3.5 – 4.5% of revenue.
Marketing budget 1% of revenue.
Franchise fee €6,000.
Investments into a standard Tucano Coffee business unit make up from €30,000.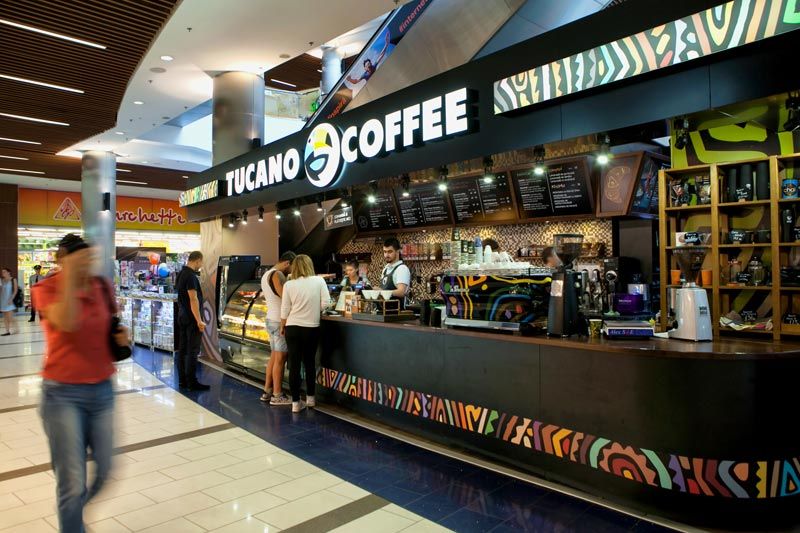 How much does Tucano Coffee franchise cost?
Tucano Coffee has a franchise fee ranges from $9,000 to $25,000, with total initial investment from $96,000 to $200,000.
Initial investments: from $96,000 - $200,000.
Construction and maintenance €30,000
Equipment €27,000
Furnishing €20,000
Professional Services €3,000
Organizational Expenses €18,389
Interior finishes and IT management system. €8,000
Tableware. €6,300
Exterior finishes and advertising. €3,000
Working capital and contingency. €7,000
Pre-opening expenses and Lumpsum payment. €9,300
Inventory control and Supplies. €3,900
Payback period: from 30 to 42 months.
Monthly turnover: from $2,500 to $13,000.
Royalties: 3.5% first year, 4.5% the rest of the years.
Franchising fee:
$13,000 Europe.
$9,000 Ex Sovetic Countries.
$25,000 North America continent.
Other current payments: none
Request Free Info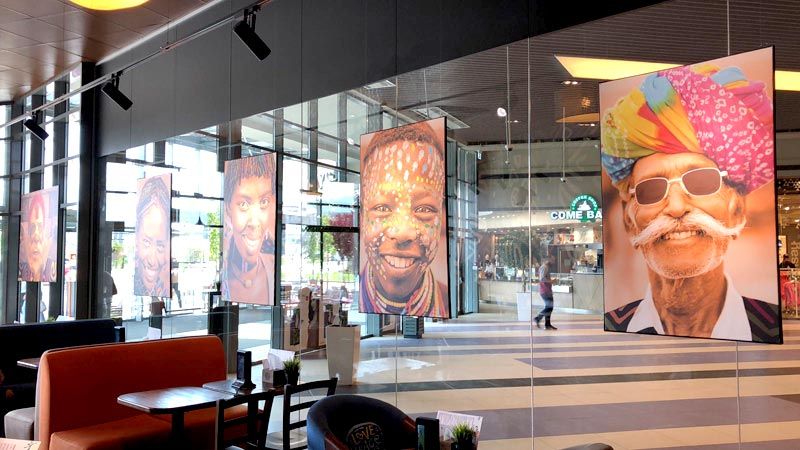 Success story
Coincidentally or not, the first Tucano Coffee franchise story in Romania started in the heart of the mountains, in a picturesque area with fresh air and medieval streets. Arabica coffee trees grow in mountainous areas. In Brașov, they do not grow, but for 3 years the specialty arabica beans from which the best coffee is made have arrived there.
Tucano Coffee Peru is the location opened in Brașov by our partners Maxim Ciornii and Alex Gava. Why Tucano Coffee Peru? Because it is the area with the most beautiful mountains and like Mount Machu Picchu in Peru, our partners have managed to attract rainbow people, creative people who meet for a coffee, exchange ideas for a cup of coffee served at the foot of the mountains where all the aromas of coffee open. Tucano Coffee Peru is located on the ground floor of Coresi Shopping Mall. It has an ideal position, surrounded by mountains, so it is a suitable destination for tourists. The location covers an area of ​​150 square meters, with a spacious terrace of 70 square meters from which you can admire this medieval city.
At first, we were skeptical of the team about this location, but it soon exceeded all expectations. The investment in this concept was 200,000 euros. Already for the 3rd consecutive year, the location in Brașov obtains the highest sales in the entire Tucano Coffee network.
In the first 6 months of 2018, their turnover increased compared to the similar period of 2017 by 12%.
The partners end up making almost 2000 euros a day. A record that they surpassed even these months reaching the figure of 3500 euros.
This year they opened 2 more Tucano Coffee locations in the cultural capital of Romania, Sibiu, and in November they will go for the second coffee shop in Brasov.
All these thanks to the managerial skills of Alex Gava, who at only 33 years old knows how to manage the business and how to inspire our team and guests with our philosophy Love.Peace.Coffee.
Alex studied marketing, after which he was the commercial director of the QIWI branch in Brașov. Now comes the most important faculty of life, that of Daddy. He is also a fierce Fan, as proof at his own wedding, he wore a T-shirt with Juventus FC.
If you have not yet arrived in Brașov, go at least once, take the opportunity to enjoy a good coffee, specialty arabica, to breathe the fresh mountain air, and to know the owners of this successful franchise. We are proud of their achievements.
Tucano Coffee Franchise Business Model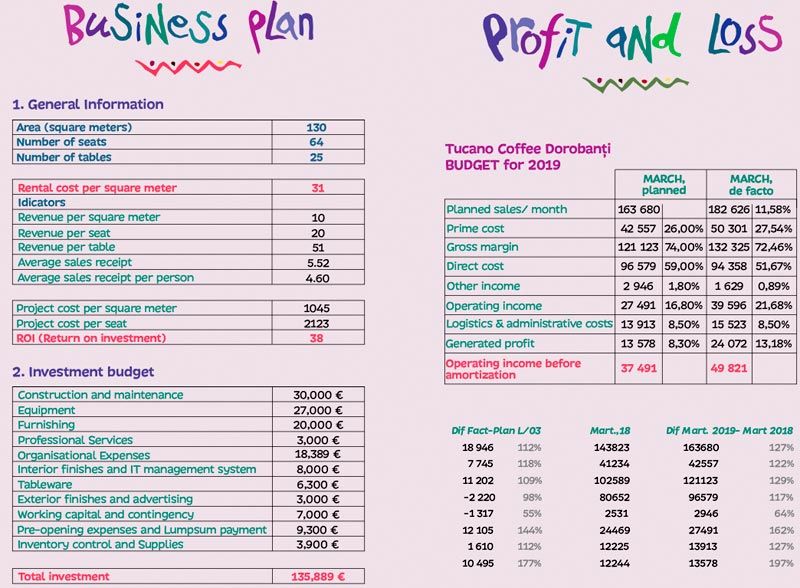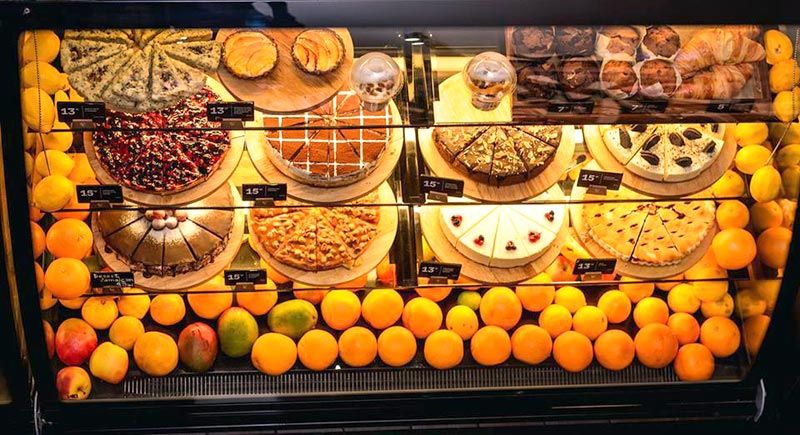 Shop formats
From 120 m² Standard locations.
From 30 to 60 m² mini forma.

At the moment we can not connect you to the representative of this franchise.

Find other similar franchises in our catalog!
You need more information?
Send a request to get free consultation from the official representative of the company
Cecan Vitalii
Complete your request
The information is provided from public sources on the Internet
Ask a question about the franchise