BENPAN® Franchise For Sale - Innovative Construction Technology
BENPAN® Franchise For Sale - Innovative Construction Technology

BENPAN® Franchise Opportunities
BENPAN® is an innovative, patented concrete casting technology. The company's strategic goal is to manufacture and distribute products around the world using the unique BENPAN® technology.
Geography of BENPAN®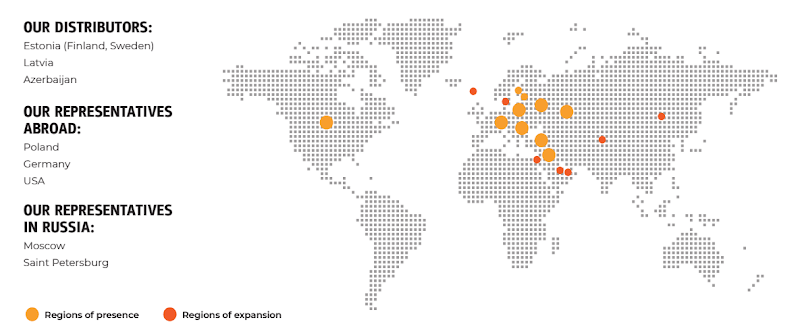 BENPAN® is an innovative technology for the design, production, and construction of BENPAN reinforced concrete elements. BENPAN® technology has successfully proven itself both in Russia and abroad and represents an integrated system that provides the entire spectrum of services: from design to production.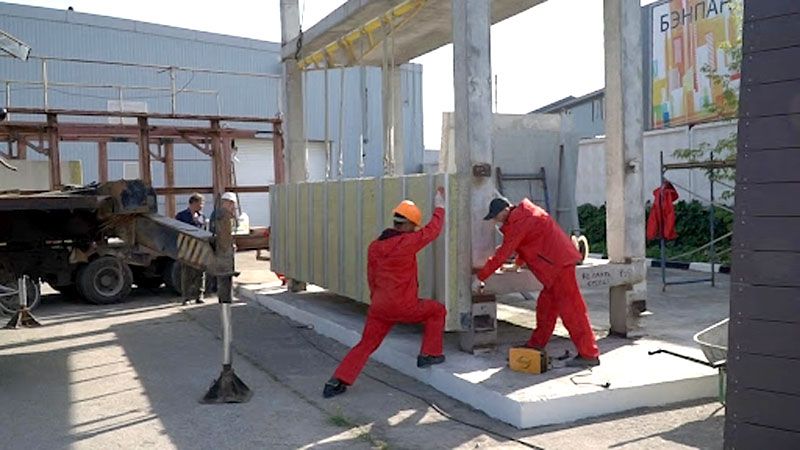 The benefits of BENPAN® panels
Fire safety
Reinforced Concrete BENPAN® panels are non-combustible building elements (K0). Reinforced load-bearing fibro concrete panels meet the requirements of fire safety regulations, fire resistance limit up to REI150.
Speedy construction
Due to the high level of prefabrication of all elements, the building can be erected at any time of the year. It takes only 2-4 days to assemble a standard design house. Turnkey construction takes only 3 months.
Energy efficiency
BENPAN® reinforced concrete panels with standard insulation have a heat transfer resistance coefficient between 3.2 and 6 R*m2S/W (depending on the climate zone, a special insulation material is chosen), which allows for the construction of energy-efficient homes and leads to significant reductions in energy consumption costs.
Eco-friendly
BENPAN® reinforced concrete products have an environmental safety certificate from the Russian certification system ECOSERTIFICA and an international environmental certificate ISO 14001.
Durability
With proper quality control, BENPAN® fibre concrete elements ensure the durability and longevity of the houses and buildings. The service life of a house is more than 130 years.
Soundproofing
The integrated thermal insulation also perfectly absorbs sound and acts as additional sound insulation: street noise is barely audible in a BENPAN® house, and thanks to the noise insulation in the reinforced concrete floor slabs on the second floor, you can walk, dance, or listen to music without disturbing those living on the first floor.
The picture shows the elements of the sections of the panel structure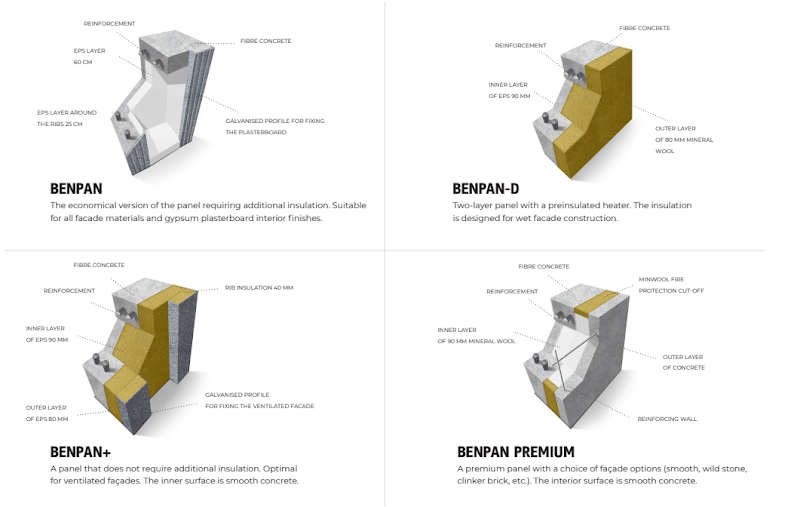 Franchising offer
Achieve great results through innovative technology and a successful business model with BENPAN® franchising. Using BENPAN® technology allows you to take your company to the next level.
The benefits of cooperation:
Optimization of project costs
Access to BENPAN® IT solutions
Decrease of redundant costs
Construction speed
Competitive products

What does the franchisee get?
Right to use the BENPAN® trademark
Licenses for patented inventions and useful models
Equipment for casting BENPAN® products
Production and assembly manuals
Staff training for manufacturing, assembling, and mounting of BENPAN® products
Supply of components and parts
Fully functional website under a sub-domain for your region with automated cost calculation, and database of design projects
Setup of automation software, controlling all processes including design, manufacturing, construction and quality control
Staff training to use all the software
Availability of on-site production with minimal requirements of BENPAN® panels (if needed)
Full set of Constructional joints diagrams
Results of laboratory and technical tests of product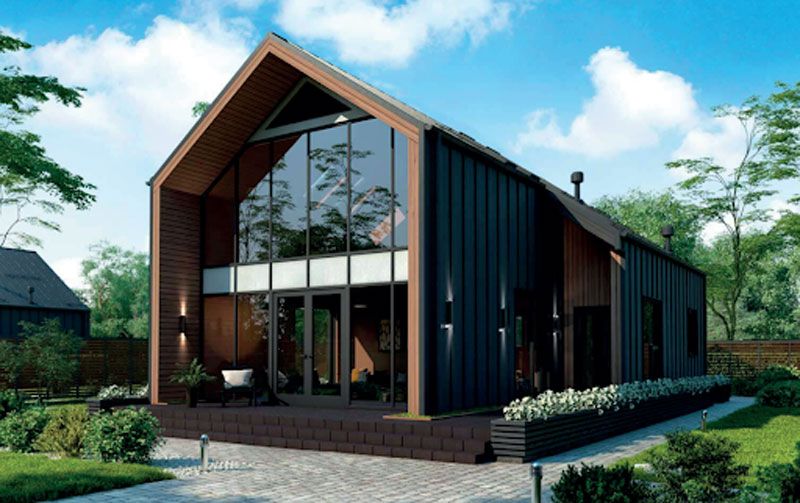 How much does the BENPAN® franchise cost?
BENPAN® has a franchise fee ranges total initial investment from $409,887.
Initial investments: from $409,887
Investments for mini production
Payback period: from 18 months
Average turnover per month:
With the construction of 10 houses S=120 m² the franchisee's income will be $31,394 per month
Royalties: on demand
Franchise fees: Lump sum fee is calculated individually for each partner depending on the location and volume
Other current payments: none
Request Free Info

The benefits of a BENPAN® franchise
Recognized brand
BENPAN® brand name is well-known as a market leader of precast concrete elements used in low-rise construction
Ready-made architectural solutions
Our engineering team would work closely with your architects to adapt any project under the BENPAN requirements
IT-infrastructure
The proprietary BENPAN software package enables the complete production and construction cycle — from BIM design to the production of a complete set of elements for construction
Manuals
Each construction site would have its own manuals for assembling and mounting of the construction elements
In-demand product
You get prefab concrete construction elements that can be used with any architectural design. All BENPAN® products are highly competitive on the market
Customer support
We provide 24/7 customer support

At the moment we can not connect you to the representative of this franchise.

Find other similar franchises in our catalog!
You need more information?
Send a request to get free consultation from the official representative of the company
Benpan team
Complete your request
The information is provided from public sources on the Internet
Ask a question about the franchise