GIROSmaster Franchise For Sale – Street Food Cafe
GIROSmaster Franchise For Sale – Street Food Cafe
Description of the franchise street food cafe GIROSmaster
GIROSmaster is a moderate street food format. The basis of the menu is gyros - a popular dish in Europe. This is a modern street cafe concept, a combination of fast food and healthy food.
Moderate prices.
A diversified menu.
Dishes are prepared using professional equipment.
Guests see the cooking process.
High culture of service.
Cozy atmosphere and modern design.
Convenient takeaway packaging.
People return to GIROSmaster, because of the taste of products, the format and design of the storefront change people's attitude to street food.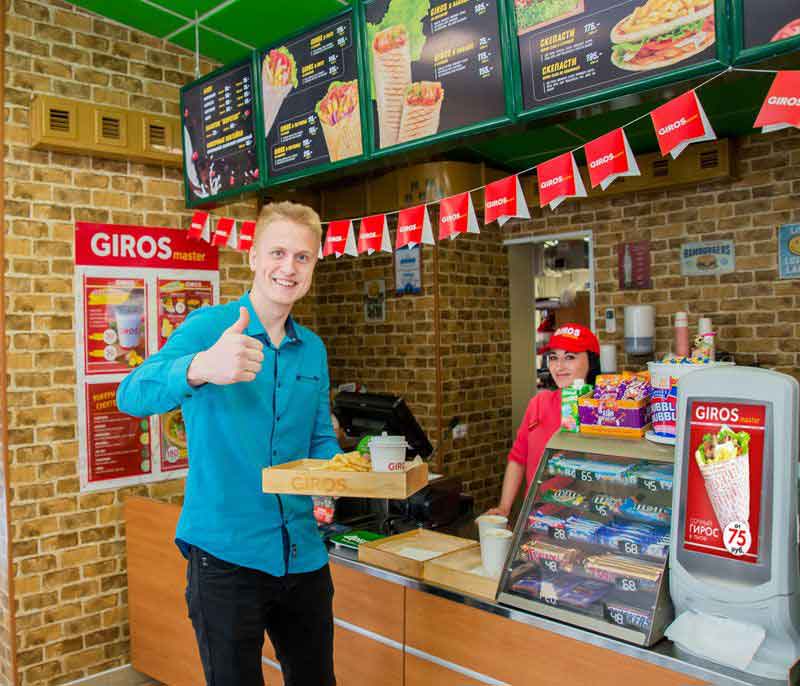 Main cafe dish - greek Gyros
Tender pita flatbread, tortilla or pita bread, juicy chicken or pork. There are vegetarian options with vegetables and mushrooms. Gyros can be assembled on your own using the ingredients of your choice (more than 15 components).
Fried potatoes, lots of herbs and spices are added to the mixed vegetables. All this makes the filling more satisfying and juicy.
There are 8 types of sauces to choose from: spicy, mustard, cheese, garlic and others. The piquancy of the dish is given by zaziki - a Mediterranean cold appetizer made of yogurt or sour cream, fresh cucumber and garlic.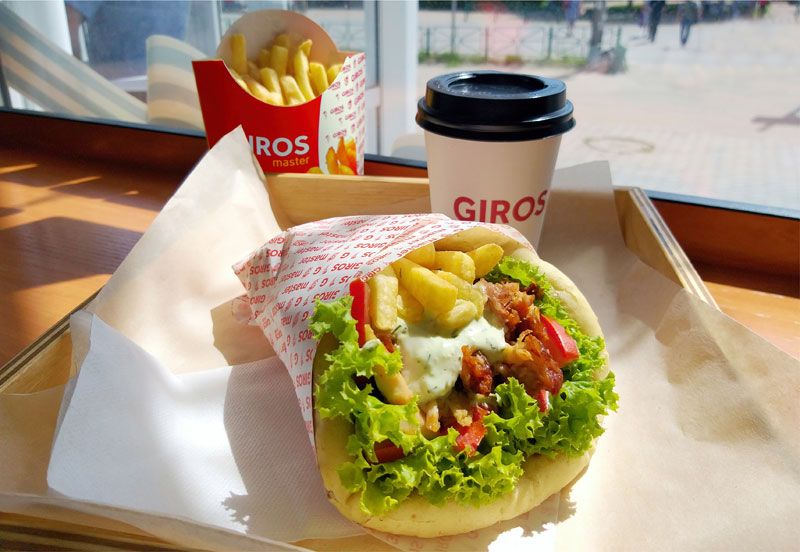 So it turns out a real gyros, one of the most famous dishes, which has gained popularity around the world. This is a masterpiece in the field of fast food - a fragrant, simple and healthy dish for every day.
GIROSmaster recipes are a healthy, tasty and juicy alternative to the usual fast food.
Our menu has only popular positions:
Gyros
Burgers
Pizza
Quesadia
Chicken nuggets and wings
French fries
Ice cream
Milkshakes
Hand-made fruit and berry drinks
Hot drinks (tea, coffee, a drink from the rosehip Sheregesh)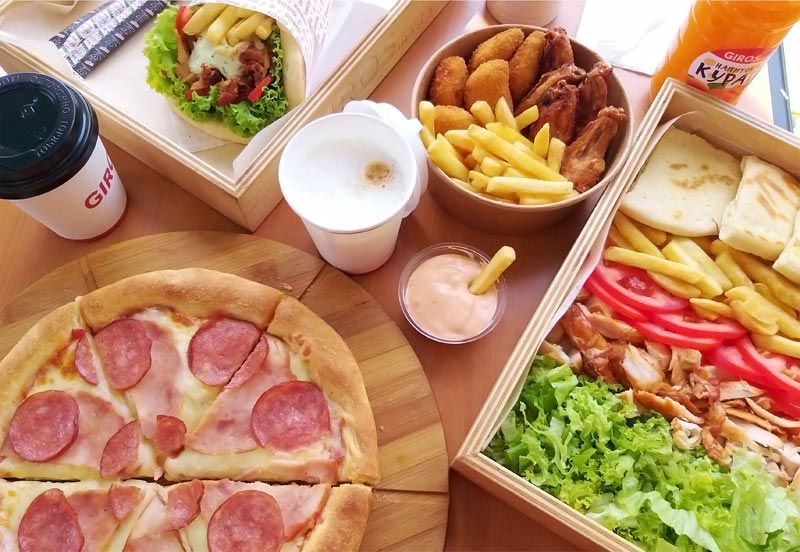 Prospects for successful business in large and small cities of Russia
Simple business model. You can start without any experience in catering
Low initial investments (from $17,000)
Launching business in 1–1.5 months
A modern format in the field of street food
High product demand
Help with location selection and foot traffic analytics
Author's design of rooms and well-designed style elements
Automated accounting system
Step-by-step plan for opening a point, selection of suppliers and personnel
Business support, training. New items on the menu. Marketing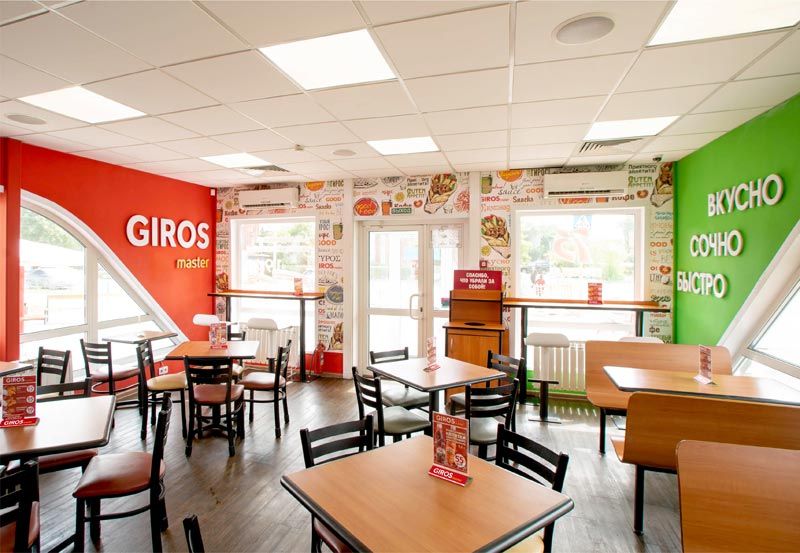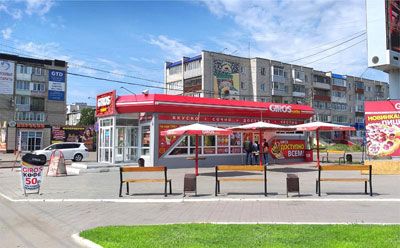 Area: from 70 m²
Investments: from $34,000
Monthly revenue: $15,500
Profit per month: $2,200
Payback: from 17 months
Full menu
From 30 seats
First line (drop off window) from 10 months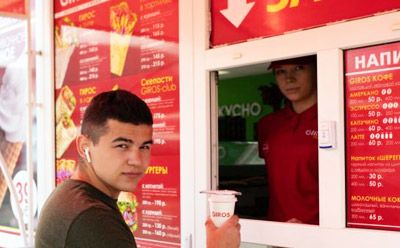 Area: from 40 m²
Investments: from $17,000
Monthly revenue: $9,500
Profit for the month: $1,700
Payback: from 10 months
Abbreviated menu map
No seating. Dropoff window. The take and go format
Food court inside shopping center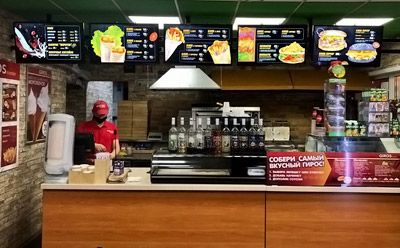 Area: from 30 m²
Investments: from $30,000
Monthly revenue: $15,000
Profit per month: $2,300
Payback: from 15 months
Full menu map
Landing in the common area of the food court
Public areas
Cultural, historical and business centers
Transport junctions, next to the highway
Near educational institutions: schools, universities and so on
Our guests are people who lead an active lifestyle, study / work / live near the cafe. With a high pace of life, our guests choose fast-prepared, healthy, tasty food from GIROSmaster.
Good traffic provides revenue of $15,700 per month.
A bright brand in the street food market
Tried and tested business model, 3 years of successful work
Business with a payback of 10 months
Simple financial model
Debugged business processes
Clear instructions and recommendations
Valuable experience in catering
An experienced mentor to accompany and grow your business
An opportunity to receive an exclusive for opening a cafe network of your city and region
With us you save energy, money and time!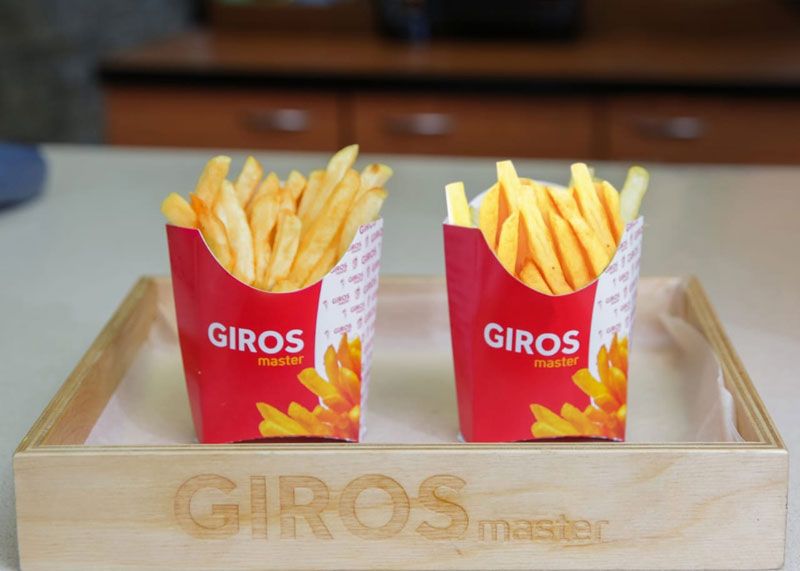 GIROSmaster - the flagman project of a large holding
GIROSmaster is an author's project, which implements the best ideas accumulated over 20 years of experience in the field of catering.
Our holding includes:
Restaurants
Cafe
Canteens
Shops
Entertainment Center; Cinema, bowling and billiards club.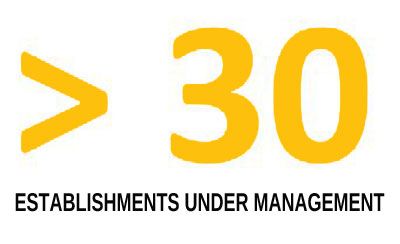 Format of the cafe - pavilion from 70 m²
Investments for opening - $34,000
Franchise fee
Rental of premises
Repair
Equipment
Furniture
Cash register equipment
First purchase of products
Turnover per month: from $15,500
Franchise fee
$15,000
paid once at the beginning of cooperation.
Royalties
2.5% of revenue
monthly payment for the entire period of cooperation.
Special conditions for first partners
To partners who entered into an agreement before 01/01/2021
Franchise fee - $2,700
Royalty - 1.5% for the first year of work.
Payback: from 17 months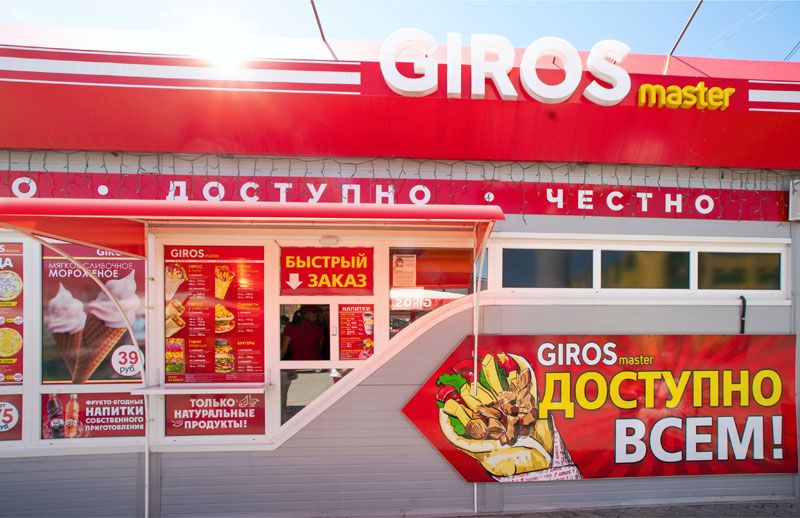 On the stage of business start-up
We will reveal our business concept and development program.
We will help with the assessment of the prospects of the place to open.
Calculate the financial model for the format and city of the Partner (a typical budget structure for opening).
We will give instructions for starting and running a business (business book).
We will advise on legal paperwork.
We will carry out a consultation on accounting and submit reporting forms.
We will take part in the selection of suppliers in the Partner's region.
We offer a management structure.
We will give recommendations on staff recruitment and staffing.
We will carry out internship of employees in one of our establishments
On the stage of construction
Recommendations for the design and layout of the room.
Recommendations for the installation and operation of equipment.
Supervision of the stages of opening a Partner's institution (online).
Consultations during repair work and room decoration.
Specification for equipment and furniture.
Recommendations for equipment suppliers.
Corporate identity and layouts of packaging, uniforms of employees, menu boards, handouts.
Recommendations for the design and maintenance of accounts on social networks.
Support on operational and administrative matters throughout the duration of the collaboration.
Chat on WhatsApp with the founders of the network.
Product sheets and instructions.

G – Good
I – Interesting
R – Relevant
O – Open
S – Street
Request Free Info

This business is oriented to interested people of any age, as individually, and in partnership with relatives or friends.

At the moment we can not connect you to the representative of this franchise.

Find other similar franchises in our catalog!
You need more information?
Send a request to get free consultation from the official representative of the company
Ivan Sladkov
Executive Director
Complete your request
The information is provided from public sources on the Internet
Ask a question about the franchise