Jackson Hewitt Franchise Opportunities
Jackson Hewitt is a full-service, year-round national tax service specializing in computerized federal and state preparation of individual returns. The company was founded in 1985. It began franchising in 1986, the same year that the IRS introduced electronic filing.sterpiece. As of 2018, the company operates 3903 franchises in the United States.
How much does Jackson Hewitt franchise cost?
Jackson Hewitt has the franchise fee of up to $25,000, with total initial investment range of $39,721 to $105,375.
Initial investments: $39,721 - $105,375
Initial Investment and Startup Costs:
1. Application Fee: $500

Jackson Hewitt charges a non-refundable application fee of $500, payable in a lump sum upon your submission of an application for a Franchised Business. Except in connection with certain sales programs and promotions, the application fee is uniformly charged to all new franchisees.



2. Initial Franchise Fee: $25,000

Under each Franchise Agreement, you will be required to pay Jackson Hewitt a $25,000 initial franchise fee, payable in two installments: $15,000 is due upon your signing the Franchise Agreement, and the remaining $10,000 is due and payable on the 1st April 15th to occur after you and Jackson Hewitt sign the Franchise Agreement.
The initial franchise fee is not refundable under any circumstances. The initial franchise fee is uniformly charged, but Jackson Hewitt reserves the right to reduce or waive it in its discretion. For instance, Jackson Hewitt may offer a reduced initial franchise fee for existing franchisees who are purchasing new territories.
Jackson Hewitt may also, from time to time, reduce the initial franchise fee or provide other incentives or accommodations in connection with specific Affinity Accounts or National Account locations, often depending on the nature of the Affinity Account or National Account, the deal terms Jackson Hewitt is able to negotiate with the particular Affinity Account or National Account, or whether you are a new or existing franchisee.
Jackson Hewitt may also provide incentives to other tax preparation businesses to convert to its system. Those incentives might include a reduction or waiver of the initial franchise fee, depending on the circumstances. Jackson Hewitt's best estimate of the reductions described in this paragraph could cause the initial franchise fee to be $20,000, or possibly even lower in certain circumstances.
In addition, Jackson Hewitt expects to begin offering a program that provides incentives to existing tax preparers who already have a Preparer Tax Identification Number (PTIN) issued by the IRS. If you qualify under this program, the initial franchisee fee would be payable in four installments, rather than two, with the first two installments each equal to 20% of the initial franchise fee and the second two installments each equal to 30% of the initial franchise fee for a standard franchise agreement.
If you have a PTIN and are also applying for a franchise for an Affinity Account, Jackson Hewitt would elect to collect the initial franchise fee in four installments, with the first installment equal to 33.3% of the initial franchise fee, the second installment equal to 16.7% of the initial franchise fee, and the last two installments each equal to 25% of the initial franchise fee.
Jackson Hewitt may discontinue this program at any time.



3. Development Fee: 1/3 of the applicable initial franchise fee multiplied by the number of Jackson Hewitt Tax Service businesses you agree to open

If Jackson Hewitt elects to enter into a Development Agreement with you, you will pay Jackson Hewitt, on your execution of the Agreement, a fee equal to 1/3 of the applicable initial franchise fee multiplied by the number of Jackson Hewitt Tax Service businesses you agree to open.
Jackson Hewitt will credit the development fee against the initial franchise fees owed under Franchise Agreements signed pursuant to the Development Agreement by an amount equal to 1/3 of the initial franchise fee due.



4. Royalty Fee: Royalty Fee First Reporting Year — greater of 5% of Gross Volume or $1,500; Second Reporting Year — greater of 10% of Gross Volume or $4,000; Third and Subsequent Reporting Year — greater of 15% of Gross Volume or $5,250

Due Date: 1/1 – 4/30: on the 5th and 20th of the month for the preceding half month; 5/1-12/31: monthly on the 5th of each month for the prior month.



5. Advertising Fee: 6% of Gross Volume of Business

Due Date: Same as Royalty Fee.



6. Technical Assistance Fee: varies

Due Date: On or about March 15 for technical support provided from January 1 through the last day of February, and on May 15 for technical support provided from March 1 through April 30.



7. Amendment Fee: the greater of Jackson Hewitt's costs associated with the amendment or $250

Due Date: At time of amendment.
Due only if Jackson Hewitt agrees to amend your Franchise Agreement for any reason.



8. Direct Deposit User or License Fee: actual cost

Due Date: On invoice.
If the IRS or any state tax authority imposes any fees in connection with electronic filing, you must pay all such fees in a timely manner. If Jackson Hewitt imposes or collects any such fees for your Franchised Business, it will provide you with documents that detail any such charges.



9. Technology Fee: varies


10. Service and Product Testing Fee: varies

Due Date: On invoice.
If you ask Jackson Hewitt to evaluate a proposed service or product, Jackson Hewitt may require that you reimburse the expenses it or its Affiliates incur in assessing your proposed services or products.



11. Payments to Customers: equal to the tax preparations fee and/or any other amounts Jackson Hewitt pays to your customers

Due Date: On invoice.
If you do not resolve customer complaints and the customers contact Jackson Hewitt, it may pay customers on your behalf, and you will be required to reimburse Jackson Hewitt.



12. Transfer Fee — Franchise Agreement: $10,000

Due Date: At time of transfer.
If the transfer is to an entity you own or of a non-controlling interest in you, you pay an administrative fee in lieu of the transfer fee, equal to the greater of Jackson Hewitt's costs or $1,000.



13. Transfer Fee — Development Agreement: the greater of (i) 1% of the purchase price or (ii) $25,000, plus, in either case, applicable goods and services taxes

Due Date: $2,500 due before commencement of training by proposed buyer; balance due at time of transfer.
If a proposed transfer is not to or among your existing owners, you must pay to Jackson Hewitt a transfer fee.



14. Development Agreement — Transfer Expenses: a maximum amount of $3,000, plus disbursements and applicable taxes

Due Date: $1,500 due at time you submit application for Jackson Hewitt's approval of a transfer; balance due upon completion of the approved transfer.
You must pay all of Jackson Hewitt's expenses incurred in connection with a transfer, whether or not such transfer is completed, up to a maximum amount of $3,000 plus disbursements and applicable taxes.



15. Processing Fee: $2,500

Due Date: Immediately after closing.
Due only if Jackson Hewitt disclosed to you a potential acquisition target and you subsequently purchase the target business.



16. Late Gross Volume Report Fee: $50 per day

Due Date: On invoice.
Due only if you do not timely submit your Gross Volume Report.



17. Interest on Late Payments: lesser of 18% per year or the highest legal rate allowed in your state

Due Date: On invoice.
Due only if you do not pay amounts owed by their due dates.



18. Insufficient Funds Charge: $100

Due Date: On demand.
Due only if your checks are returned or if there are insufficient funds in your account when Jackson Hewitt attempts to withdraw fees owed.



19. Non-Compliance Fee: increase in Royalty rate by 1 percentage point

Due Date: On demand.
Imposed only if you are not in compliance with the Franchise Agreement or you or your Affiliates are not in compliance with any other agreement with Jackson Hewitt or its Affiliates; continues until all such defaults are cured.



20. Audit Expenses: costs Jackson Hewitt incurs for its employees' travel, room, board, and other related expenses

Due Date: On invoice.
Due only if the audit is needed because you fail to comply with the Franchise Agreement, fail to allow full access to your records, or Jackson Hewitt finds that you underreported at any location your Gross Volume of Business by 2% or more during two or more reporting periods.
In addition, Jackson Hewitt may conduct data security and privacy audits of your computer system to ensure you are complying with its requirements for handling personal information, and you will pay the cost of these audits.



21. Enforcement Costs: varies

Due Date: Upon settlement or entry of a judgment or court or administrative order.
If Jackson Hewitt incurs any costs or expenses, including attorney's fees, in connection with any action, claim, or suit by you or it with respect to the Franchise Agreement or any collateral agreement (including the Development Agreement), and Jackson Hewitt prevails in such action, claim, or suit, then you will be required to pay all such costs and expenses.



22. Recruiting Fee — Development Agreement: 300% of the annual salary of person recruited or hired

Due Date: Upon demand.
Only if you recruit or hire any person then employed, or who was employed within the immediately preceding 24 months, by Jackson Hewitt, any of its Affiliates, or a Jackson Hewitt franchise owner, or any of Jackson Hewitt's or its Affiliates' officers or directors.



23. Indemnity: varies

Due Date: Upon settlement or entry of a judgment or court or administrative order.



24. Liquidated Damages: varies
Ongoing Fees
Initial Franchise Fee: $15,000 - $25,000
Ongoing Royalty Fee: 5-15%
Ad Royalty Fee: 6%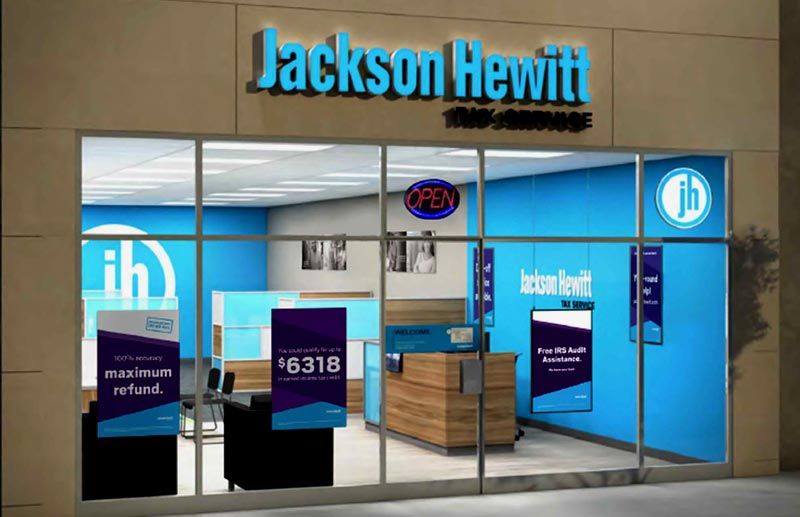 Support Options
On-The-Job Training: 14 hours
Classroom Training: 35 hours
Additional Training: At Technology Headquarters (Sarasota, Fla.)
Number of Employees Required to Run: 4 - 6
Jackson Hewitt regions of the presence:
https://www.jacksonhewitt.com/officelocator
Jackson Hewitt Franchise Info:
https://www.jacksonhewitt.com/franchise-sales/
Jackson Hewitt Reviews:
https://www.indeed.com/cmp/Jackson-Hewitt/reviews
Jackson Hewitt Franchise Expansion Plans:
United States: Wisconsin, Washington, Tennessee, Ohio, New Hampshire, Nebraska, Missouri, Minnesota, Maine, Maryland, Indiana, Iowa, Connecticut, California, Alabama.
International: no
Jackson Hewitt website: https://www.jacksonhewitt.com/
Request Free Info