La Donuteria Franchise Opportunities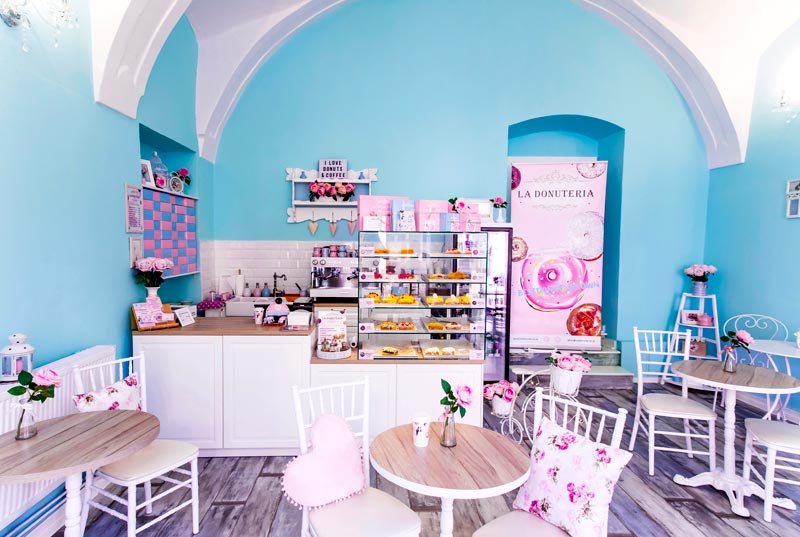 Donut is the most selling type sweets in the world; more than 10 billion donuts are consumed only in the USA annually. These "cakes" have their origin in Holland with long and rich history. Donuts gain more and more fans around the globe each year, and this donut wave has now just started also in Europe.
Our concept, that had been developed in the UK, has become the second largest handmade donuts chain in Europe. Nowadays we work on opening new donut-shops in Vienna, Salzburg, Prague, Budapest, Copenhagen, Warsaw, and Dubai, so that La Donuteria will be the largest handmade donuts chain in Europe. Additionally, we register the interest of potential franchisees from Germany, Holland, Poland, Austria, Sweden, Oman, Singapore, and USA.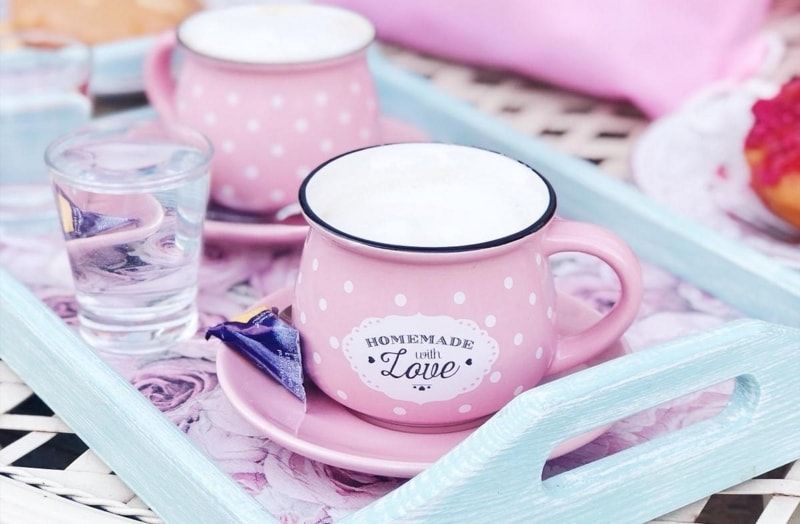 Our success pillar is TOP quality product and the fact that we bring original and innovative concept – the whole system and secret recipes were developed by international team in London for more than a year. We have tried hundreds of recipes unless we were completely satisfied. We do not offer the "American" style of machine-made frozen donuts, we localized and adjusted our flavors for European taste buds.
Even though you can maybe find a local donut shop in your town, the customers are overwhelmed by the difference of taste and quality of our donuts. We in La Donuteria value the customers' feedbacks extremely, e.g. on Tripadvisor or social medias. We face the feedbacks of tourists in our shops, especially those from USA and UK, who know donuts from childhood and many of them claim say our donuts were the best they have ever eaten.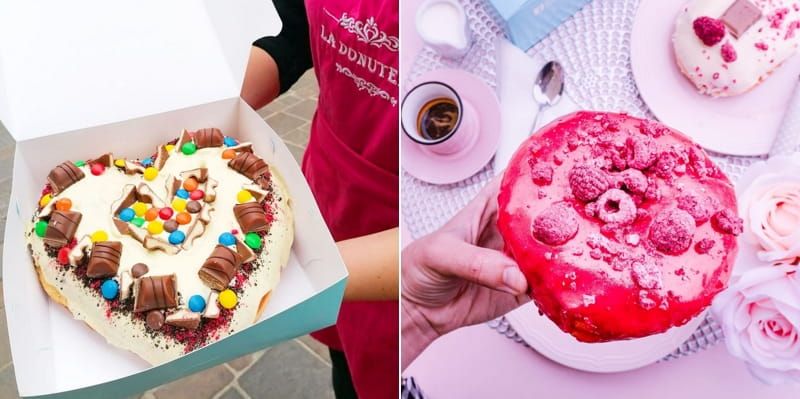 Any semi-finished products, artificial replacements, mass production of frozen donuts, not even donuts baked in big bakeries cannot be found in our local La Donuteria shops. This is why our donuts taste BEST! We prepare our own caramel, our raspberry glaze is made from real raspberries. We make our own fillings and delicious cremes, our chocolate is top quality from Belgium and vanilla beans we ship directly from Madagascar.
You first eat with your eyes – La Donuteria shop is designed in an eye-catching "Provence" style, which attracts customers and allows us to drive viral presentation in social medias. We become the lovebrand everywhere we serve.
Regular donuts offer is enriched by weekly and monthly specials, which attract new customers and boos our sales. Most of our donuts are Vegan, which is also one of the rising trends in the world. Even coffee lovers will be satisfied in our shops. We prepare freshly roasted specialty coffee from one of the best roasting companies in Europe. The offer is very well balanced with great home-made lemonades, attractive drinks imported from USA, Mexico and Thailand and wines, Rosés, and Prosecco.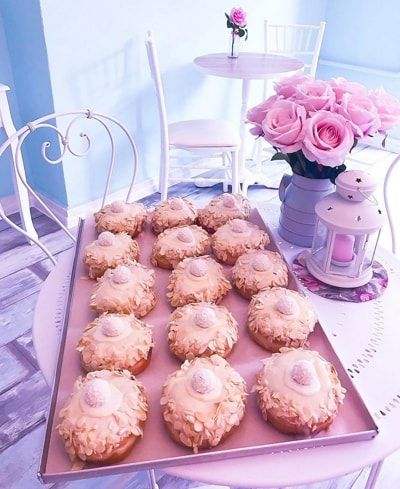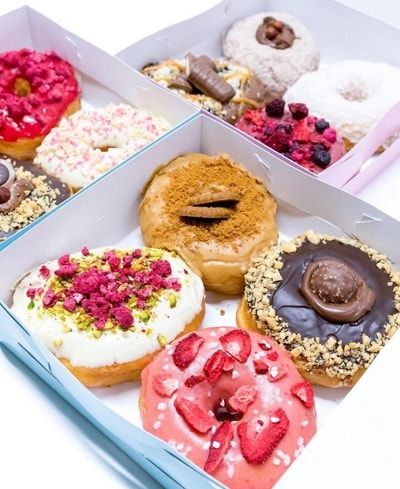 Size of stores
The ideal size of our premises is 40 to 70 m², which also allows you to optimize the rental costs. Furthermore, we provide the most of logistics of the supplies for our franchise partners, so you always get the best price for products with no further issues how to get the products to your shops.
La Donuteria Franchise Offer
Original concept, which is "IN"
Opportunity to be one of the first players in your market
Possibility for self-development in your own business with verified
We help you choosing the right location
We help you to negotiate the lease agreement
We support you to obtain the official approvals and licenses, from establishing your own company to HACCP
We provide you with our design manual and advise you where and how to purchase the equipment
We secure logistics and delivery of ingredients, packaging, and marketing materials
We provide you with bakery and sales training and give you know-how
You will get our Operations Manual to help you running your donut-shop smoothly
We help you to boost your sales
We help you with local marketing activities
We provide you with continuous support and coaching for the duration of the license
We set up a control system for the successful operation of the La Donuteria franchise concept
Centralized marketing and support for our franchise partners
LOVEBRAND, a strong brand with positive feedback from customers
More than 100,000 followers in social medias
Product development, new donuts flavors
Our long history and experience from USA and UK
Win – Win – Win concept for everyone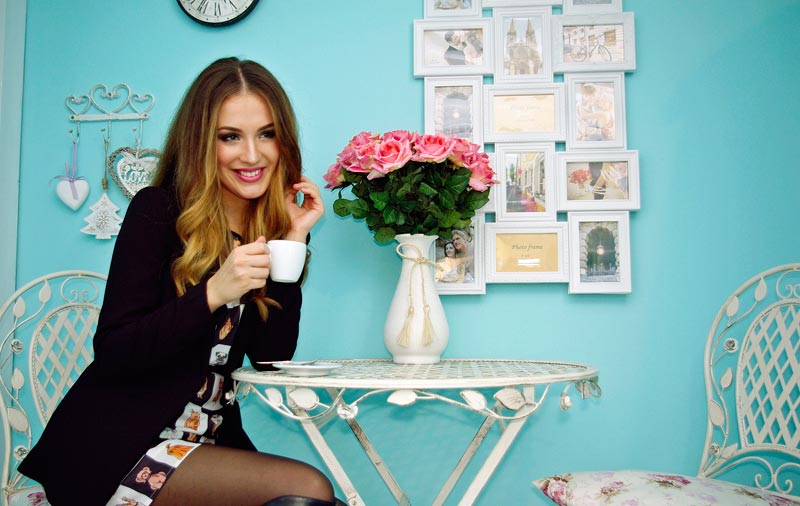 How much does the La Donuteria franchise cost?
La Donuteria has a franchise fee ranges from $10,000, with a total initial investment from $35,000.
Initial investments: from $35,000
The initial investment covers bakery and shop equipment, shop design and fit-out, Initial franchise fee and supplies for the first month
Payback period: from 6 months
Average turnover per month: $35,000
Royalties: 6%
Franchise fees: from $10,000
Other current payments: none
Request Free Info

Additional information
We are hiring! We are looking for new Country Franchise Development managers, who will drive our franchise business by building on the La Donuteria internationally successful brand. Several areas around the world (Europe) need FDMs and if:
you are willing to live in that country full time,
and have franchise(e) experience, you may be the Franchise Development Manager that the La Donuteria chain needs now.
FDM is an independent contractor who sees the big picture. FDM follows the company mission to delight every customer so that they want to tell their friends; through freshly baked, delicious home-made donuts and an exceptional experience.
When approved, the FDM develops a country by helping franchisees own and operate La Donuteria shops in that country. Qualities of a successful La Donuteria FDM are:
Excellent leadership capabilities
Vision and passion for the future of the La Donuteria brand and shop development
Local market knowledge
Determination to lead a successful territory
Excellent organizational skills
Success story
Now we would like to help other people to repeat and accomplished the success that we have managed to reach. We are offering our franchise partners the opportunity to build their own business, be their own independent boss, and help them to move forward in their lives. Plenty of people dream of running nice and stylish coffee or pastry shop, and we are pleased to guide them to fulfil those dreams.
We have the best job in the world, we are here to make people happy! :)