No Drama Franchise For Sale – a Network of Beauty Salons
No Drama Franchise For Sale – a Network of Beauty Salons

No Drama Franchise Opportunities
No Drama is not just a beauty salon, it is a lifestyle brand that becomes a part of the lives of our guests. This is a space for women's events, hen-parties, baby shower parties, a place to meet with friends over a glass of sparkling wine.
No Drama is a salon where you want to keep coming back, where it is as comfortable as possible and where customers can completely trust the master. Professional specialists who not only provide the highest quality services, but also become friends of our guests. Unique interior design, author's printing, selection of selective products for home use in the No Drama shop. The No Drama franchise is an ideal offer for opening a new business like no one else. This is a format that you will not find in every corner. The start package includes everything to work and have a steady customer flow, comprising training, a set of necessary instructions for work and a marketing plan.
The No Drama franchise offers a ready-made business model with competitive advantages:
We pay great attention to the smallest details - from the choice of location, the competence and professionalism of our employees and the quality of services provided to the organization of the process of attracting customers and subsequent work with them. We give practical knowledge and skills. We pass on the accumulated experience, talk about all the "taken lumps" so that you have the opportunity to avoid them.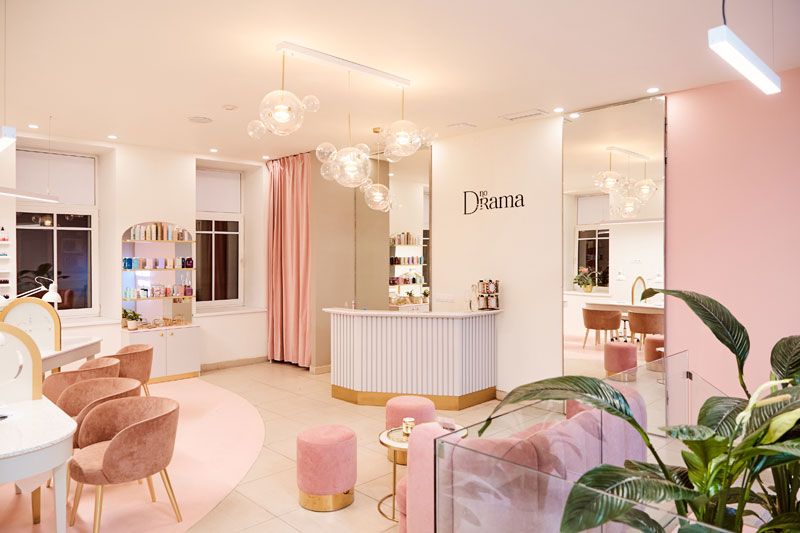 No Drama today is:
2 own showrooms in St. Petersburg
The popular dry bar format, which has proven itself in the USA and is actively developing and gaining more and more popularity in the Russian market
Beauty salon, which is chosen by modern and stylish women who know the value of their time
Independent brand of accessories
Proven business model
Range of services in demand on the market
Official partner of key manufacturers of hair and body cosmetics Davines, Marble, Greymi
Training and professional development of staff
High standards of service delivery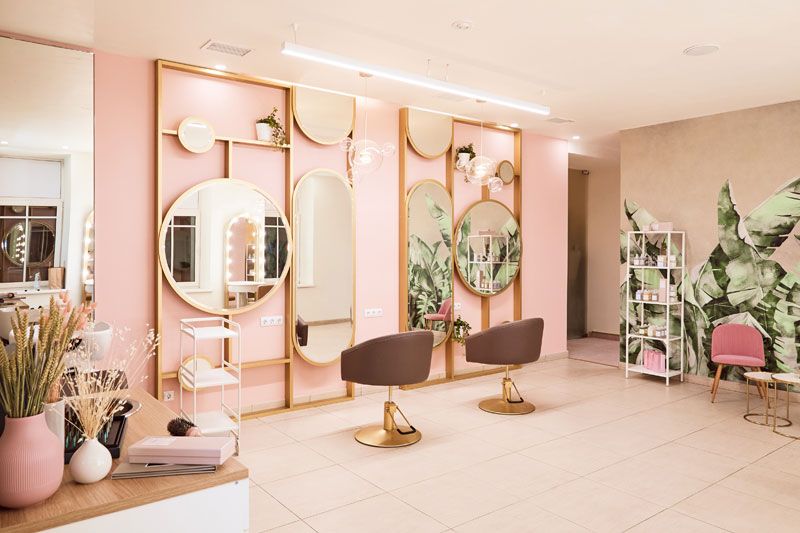 Are big investments and new markets scary?
Do you want to invest wisely?
The No Drama team of professionals has already done everything for you!
By buying the No Drama franchise today, you become our partner, the owner of a ready-made beauty salon, and you get an even-keeled business with a turnover of $27,240.
How it works?
We constitute a franchising agreement
We provide all the necessary materials
We support your project in consultation mode and help with promotion
How will you earn money?
Haircuts
Manicure and pedicure
Makeup and hairstyles
hair pigmentation
Hair care
Eyelash extension and eyebrow shaping
What will you get?
Business project
Financial model
Professional brand book
List of requirements for the premises and operating conditions
Design project and planning solution for your premises
A full package of documents: legal, internal documents, prepared instructions for working in CRM, nomenclature, checkoff list, reporting forms
Prescribed nuances, requirements, SOPs of sanitary and epidemiological supervision, stages of preparation for launch
Your benefits
Save time and money on creating a new product
Get rid of the risks associated with starting business from scratch
Don't waste resources on brainstorming, payroll to the team, outsourcing fees, implementing the right formula for success
Join the No Drama team and you can do the same!
Franchising Offer No Drama
Dear partners, everyone will be able to earn money with No Drama. We offer to open your own beauty salon. We have done everything to make it easy for you to start working and confidently increase the company's turnover. We will help you create No Drama in your city and enjoy your work every day! We do not sell business, we are looking for like-minded people who will fall in love with No Drama just as we once fell in love.
How much does the No Drama franchise cost?
No Drama has franchise fee $15,000 with a total initial investment from $54,120.
Initial Investment: from $54,120
Rent (1 month + deposit) - $3,600
Repair activity - $12,260
Equipment of workplaces - $3,410
Purchase of expendable materials - $6,810
Arrangement of the hall - $12,260
Household appliances - $280
Office equipment - $550
Reserve funds for 3 months (marketing, payroll budgeting) - $6,810
Payback period: from 11 months
Average turnover per month: $27,340
Royalties: 5% of turnover
Franchise fees: $15,000
The franchise fee includes:
Full support on all key issues from the moment of signing the contract
The right to use the brand No Drama
Transfer Brand Book
Business training for the company chief. A step-by-step guide to starting the salon
Assistance in the selection and rental of premises
Branded elements (online / offline)
Layouts of advertising materials
Business plan for opening a point
Calculation of the financial model
Exclusive conditions for the purchase of consumables
Job descriptions for personnel
Branded clothing for salon staff
Placement of a partner on a federal website with a customized advertising campaign
Marketing support
CRM system
Consultation line (knowledge base)
Quality control system
Dedicated business support team 5/2
Other current payments: none
Request Free Info

Business Model of the No Drama Franchise
The No Drama franchise is a profitable business model in a promising segment of the beauty services market.
From the first day of cooperation, we are ready to share our knowledge, best practices and experience that will help you properly organize the work of your salon.
At the start, you will receive the necessary package of materials and manuals for the organization, management and development of the salon.
Number of services per day: 34
Number of services per month: 1,020
Average check: $28
Planned turnover: $27,240
Royalty: 5%
Average profit per month: $6,810 (after reaching the planned turnover)
Number of employees: from 10 people
Project launch time: from 1 month
Profitability: 20 - 25%
Payback: from 12 months
Requirements for buyers of the no drama franchise
Desire to open and develop a business in the beauty industry
Availability of necessary investments for project implementation
Willingness to comply with company standards
Requirements for the salon no drama
The total area of the premises is from 55 m2
Central Street
Separate entrance to the premises with free access
1st floor, 1st line of houses
Availability of display windows
Walking distance from the metro (10 minutes)
Proximity to business centers
Possibility to install the hood
Electricity 10 kW
Water
Availability of parking nearby will be an advantage
Advantages of the No Drama Franchise
The No Drama beauty salon franchise is about modern technologies, a growing market, popular services, teamwork and systemic marketing. Successful cooperation on a proven business model will contribute to the growth of your business!
Strong competitive product
Effective business model, developed at our own showrooms in St. Petersburg
The best equipment and expendable materials - we do not use cheap analogues
Tested system for attracting and retaining customers - ready-made solutions for customer flow to the clinic
Advanced social media account
Full assistance accompanied by a partner
Salon reputation - only positive customer reviews
Perpective market, popular beauty services
Support of partners 24/7 at all stages of work
Knowledge base
Your corporate identity
Proven system of work with clients

At the moment we can not connect you to the representative of this franchise.

Find other similar franchises in our catalog!
You need more information?
Send a request to get free consultation from the official representative of the company
Tatiana Barmina
franchise manager
Complete your request
The information is provided from public sources on the Internet
Ask a question about the franchise