Ormado Kaffeehaus Franchise Opportunities
Ormado Kaffeehaus is an International coffee shop chain that combines unique technology, high-quality product, and a really special atmosphere for the rest and work.
Our coffee houses serve coffee of own roast, selected from the best regions of the world by our chef-barista. We have developed our own technology for the preparation of coffee drinks: espresso, cappuccino, macchiato, ormado kaffee. The project has existed since 2017, opened - 2 own coffee houses in Germany, 3 franchised coffee houses in Germany, Austria and Azerbaijan. All coffee houses work successfully and bring a steady profit.
Start your business together with us!
Become the owner of your own coffee shop of the international network Ormado Kaffeehaus.
International brand Ormado Kaffeehaus
Our partner receives the right to use the international brand Ormado Kaffeehaus with effective marketing support.
Financial model
For each partner, we calculate an individual financial model based on the economic conditions of the region and the location of the coffee shop. Before concluding a lease, we, together with a partner, evaluate the location and analyze the competitive environment. With the data obtained, we calculate as accurately as possible such indicators as: investment volume, monthly costs, payback period and income level.
Business automation
We connect our partners to our own Ormado Cashbox accounting system, which reflects all operational processes, helps with managerial accounting and quick problem solving probling.
The loyalty program for customers of the Ormado Kaffeehaus network allows you to increase the average check.
Training and knowledge base
When buying a franchise, our partner receives not only the brand, but also a huge knowledge base on the coffee business, consultations and trainings from the creator of the Ormado Kaffeehaus network. We also provide a special author's methodology of barista's training for the effective work of the institution. The program includes: knowledge about coffee as a product, managing a coffee machine, preparing classic drinks and recipe drinks from the Ormado Kaffeehaus network.
Franchise offer ormado Kaffeehaus
We suggest you to open the Ormado Kaffeehaus coffee shop and become a part of our successful team.
We present two proven formats so that each partner can find the most appropriate one.
Ormado Kaffeehaus formats
Islet in a shopping center or business center
Location: business centers or shopping centers
Room space: 20 m²
Investments: from €16,240.77
Payback: from 12 months
Net profit: from €3,123.23
Royalty: 5%
Franchise fee: €5,621.81

Full-format coffee shop
Location: central streets or first lines of houses
Room space: 100 m²
Investments: from €28,733.67
Payback: from 20 months
Net profit: from €6,246.45
Royalty: 5%
Franchise fee: €8,120.39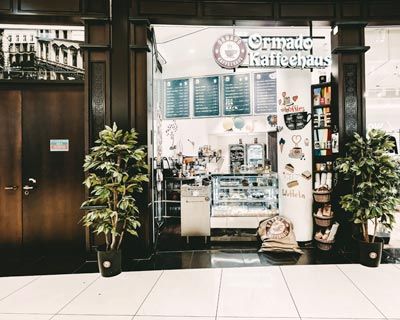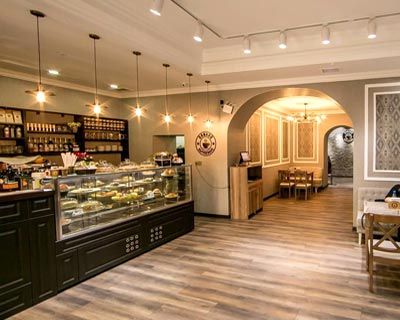 How much does the Ormado Kaffeehaus franchise cost?
Ormado Kaffeehaus has a franchise fee ranges from €5,621.81 to €8,120.39, with a total initial investment from €16,240.77 to €28,733.67.
Initial investments: from €16,240.77
Rental of premises;
Building construction;
Fabrication of structures;
Redecorating;
Coffee equipment;
Equipment for the preparation of products;
Equipment for guests' payments;
Inventory for the manufacture of products;
Materials for products;
Production order;
Marketing materials.
Payback period: from 12 months
Royalties: 5%
Franchise fees: from €5,621.81
Work under the International brand Ormado Kaffeehaus;
Special prices for the supply of original Ormado Kaffeehaus coffee;
Brand book and corporate identity of Ormado Kaffeehaus coffee shop chain;
Recommendations on the selection of premises for a coffee shop;
Assessment of the selected location to determine the prospects and effectiveness of the coffee shop;
Instructions and checklists for the repair of premises, construction and installation of structures;
Technical plan for the placement of commercial equipment and furniture;
Recommendations on the selection of basic coffee equipment and equipment for the preparation of products;
Technological maps for the preparation of drinks and desserts;
Access to own automated accounting system;
The knowledge base, which includes materials: staff training, marketing, sales technologies;
Management guide of Ormado Kaffeehaus;
Connection to the loyalty program;
Full access to market materials of the Ormado Kaffeehaus network;
Announcement of information on the opening of a new partner on the main site of Ormado Kaffeehaus and in all social networks;
Media plan for the promotion of a coffee shop.
Other current payments: none
Request Free Info