PITAYA Franchise For Sale – Thai Street Food Restaurant
PITAYA Franchise For Sale – Thai Street Food Restaurant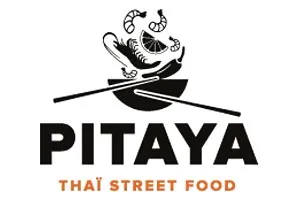 PITAYA Franchise Opportunities
A tidy setting, authentic and creative cuisine, fresh, healthy ingredients: this is the PITAYA® formula for perfect Thai immersion! The strength of the PITAYA® experience lies in the flavors of its food and the strong identity of its restaurants. The concept is based on simple values that perfectly match the expectations and needs of modern customers. PITAYA® moves away from traditional Thai dining by exporting the urban atmosphere that can be found in Asia and by creating the only Thai-influenced French fast food network.
The adventure began in 2010 with the opening of the first location in the middle of the city of Bordeaux. The idea of developing a trendy concept adapted to new contemporary consumption methods came to life and developed quickly to several other locations in Bordeaux.
Today, PITAYA® had grown and has developed franchises all over France and abroad. Awarded as the "People's Choice Franchise 2016", the adventure took on a whole new dimension: PITAYA® ended up spreading the "freshness" of its food all over France, and beyond, for dine-in, takeaway and delivery!
With the increase in dining on the go and the acceleration of life in city environments, PITAYA® has stuck to the standards of fast food: optimized service, sales for dine-in, takeaway or delivery, facilitating the lunch break and "express" dining for its customers.
Size of PITAYA Restaurants
Size of stores :
From 100 sq. m. to 250 sq. m.
Location :
Pitaya develops its network through three main channels :

City center with high footfall and a large catering offer
Shopping mall and new trend destination offering activities and entertainments
Food court

Turnover :
From $880,600 to $2,421,630
Sales distribution :
In restaurants : 51%
Take away : 25%
Delivery : 24%
PITAYA franchise offer
Pitaya offers to potential franchisees the opportunity to join a growing company with already 47 restaurants.
The 3 keys to Pitaya's Success :
A cooking spectacle
An efficient offer of stir-fry woks, made to order and within view of the customers, perfectly matching new consumption trends. Both universal and customized, it can be adapted to the taste of each customer, even vegetarians and those with other dietary restrictions.
Health and nutrition at very affordable prices
A high-quality fast-food concept using healthy ingredients and only fresh products.
The only French Thai street food network
Pitaya has taken from traditional Thai dining standards, exporting the urban atmosphere that can be found in Asia.
How much does the PITAYA franchise cost?
PITAYA has the franchise fee of $38,700, with a total initial investment range of $233,300 to $423,400 (excluding real property cost).
Initial investments: $233,300
| | | |
| --- | --- | --- |
| Architect | $15,400 | $15,400 |
| Training | $11,000 | $15,000 |
| Building / Site construction | $110,000 | $170,000 |
| Equipment/Signage/Decor/ POS | $80,000 | $195,000 |
| Initial Inventory | $7,200 | $10,000 |
| Opening marketing expense | $9,700 | $18,000 |
| TOTAL | $233,300 | $423,400 |
Average turnover per month: $100,000 (excl. VAT)
Royalties: 6%
Franchise fees: $38,700
Other current payments: none
Request Free Info

PITAYA Franchisee Testimonials
Jamel Touati & Axel Tolan's interview - PITAYA® TOURS
Jamel worked for 10 years in a large bank as a franchise manager.
He was captivated by the success of his clients, but waited patiently for the day when he could open his own franchise.
His brother-in-law, Axel, had been running an independent fast-food restaurant in Bordeaux since 2007. One day, just to tease Axel, Jamel suggested that they go and eat at a neighboring restaurant, a PITAYA®. They both fell in love with the concept.
"I always eat out at lunch. And I told myself that they hit the nail on the head. It was beautiful, fresh, healthy, and quick!" says Jamel enthusiastically. "When we made the decision in the summer of 2015, PITAYA® helped us to be as efficient as possible. In May 2016, we opened our location."
Axel says, "With PITAYA®, we have duplicated existing savoir-faire and an approved concept. The risk is low with a shorter return on investment. It also saved us time because PITAYA® provided us with a network of service providers that would have taken much too long to set up from scratch and at a higher cost. Finally, the bank file needed to apply for funding was more solid thanks to PITAYA®."
"In terms of revenue, it's awesome! We're really very profitable. We've planned on 4 new openings: Nantes in May 2017, a second Tours location in July, in Angers in July as well and another one in Nantes in September. And we're not stopping there!" exclaims Jamel with a laugh.
Charles Derré's interview - PITAYA® MONTPELLIER
At only 28 years old, Charles is every bit as good as the other franchisers in the group. His first location in Montpellier is the largest one in the group, seating 64.
"I used to be an osteopath with two practices. But after two years, I was already feeling stagnate in my career. I missed the food service industry." He had grown up with his family's restaurant, and really wanted to get back into the kitchen. He dreamed of the adrenaline, the rush, the spurts of creativity, of being a boss and managing a team.
"I thought about this for a long time. For me, a franchise would be a perfect solution. I'm not a cook, and having a franchise would let me have a turnkey, reassuring formula," explains Charles.
"We all like eating and cooking Asian food at home, and there was a lack of high-quality solutions. In late 2015, I heard about Pitaya. The concept seemed great and I thought that if the concept was such a hit, it would be easy to make it work. And the fact that it People's Choice Franchise in 2016 definitively won me over."
Charles opened up his location in October 2016. "I really liked the month-long training in Bordeaux. I know that now, in my restaurant, I know how to do it all. Cutting up the ingredients, controlling the wok, logistics during rush times, running the cash till, daily management of the restaurant, and so on. My first two cooks have gone off for training in Bordeaux, but I can train all new team members using the training I received. It's important when you're a manager to feel like you know what you're doing with your employees."
Pitaya's story
2010 - First restaurant opening
2011 - Second restaurant opening
2013 - Third restaurant opening
2015 - Fourth restaurant opening
2016 - Best franchise price
2016 - Opening of 5 restaurants (total: 9)
2017 - Opening of 5 restaurants (total: 14)
2018 - Opening of 18 restaurants (total: 32)
2019 - First restaurant opening abroad, in Spain
2019 - Opening of 13 restaurants (august), expected at the end of the year: 25 (total: 57)
Request Free Info

PITAYA franchise business model
Gross Margin : 72%
EBITDA : 15% to 22%
Requirements to buy pitaya franchise
Personal capital input = minimum $110,000
Hospitality business back ground
Minimum 5 openings commitment
PITAYA Franchise Advantages
Pitaya offers a really quick and efficient service and invites customers to watch the dish cooked by wok.
A cuisine with traditional flavors for qualitative dishes.
Our support, from application form to your opening, and during all your running operation
A unique concept
Our product innovation
A young brand with a hypergrowth development
A perfect solution following trends and customers wishes and the creation of a new need
Customer satisfaction: a perfect price-quality ratio

At the moment we can not connect you to the representative of this franchise.

Find other similar franchises in our catalog!
You need more information?
Send a request to get free consultation from the official representative of the company
Christophe Cambuzat
Complete your request
The information is provided from public sources on the Internet
Ask a question about the franchise