Saber Franchise For Sale – the First Men's Hairdressing Salon for Boys
Saber Franchise For Sale – the First Men's Hairdressing Salon for Boys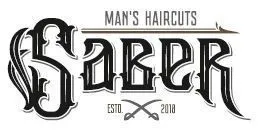 Saber Franchise Opportunities
Franchise of the first men's hairdressing salon for boys «Saber» - a unique space with masculine charisma
The «Saber» hairdressing chain franchise calls to forget about hairstyles from the past called "crew cut" or "boxing". More than 15 trendy models of haircuts from real barbers are wanted every day by hundreds of fathers and sons. On an area of ​​50 m², the monthly turnover of a salon with 4 seats reaches $6,150. Are you a practicing master? Add another 30% to your profits. A haircut is not a fashion, it is a style. And 50% of clients sign up on their own online. Your job is to provide services and calculate revenue.
About the company
The men's hairdressing salon for sons and their fathers «Saber» is a unique space filled with a masculine atmosphere, brutality, depth of professionalism and attention to detail. Forget about hairstyles from the past called "crew cut" or "boxing". In 2021, parents and their sons sincerely want original men's haircuts that emphasize style, masculinity, novelty, and are performed by real trained barbers in the atmosphere of a brutal men's salon.
The «Saber» barbershop model was created at the turn of two disciplines
Barbershops for the adults
WE have created the FIRST men's hairdressing salon for SONS and their FATHERS, where everything is directed to ensure that the BOY receives a professional haircut of the highest level from a real BARBER.
A real masculine style and a new quality of hairstyle should become the norm for him.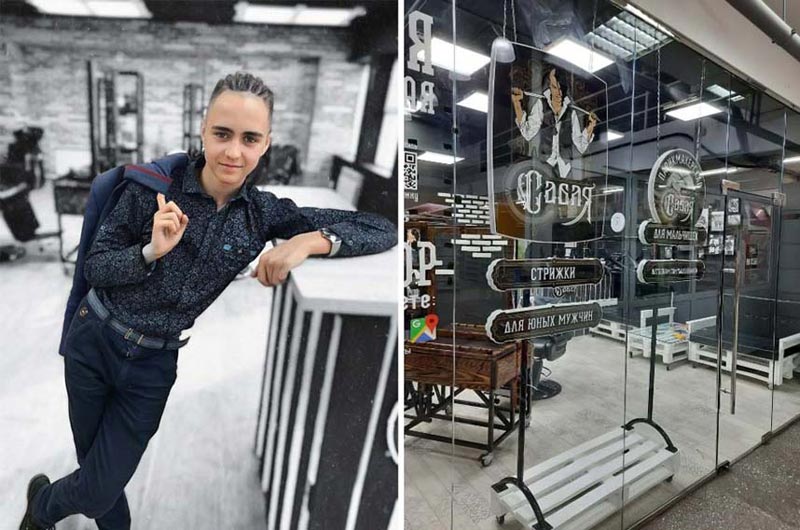 We removed children's attributes, reduced the level of aggression in design, kept rude and strict, hooligan style, a masculine atmosphere. «Saber» barbershops are a stylized and well-designed salon format, which was created especially for boys of any age and their fathers.
Men's hairdresser for sons and their fathers.
A win-win business model with a wide audience of clients.
There is a high interest in barbershops on the market, but there is not a single specialized offer exactly for boys.
90% of barbershops are not designed for children!
First of all, we cut young men and, of course, always invite their fathers to join them.
Barbershop is a place, closed for women, which means to mothers and their sons, whom they take for haircuts.
It is the mothers, who take care of the child's hairstyle and choose the place for the haircut.
Boys are a large underestimated audience that will come to you!
Be the first to open a salon in your city and form a huge customer base among the boys of your city in the niche of trendy barber haircuts!
The model has been sucessfully tested in a city
with population of 80,000 people
«Saber» barbershop is a solution that can be repeated in any city. The model has been successfully tested in a city with population of about 80,000 people and an average salary of $270 - $340.
The formula for success
Low investments to start
A demanded service and an empty niche
Wide audience of clients
Stylish male interior design
Available average check
High throughput of the salon
Small staff
Memorable unique style
Barbershop «Saber» is a modern and high-quality concept for replacing outdated universal hairdressing salons with all-round craftsman-masters.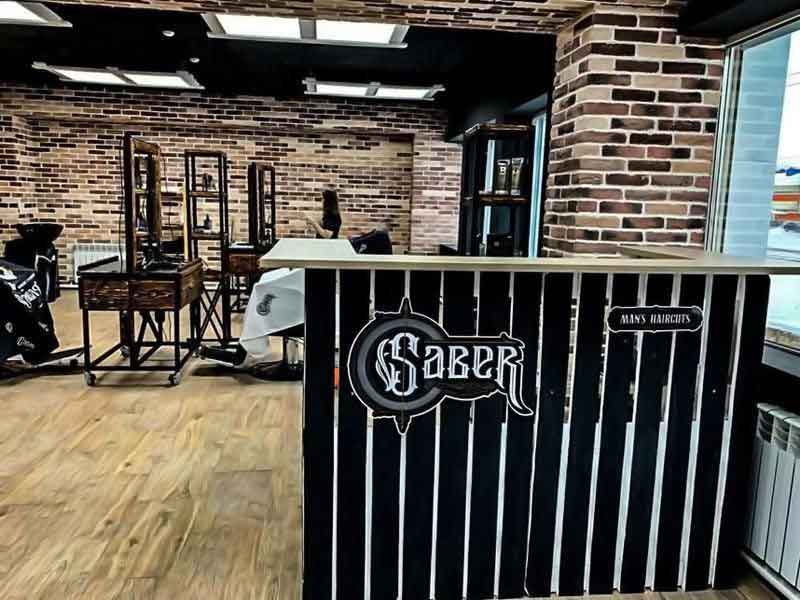 Unique solution for «Saber» barbershop
1. Gone from the aggressive design, keeping the brutality of the interior.
An island made of black metal, sheathed with dark natural wood, combined with professional equipment and designer furniture in LOFT style, creates a unique, memorable and comfortable male space.
2. Expensive look, functionality and affordable cost of haircuts.
We work in the Low Cost segment. The average bill for a haircut is $5 - $6, which is 2.5 times cheaper than in any barbershop. This pricing policy is suitable for small and large cities, allows you to quickly form a client base and become as recognizable and in demand as possible.
3. There are no walls in our salon!
The island structure is visible from all sides, making the salon airy and spacious, which allows you to get into a shopping center with transparent walls and turns the traffic of the shopping center into customers.
4. Mobile system.
Barbershops are made in the same style and consist of working island-modules, which are very quickly assembled and, if necessary, are moved inside the salon. The transformation from an empty space to a stylish barbershop takes place in 2 weeks.
5. Barbers are not only men, but also girls!
The presence of girls-barbers allows you to overcome the barrier of inaccessibility of barbershops for women and opens the door to a new target audience - mothers with their young sons. The possibilities of attracting women masters to the salon from the all-round craftsman-masters market and their retraining as barbers are expanding.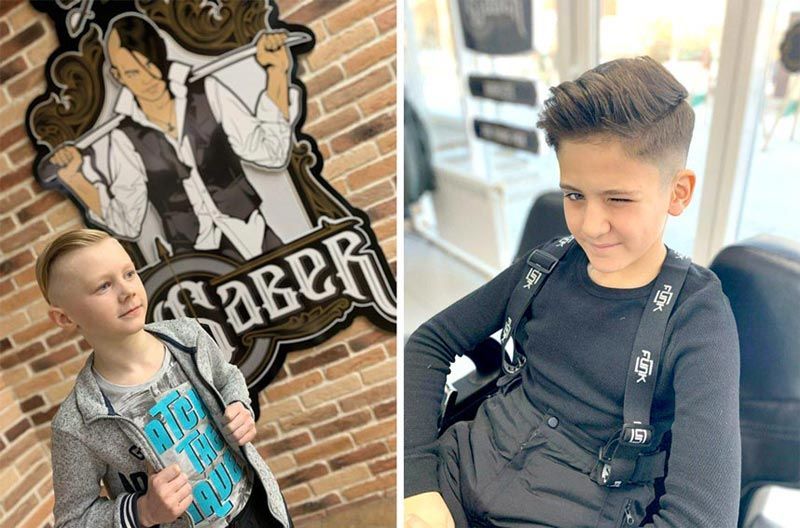 «Saber» barbershops are dozens of satisfied customers with haircuts every day!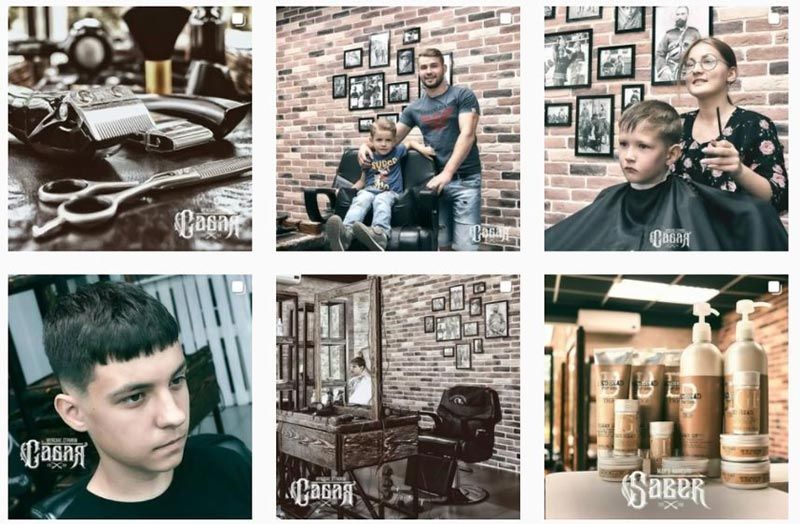 Franchise formats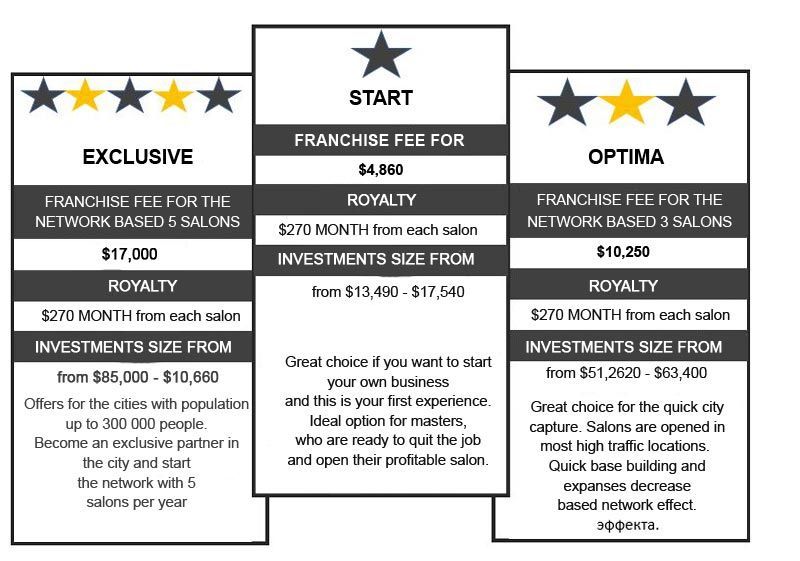 Franchise formats
| | |
| --- | --- |
| Complex product | You don't need to worry about how to open a salon and how not to miss important things. At each stage of launching and opening a barbershop, you receive the necessary technologies, instructions and documents. |
| Brand style | A uniform style that is reflected in every detail and creates a stylish, recognizable and brutal atmosphere of the men's salon. More than $6,750 were invested in the development of corporate identity elements, designer furniture and drawing layouts for the design of the barbershop. |
| Preparation from the owners | The authors of the «Saber» barbershop concept will personally give you knowledge on launching a salon, finding and hiring barbers, working with clients, planning a budget, conducting marketing campaigns and much more. |
| Training and preparation of barbers | At the opening of the salon, the ambassador of the «Saber» brand and one of its owners visit you. At your service will be a professional barber with more than seven years of experience in barbering and training, a coach for all types of services in the salon, a creative leader and an experienced mentor. His task is to convey to you the knowledge of the salon management and its launch. Conduct master classes for your team of masters and teach them the art of barbering, pass on to them the uniform standards of the «Saber» salon, put your future barbers on the hand |
| Business automation | We connect franchisees to a CRM system to work with clients. The processes have been improved for the needs of the barbershop, a convenient form for registering customers and scheduling the loading for masters. 50% of clients sign up on their own online. |
| Thoughtful storytelling | We will tell you about the transmission of the meaning of the barbershop for sons and their fathers through visual images, audio accompaniment, design and a unified style of publications on social media. We have created our own system of values, images, format of communication with clients. Men's hairdressing salons «Saber» will differ from other salons in your city and will cause instant trust and addiction to our men's brand! |
| Strong marketing | Clients are the engines of business. We know about all the channels for attracting customers and have chosen the most working ones for our format, with the maximum conversion and long LTV, and we will pass this knowledge on to you. You get our experience and an individual advertising strategy for your city. We transfer truly working schemes and tools for developing a client base. |
How much does the «Saber» franchise cost?
«Saber» has a franchise fee ranges from $4,860, with a total initial investment from $17,550.
Initial investments: from $17,550
Payback period: from 18 months
Average turnover per month: $7,420
Royalties: $270
Franchise fees: $4,860
Other current payments: none
Request Free Info

Saber Franchise Business Model
What you will earn
7 types of services with a check $ to $6.
Age "Kid", haircut for children 1-5 years
Age "Kazachok", children's haircut 6-12 years
Age "Fighter", haircut for children 13-17 years
Age "Warrior", haircut for men 18+
Shaving and shaping your mustache
Shaping and shaving your beard
Complex haircut father - son
A haircut is not a fashion, a haircut is a style!
Franchise economy
| | | | |
| --- | --- | --- | --- |
| from 50 m² | 4 | 1-10 | $5 |
| location space | working chairs | One master takes from 8 to 10 people per day | Average bill for the service |
| 1,212 | $6,115 | $920 | from 17 months |
| Hair cuts per month | Turnover based hair cuts per month | Turnover based cosmetics sales | Investments payback |
$2,380
Franchisee's net profit per month. If you are a practicing master, then the profit will be 30% higher.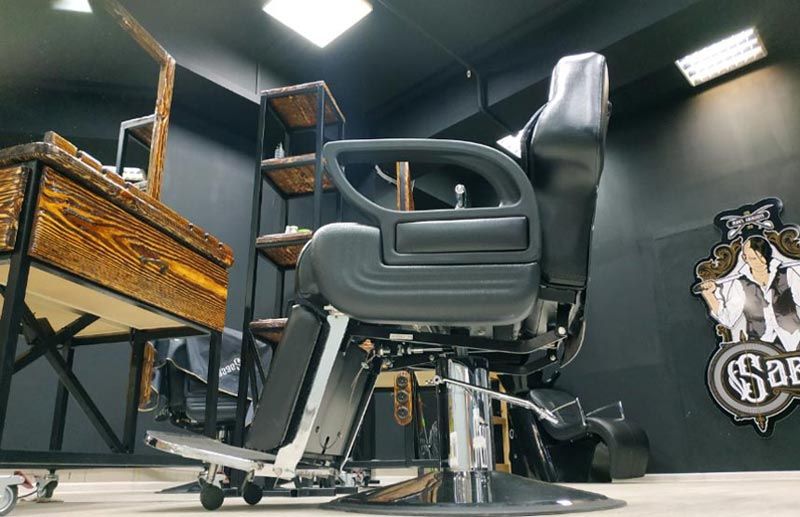 Investments for launching
We have achieved the best prices for equipment and furniture, optimized cost items at the opening stage and offer you to open a modern, functional salon with investments of up to $17,390. This amount includes all possible costs, including the franchise fee and your operating minus in the first months of work, which everyone is usually silent about. Everything is already included in the financial model of the salon. Investments at the start can be reduced by 20-25%. Due to the installation at the start not 4, but 2 seats. The remaining two chairs can be gradually introduced for 6-9 months of work. You can also cut costs on furniture parts and finishing repair works, and we'll show you how.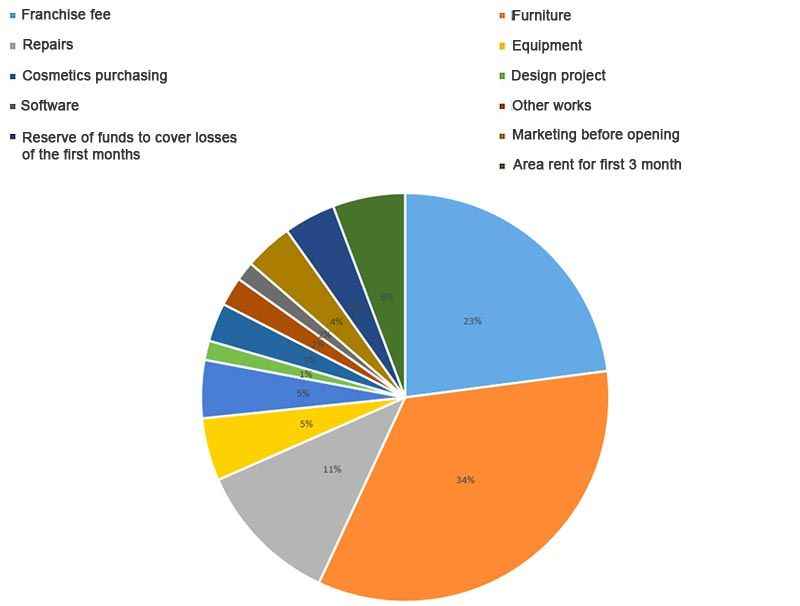 Saber Franchise Advantages
| Easy start | Low-cost barbershop | Big customers base |
| --- | --- | --- |
| Low investments for the opening from $13,500 to $20,250 | We make stylish haircuts at a low price. 7 out of 10 guests become our clients. | You will always have clients, as our clients are in every educational institution of the city, school and kindergarten. |
| Our own system for training your team | We train service and marketing | Convenient CRM-system |
| You do not need to think about where to get barbers and how to achieve their high qualifications. We have built our own training program for your barbering masters and their continuous professional development. No more all-round craftsman-masters, just real barbers. | We will teach you how to find clients, how to work with clients, how not to lose clients. How to make your clients recommend you to their friends and others you know. | Customer accounting system with online registration form, financial reporting, employee schedule and KPI planning, as well as other functions for business. |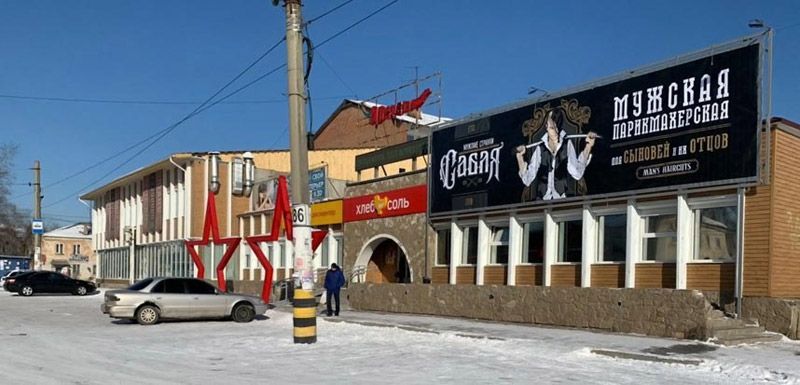 At the moment we can not connect you to the representative of this franchise.

Find other similar franchises in our catalog!
You need more information?
Send a request to get free consultation from the official representative of the company
Alexey Merkulov
Complete your request
The information is provided from public sources on the Internet
Ask a question about the franchise