Salad Box Franchise For Sale – Healthy Food Restaurant
Salad Box Franchise For Sale – Healthy Food Restaurant

Salad Box Franchise Opportunities
Salad Box means healthy food.
We do not propose a diet, but rather a healthy alternative to fast food.
The food itself, as well as the serving experience, is meant to inspire creativity so that the customer can see the entire 'behind the scenes' process.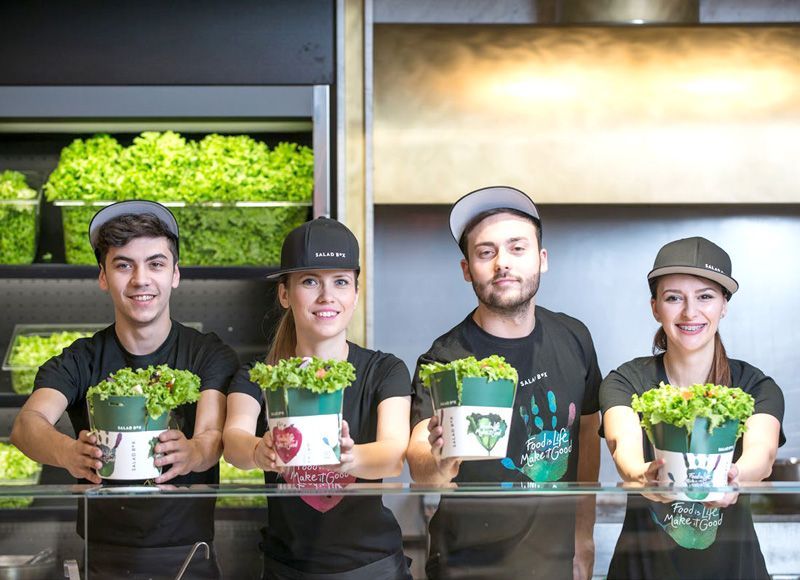 We developed a product range that consists of unlimited combinations of salad recipes, cream soups, plates, refreshments and deserts, and we are expanding it as we speak. More importantly, the customer has the possibility to prepare his own salad, by choosing the ingredients and combining them in order to make a custom and enjoyable lunch.
When it comes to international expansion, the product range will be adapted to the local food culture, while still keeping the same value proposition.
We consider that consuming food that is healthy, fresh, fast and at affordable prices must be a necessity in every corner of the world, whatever the race, gender, age or social status.
For this reason, the mass market approach is what we propose in terms of customer segmentation.
Size Of Stores
Designed by one of the most notorious designers from Transilvania, our restaurants offer you an incredible dining experience. Versatile and elegant, the locations can vary from street/pedestrian to shopping or business centres. Besides this, the opportunities for business growth are much bigger: pick-up lines, delivery systems, online delivery, delivery apps, and so on.
Salad Box locations are usually between 40 and 100 square meters and comprise about 7-15 employees.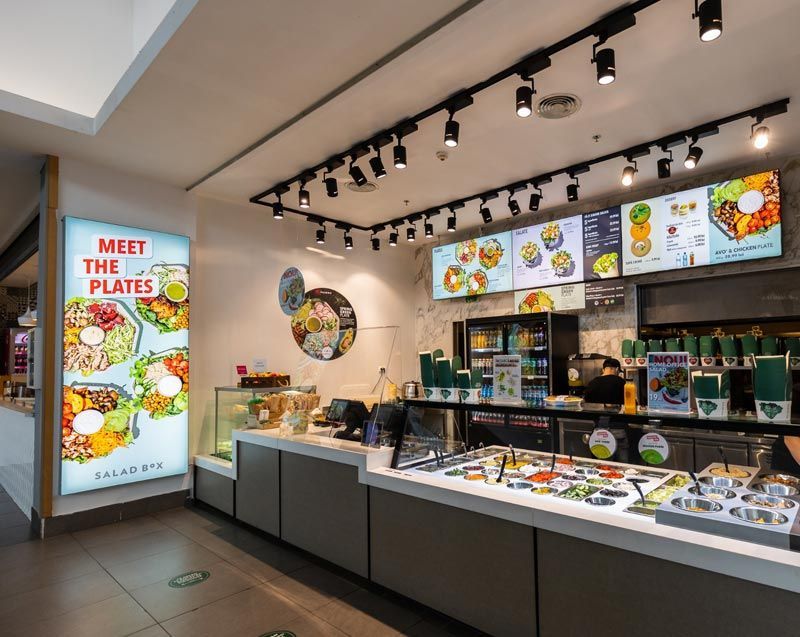 Franchise Offer
In addition to the financial information found on this page in our Franchise Offer, we must mention that we offer support throughout the collaboration with the franchisee from the moment the location will be searched, the location will be opened and its operation.
We also provide all the departments we have (marketing, technical, IT, etc.) so that the franchisee has all the necessary support.
How much does the SALAD BOX franchise cost?
SALAD BOX has a franchise fee ranges from €12,000 to €25,000, with a total initial investment from €80,000 to €120,000.
Initial investments: €80,000 - €120,000
Payback period: 18 - 36 months
Royalties: 5%
Franchise fees: €12,000 - €25,000
Other current payments: 1,5% brand and marketing tax
Request Free Info

Success Story
It is often said that business and friendship don't mix.
Well, we think they do. We have our own example: Salad Box is a friendship business.
The story has begun in 2011, when Dan Isai had an idea for offering Romanians a new lifestyle, based on healthy food at affordable prices. Three good friends joined him in his journey:
Radu Lupaș, Daniel Lar and Vlad Lupaș, and in april 2012, they opened together the first Salad Box restaurant, located in Cluj-Napoca, the second largest city in Romania.
Their salads soon became so popular that in only one year they opened another 12 restaurants. And this was only the beginning.
We managed to develop a great business recipe that more and more people believe in and join us every day in our offices and our shops. Today Salad Box means 64 shops and over 860 employees in Romania and other 11 countries (USA, UK, France, Ireland, Spain, Italy, Bulgaria, Czech Republic, Netherlands, Hungary, Algeria).
In 2016 Salad Box expanded into Hungary and Algeria, in 2017 London and Miami were added to the map, with more to come.
We're excited for the future of Salad Box as we truly believe this is only the beginning of our story, so stay tuned!
The characteristics of a successful franchisee are:
The Salad Box Franchise is the main activity.
They are involved daily in the operational activity.
They have an entrepreneurial spirit that they usethrough a performant management.
Salad Box Franchise Advantages
You will own and manage a groundbreaking concept.
You will have support in site selection and restaurant design.
You receive basic training as well as ongoing training.
You receive help and support from a strong and experienced
organization (consultancy, marketing procedures, visual identity manual,
software system, operating manual and audit system).
You will be part of the Salad Box family.
ALSO:
High demand on the market
Fast ROI
High profit on income
Starting investments from:

$90,213

Company type:

Restaurant

Year company was founded:

2012

Year of launching franchise:

2014

Franchised companies:

56

Owned companies:

8
You need more information?
Send a request to get free consultation from the official representative of the company
Radu Lupas
General Director
Complete your request
Information provided: SALADBOX INTERNATIONAL SRL
Updated: 16.02.2022
Interested? ASK QUESTIONS ABOUT THE FRANCHISE
Radu Lupas
General Director
Feedback
Ask a question about the franchise