Sapore Italiano Franchise For Sale – Italian café
Sapore Italiano Franchise For Sale – Italian café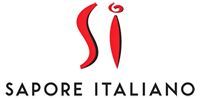 About the company and business
Sapore Italiano is a chain of authentic family-run Italian cafes, opened with the message "Everywhere is like at home". Since 2007, more than 1 million people a year choose Sapore Italiano for its high quality food. The philosophy of the Sapore Italiano chain is exceptionally fresh, deliciously prepared food based simple recipes of traditional Italian cuisine.
Soul and atmosphere are the main components of the brand. Delicious Italian cuisine of the eternal quality. The Italian atmosphere is everywhere - from in-house products to décor. Our chain has successfully overcome the pandemic and reached new quality index.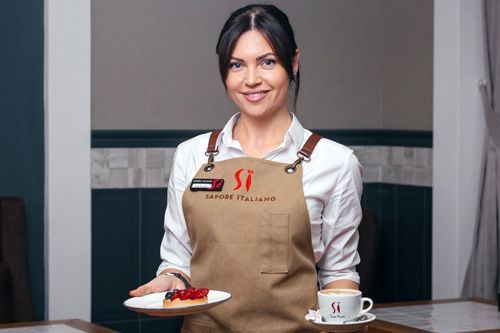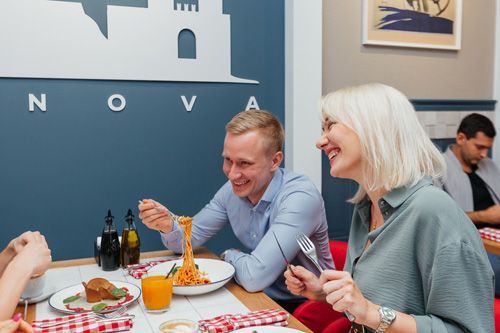 Open a Sapore Italiano family owned Italian cafe in your city by franchise!
A professional team with experience in the restaurant business for over 20 years will work with you! You will get proven Italian technology, standards on business processes, ready-made instructions and quality control. Professionalism and accumulated experience in opening a cafe, experience in selecting and training a team, products from Italian suppliers, an automated cafe management system, our own business model and developments - we are ready to transfer all this to our franchisee partners.
Benefits of the Sapore Italiano Franchise
Successful business model since 2007, proven at 8 own cafes;
A varied menu with focus on family needs and large companies;
Traditional dishes, understandable and delicious;
High quality food at affordable price;
The confectionery menu developed by an Italian pastry chef;
The design and technological part of each cafe is supervised by an Italian company;
Italian management, full business monitoring;
Friendly service and comfortable atmosphere in every Sapore Italiano cafe;
We transfer to the partner a complete set of regulations and instructions for organizing and running a business, guidelines for using the corporate identity - franchise book and brand book;
Support of partners at all stages of cooperation.
We want for your guests to experience Italy in all details!
Investments, required to open a cafe under the Sapore Italiano franchise
Initial investments: from $249,670
construction and installation work
equipment
design
furniture and decor
advertising
salary and management training
salary of line personnel
franchise fee
Payback period: from 20 months
Average monthly turnover: from $116,126
Royalties: 5,5%
Franchise fee: $25,548
Request Free Info

Cafe formats
| Cafe space | 200 m² | 400 m² |
| --- | --- | --- |
| Seats | From 60 seats | From 120 seats |
| Average number of guests/month | 5,000 - 8,000 | 8,000 - 12,000 |
| Investments | $249,670 - $330,957 | $415,728 – $497,016 |
| Franchise fee | $25,548 | $25,548 |
| Average check per guest | $24 | $24 |
| Average revenue / month | From $83,610 | From $116,126 |
| Net profit / month | From $10,452 | From $20,903 |
| Royalty, % from the turnover, month | 5,5% | 5,5% |
| Payback | 20-36 months | 20-36 months |
| Profitability | From 15% | From 15% |
Our formats are suitable for opening a cafe in a separate building or within the territory of a shopping or business center.
Most of our investments are directed to the menu and the kitchen team to achieve the highest level of results both in terms of taste and image of the dishes.
We have developed additional services, that you can purchase as an option for your Sapore Italiano cafe.
Delivery service
Delivery is carried out through our own couriers or through major aggregators and industry players. Orders are placed and managed through our own application. At the moment, delivery takes ~ 20% of our revenue.
What is included?
Automation systems and software (application, iiko delivery module, application for the courier iiko delivery man, driver licenses);
Equipment and implements (mobile phone, thermal bags, courier uniform, fiscal devices);
Training and organization (instructions, technological charts, employee training).
Si market
Si market – is gastronomic store by Sapore Italiano with products of its own production and from the best Italian suppliers.
What is included?
Automation systems and software;
Equipment and implements (refrigeration and freezer showcases, fridge with drinks, neutral shelves, cash machine, scanner, monoblock, packaging);
Training and organization (instructions, technological charts, training).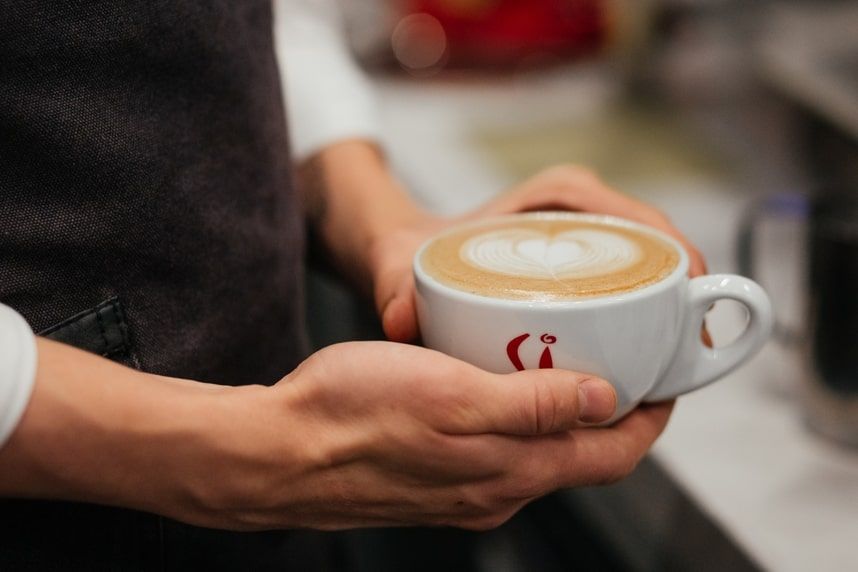 Partner support
Construction and operation:
Consultation on the preparation of the Terms of Reference for the project, design project and project documentation (construction of a restaurant);
Assistance in the selection of equipment;
Design and interior standards;
Author's supervision of the project implementation (personal manager);
Checking the readiness and acceptance of the restaurant by a commission from a technical and operational point of view;
Support in the selection of service organizations, the operation of equipment and systems.
Purchasing and logistics:
Suppliers with an approved price level for partner cafes;
Recommendations for the selection of contractors for related services (transport, cleaning, room maintenance);
Assistance in finding suppliers for individual items;
Updated products' specifications.
Education:
Startup Guide;
Unified standards base;
Training and internship at the Sapore Italiano cafe;
The ability to study online;
Experienced opening team.
Operational support:
Advanced tools for cost and productivity management;
Consulting support in the efficient management of your cafe;
Quarterly audit of the partner's performance;
Setting up technological processes.
Marketing support:
The right to operate under the Sapore Italiano brand;
Consulting on the annual marketing plan of activities;
Local marketing support and advice;
Seasonal and planned menu updates;
Connection to the Sapore Italiano loyalty program;
Advertising of partner cafes on Sapore Italiano social media.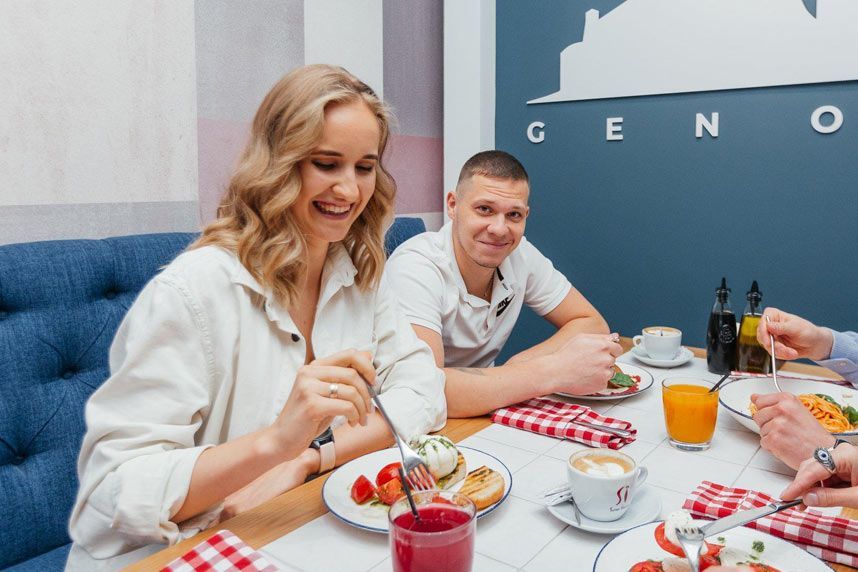 Location requirements
In cities with a population over 500 thousand;
In places with high traffic:

In high densely populated areas on the first line of houses, with a separate entrance;
At the crossroads of busy highways, in close location to large residential complexes and shopping areas;

Availability of parking or space for its organization;
The optimal rental period is from 7 years, with the possibility of prolongation;
Possibility of placing advertising signs on the facade of the building and on the facade of the restaurant point.
Technical requirements for the premises
Total area: 150-400 m²;
Electric power: area from 150 to 400 m²> 100 kW, area> 500 m² 130-150 kW;
Ceiling height from "clean" floor not less than 3 m
Sewerage (diameter): 100-150 mm;
Total water supply volume: 15-25 m³ / day, G: 5-8 m³ / day, X: 10-17 m³ / day;
Floor load> 500 kg / m²;
Telephone lines at least two.

At the moment we can not connect you to the representative of this franchise.

Find other similar franchises in our catalog!
You need more information?
Send a request to get free consultation from the official representative of the company
Kristina Deryabina
Complete your request
The information is provided from public sources on the Internet
Ask a question about the franchise