Taco Bell Franchise For Sale - Restaurant
Taco Bell Franchise For Sale - Restaurant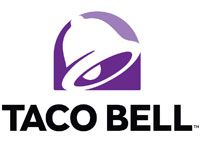 Taco Bell Franchise Opportunities
If you'd like to open a restaurant or start your own business, Taco Bell restaurant franchise could be the answer to your desires! Taco Bell franchise is an American net of fast-food restaurants which serve tacos, burritos, quesadillas, nachos. No matter how in a hurry people are in the present days, everyone needs to eat. Taco Bell restaurant franchise gives good opportunities to satisfy people's hunger and fulfill your appetite for fortune. How to start a Taco Bell restaurant franchise? Find out all needed info below: investment information, franchise cost and profit, franchise fees, franchise requirements for sale, etc. Open a Taco Bell Franchise in your city.
How to open a Taco Bell franchise?
Ensure you have adequate capitalization.
In order to open a Taco Bell franchise, you must have a net worth of more than $525,000.
Appreciate the investment required for a restaurant franchise.
You will need to consider building and real estate costs, the cost of equipment and signs, the costs of licenses and permits, the cost of uniforms, the cost of insurance, etc.
Evaluate your prior experience and strengths.
You should thoroughly evaluate your prior business experience before applying to become a Taco Bell franchise owner.
Assess market availability.
You will want to look at the market availability for Taco Bell restaurant franchises and see if there are available markets in your location of interest before proceeding with the franchising application.
Submit your application.
Your application will be reviewed by the Taco Bell franchise team. You will be emailed a confirmation receipt upon reception of your online application, where we will additionally provide the contact details of the franchise owner.
Receive approval & opening your Taco Bell franchise.
You will receive franchise approval once your financial and background checks are completed. Approval will only be given to candidates who meet all the requirements of franchise owners.
Request Free Info

How much does Taco Bell franchise cost?
Taco Bell has the franchise fee of up to $20,000, with total initial investment range of $525,100 to $2,622,400.
Initial investments: $525,100 - $2,622,400
Net-worth Requirement: $1,500,000
Liquid Cash Requirement: $750,000
Taco Bell Estimated Initial Investment
| Name of Fee | Low | High |
| --- | --- | --- |
| Application & Background Check Fee (per person) | $350 | $600 |
| Initial Franchise Fee | $25,000 | $45,000 |
| First Unit Construction Services | $27,175 | $27,175 |
| Optional Real Estate Services | $0 | $37,175 |
| Permits, Licenses, Security Deposits | $74,000 | $74,000 |
| Real Property | $20,000 | $1,400,000 |
| Building/Site Construction | $177,000 | $900,000 |
| Equipment/Signage/Decor/ POS | $150,000 | $320,000 |
| Initial Inventory | $7,000 | $10,000 |
| Grand Opening Expense | $5,000 | $5,000 |
| Additional Funds - 3 months | $40,000 | $60,000 |
| Estimated total: | $525,525 | $2,851,775 |
*The Taco Bell estimated initial investment range covers multiple variations of new "Traditional" restaurant types. Please see FDD for more details.
Purchase of Existing Restaurants from the Franchisor or an Affiliate
| Name of Fee | Low | High |
| --- | --- | --- |
| Initial Franchise Fee | $25,000 | $45,000 |
| Building, Equipment, Signs and Inventory | $150,000 | $1,755,000 or more |
| Any Leasehold or Other Real Property interests | Varies | Varies |
| Total purchase price: | $175,000 | $1,800,000 or more |
Ongoing Fees
Initial Franchise Fee: $25,000
Ongoing Royalty Fee: 5.5%
Ad Royalty Fee: $4.25%
Taco Bell Franchise Profit
Taco Bell is a giant in the fast food industry. Therefore, it is a thriving brand that offers great financial prospects to its franchisees. The whole net generates billions of dollars. On average, they estimate a Taco Bell franchise profit per unit at around $1.5 million in annual sales. The unit owner's annual income is $80,000-$100,000.
Thanks to the popularity of the company and the marketing tools it implements, Taco Bell franchisees are often making the designated amount of income in their first year of ownership.
Who Is the Owner Of Taco Bell?
Glen Bell launched the brand in 1962. He opened the first restaurant in California. Taco Bell soon became very popular, and today it is a leading fast-food restaurant chain with many units across the country. The owner of the Taco Bell franchise is Yum! Brands Inc. This is an American corporation that has countless restaurant businesses under its wings. It is also one of the largest companies in the USA.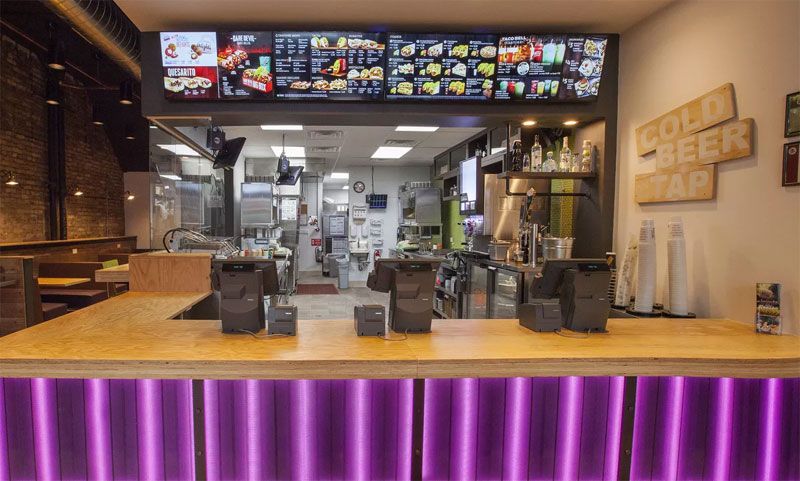 Are you interested in starting Taco Bell Franchise in the USA, India, Canada, Malaysia, the UK, Australia, Germany or another country?
We provide estimated franchise costs for some countries:
- In the United States, the total investment to start the Taco Bell Restaurant is around $525,100 to $2,622,400.
- In Indian currency, the investment comes around Rs 3.86 crores to Rs 19.26 crores.
- In Canadian currency, the investment comes around CAD 672,600 to CAD 3,358,900.
- In Malaysian currency, the investment comes around RM 2,13 million to RM 10,62 million.
- In currency of the United Kingdom, the investment comes around £389,100 to £1,943,200.
- In currency of Australia, the investment comes around AUD 690,100 to AUD 3,446,600.
- In currency of Germany, the investment comes around EUR 428,350 to EUR 2,139,200.
Support Options
On-The-Job Training: 400 hours
Classroom Training: 8 hours
Additional Training: Additional training available
Taco Bell Franchise Info: https://www.tacobellfranchise.com

Request Free Info

Other Fees
Type of Fee
Amount
Grand Opening Expense
$5,000 to be spent by franchisees for advertising and promoting the opening of the Unit.
Period Franchise Fee
5.5% of the Unit's Gross Sales.
Period Marketing Fee
4.25% of the Unit's Gross Sales.
Late Charges
The lesser of 18% per annum or the highest rate permitted by New York law, plus the then-customary administrative charge.
Back of House (BOH) & Support Services
$2,078 per year
Front of House (FOH) & Support Services
$1,480 per year
All Access Fee
$1,500 per year
Additional Trainee Fee
$350 per person
Training Materials
As established by the franchisor.
Cost of Audit of the Franchisee's Books
Any and all costs incurred in connection with the inspection or audit, including reasonable accounting and legal fees.
Transfer Fee
A transfer of all or a portion of the franchisee's interest in any Unit is subject to a transfer fee. Minimum fees are listed below and are subject to increase for costs incurred by the franchisor, including but not limited to outside counsel fees, in connection with reviewing and effecting the transfer.
- 3rd party transfers: 1-5 units: $7,500/unit, 6 or more units: $1,500/unit
- 3rd party transfers involving private equity: Greater of non-private equity transfer fee or $150,000
- Entity restructures: $2,500 total unless changes to the franchise agreements are required, in which case the transfer fee shall be the third party transfer fee.
Additionally, unique or complex restructures may necessitate a higher fee.
Reimbursement of Insurance Expense
Actual cost of insurance.
Mid-Term Upgrade
$122,000 unless franchisees enter into an In-Line Franchise Agreement with a 10 + 10 Addendum in which case the cost is $25,750.
Successor Fees
For Traditional Units and Power Pumpers, the greater of $22,500 or ½ of then current initial franchise fee for the applicable type of Unit. For In-Lines and End-Caps, the greater of $12,500 or ½ of applicable then current initial franchise fee. Additionally franchisees will be required at their expense to complete an offset, scrape/rebuild, or major remodel of the Unit as a condition to obtaining successor agreement.
Extension Fee
$750 for a 3 month extension; $2,250 for a 6 -month extension plus $1,000 for each additional month beyond 6 months.
De-Identification Costs
Actual cost of de-identifying Unit.
Attorneys' Fees
Prevailing party in any litigation is entitled to reasonable attorneys' fees and costs paid by the other party. Outside counsel fees may also be due in connection with review and approval of a transfer of interest.
Liquidated Damages
If the Franchise Agreement is terminated for certain specified reasons, franchisees must pay liquidated damages equal to the greater of 11% of Unit's gross sales for last 12 months of operation or $100,000.
Development Fee (Development Agreement)
If franchisees purchase existing Units from the franchisor and enter into a Development Agreement, and fail to timely open required Units, they must pay Taco Bell $45,000 and periodic payments of $4,231 until the actual opening date of each new Unit or 10 years from the missed opening date, whichever first occurs.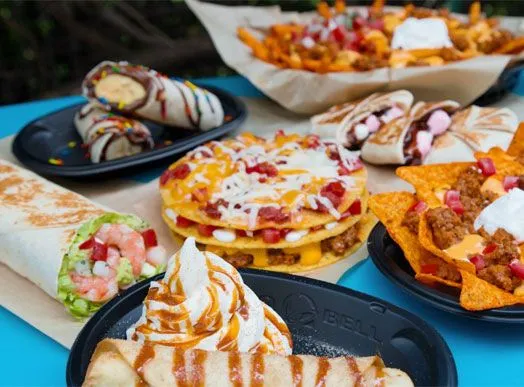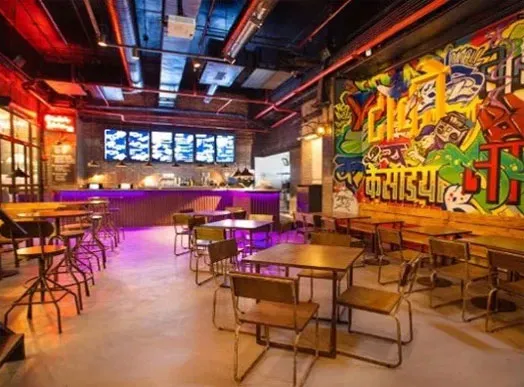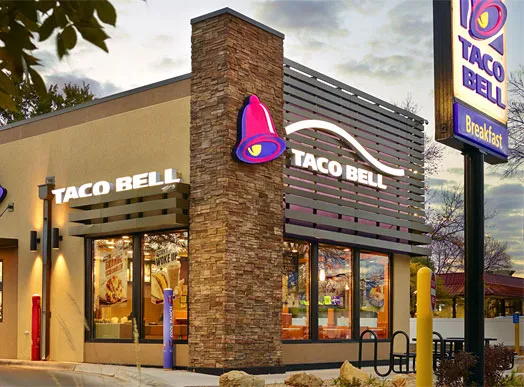 Starting investments from:

$525,100

Company type:

Restaurant

Company foundation year

1962

Year of launching the franchise

1964

Franchise enterprises (2017):

6,686

Corporate Address:

1 Glen Bell Wy. Irvine, CA 92618, USA

At the moment we can not connect you to the representative of this franchise.

Find other similar franchises in our catalog!
Information provided: the information is provided from public sources on the Internet
Interested? ASK QUESTIONS ABOUT THE FRANCHISE
Representative of the company
Feedback
Ask a question about the franchise