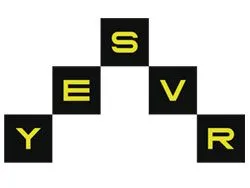 About the brand VR
VIA TECHNOLOGY LLC presents the VR arena network Yes,VR franchise - First-person shooter game for team play up to 10 people with the effect of total immersion. Support at all stages of starting and running a business. Access to the knowledge base.
Using modern wireless equipment allows players to not only manage the main character, but to be him. The effect of complete immersion in the game achieved through freedom of movement, intuitively clear management and full compliance scale in virtual with reality.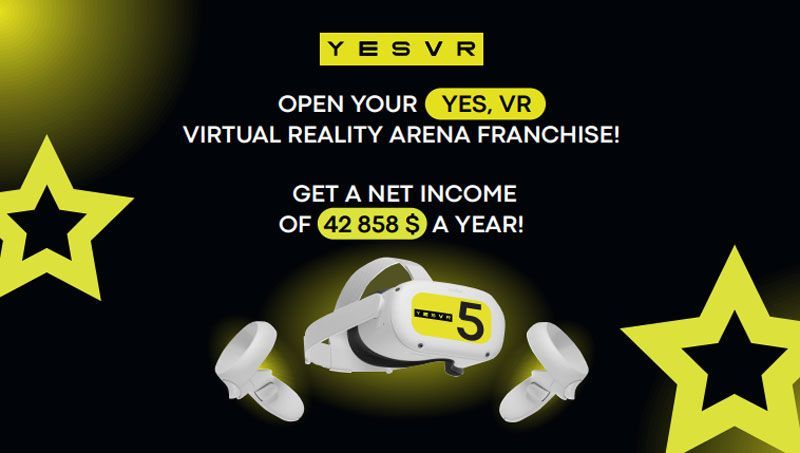 The legendary game "Counter-Strike" inspired us to creating your own similar game in the virtual format reality. Using an Oculus virtual reality headset Quest 2, players are immersed in virtual space, where they find themselves in the midst of hostilities.
Freedom from wires and backpacks (as it used to be) and graphics new generation allows you to feel the effect of presence and gives the ability to jump, bend, run, hide from enemy. At the same time, he sees the avatars of the participants and completely control the situation in the game. Simple operation, intuitive, cyclically, 2 game modes.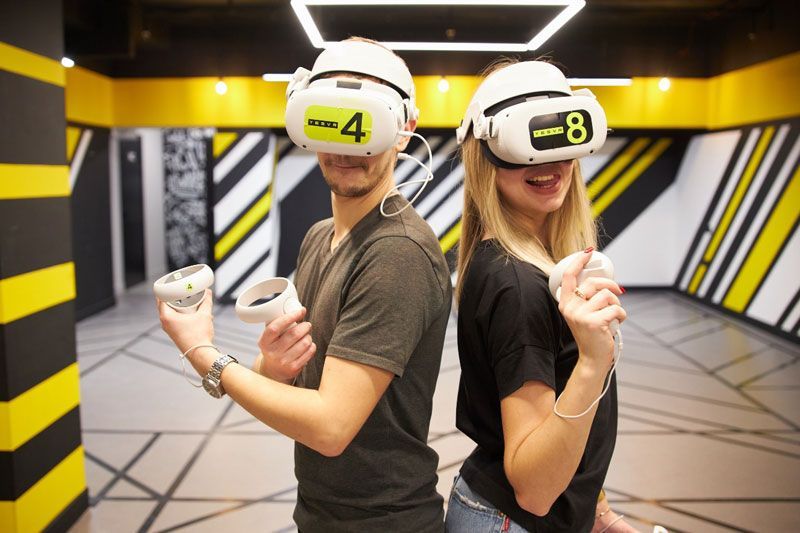 Over 12 locations to choose from:
Shelter
Warehouse
CHUville
YesVR
Heist
House
Apocon
Range
Branch
Lab
Bricks
Fort
Choice of weapons with different shot effect.
Functions:
The choice of weapons (two at once);
Number of participants from 4-10;
Management from the tablet;
Ability to leave the battle without stopping the game of other participants.
Average cost of playing in a VR arena:
on weekdays - $71
Weekend - $100
Size of stores
The minimum size of the arena is 200 sq.m.
VR Franchise Offer
Our team has created its own analog game the legendary leader of computer games
"Counter-Strike" within the framework of virtual reality.
First person shooter game for team games for up to 10 people.
Be the first to discover a new reality in your city!
Request Free Info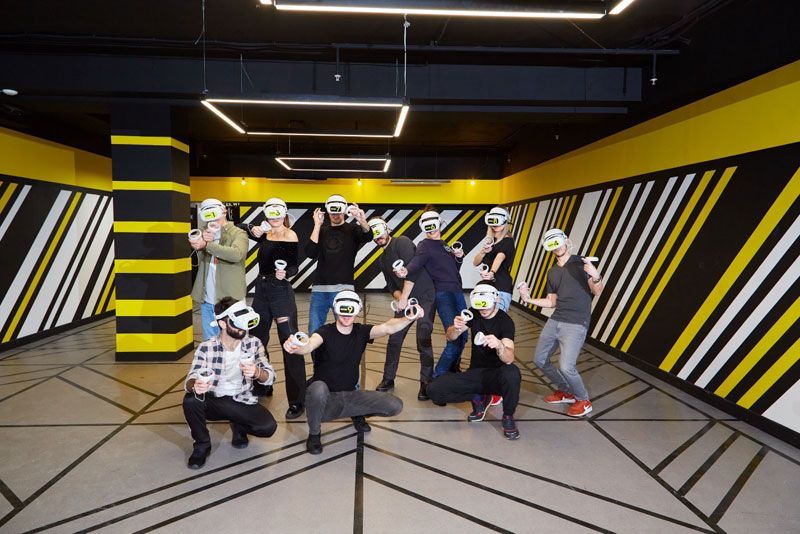 How much does the VR franchise cost?
VR has a franchise fee ranges from $ 42,857, with a total initial investment from $17, 550.
Initial investments: from $17,550
Repair - $8,600
Navigation - $450
Video surveillance - $500
Furniture - $3,000
Household appliances - $2,200
Rent of premises - $2,800
Payback period: 12 months
Average turnover per month: $5,000
Royalties: $430
Franchise fees: from $42,857
Analysis of the entertainment market in your city;
Prepared marketing and pricing policy;
Assistance in the selection of premises;
Design project of the premises;
Assistance in hiring staff;
Departure of our experts on technical opening;
Setting up Internet traffic channels and maintaining social networks;
Franchise package including:

business processes, regulations, instructions, checklists
Brandbook
Equipment for gameplay
Technical support and personal account manager.

Access to partners' chat;
Quarterly update of the game and the addition of new game locations;
Marketing support: social. networks, advertising settings, consultations;
Training center with regular webinars and up-to-date knowledge base;
Crm-system for online registration of participants and reporting;
Chatbot in telegrams with a step-by-step algorithm for opening the arena,
Assistance and guidance at all stages of launch
Request Free Info

VR Franchise Business Model
Indicator

Unit of measurement

Sum

Area of rented premises

Sq.m

250

Rent for 1 sq.m

USD

5,7

Package type

franchise

City population

Million cities

Lump sum

42 857,00

Royalties (monthly payment from the 2nd month of the amount of revenue)

7%

Minimum mandatory royalty amount (per month)

430

Rent an hour

94

138 872

Arena rental (for 2 hours)

229

38 629

TOTAL:

177 501

Payback period of investments (in months)

7

Staff

State positions
Select an employee
Select quantity
In the state
Salary
Administrator
yes
2
1
430
Senior administrator
no
0
0
0
Salesperson
yes
1
0
0
Manager
yes
1
0
285
TOTAL:
4
1
715
VR Franchise Advantages
Own game software
At the heart of the VR arena is a game that we developed ourselves. Regularly we improve the quality and supplement with new cards and opportunities for players.
Modern equipment
The virtual reality helmet and controllers we use in all
VR Arenas - Oculus Quest 2 with high-performance processor and graphics new generation with built-in speakers and cinematic surround sound.
Adaptation of the VR arena to the area of the partner
We develop the design and placement of VR arena zones for the area provided by the franchise partner.
Commercial approach 7 out of 10 who visited the virtual reality arena return for replay and bring friends, which guarantees a high demand and demand for the product.
Lifetime technical support Any questions you may have can be directed to our technical support. Anytime.

At the moment we can not connect you to the representative of this franchise.

Find other similar franchises in our catalog!
You need more information?
Send a request to get free consultation from the official representative of the company
Anishchenko Nikita
CEO
Complete your request
The information is provided from public sources on the Internet
Ask a question about the franchise