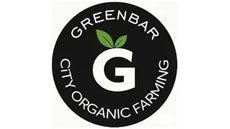 CITY FARMS IS A HIGH-TECH BUSINESS WITH A FAST PAY-OFF PERIOD
City farms are autonomous and eco-friendly structures that allow you to grow plants indoors. The global vertical farming market is projected to be worth at least $ 3.88 billion by 2020.
We will provide you with everything you need for a successful business.

A private city farmer can receive up to $2,042 a month!

The city farm generates income in the first month of operation when growing microgreens.

Minimum maintenance costs of equipment and crop.

A smart IT system creates ideal conditions for the growth of any culture.
The global trend is towards growing food locally in big cities. With the technology of vertical farms it became available for any entrepreneur.
Show-windows can be installed at home, in a basement, in a production area, in a shopping center or on the roof of a building!
Microgreens are young scions that are used both for food and for decorating dishes. It is used in salads, soups, cocktails, smoothies, and other drinks and dishes. Due to the high content of nutrients, such food is considered very attractive, and its consumption is growing steadily.
Smart manufacturing with remote control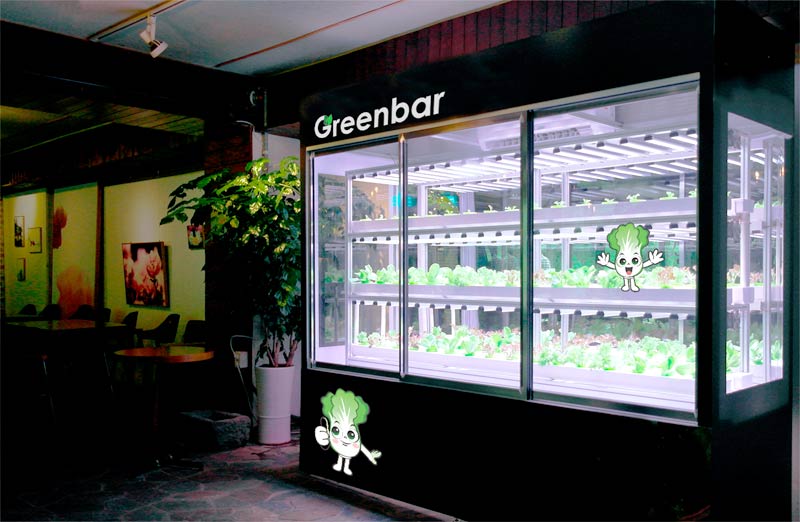 CITY FARM is a revolution in growing green
Rapid growth of nonpolluting crops of herbs, vegetables and berries.
Harvests are taken all year round. Harvest frequency from 5 days.
Cost of production remains the same, regardless of the season and external factors.
Minimum logistics costs.
100% freshness of products (showcases can be installed in the sales area).
Entrepreneurs do not need any special knowledge to work with the city-farms.
The growth process is provided by the IT-system "virtual agronomist".
City farming technology make it possible to save water, soil and fertilizer, almost independent of the vagaries of the weather.
Earn by selling microgreens
Mobile city farms of microgreens.
Business by selling microgreens for food retail chains, fresh bars and restaurants.
Grow more than 30 varieties of sought-after crops that are used in detox foods, smoothies, salads, and decorating dishes.
In GREEN BAR you can grow
Microgreens of any spicy and edible plants, herbs, salads, cereals, legumes, onions, beets, cabbage, carrots and much more.
The table shows the time the seeds reach their presentation. See how often you can harvest. You will receive income up to 4 times a month!
| | | |
| --- | --- | --- |
| Arugula (7 to 8 days) | Buckwheat(6 to 8 days) | Amaranth (8-12 days) |
| Peas(4 to 6 days) | Chard(4 to 6 days) | Basil (9 to 11 days) |
| Radish (5 to 6 days) | Cabbage (6 to 7 days) | Mustard(5 to 6 days) |
Microgreens are recognized as SUPERFOOD, which, unlike exotic quinoa or goji berries, is available to everyone! Several types of greenery can grow in one showcase.
Know-how GREEN BAR that herbs growing right in boxes for sale. Expenses for packing and packaging are minimized.
Compact home - high profitable business
You don't need an office or a large staff to establish a business. You can establish a business right in your apartment!
GREEN BAR showcases are the size of a refrigerator. The display case can be placed in the kitchen, room or corridor.
The productivity of one tier of the display case is 120 portions per month.
The cost of a portion is from 20 rubles, the price for sale is from $1.7.
The wholesale price depends on the type of greens, that is, you will get a big profit by growing expensive varieties of greens (arugula, mint, etc.). The markup on sale is from 30%, when used in ready-made dishes- over 100%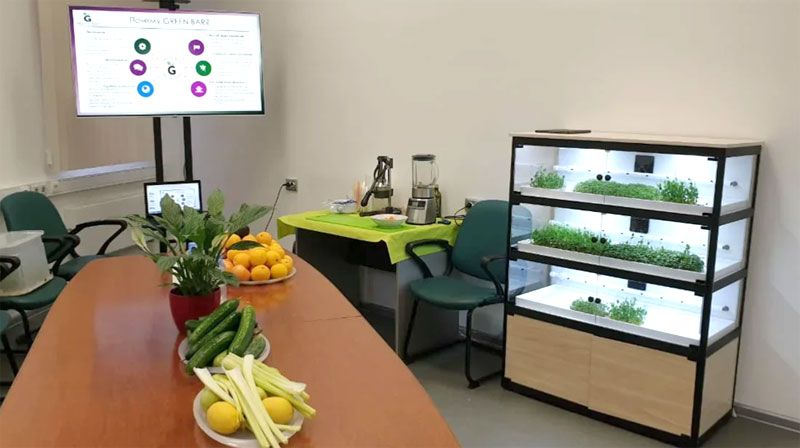 Technological simple business
It is suitable for a first experience in the business.
In the automated showcase GREEN BAR, greens grow without your direct participation. Smart software fully controls the microclimate inside the showcase.
You just have to take 3 simple steps:



Cut the crop after 5 days
No agricultural technologies, land and seedling care.
The showcase will do it all yourself! Your task is to communicate with grocery stores and catering outlets in your city.
Quick change of assortment
Grow greens to order from shops and cafes and detox menus.
The GREEN BAR equipment is universal and suitable for growing all types of greens.
You can plant any seeds, the program will select the necessary conditions for the growth of greenery, and you will receive a product ready for sale.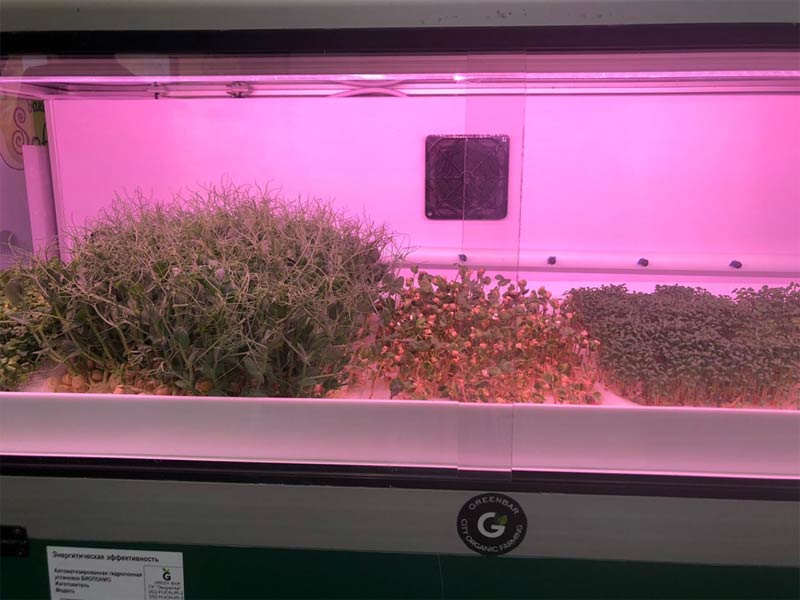 Trend of import substitution and smart agrotechnologies

The latest technology of fast cultivation of ecologically-safe microgreens GREEN BAR allows you to grow microgreens all year round without land, fertilizers and constant care.

100% organic, locally sourced. Maximum freshness and benefits of herbs. 10 minutes from garden to plate.

Crop control is carried out by a virtual agronomist service. A clear mobile application has been created for the storefront owner. With its help, you can control the growth of greenery with several buttons.
Line of business

Agriculture

Founded

2015
Interesting?! Ask questions about the suppliers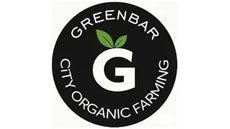 Feedback
Ask a question about the suppliers