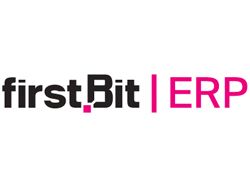 ABOUT THE BRAND FIRSTBIT
First Bit is a global IT company with European roots that provides business auto-mation and IT solutions development & integration worldwide with 100 branch of-fices in the following countries: Kazakhstan, Uzbekistan, Belarus, UAE, Turkey, Spain, Canada.
We're a leading developer of ERP for Trading and Construction businesses in the UAE. FirstBit ERP - Single platform to streamline processes and employees collaboration.
Our international team of 5000+ professionals takes care of fulfilling business needs of varying complexity based on known-how and expertise gained in 270,000+ of successful projects around the world.
The all-in-one First Bit covers all aspects of your business operations. Comprehensive ERP system with very flexible, scalable fast and modified functionality.
The features we offer to streamline your business processes:
Real time Reports
Data Security
Automated Approval Processes
UAE Tax Compliance
Access from Anywhere Anytime
FirstBit — End-to-End Cloud ERP tailored for Trading and Construction business in the UAE.
ERP FOR GROWING DISTRIBUTION AND TRADING COMPANIES IN UAE:
Real-time reports anytime anywhere.
Inventory tracking and analysis.
Stock aging, inventory SKUs, serial numbers, expiry dates, and many more.
Mobile app, approvals, collaboration chats
Easy and fast reports for Customs
Automated payroll & VAT calculations in compliance with UAE Law (FirstBit is ac-credited by the Federal Tax Authority).
Multi-currency accounting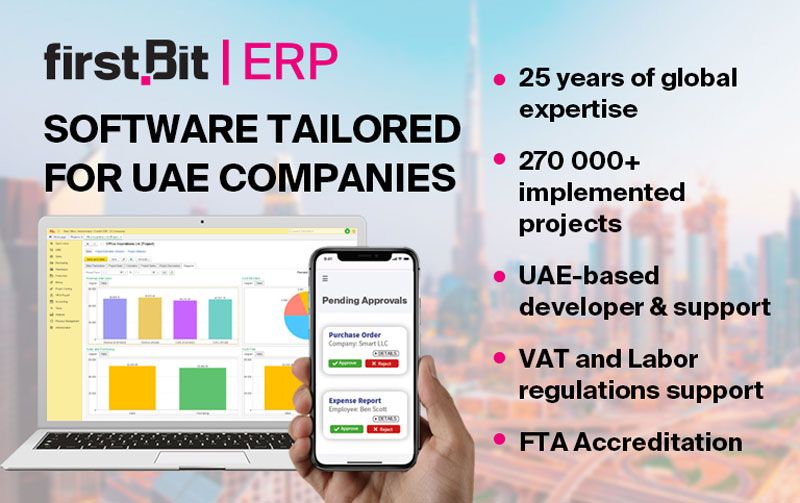 FirstBit ERP Contracting & Construction Companies
Growing contacting & construction companies in the UAE are relying on end-to-end cloud-based FirstBit ERP software and support day in, day out to handle their BOQ, Estimation, Approvals, Quota-tion, Project cost control, P&L, Purchasing, Tendering, Labor cost, overheads allocation, and many more.
FirstBit ERP for construction and contracting:
Real-time reporting anytime anywhere.
Construction cost control in one click.
Project revenue and costs analysis.
BOQ, project estimation and completion analysis (by costs and revenue).
VAT-compliance (FirstBit is accredited by the UAE's Federal Tax Authority).
Payroll calculation in compliance with the UAE Labor Law.
Labor costs allocation based on project time cards.
Auto calculation of overtime, vacations, sick leaves, and end of service provisions.
Materials, labor cost, and overheads allocation for projects.
Approval processes automated (i.e. approvals of procurement requisition, payment expense, in-voice received, and more)
One of our clients, Green Walls Aluminum & Decor, even achieved an 80% increase in the speed of work. Another client, Mast Building Contracting, reduced the manual work by 50%. And more success stories of our clients are listed on our website.
Ensure Timely & Profitable Projects Completion with FirstBit ERP. Contracting.
Line of business

Business solutions

Founded

1997
Interesting?! Ask questions about the suppliers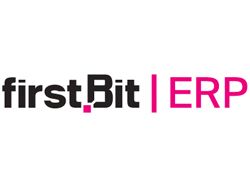 Feedback
Ask a question about the suppliers