Döner & Gyros Franchise - Fast Food Restaurant
Döner & Gyros Franchise - Fast Food Restaurant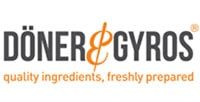 Description of Döner & Gyros franchise
Back in 2012, I had a dream to bring together two of my favorite foods from around the world. Ever since that vision, I acquired a highly dedicated team of researchers and professionals to create a concept that the community would love best. After years of production and hard work, Döner & Gyros was born and made its debut in 2014. Fast forward to today, we not only have a significant presence in the U.A.E but are also a global brand and have made our presence known in countries such as the U.S.A, Canada, India, KSA and more. Partner with us today, and let's grow together not just as a brand, but as a team. I look forward to a long lasting relationship with our franchisees.

Nabi Naseeb
Vision
Our passion for hospitality brought forth a vision of becoming a premium casual restaurant chain that offers value-added, nutritious, healthy meals to the masses across the globe. We strive to be the best in value, customer service, employee satisfaction and consistent, sustainable growth. Our live station allows our customers to have the freedom in the choice of sandwich style, sauces and the ingredients of their meal. This provides an innovative twist to the whole dining experience. Our highly experienced F&B consultants provide us with Franchiseable Operating Systems to put into action and provide training to ensure that all Döner & Gyros are managed and operated at international standards.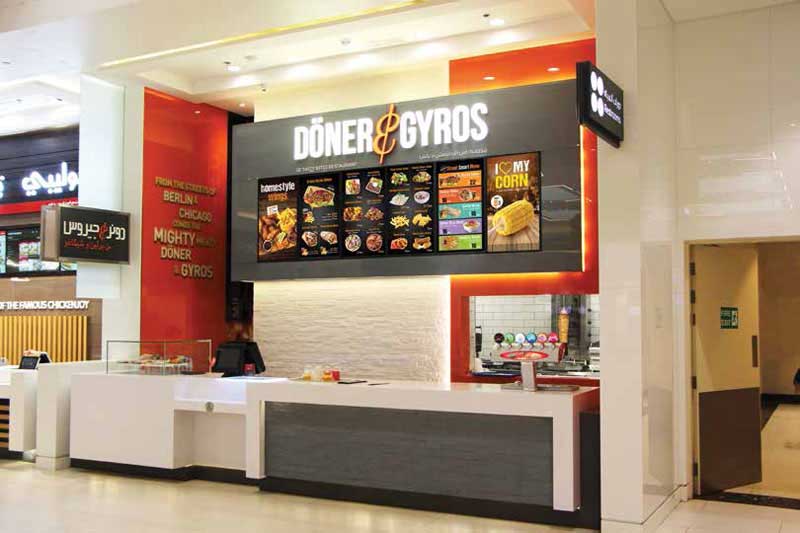 Mission
Our mission is to ensure that each guest receives prompt, professional, friendly and courteous service. To maintain a clean, comfortable and well-maintained premises for our guests and staff. To provide well-prepared meals at a fair price, using only quality ingredients. To ensure that all guests and staff are treated with the respect and dignity they deserve. To thank each guest for the opportunity to serve them.
Who are we?
Döner & Gyros is a casual fast food restaurant that serves healthy, delicious and affordable products. We take traditional sandwiches and give them an urban and modern twist. We bring authentic street food from Berlin and Chicago for all to enjoy.
Our promise
Ourpromiseis toalwaysprovideafreshandhealthy variationofastreetfoodthatisboth guilt-free and customised to the consumer's desires. We focus on providing high quality products that have authentic traditional tastes in every bite.
The history of the classic berlin döner
In 1971, Chef Mahmut Aygun adapted the traditional Turkish Iskander kebab to a more 'Berliner' taste. He was inspired to put the meat in bread to help diners on the go. Moving to Germany at the age of 16, Aygun opened a food cart and soon became known as the "kebab king". His Berlin Döner has become one of the most historical and popular street foods in the world .
Freshly baked sesame flat bread is filled with juicy strips of meat sliced directly off the rotisserie. It is then topped off with a variety of lettuce, cabbage, and tomatoes. Add a dash of our signature sauce and get a kick of spice into your first memorable taste of many more Döners to come!
The history of the classic chicago gyro
This titan of a Sandwich was originated in Greece and arrived on the streets of Chicago in 196. It made its debut at the Parkview Restaurant and made the owner a very famous man!
The American, or rather Chicagoan, Gyros is another successful story of adapting ethnic flavors to local tastes. Cones of Gyro meat rotate on a vertical broiler until perfectly roasted. This tender flavorful meat is then sliced and folded into freshly baked pita bread. Top it off with some tomatoes and onions. Add a generous serving of our signature tzatziki sauce which consists of strained yogurt, cucumber, olive oil and our secret spices. A local favorite from the streets of Chicago brought to you!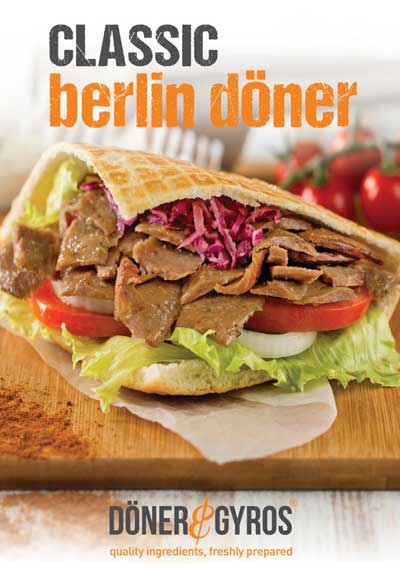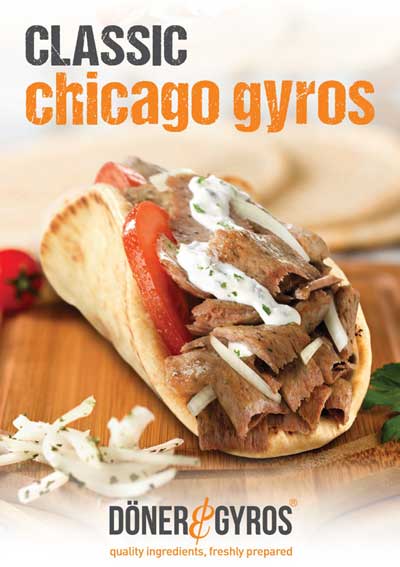 The origin
Our love for the authentic German Döner and Chicagoan Gyro is the heart and origin of our brand. We use Halal certified quality meat from Germany and Chicago, which ensures our Döners and Gyros are of the highest quality and flavor. Using these delicious high quality meats, we prepare the finest tasting sandwiches using homemade sesame flatbreads, homemade sauces and the freshest ingredients. With high quality ingredients, our Döners and Gyros are as traditional as they come.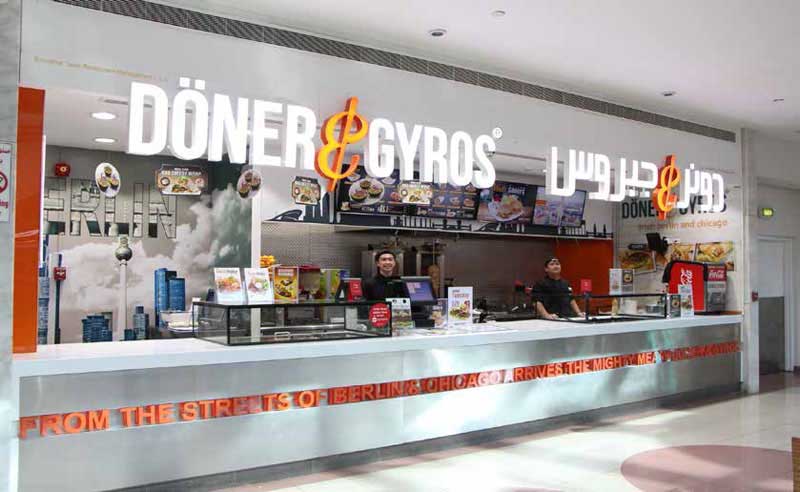 We supply all of our ingredients from as close to the source as possible to ensure that we offer the freshest tasting sandwiches. Our beef and chicken is imported from Germany and cooked fresh right before your very eyes at our restaurants. This can only be complemented with our freshly baked sesame flatbread, which is baked daily and available every morning. Only the best produce is selected from a fresh batch to make sure our lettuce, red cabbage, onions and tomatoes are of the highest standard. With every element of our sandwiches being as fresh as they can be, it's a no-brainer as to why you should choose Döner & Gyros.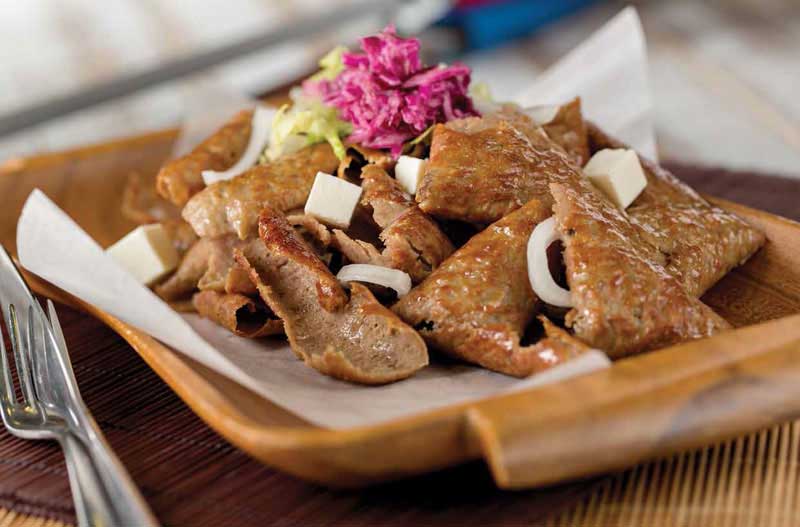 We work intensively with our dedicated Research & Development team to ensure that we are able to release products of the highest quality for our loving customers to enjoy. If you're not quite in the mood for our iconic sandwiches, then our Limited-Time-Offers (LTO's) might do the trick.
At the end of the day, our menu covers a wide array of meals to hit that sweet spot, but as our R&D team continues to work relentlessly, we are always releasing new products to liven up our menu. We believe that there is something for everyone at Döner & Gyros, and we plan to live up to those expectations.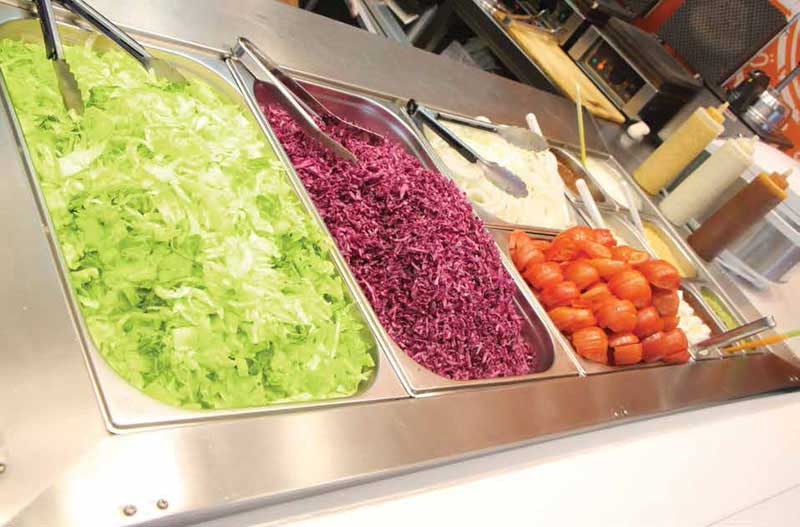 We've come a long way since our humble beginnings in Dubai, United Arab Emirates, where we set up our Headquarters in one of the fastest moving cities in the world. You can enjoy the best of what we have to offer in the most iconic malls of the UAE, such as The Dubai Mall, Mall of the Emirates, Dubai Marina Mall and more. We have spread throughout the UAE and have a strong presence in the other Emirates such as Abu Dhabi, Sharjah and Ajman. We look forward to opening near you!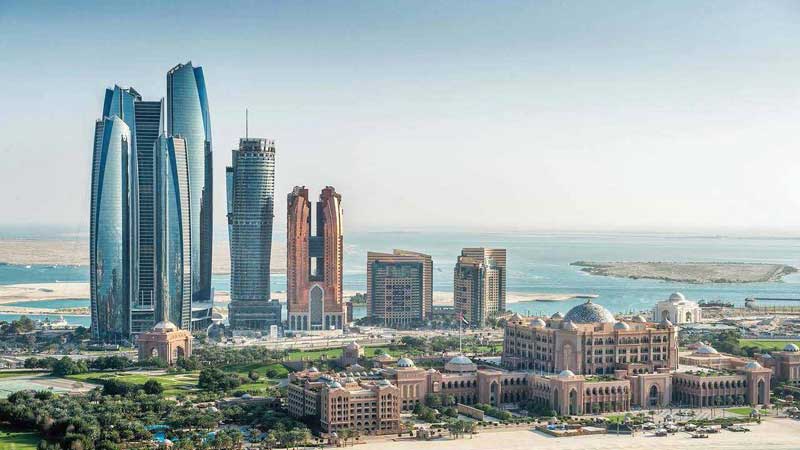 Process steps to become a franchisee
Step 1: Submission & preliminary approval
Based on our review of your Franchise Application, the Franchise Approval Committee will decide whether to grant you preliminary approval.
Step 2: Field interviews
After your application has been processed, we will schedule a face-to-face interview between you and the member(s) of the D&G team. These interviews will provide you an opportunity to have your questions answered and aid us in deciding whether you qualify for approval as a D&G franchisee.
Step 3: Discovery day
If you receive preliminary approval, you will be invited to D&G headquarters in Dubai, UAE, for a tour in which you receive a more in-depth introduction to the D&G system, meet our team, and spend some time "behind the scenes" in one of our Dubai locations.
Step 4: Final approval & franchise agreement
Upon approval by the Franchise Approval Committee, you will sign the LOI and then the Franchise Agreement at a later stage.
Step 5: Secure site & sign lease
Depending on your particular circumstances, either before, after or simultaneously with the Franchise Application process, you will choose a site (with our approval) and you will secure such site by negotiating and signing a lease.
Step 6: Open your restaurant
Achievements
2018 best döner kebab restaurant chain (Global)
2016 franchise of the year award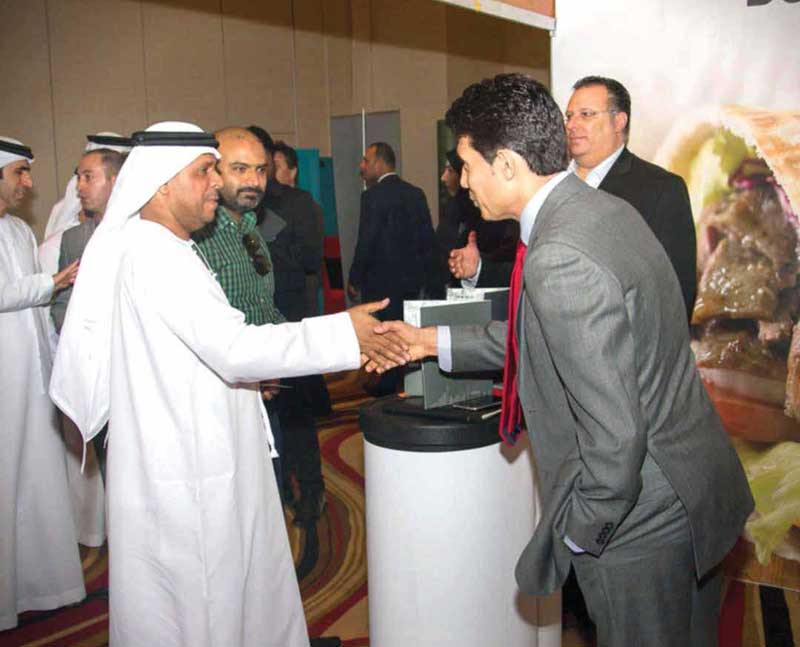 At the prestigious Franchise Awards 2018 event in New Delhi, India where they crowned awards in various fields, Döner & Gyros won the award of Best Döner Kebab Restaurant Chain (Global) of 2018, cementing our successful endeavors in the field.
We take pride in receiving this award as it not only flaunts the unsurpassed competitiveness that we have but also proves how we value our customers and franchisees as well.
The International Franchise and Conference Exhibition is a prestigious exhibition where business investors with high market demand observe and network with innovative and unique business concepts.
Döner & Gyros was not only pleased to be apart of this reputable exposition, but honored to be awarded with the 2016 Franchise of the Year Award. With such high praises, we aim to continue growing our brand and spreading our unified concept to all.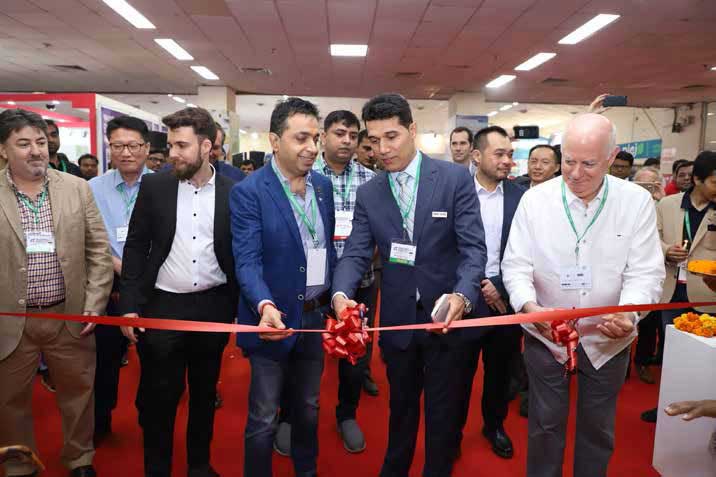 Marketing
At Döner & Gyros, we pride ourselves in having a strong marketing team dedicated to resonating with our customers in a multitude of ways. We have hosted many successful events and have held wonderful promotions that have proven to be well-received by our loving customers, whether it may be exciting giveaways, our Mighty Meaty Challenges, weekly offers exclusively available on our website/ mobile app or our entertaining social media interactions.
As far as tech goes, our state of the art website and mobile app make it easier for our loving customers to order the food they love, and with our new loyalty program, earning rewards has never been easier! We also use our website as the ultimate tool to keep you up to date with what's going on in the world of D&G, with blog posts and press releases constantly being added!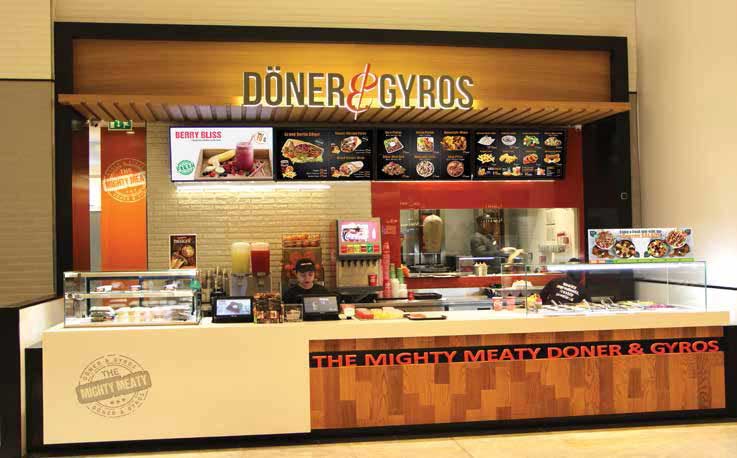 In addition to our commitment to reaching out to our customers, we are also incredibly hands-on with marketing support and go above and beyond to ensure our franchisees are equipped with the right tools to market themselves accordingly. To equip them with the right tools, Head Office sends out a monthly newsletter to all of our franchisees and related staff so they are kept in the loop as to what is going on. Best of all, we host a yearly meeting in Dubai to get a better understanding of one another, to see where everyone is in terms of their growth as a franchisee and if there are any opinions or concerns hat they should like to voice during our open forum.
We work hard to stay up to date with the latest trends and demands of the market to continue growing not only as a brand but as a community. We absolutely love what we do, and we will continue on to reach out to our consumers in anyway we can to continue spreading the message of healthy wholesome street food for the entire family.
Training
Our crew of servers, delivery drivers, and counter staff are our ambassadors of service and are trained to provide a quality of smart, friendly, knowledgable and professional service. From our order-takers at the cash registers to the delivery crew, our staff go above and beyond to ensure that the needs of our customers are fulfilled.
The secret behind our team's successful service is our ongoing training program that we implement here at HQ. Our training manuals are tested and proven to educate our staff on how to efficiently perform for a smooth operation. Training will be held in our Head Office in Dubai, UAE where we will teach you the proper procedures and how to train future staff with our modules. Training has always been an important aspect of D&G, so sign with us and see the difference.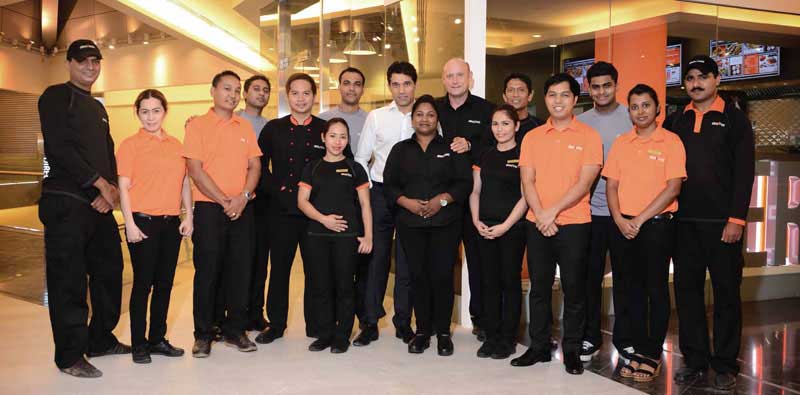 Request Free Info

What does d&g look for in a franchisee?
We look for individuals with an entrepreneurial spirit, a strong desire to succeed by being actively involved in the business and a willingness to learn and follow the systems we have developed over the past few years.
Döner & Gyros seeks franchisees that have real motivation and a track record of success. Our current operators in the domestic and international markets are the best. They do whatever it takes to get the job done. They work hard and have fun doing it, too!
Where should i open döner & gyros?
Minimum population of 20,000 in a 3-mile radius.
Average household income of $55,000 and above.
Predominance of families and Teenagers.
Concentration of offices and/or retail centers.
Employee population 20,000 in a 3-mile radius.
Traffic counts of 20,000+ cars a day.
Advantages of Döner & Gyros franchise
Proven, tested & successful franchise system
Social Media, Marketing & Development Support
An established operational supply chain
Brand building, training support and guidance

At the moment we can not connect you to the representative of this franchise.

Find other similar franchises in our catalog!
You need more information?
Send a request to get free consultation from the official representative of the company
Manager
Complete your request
The information is provided from public sources on the Internet
Ask a question about the franchise