Description of FreeFly Wind Tunnel skydiving simulator franchise
Wind Tunnel is Skydiving Simulator. It is a construction which moves air up with high power creating the same conditions you would find in freefall. As a result it feels like skydiving. Therefore, the wind tunnel could be used for entertainment as well as a simulator for skydivers. 15 years ago in 90ies entrepreneurs began to use the wind tunnel for their commercial purposes.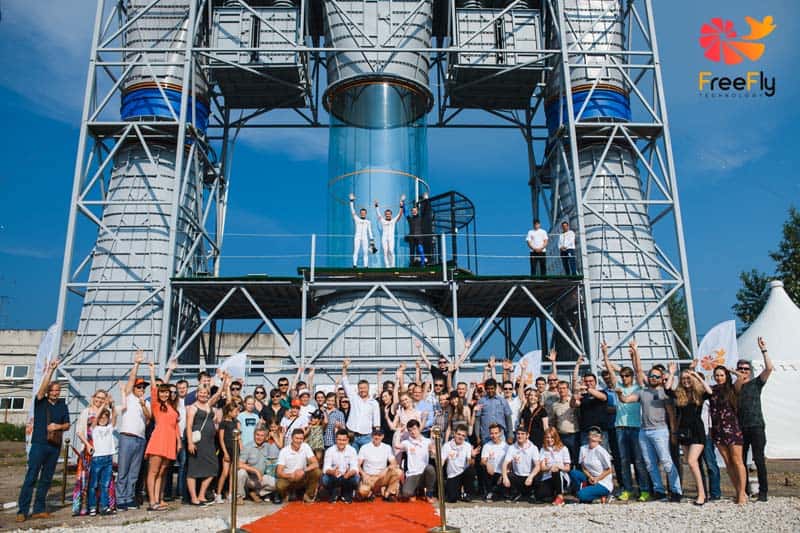 Nowadays the demand for wind tunnel skydiving is growing all over the world. According to some surveys there are 155 wind tunnel locations, 50 more are going to be launched soon and 35 are being built. Despite the fast growth, the kind of sport and entertainment is just entering the market, which makes the business highly demanded. For the last 2 years the news about the kind of sport has been promoted by BBC, New York Times, Independent and celebrities such as by Pink, Sia, etc. and has been approved as an indicative kind of sport at the Olympic Games in Paris in 2024.
The attraction for family recreation and skydiving training includes:
| | | | |
| --- | --- | --- | --- |
| Cafe for 50 visitors | Events and competitions| | Additional attractions (VR, Laser tag etc) | Wind Tunnel | Shop | Lounge Zones| Conference hall |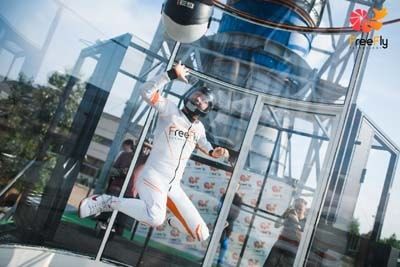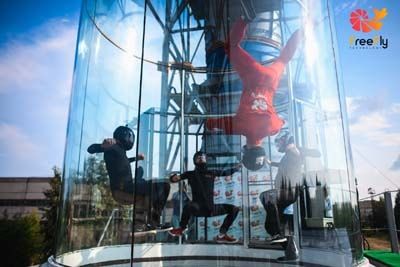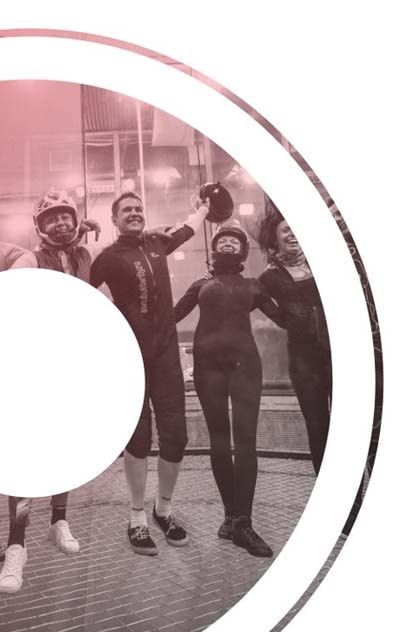 More than 10 ways of the Center monetization:
B2b, corporate events
Single flights for customers
Gift certificates
Souvenirs (T-shirts, magnets, etc.)
Revenue from additional attractions
Personal flight coaching
Birthdays, hen parties, stag parties
Flying and training for professional skydivers
Cafe Revenue
Classes of preparation for jumping or a pro-course for beginner flyers
Investments required for starting FreeFly Franchise
Initial investments: on request
Include:
Purchase of wind tunnel, premises, repair, technical equipment
Payback period: from 18 months
Average monthly turnover: from $59,000
Royalty: 7 % (no royalties for the first three months)
The royalty includes:
The right to use the trade mark and marketing support
Strategic brand support, all novelties
Technical support of the multifunctional control system of the Center
FreeFly team for operational work for the whole period of the agreement
Regular trainings
Website and Franchisee's web page maintenance , as well as access to the website of the company
Access to specialists - solution to individual issues from representatives of the management company
Marketing budget: 5% of turnover
The budget will be spent for the following:
Marketing team work (SMM, digital-specialist)
Promotion and search engine costs (online advertising channels)
Social Networking
Contextual and targeted advertising
SEO page optimization
Email marketing (sending letters by using triggers)
Scenarios for holidays / corporate events and product matrix
Creating promotional offers
Brand development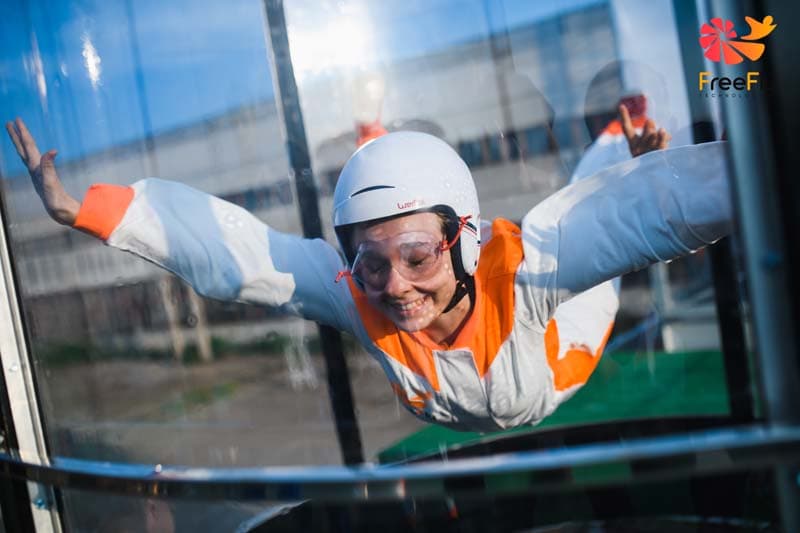 Franchise fee: not less than $173,000
The wind tunnel attraction is a complex recreational place and training center for professional skydivers. To make you Center well performing, we will closely work with you for 6-12 months (it depends on the terms of designing and construction). At every stage our specialists will work with you, ready to answer all your questions and solve the issues.
The franchising program includes
The right to use FreeFly brand
Arranging the work, establishing a sales department in the Center
The benefits of working with FreeFly network providers
Control at all stages of the Center launch
Marketing materials for work
Design-project of the Center
Detailed instructions on the work of the Center
Our specialists arrive at the place on request
Opening team, 12 months of dense work
Connection to the multifunctional control system of the Center
Participation in the festive opening of the Center
We accompany you at every stage:
Marketing before the opening
Get the whole franchise presentation, where you will find 50 tasks we will solve with you before you start your Wind Tunnel Center
Other current expenses: business trip costs for opening team are paid by franchisee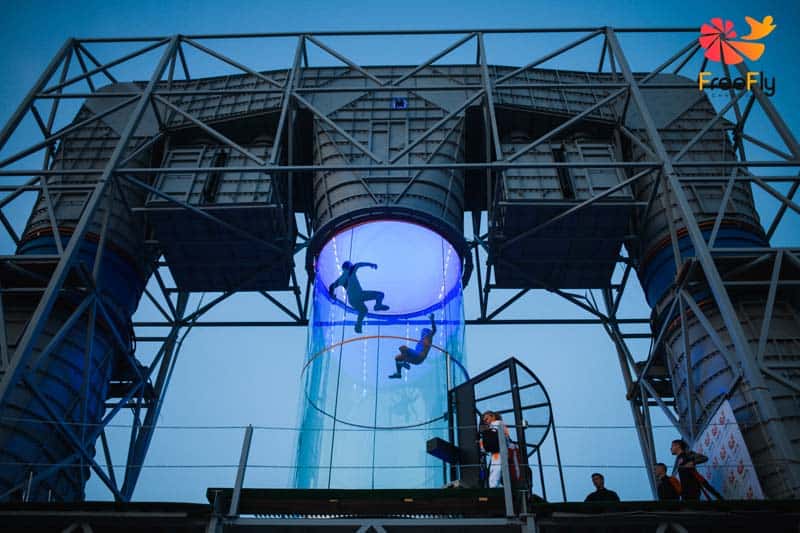 Request Free Info

General trend
The segment of mass sports has recently significantly changed. Some modern kinds of sports which began to appear in 50ies of XX century are called extreme sports: base jumping, diving, heli skiing, rafting, rock-climbing, surfing, cyclocross, skydiving.
The kinds of sport feature some degree of danger for life and health of the sportsmen, a large number of acrobatic tricks, a high level of adrenaline which is released during sports. Wind tunnels make this sport safer, systematized and bring it to public, giving everyone an opportunity to try to fly.
Wind tunnel is a trend. Now there are more than two hundred air tubes in the world. About a hundred of them were built 2 - 3 years ago . This is a real boom! The number of aerotubes is growing exponentially.
Become a business owner on a growing flight market!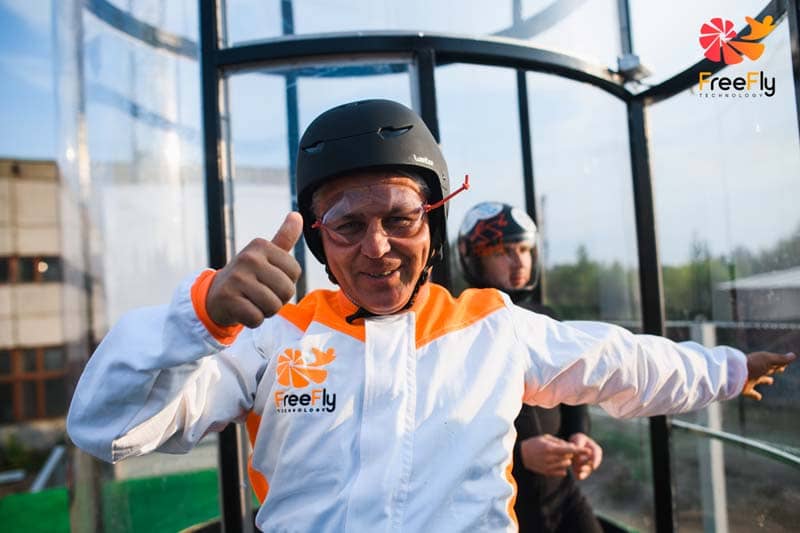 The demand for indoor skydiving
In 2017 indoor skydiving became an official sport in Russia. In December the 1st Russian Indoor Skydiving Championship took place.
The Olympic Committee formally added it to the program of the Summer Olympics 2024 as an indicative sport.
The popularization of indoor skydiving is spreading all over the world, in 2018 the third official World Cup in the Kingdom of Bahrain will take place, in Norway the first European Championship was held, national championships are held in all countries.
The potential demand is great: in 2016 42 million people dreamed of a parachute jump (according to a survey in Russia). At the same time, the audience who would like to have the opportunity to fly in a wind tunnel is even bigger. Come to any school class and ask: "Do you want to fly in an wind tunnel?" - 95% of children will give a positive answer.
Request Free Info