Cream Station Franchise For Sale - Ice-cream Shop
Cream Station Franchise For Sale - Ice-cream Shop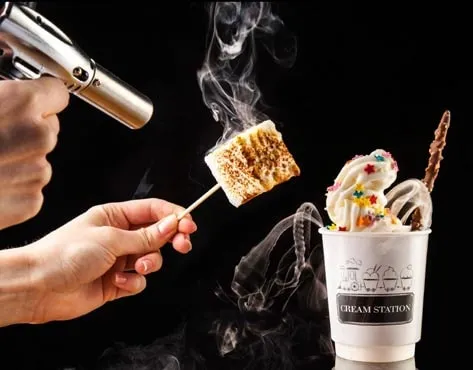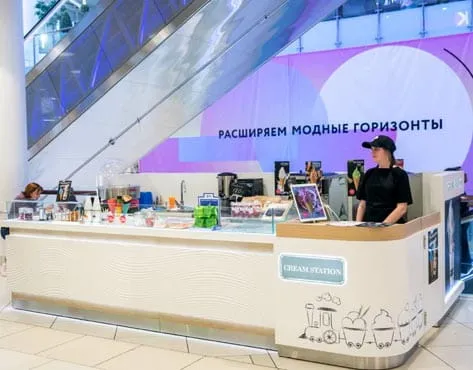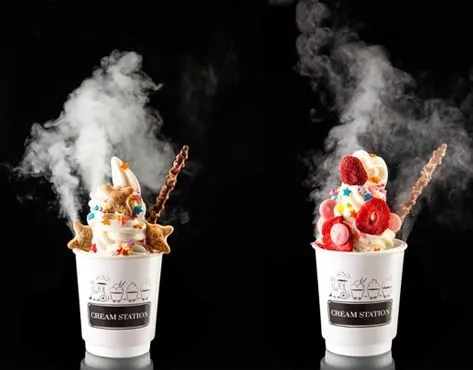 Fog ice-cream - keep the element in your hands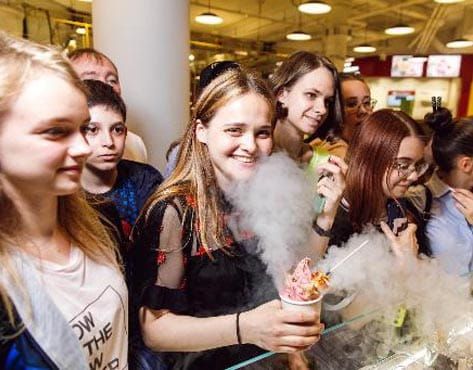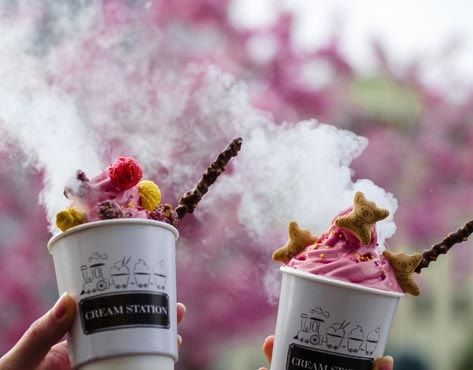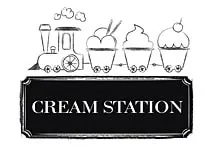 Description of ice-cream shop franchise Cream Station
Cream Station is an innovative ice-cream boutique. We carefully pick our suppliers and only offer the highest quality, natural ingredients. Kids and adults are excited about the ''wow effect'' from fog ice-cream with a wide selection of unique toppings.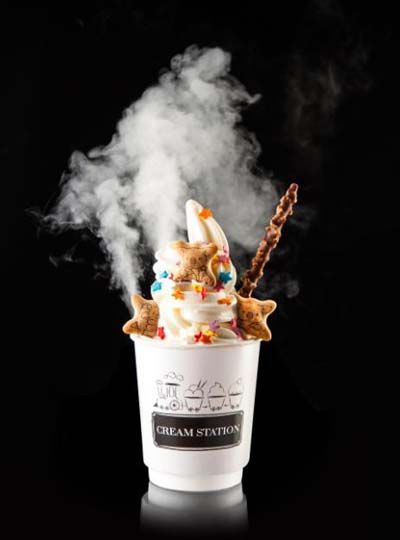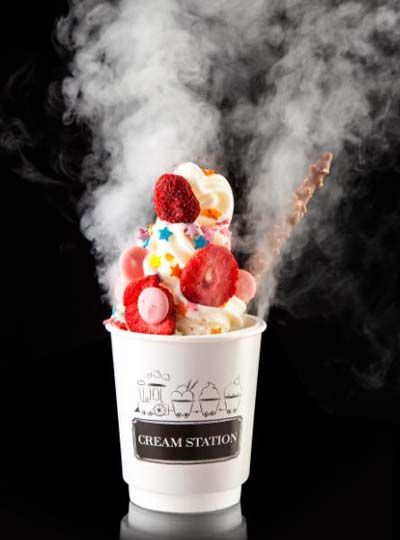 Cream Station offers desserts you have never seen before!
Cream Station is a successful boutique ice cream franchise founded by an experienced team which has established a number of commercially successful businesses, such as Dom Farfora and Williams et Oliver.
We invite you to experience visually stunning ice cream-based desserts, made to order with liquid nitrogen, and make it a moment they never forget.
Our desserts are made of soft ice-cream from organic milk and prepared according to our unique, in-house recipes. Our ice cream never sits in a tub or on a shelf. From our mixer, it goes straight into your cup or cone. There are no preservatives or ice crystals - only fresh ingredients in every scoop for the creamiest flavor and smoothest texture.
Cream Station caters to all tastes by offering both traditional as well as exotic flavors of ice cream, crafted in front of our customers. What makes our products unique is that rather than just making a purchase, our customers experience a real food miracle by witnessing how our ice cream is made in front of them.
We offer a full menu of signature ice cream flavors and innovative toppings. Over the past 6 months, we have sold more than 8 tons of ice cream! Visitors can create their own unique ice-cream masterpieces by adding toppings or decorating them with a colorful sprinkling.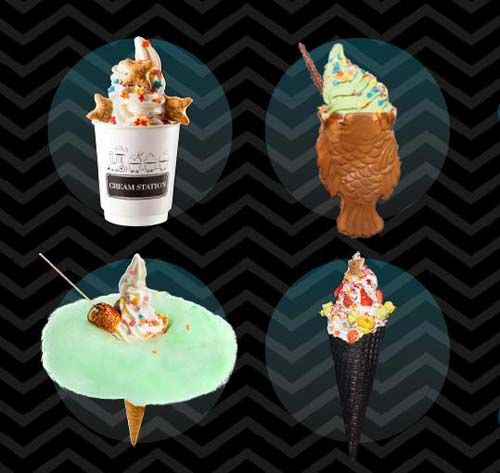 Our dessert can be served:
Ice cream bowl
Taiyaki (freshly baked soft cone)
Waffle cone with a cloud of cotton candy
Cones with candy cotton made to order with liquid nitrogen.
What is Cream Station's motivation?
The image of a Cream Station is our motivation.
The association of childhood, pure, simple, fun, and happiness. An image we are using is the fuel behind our mission to share our passion for the ice cream, desserts, drinks, and winning hearts and minds at a time. We are highly driven by quality, transparency, and social and environmental performance.
Our mission is to promote the «dessert culture» and connect younger crowds through offering locally sourced twists to traditional desserts and drinks is our aim!
Festivals & cooperation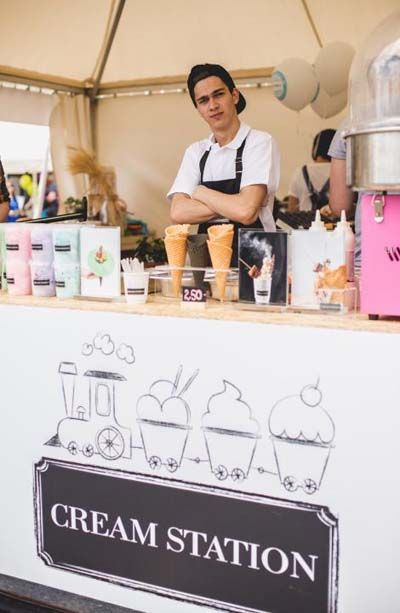 Cream Station's team take the advantage from the community's events.
We are an often guest for food markets & festivals
Catering on New Balance, Elle, Elle girl, Marie Claire
Festivals on a Red Square by the government of Moscow
Taste Moscow (franchised by Taste London)
Ice Cream festival in Sokolniki park, Yekaterininskiy Park
Riga Family Fest
Moreover, we are absolutely kids friendly project. Regular catering of the chess tournament among schools "Rublevka Open".
Dozens of private and corporate vents
Cream Station is a good business for all seasons
During warm seasons, we sell ice-cream-based desserts and cold drinks.
During cold seasons, we offer our signature tea and coffee blends, candy floss and popcorn, desserts.
Moreover, we generate extra revenues from a number streams, including biscuits, protein snacks, exclusive seasonal gifts & offers.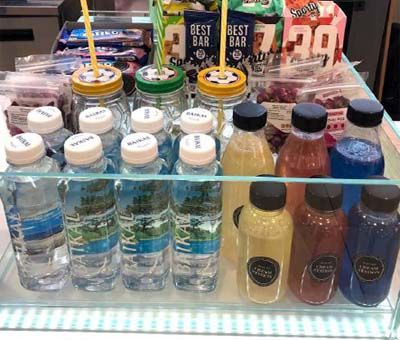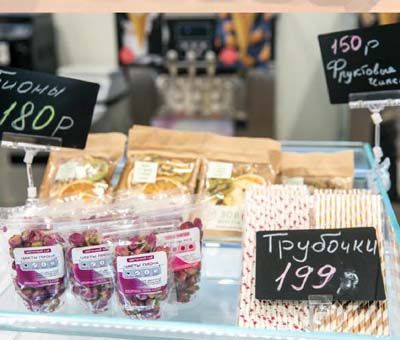 Cream Station Franchise Offer
We offer you a unique opportunity to open an ice-cream shop.
2-in-1 concept:
A boutique "island" point (6-10 sqm) format located in shopping/entertainment centers.
Catering: on average 4-8 orders per month. Food show format at various celebrations, exhibitions, festivals, and other events.
Franchise fee includes:
The right to use the Cream Station registered trademark
Assistance with registering a legal entity, and support in relation to documentation for running the business
Startup team (checking before the Grand Opening, assist in a promotion period, final launching)*
Online base photo and video content
Our assistance with choosing the correct location and negotiations with the landlord
Training and coaching for the team leader and employees
Corporate landing page
Assisting in planning and organizing your unique signature Grand opening event
Find the whole list in our presentation.
*expenses on tickets, food
Take a glance at how your ice-cream shop may look like:
How much does Cream Station franchise cost?
Cream Station has the franchise fee of up to $6,500, with total initial investment range of up to $32,000.
Initial investments: $32,000
Payback period: from 6 months
Royalties: 2%+
Marketing fees: 1%
Franchise fees: $6,500
Other current payments: none
Request Free Info

Cream Station Business Mode
Our partner makes money by selling unique Cream Station soft ice-cream and organizing events and parties.
Branded jars with candy floss and popcorn are made for corporate clients.
Initial investments: Equipment $15,000-$18,000
Outlet arrangements (stand, inventory, cash equipment, form, project documentation) $8,000-$12,000
Commodity stock for 2 months: $4,000
Opening event $1,000-$2,000
For the trading center with the possibility of 15 000 pople a month/ converting people into purchase 1%, returns 1,500 checks
The average bill is $6-7/ 5-6 euro / 5-6 ponds
Our offer will be interesting to both entrepreneurs and owners of retail space. The concept of a boutique cafe differs from usual dessert outlets and offers beautiful and delicious ice cream masterpieces to inspire curiosity.
Disclaimer
This presentation is for information only and does not constitute an offer or invitation for the sale or purchase of securities. Any information or documentation provided as part of the presentation is intended solely for use during the presentation and as a personal record thereafter. Any information or documentation provided as part of the presentation may not be reproduced or circulated or used for any other purpose.
Certain forward-looking statements may be contained in the Presentation Materials. Although the Company believes that the expectations reflected in such forward-looking statements are reasonable, no assurance can be given that such expectations will prove to be accurate. Accordingly, results could differ from those projected as a result of, among other factors, changes in economic and market conditions, changes in the regulatory environment and other business and operational risks.
The information provided during the presentation has not been independently verified. No representation or warranty, express or implied is given as to the accuracy, fairness or completeness of the information or opinions contained in the presentation and no liability is accepted for any such information or opinions (which should not be relied upon) or for any loss whatsoever arising, directly or indirectly from any use of the information provided.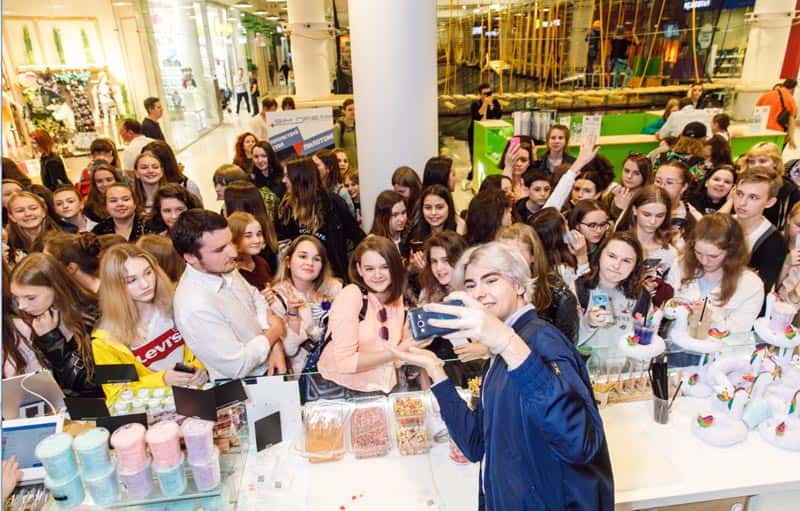 Who are looking for:
Owner of a retail space
Managing team
Gastro-enthusiasts
Investor
Requirements for the room:
6 - 10 sqm - island format, street retail
Passable place
Electricity from 10 kW
Water supply
Location requirements:
Shopping and entertainment centers
Parks
Food Markets
Embankments, recreation areas
Good pedestrian traffic
Advantages of Cream Station Franchise
Soft ice-cream with bright serve
In-house flavors and recipes;
Fresh ice-cream made right on the spot;
Organic and high-quality ingredients;
8 signature flavors that can be served in a cone, cup or a Taiyaki waffle;
Taiyaki waffles are baked on the spot;
Unique toppings: frozen-dried strawberries, sprinkled with rose petals, koala cookies, grilled bananas and marshmallows, rainbow popcorn, honey, mini oreo, Cinnabon cornflakes;
Visitors can create their own unique desserts;
45 seconds to create a personalized and fully unique masterpiece;
The assortment includes ice-cream, candy floss, lemonades, coffee, and other drinks.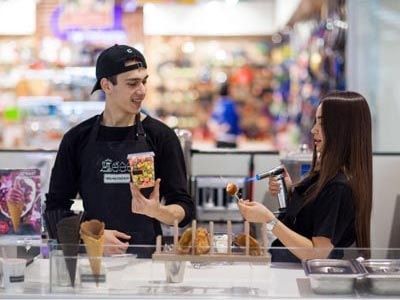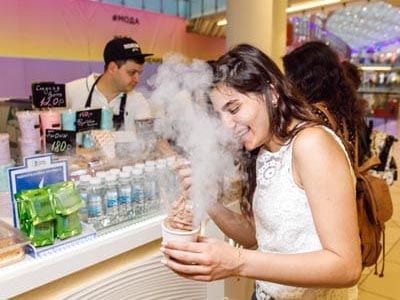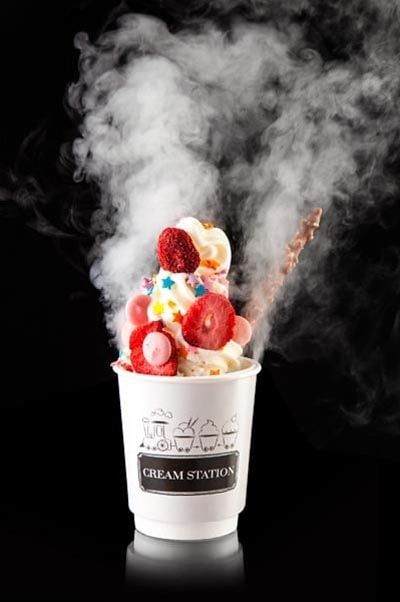 Cream Station Food Show
Wow effect;
Every visitor can create their own unique dessert (personalized), choose the flavor and let the magic begin as the cone is filled with ice-cream, toppings are fried over an open fire, various in shape and color sprinkles adorn the dessert and it all smokes like a real volcano;
The mix of Western and the Eastern traditions;
The format of various holidays and outreach events;
The opportunity to sell branded jars with candy floss for customers;
Trendy and social friendly desserts. People are more than happy to share photos with a fogging dessert in social networks and among friends;
The mobile outlet gives ample opportunities for generating revenue at various social events and recreational places.
Franchise from the team with 15 years of experience in retail
The concept was created by the managing group of Dom Farfora and Williams et Oliver companies (more than 150+ international brands in portfolio);
Successful and proven business model;
Our own marketing, designer and logistics departments;
Our Franchise is better than others:
Onsite opening team in the Partner City.
A week before the launch, our expert will certify the employees, check your equipment and provide assistance on-site during your first day of work.
Open your first spot in 60 days.
European standards of making ice-cream and service quality.
No additional resources are required as the product is made on the spot.
Exclusive prices from suppliers - honest franchise.
Expected payback vary from 5+ months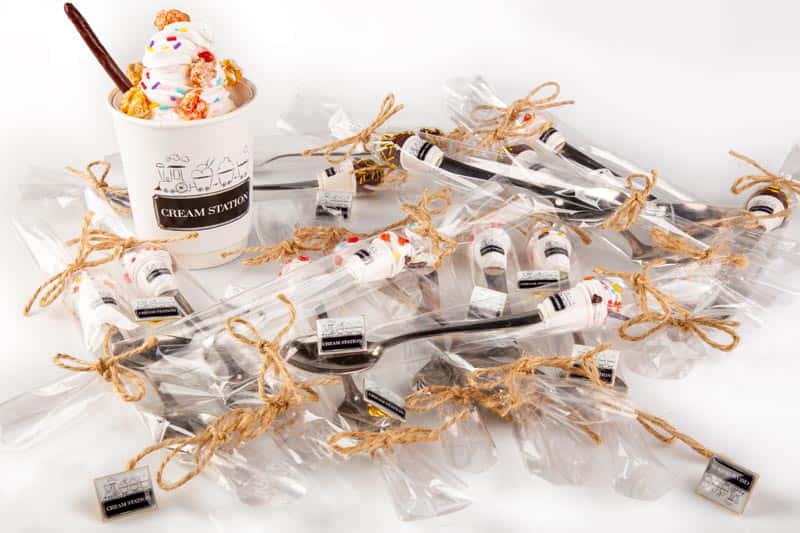 At the moment we can not connect you to the representative of this franchise.

Find other similar franchises in our catalog!
The information is provided from public sources on the Internet
Ask a question about the franchise