iSportBar Franchise Opportunities
Welcome to the vending world!
Since 2009 we have been working with vending machines, keeping up with the novelties of the world market, developing our own solutions and sharing with our franchisee. We offer several types of vending machines.
Our vending machines are unique on the vending market:
They are easy and funny to use for a customer, and easy to maintain for an owner.
They are able to advertise themselves. A motion sensor catches you passing by and recorded majestic voice invites you to have a drink, play a game or simply cheer you up. An owner of our vending machine can choose any of several voices.
We offer several types of vending machines. Purchasing any of the options, we will not leave you! We will answer questions, help and support you at all stages of the business while you develop it.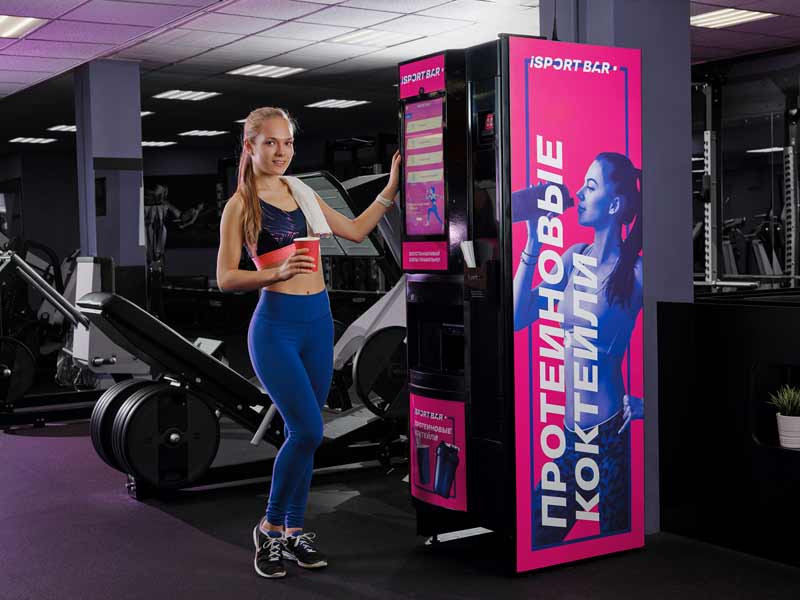 We offer several types of franchises for different audiences and locations
Type 1. iSportBar KiDS vending machine franchise: games, drinks, emotions
It is a first vending machine on the Russian market that gathers several kids' wishes in one:
Popular games
On a large touch screen. There are more games with software updates.
Delicious drinks
A take-away 300 ml cup. A wide range of drinks. All ingredients are certified.
Bright emotions
It doesn't matter if you win or lose in a game! The user gets a bunch of emotions!
What's special about the iSportBar KiDS vending machine?
Maximum sales margin
You set the price of drinks and games yourself. We can only recommend it. This is how you adjust the margin level.
Video ads or cartoons
Earn extra money by advertising partners or draw attention to your vending machine with cartoons. Video dimensions: 960x40 px and 1000x1258 px
Motion sensor and voice guidance
This is an interactive device that speaks with the voices of different characters. It offers a drink, invites to play a game, draws attention.
Popular games
Games for 1 and 3 minutes.
Expanded financial business model
Ask us top send it to you/ The model is easy to work with: enter your data and the formulas will calculate the result for you.
Type 2. iSportBar fitness cocktail vending machine franchise chain
A useful business is a profitable business!
What can iSportBar do?
Prepares up to 12 fitness drinks
Milk and water based. Any powder ingredient: protein, L-carnitine, amino acids, pre-workout, and more. It suggests several types of drinks or everyone's favorite proteins of different tastes. The choice is yours!
Speaks with different voices
You can choose any of voices!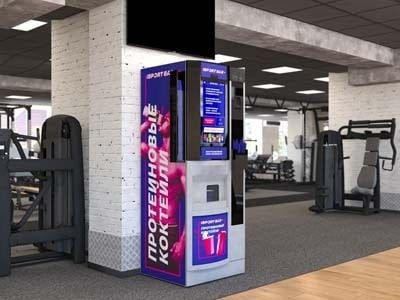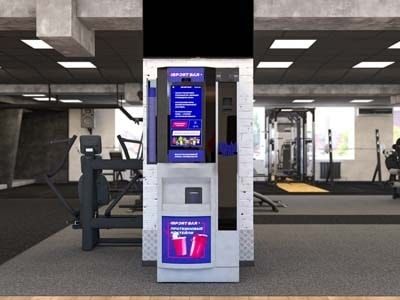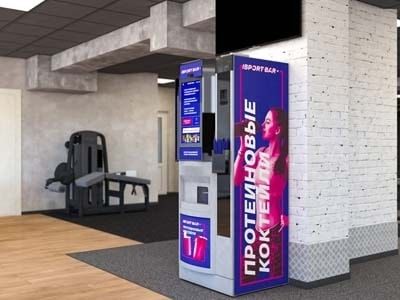 Carries out promotions
There are 3 promotions in the machine: "Accumulating points", "Drink for registration" and "Bring a friend". Simple registration, a system for accumulating and spending points and managing promotions. Promotions can be turned on or off.
Configurable and controlled online
The device can be configured and controlled from anywhere in the world you are by a phone or computer. All you need is the Internet.
Advertise products and services
Advertise fitness club services or trainers on the machine screen. Or your own: a new protein flavor, a new ingredient, or a new game, or whatever!
What's special about the iSportBar vending machine?
Games
While a drink is being prepared, a client can play a game. There are several games, they can be turned on and off, thereby stirring up interest in the machine.
Margin
Average beverage margin is 60%. Leave a request with a note-request "Calculation of cost" and see clearly. The short profit calculation is simple and straightforward.
Touch screen
Large interactive screen with software is our own development. You can change pictures, texts, photos and videos.
Calorie calculators
They help to adjust a diet. All you need to do is enter your personal data and a goal and the calculation of calories is ready in a second!
Detailed financial business model
The model is easy to work with: enter your data and the formulas will calculate the result for you. Ask us to get it.
Type 3. Dessert and Vitoshka vending machine franchise chain (milk and fortified drinks for a whole family)
This is an exclusive development our company — brand new vending machine.
relevant for any audience 3+
certificated quality of ingredients
wide range of successful machine's placement: from shopping centers to private clinics
Type 4. VEGAN vending machine franchise chain
For those who are in trend: for adherents of healthy lifestyle and vegetarians
How much does the iSportBar franchise cost?
iSportBar has no franchise fee with a total initial investment from $5,000.
Initial investments: $5,000
Payback period: 10-12 months
Average turnover per month: $1,000
Royalties: no
Franchise fees: no
Other current payments: no
Request Free Info

iSportBar Franchise Offer
We teach, we mentor, we advise.
We may find a place to rent.
We help with setting up and running machines.
We teach how to configure and monitor it online.
We provide technical support. We answer questions of both the technical and software aspects of the machine. Regular software updates with the addition of new games, improvements, additions of functions in the interface of the machines and in your personal account.
We offer development and marketing.
We guarantee. On the case and internal components of the device 12 months. A personal account for control and adjustment is provided for 12 months free of charge.
iSportBar Franchise Success Story

Nikolay Uryupin, Moscow
Nikolay purchased the machine less than a year ago, developed his business, and now has the status of an official partner of iSportBar. How do you decide to build a vending machine business? Ask him. Although we have already done it for you. Read:
- Why did you choose vending among other business areas?
Я как-то в 2015 году увидел автомат iSportBar и проникся идеей установки аппарата в фитнес-клуб. Лишь в 2018 году я случайно обнаружил подходящее место без фитнес-бара и вспомнил про этот автомат. Могу сказать, что в сферу вендинга я попал волею случая и, считаю, что удачно и успешно.
- The vending machine market in Russia is small. Among the coffee, toys, chewing gum and sweets we are used to, choosing the one that prepares fitness cocktails is unusual. Have you risked?
Since I worked as a personal trainer, the sports sphere interested me most of all. In addition, sports, fitness, and a healthy lifestyle have been in trend for 5 years already, the trend continues to this day and is gaining momentum. I have a sports nutrition store, which also fits perfectly into the idea of ​​buying a machine. The iSportBar is interesting and new for the Russian market. They just got used to the rest and don't pay attention.
- How did you choose the iSportBar franchise?
As mentioned above, I saw the iSoprtBar machine in 2015. I remember this unusual decision. Before buying, of course, I googled all such machines, but I just did not find them in Russia. They began to appear actively only after 2018. And even when they appeared, iSportBar remained a favorite due to the huge touch screen, unique software, personal account and adequate price in comparison with other manufacturers. I contacted the iSportBar manager, then the technical assistant Elena. We discussed all the details pretty quickly. I ordered the machine as soon as I received consent to install it and signed a contract with the fitness club.
- How much time has passed from the date of sale to the start of the business?
A little more than 2 weeks passed from the date of purchase to the installation of the machine, but this is only due to the fact that I went on vacation with my wife. So I would put it in a week. Which, by the way, almost happened with the second machine: I put it in the hall 10 days after the date of purchase.
- And how did you look for a rental location for installation? How did the negotiations go?
It's simple. In May my wife and I went to the RIO mall, where I saw a new fitness club without a fitness bar. It was, let's say, a sign from above that it was time to try. I wrote to the General Director of WorldClass Nikolai Pryanishkov by mail, he answered me on the same day, gave the contacts of Evgeny, the club manager. He, too, responded quickly and invited me to a meeting to discuss the details. Eugene warned that there are already those who want to install vending machines, and rental space is limited. What were these machines - I did not know. I made a commercial offer and a month later they wrote to me that they had chosen my option. Club manager Evgeniy helped me in absolutely everything: delivery from the first floor to the third, descending the stairs, advertising in the hall and at competitions, helped with the installation of a water connection, recommended to clients and other clubs both the machine and me. We are on good terms to this day.