Mango Mania Cafe Franchise For Sale
Mango Mania Cafe Franchise For Sale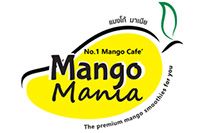 Mango Mania Franchise Opportunities
Mango Mania is a dessert specialist founded in Thailand since 2011s by P.O.P. Siam Golden Fruit Limited Partnership.
From the beginning, Starting the business from selling the agricultural products of Thailand to global market especially Namdokmai mango.
Our experienced staff has provided our contracted farmers with strict guidelines and high expectations with regards to planning, farm preparation and farm maintenance to ensure that the produce that we receive is of the highest quality and freshness.
Form our experience, we started selling traditional mango smoothies and desserts with traditional trolley to the first specialized mango store at the 2013s, the company is now developed as a global food and beverage brand which attracts tourists from all over the world.
Our R&D team always keep you a step ahead of the competition.
Increased nationwide attention to nutrition has dramatically propelled the smoothie market forward to meet demand from an enthusiastic customer base.
We made a promise to deliver only the finest quality and we have been doing just that for 10 years!
The business aims to expand Mango Mania to consumers wider and to make the brand is well known and recognizable, even more when think of "Mango smoothies" with quality and reasonable price, they need to think of "Mango Mania".
With nearly 50 locations and growing, Mango Mania! is fueled by an undeniable momentum to spread our brand and our business across the country, changing lives every step of the way.
Mango Mania Franchise Offer
Mango Mania! juice bar franchise system is a comprehensive set of tools designed to help you get your new business off the ground
How much does the Mango Mania cafe franchise cost?
Mango Mania has a franchise fee of up to $15,000 with a total initial investment from $76,500.
Initial Investment: $76,500-$80,000
Initial Franchise Fee (5 years contract) per unit - $15,000
Sign and menu artwork - $5,000
Expense while on site training (10 days) - $3,500-$7,000
Architect design and blueprint fee - $3,000
Construction and decoration - $30,000-$40,000
POS System 5 years - $5,000
Equipments - $15,000
Payback period: from 12 months
Average turnover per month: $25,000
Royalties: for the operation period the franchisee will have to pay ongoing fee to the company as follows. Royalty fee 3% of gross sale per month
Franchise fees: $15,000/unit

Right to use out trademark
We create the POS system
Operation Manual
Business Consultant
Marketing Advertisement
Unbeatable Products
Training and Support
Store Design
Other current payments: marketing fee 2% of gross sale per month
Request Free Info

Mango Mania Franchise Business Model
Mango Mania 30-40 SQM
sale volume $45,000
Investment

Single Unit Franchise fee per 5 years
$15,000
Construction cost
$30,000
Equipments
$15,000
Others
$20,000
Total
$80,000
Cost

Monthly rent and others 20%
$9,000
Staffs 20%
$9,000
Materials cost 35%
$15,750
FS commission 5%
$2,700
Total
$36,450
P&L

Sale Rev.
$45,000
100%
Mat Costs
$15,750
35%
Margin
$29,250
65%
Operation C
$18,000
40%
Profit Bef.
$11,250
25%
FS Fee 5%
$2,700
5%
G.Profit
$8,550
20%
Scenario:
profit $8,550/month
IRR 9,36 month
Requirements for the mango mania franchise buyers
Have rich experiences in operations and management, especially in catering industry
Equipped with knowledge about franchise and acknowledge the concept and regime of franchise system
Familiar with the brand, agree with the culture and concept of the company and willing to commit yourself to develop the brand with our team
Equipped with entrepreneurship, willing to devote yourself to the management and follow the supervision and continual training of the headquarter
Have good credit record and solid financial strength, no criminal record
Aware of investment risk in franchise business
Equipped with good communication skills
Requirements for a cafe premise
To expand the branch, there are 2 types of franchises to choose from the café and restaurant concept which the size over 30 Sqm. to a modern kiosk which the size about 10-15 Sqm.
Mango Mania Franchise Advantages
Support in the construction and development of the production premises.
Support in the construction and development of each Mango Mania Store.
Training of senior management and all employees in the first model store.
Identity critical suppliers and products in your market.
Marketing PR and local store marketing strategies.
Organise and participate in your Grand opening to ensure a successful first impression.
Ongoing professional support that covers of the business.

At the moment we can not connect you to the representative of this franchise.

Find other similar franchises in our catalog!
You need more information?
Send a request to get free consultation from the official representative of the company
Ms. Karanya Jarutanin
Complete your request
The information is provided from public sources on the Internet
Ask a question about the franchise