Street food franchise of cultural shawarma ShaurMeals
Street food franchise of cultural shawarma ShaurMeals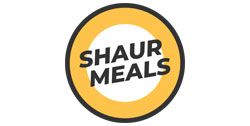 ABOUT THE BRAND Shaurmeals
ShaurMeals is a street food franchise that serves shawarma and has an extensive menu, favorable royalties and fast payback.
In 2015, we began working to create a place where customers could eat quickly, healthily and deliciously. In 2018, we started franchising and now have 33 ShaurMeals locations, including 9 that are owned, and 24 that are franchised.
ShaurMeals is a modern street food chain that offers a diverse shawarma menu suitable for everyone, from children to vegetarians. We provide a cozy atmosphere, a wide selection of dishes, an open kitchen, and friendly service in various types of establishments. We also offer a step-by-step guide for starting up a business, special software (an App), individual 3D design project, and customized technical plan of the premises.
ShaurMeals offers the most extensive menu on the market, catering to a diverse target audience that includes vegetarians, children, athletes and even people on a diet. Guests have the opportunity to customize their shawarma by adding ingredients to their liking.
---
Our unique and varied menu sets us apart from other market participants, making us a top choice for customers.
---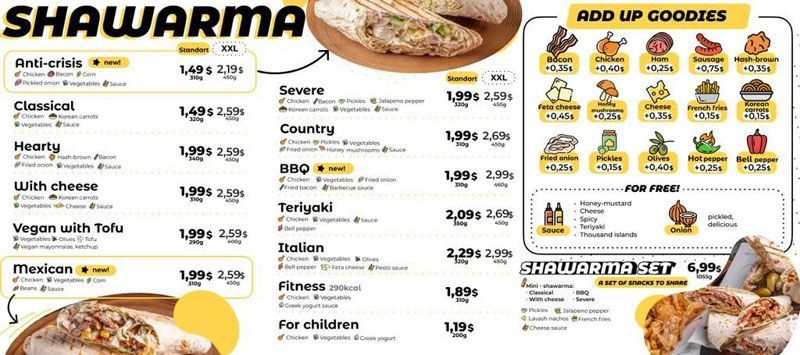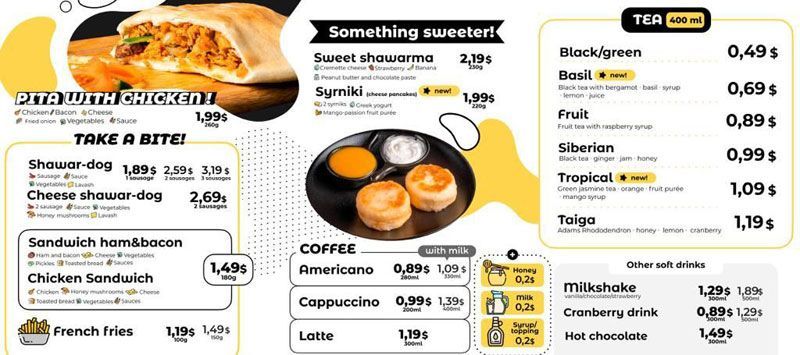 Reasons to Buy a ShaurMeals Franchise:
Fast payback and high profit.
Our franchisees experience an average payback period of 6-8 months and can expect to earn a starting profit of 5,000$.
Access to a menu created by a world-class chef.
Use of the ShaurMeals app.
The app serves as a powerful marketing tool that also enhances customers convenience, allowing them to pay through the app and reducing queue times. It also provides visibility of the menu.
Original 3D design project.
An experienced interior designer will work with you to create a unique and inviting establishment that customers will want to return to.
Individual technical plan. You will have a complete repair manual, including every detail. Our franchise package includes a detailed technical plan that covers every aspect of your establishment's layout, including location of the sockets, electrics, sinks, and large appliances.
Professional graphic design services.
Our team of graphic designers will create all the necessary materials for your establishment's visual design, including business cards, banners, menus, table-tents and click-boxes.
Cost savings on packaging materials.
We purchase consumables wholesale, allowing us to provide our franchisees with packaging materials at prices lower than self-ordering from suppliers. By partnering with us, you can save up to three times on branded packages and cup holders.
Extensive experience opening various types of establishments: our experience includes opening kiosks, pavilions, food halls and food courts, allowing us to share our knowledge and experience with you.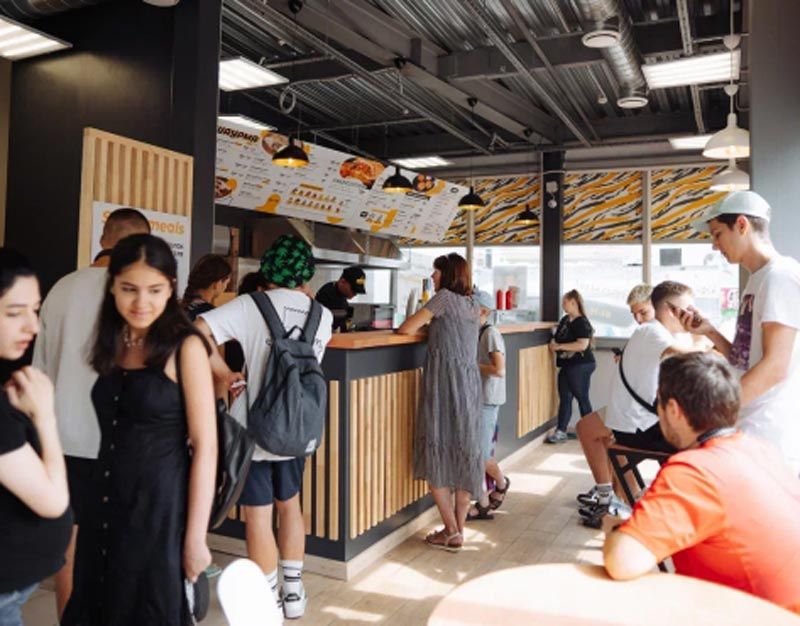 Size of stores
When choosing a location for a ShaurMeals store, we looking for the following parameters:
High traffic and pedestrian flow on the main streets or in residential areas near public transport stops.
The ability to install a hood for cooking.
Availability of 20 kW of electrical power.
Access to a cold water supply and sanitation, or the presence of a supplier of autonomous water supply systems in your region.
The minimum area for a ShaurMeals store without a trading floor is 15 m2, and with a trading floor it is 25m2.
Franchise offer
In addition to the financial information provided on this page, we would like to emphasize support to our franchisees throughout our collaboration, starting from the moment they begin their search for a location to the day they open their store.
We have dedicated departments, including marketing, technical, IT, and more, to ensure that our franchisees have all the necessary support to succeed.
How much the ShaurMeals franchise cost?
The ShaurMeals franchise has a starting franchise fee of $5,900, with a total initial investment ranging from $20,000 to $35,000.
Here is a breakdown of the initial investments:
Lump sum payment – $5.900
Purchase of equipment - $5,000 – $8,000
Rent and utilities - $1.000 – $4.500
Repair and design – $4,000 – $8,000
Purchase of products, forms, packaging - $2,000 - $5,000
Marketing – $1.000 - $1.500
Payback period: 6 – 10 months
Average monthly turnover: $25,000
Royalties: 3,5%
Franchise fees: starting from $5,900
The right to use the trademark and brand;
The menu from the winner Chef.
The recipes from the best world-class Chef, the winner of the All-European countries culinary championship;
Repair manual and original 3D design project;
An interior designer will recreate your room in 3D format and prepare an accurate and easily reproducible project.
Individual technical plan;
The technical director will provide you with a detailed layout of the equipment in your room and a guide for performing repairs. He will also help at all stages of work: from the nails selection to the installation of technical equipment.
Graphic designer support;
The creator of the brand book and the brand escort will prepare all the materials for the visual design of your establishment: from business cards to banners, neon elements, and menus.
The ShaurMeals App;
We provide all our partners with access to the application.
The ShaurMeals app is:
A powerful marketing tool that can be used for:

Attracting guests through a loyalty system;
Communicating with customers and receiving feedback;
Conducting advertising activity through push notifications.

A convenience way for guests to place orders and make payments:

Guests can choose the time and the location of their order and pay for it within the app, saving them time and eliminating the need to wait in lines.

Provides visibility and accessibility:

Users can view photos of dishes and customize their orders with add-ons or modifications. The app offers more than 1,000 shawarma options to choose from;
The app is available on all digital platforms, including Android and iOS.
Professional social media content and marketing recommendations;
Assistance in the selection of location;
We will explain how to estimate traffic, analyze maps, study photos and videos, and fully support you in finding a suitable location.
Training;
You can receive training and an internship in Irkutsk city (optional). We will give you a tour of all our establishments, answer your questions and provide information about internal operational processes using our own business as an example.
French book;
You will receivea guide with information on how to effectively launch and develop your business, including all the experience of creating a street food restaurant and forming your business system from scratch.
Other current payments: no other current payments required
Request Free Info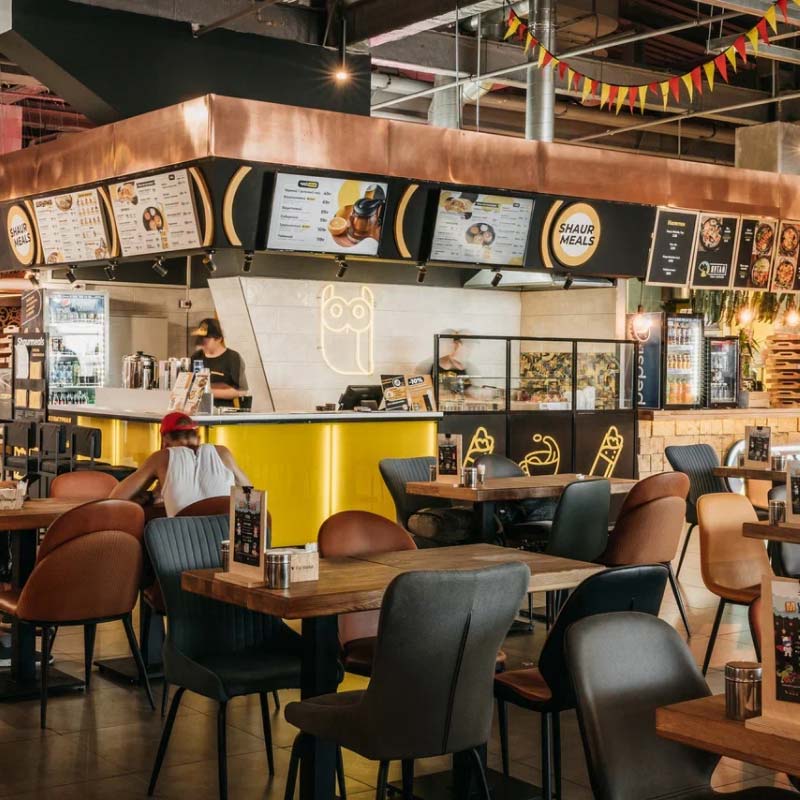 Requirements to buy franchise
Registration of a legal entity (ltd).
Willingness to work and delve into the process.
Financial viability.
Interest in business in the field of catering.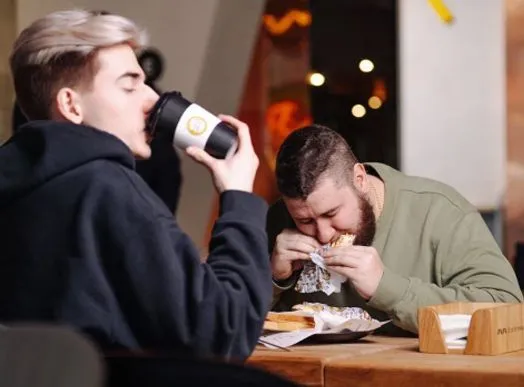 Starting investments from:

$35,000

Company type:

Restaurant

Year company was founded:

2015

Year of launching franchise:

2018

Franchised companies:

35

Owned companies:

10
You need more information?
Send a request to get free consultation from the official representative of the company
Luisa Tyurneva
Complete your request
Information provided: IP Chekareva Olga Yuryevna
Interested? ASK QUESTIONS ABOUT THE FRANCHISE
Feedback
Ask a question about the franchise