ЁLKI Franchise For Sale – Countryside rent of smart cabins
ЁLKI Franchise For Sale – Countryside rent of smart cabins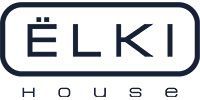 ЁLKI Franchise Opportunities
The only chain with 100% automated guest cabins
ЁLKI is the chain with countryside smart cabins, connected to the information management system for booking, renting and attracting new customers, based on cloud technologies using artificial intelligence.
Now there are 5 open locations in the picturesque corners of the Leningrad region. Guests have access to 24 houses of two design series, with a capacity of 2 to 6 people. One complex is under construction in Sochi (Adlersky district), the second in the Leningrad region and the third in Peterhof, not far from the palace and park ensemble. The total number of houses currently under construction in new locations is 18.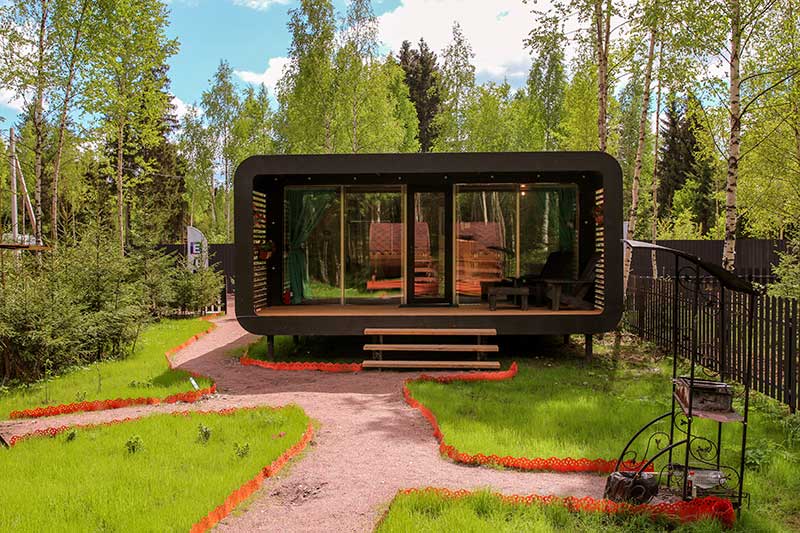 Automation of work on three levels:
Management
Intelligent door lock
Voice control of the house
Sensors of motion, temperature, moisture, smoke, protection against leaks
Management of the gate opening
Security system and video surveillance of the location 24/7
Rent
Search and online booking
Intelligent pricing system
Progressive bonus system
Online payment
Online payment
Hotline and online chat
Informing guests via an automated message thread
Service
Intelligent sensors automatically call service in an emergency
Automatic call to the concierge
Service call via client application
Automatic monitoring of technical state of smart - cabins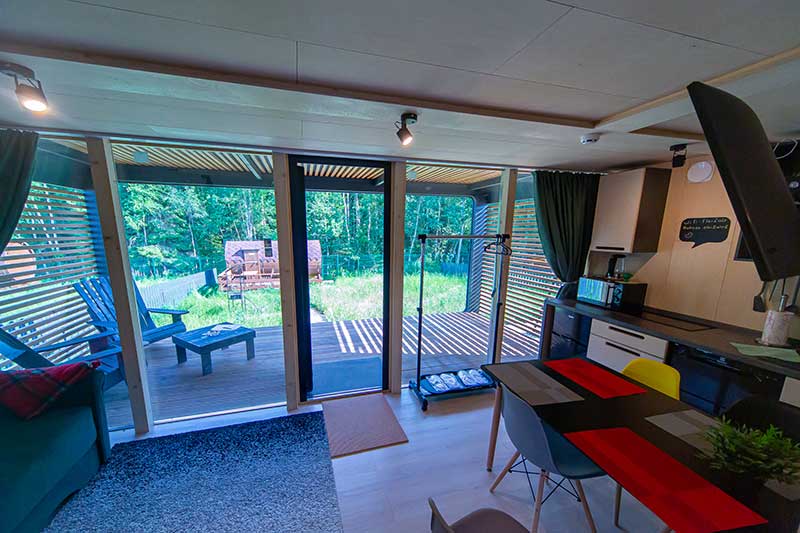 Features of the ЁLKI concept
Cabins are located in secluded recreation areas, in the forest or near the water.
Qualified design cabins, fully equipped with everything you need for a pleasant stay.
Unique service of smart cabins: automatic gates opening, control of the climate in the cabin, lighting, electrical appliances, bath rental and more.
Mobile application for cabin management, as well as remote booking and payment.
You buy not just a cabin - you get artificial intelligence to manage the rental price depending on the day of the week, holidays, weather forecast and other factors.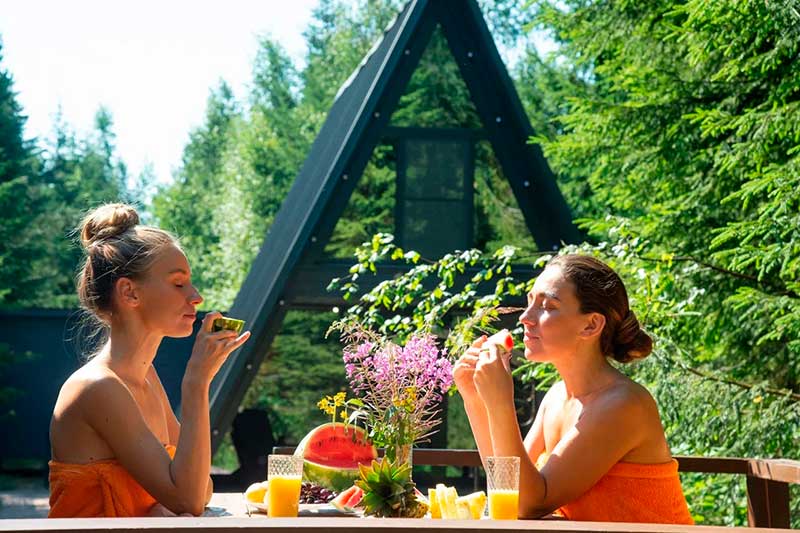 Be in time for taking the best places near your city and get a business with a profit over 61 640 $ a year
The demand for quality recreation near the city is growing every year. People tend to escape from the city rush and spend time in nature. At the same time, the rest should be comfortable, interesting and aesthetically pleasing. Modern smart cabins on the shore of a pond or in a forest, more often fully meet this request.
We choose locations close to historical and cultural sites and create an infrastructure for outdoor activities: rental of bicycles, skis, etc.
Not everyone can buy a cottage outside the city, but most people can afford to rent a cabin for a weekend. The trend towards comfortable eco-recreation will continue to gain the speed. We see great potential in the development of the network throughout the Russian Federation.
70% of our cabins are consistently occupied on weekdays and weekends at any time of the year.
We know how to attract guests and make the ЁLKI complex a favorite vacation spot.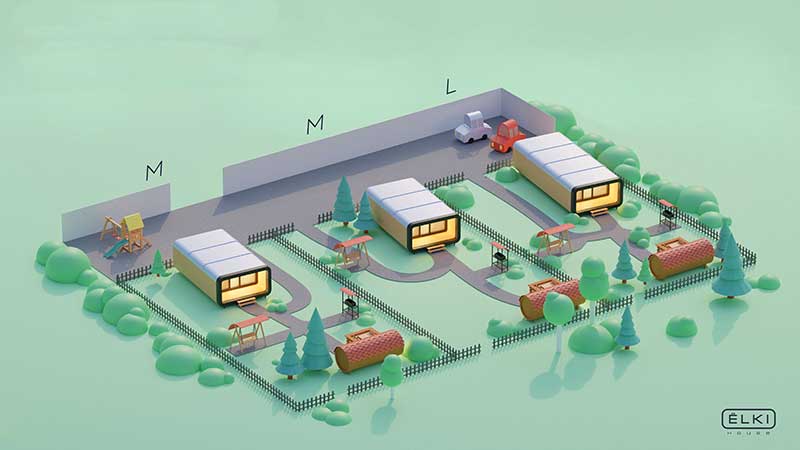 Everything for the comportable rest
Facilities for smart – cabin
Intelligent heating system
Modern home appliances (including smart TV, dishwasher and washing machine)
Modern audio system
Chill - zone
Terrace with garden furniture
Sauna - a barrel with an intelligent climate control system
BBQ area
A set of board games from the official media partner GaGa.ru
Site facilities
Automatic sliding gates
Parking on site
Playground
Sports ground
Own well
Biological wastewater system
Modern drainage system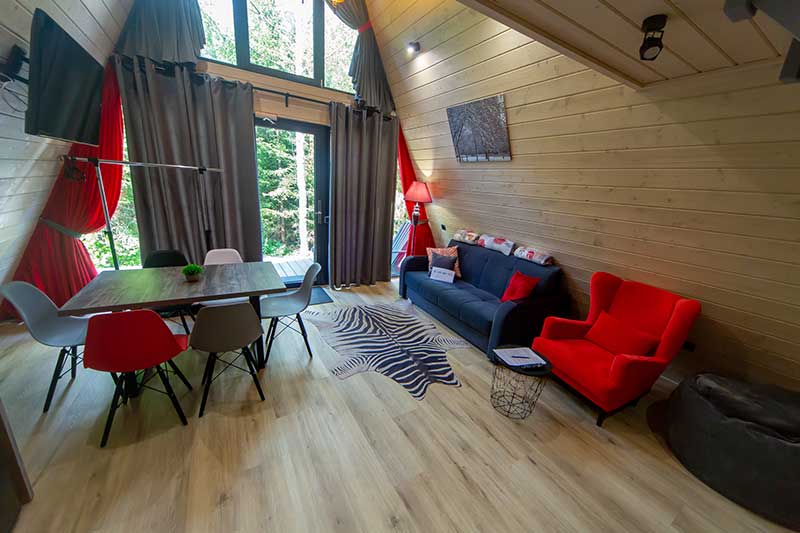 We offer a unique contactless system for booking and settling guests.
Cabins are constructed in modern design and in excellent condition. Photos 100% correspond to reality - this is an important component of our reputation.
No need to waste time on the trip to view the cabins and its passing / acceptance.
2 types of smart-cabins
Series «О2»: Small – capacity up to 2 people
Series «О2»: Мedium – capacity up to 4 people
Series «О2»: Large – capacity up to 6 people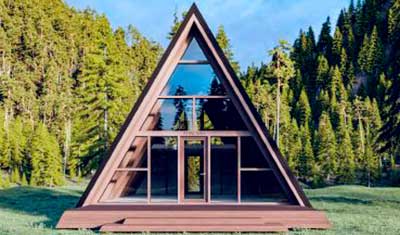 Series «A-FRAME»: L – capacity up to 4 people
Series «A-FRAME»: XL – capacity up to 6 people
Terms of the franchise ЁLKI
We offer you to become the owner of a country recreation complex with intelligent house control technology, with a profitability from 6 850$ to 13 700$ / month.
The complex includes infrastructure and a park of cabins. The project is economically successful when giving for rent from 3 cabins with a capacity of 4 to 6 people.
You invest in cabins and infrastructure development. For launching a recreation center of 3 cabins, it will take from 274 000$. You control the construction of the village and are involved in the maintenance of the complex after launch.
We will provide the technological part of equipping the complex and supply houses with a factory warranty for 5 years and a design life of at least 25 years. We buy a plot of land and conclude a long-term lease agreement with you for 49 years with registration in Rosreestr. A team of our specialists will lead the project and travel to control the main stages of construction, test smart cabins systems before the official opening.
We take on the task of attracting guests, working with social medias and supervising the display of information on booking sites.
Our task is to create a network of successful out-of-town bases with a unified reservation system and the ЁLKI out-of-town recreation service.
Franchise fee - 10% of the total investment.
Royalty - 10% of monthly revenue.
Payback from 30 months.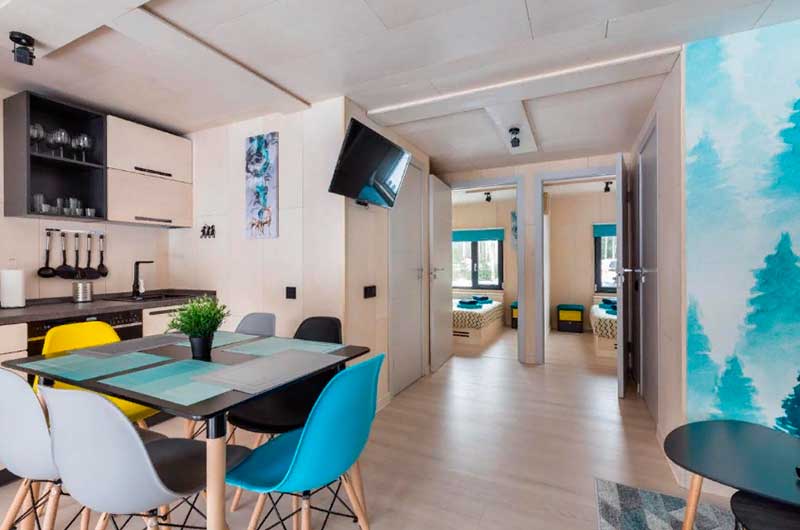 Ёlki team offers
We are interested in working with one franchisee in the city. It is possible to manage several objects.
Technical documentation for cabins.
Help with the construction and equipping of cabins on a turnkey basis.
Ready-made utility block is supplied in complex with cabins, in which all the internal equipment of houses is delivered for "turnkey" decoration
Participation in the construction, start-up and operation stages
You can attract local investors. We will explain the mechanics of finding and working with investors.
We guarantee selection of locations, legal due diligence
We guarantee getting to the planned load of the recreation center
Focus on the development of your city: a powerful stream of targeted advertising to the city. We collect the entire audience of the region. We get the maximum number of subscribers. We use tools in which we pay for a client once, but use it all life.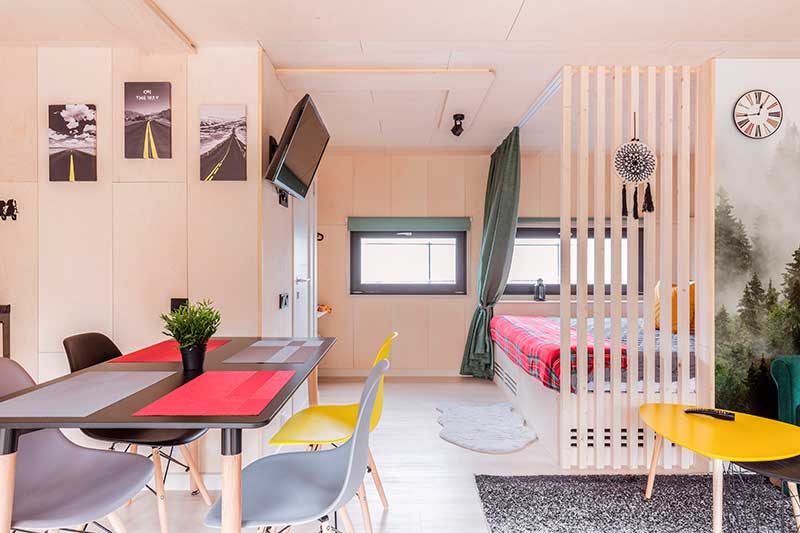 How much does the ЁLKI franchise cost?
SamPRACHKA has a franchise fee ranges from $27 400, with a total initial investment from $274 000.
Initial investments: from $274 000 (Including franchise fee.)
Franchise fee: 10 % from the total invest amount from $27 400
Royalties: 10% from the monthly turnover
Payback period: from 30 months

Request Free Info

Guests' reviews at the website Booking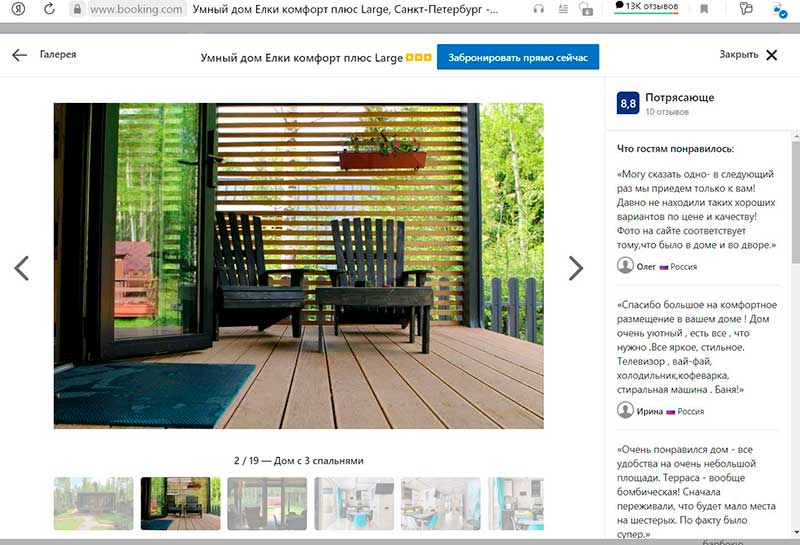 Grade 8,8
Excellent 10 reviews
What guests liked:
"Can tell one thing – next time we will come only to you! Long time we haven't found such good options based price and quality! Photos on the web site correspond to what was in cabin and in the yard"

Oleg, Russia

"Thank you so much for the comfortable accommodation in your cabin! It is very cozy, has all needed. Everything is bright, stylish. TV, wi-fi, fridge, coffee machine, washing machine. Sauna!"

Irina, Russia

"We like the cabin a lot – all facilities are accommodated within very small area. Terrace – just bombic! At the beginning we worried that it will be little space for 6. In fact it was super"
ЁLKI Franchise Business Model
Breakthrough ideas of ЁLKI business-model
Increased business profitability by reducing the number of staff. Refused from a dozen reception staff and other service personnel. On average, our approach saves up to $4 100 / month.
Workers of the cleaning service are paid piece-rate for their work.
Our model of work: expense appears only with income.
Unlike the hotel business, ЁLKI profitable real estate is much easier to manage and more profitable due to high-margin additional services for recreation: sauna, bike rental, rest with a pet, barbecue set, etc.
We have reduced operating expenses and keep them in the corridor to 35% from the revenue.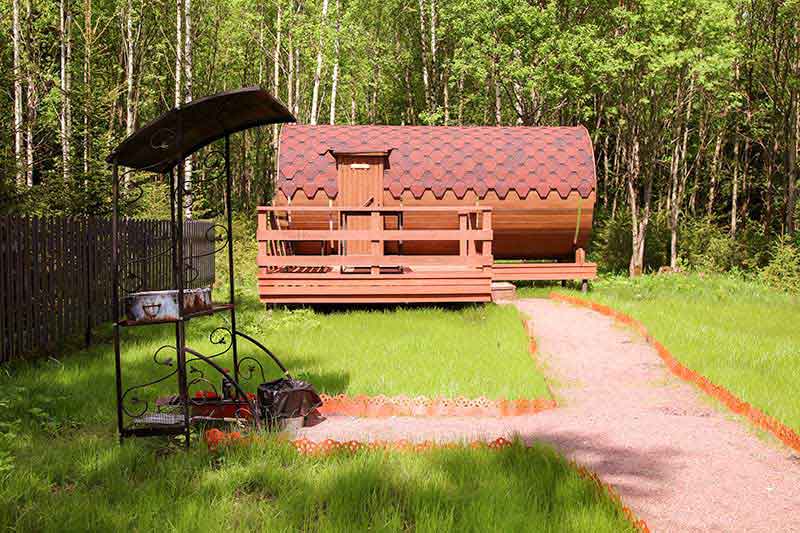 Profit calculation:
Calculation of the complex for 3 cabins. Look how the complex's profit is coming for the year:
2 cabins

medium

1 cabin

large

Average rental cost for 1 cabin, USD
79$
84$
Additional income from sauna rent
31$
19$
Loading, days per month
20
20
Turnover, month
4 377$
2 057$
Royalty, month
10%
10%
Turnover per month, excluding operational expanses
851$
545$
Turnover per year, excluding operational expanses
68,5$
41$
Total profit from the rent of 5 cabins per year:

46 790$
Administrative and household expanses per year
Amount per month
Amount per year
Site rent
501$
6 026$
Cleaning
712$
8 547$
Consumables, detergents
41$
493$
Laundry
68,5$
822$
Engineering service
68,5$
822$
Unlimited internet
14$
164$
Electricity
137$
1 643$
Total expanses for maintenance cost per year:

18 508$

Profit from the complex with 3 cabins per year:

28 285$

Average profit for the franchisee per month:

2 356$/month
This is the business for you, if:
you are interested in renting real estate,
you own real estate objects,
you are attracted to investment activities,
you are the business owner,
you are capable of running a complex micro-business (construction and rental).

At the moment we can not connect you to the representative of this franchise.

Find other similar franchises in our catalog!
You need more information?
Send a request to get free consultation from the official representative of the company
Michael Astafiev
Head of the project
Complete your request
The information is provided from public sources on the Internet
Ask a question about the franchise