#1 Multicity Franchise Event in India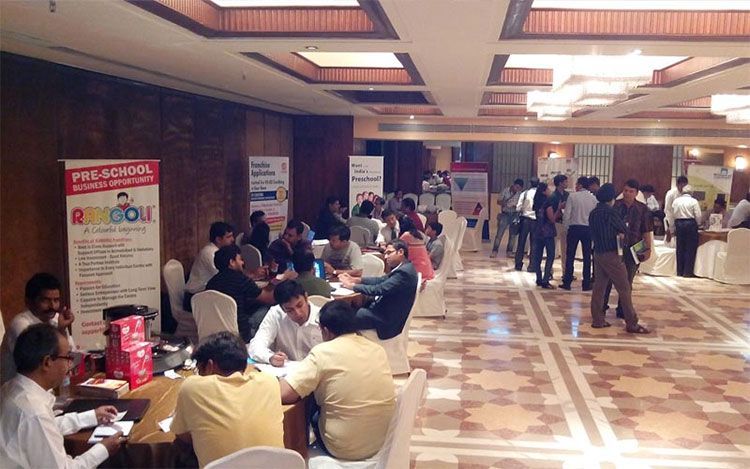 The Multicity Franchise show was initiated by Franchise India Holdings Limited organization to allow business owners to introduce, grow and expand their business across India. This year, more than 100 brands will be presented. The show is scheduled for 20-27 of February and will take place in different locations in India. The visitors will receive a valuable opportunity to meet in person with franchise experts, explore franchise opportunities by means of useful workshops, and lastly take a decision on what business to start.
Some of the Past Exhibitors Include:
Bean Here, Brainobrain, Ajmera Retail Pvt. Ltd., Serviceforce, WashCraft, White Tiger, E-Trio, U.S.Pizza, Colorbar, Study by Janak.
Why Visit
Explore scalable, fast growth business opportunities from all industries & investments ranges.
Meet franchise professionals and experts through one-to-one personal meetings.
Reach more Brands across India with our FI Team.
Take an informed decision to start your own business.
Benefits Of Exhibiting
Expand your business and grow your revenue by entering new regions and territories.
Generate More Leads - Reach more people across India.
Genuine audience with 80% pre-registered.
Extensive media campaign in the industry for maximum coverage.
Tailored media solutions to generate greater mileage.
Date of the Fair: February 20-27, 2022
Venue:
Feb 20th, 2022
Gulbarga
Hotel Heritage Inn
Feb 22th, 2022
Hubli
Hotel Denissons
Feb 24th, 2022
Mangaluru
Hotel Goldfinch
Feb 26th, 2022
Mysuru
Hotel Sandesh The Prince
Feb 27th, 2022
Bengaluru
Hotel Fortune Park Jp Celestial
Contact Details:
Phone: +91 9582181817
E-mail: visitfs@franchiseindia.net
View all franchise opportunities
DIDN'T FIND WHAT YOU WANT?
ASK THE EXPERTS