Great Harvest Franchise Opportunities
Great Harvest bakeries serve a variety of breads each day including honey whole wheat, white cheddar garlic, sunflower and cranberry orange. The company franchises its name and baking techniques to 200-plus bakeries in nearly 40 US states. The first Great Harvest was opened by Pete and Laura Wakeman in 1976 in Great Falls, Montana. The company also provides franchise opportunities. Great Harvest Franchising helps entrepreneurs not only bake bread but earn it.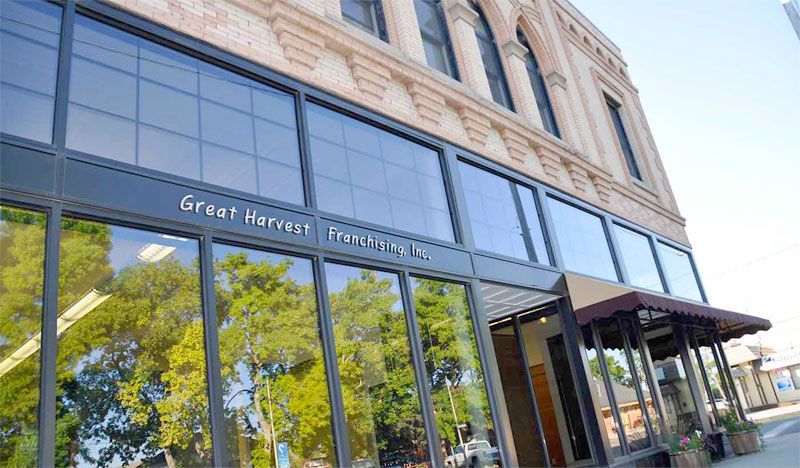 Franchise Options
Multiple Stores
Invest with Great Harvest and gain access to desirable territories and a beloved brand. Build a network of thriving bakery cafe businesses that are both profitable and meaningful with our cost-effective multi-store Hub & Spoke model.
Bakery Cafe
You can own a Great Harvest bakery cafe! Join our friendly network of 200+ independently owned stores. Enjoy the support of a nationally respected brand with a 38-year history of growth while you call the shots.
International Stores
Interested in international franchising opportunities? Our flexible, community-centric business model is a perfect fit for international development. Be the first to bring our exceptionally fresh products to your country!
How much does Great Harvest franchise cost?
Great Harvestt has the franchise fee of up to $35,000, with total initial investment range of $107,000 to $476,350.
Great Harvest Financial Investment For International Franchise Partners
We will negotiate a specific agreement with you, but you can expect to pay a minimum exclusive rights fee of $125,000 (depending on the territory, the fee may be higher). There is a significant financial investment on our part for us to enter a new country.
We extend international franchise agreements for a minimum of 10 stores, to be opened within a five to seven-year timeframe (depending on regulations and territory availability for your area of interest, we may require additional stores to be opened within the same timeframe). International investors must have a minimum net worth of $8 million, with $4 million in liquid assets.
There will be a set franchise fee for each store at the time the store opens. You will also be expected to commit to an ongoing royalty of 5% and a 2.5% contribution to the marketing fund. Additional terms to be negotiated on a case-by-case basis.
Initial investments: $107,000 - $476,350
Liquid Cash Requirement: $70,000
Great Harvest regions of the presence:
https://www.greatharvest.com/local-bakery-information
Great Harvest Franchise Info:
www.greatharvest.com/franchising
Great Harvest Reviews:
www.glassdoor.com/Reviews/Great-Harvest-Reviews-E13948.htm
Great Harvest Franchise Expansion Plans:
Join us as we build our global brand presence. We have recently started franchising internationally, beginning with development in Saipan. We are not expanding in the European Union.
Great Harvest website: www.greatharvest.com
Request Free Info