Nigiwai Sushi Franchise For Sale – Japanese Restaurant
Nigiwai Sushi Franchise For Sale – Japanese Restaurant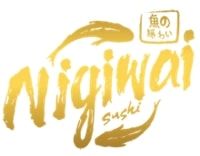 Nigiwai Sushi Franchise Opportunities
Nigiwai Sushi, high quality Japanese restaurant with reasonable price. There are a lot of Japanese restaurants in town, but Nigiwai sushi is different. You will be surprised by the fresh ingredients, nice service and friendly price.
At Nigiwai sushi, we offer you a variety of mouthwatering fusion food. A bunch of unique menu that our chef created are waiting for you to experience. If you love Thai spices and a fan of Japanese food, Nigiwai sushi will be your new favorite restaurant.
Nigiwai sushi is one-stop Japanese restaurant franchise. The franchise was founded by experienced Japanese restaurant owners who operate more than twenty restaurants in Thailand. The Nigiwai sushi franchise is very well planned from their experiences. Every detail is thoughtful and design for every kind of investor, you do not have to be a professional investor in food industry, so everyone can be a Nigiwai sushi franchisee. The owners eliminate errors that always occurs in running Japanese restaurant to maximize the most profit while we promise to serve only fresh and excellent food to customers.
Size OF Restaurant
At least 60 sp.m.
Nigiwai Sushi Franchise Offer
Allow franchisee to use trademark Nigiwai Sushi
Provide suppliers list
Staff and chef training
Staff and chef recruit
Set up stock & order system according to franchisor standard
Adverting and PR ,as well as marketing promotion for online and offline
Design concept
How much does the Nigiwai Sushi franchise cost?
Nigiwai Sushi has a franchise fee $17,000 with a total initial investment $67,000.
Initial investments: approximately $67,000
Payback period: 12-24 months
Average turnover per month: 10-20% of revenue
Royalties: 6% of revenue
Franchise fees: approximately $17,000
Request Free Info

Success story
Most of the franchisee's turnover reached a million THB in the first month!
Nigiwai Sushi Franchise Business Model
The franchisee will get net profit about 15-20% from revenue
Nigiwai 80-100 SQM
sale volume $60,000
Investment
Franchise fee per 5 years
$17,000
Construction cost
$40,000
Equipments
$20,000
Others
$20,000
Total
$97,000
Cost
Monthly rent and others 20%
$12,000
Staffs 25%
$15,000
Materials cost 35%
$21,000
FS commission 6%
$3,600
Total
$51,600
P&L
Sale Rev.
$60,000
100%
Mat Costs
$21,000
35%
Margin
$39,000
65%
Operation C
$27,000
45%
Profit Bef.
$12,000
20%
FS Fee 6%
$3,600
6%
G. Profit
$8,400
14%
Scenario
Profit $8,400/month
IRR 11,55 month
Requirements to buy nigiwai sushi franchise
Franchisee must be enthusiastic to learn new business and system.
Investment fund approximately 1,000,000 thb (franchise fee 500,000 thb, others expenditure 500,000 thb).
Basic understanding of franchise and business.
Franchisee must be determined, delicate time for the business and focus on the success.
Minimum 1 years work experience, franchisee must know how to work as a team and can manage paper work.
Can work under pressure and can accept risk.
Nigiwai Sushi Franchise Advantages
Taste to save your time from listing food and create new menu, we already have a hundred menu to delight all kind of preference.
Manage. We will help you to organize the restaurant effectively, from recruit staffs to advertising the restaurant.
Lean. Our system is designed to make the most profit by cutting off an unnecessary cost for you.
Knowhow. We will teach you how to manage the restaurant like a professional because that what we are. You will be trained by the expertise in food, accounting & financing and marketing.
Location. We pay attention to every step since the start. Location is very important factor of business successful. Location feasibility and market study is also included.
Marketing. We will support and advertise your new restaurant in every channel both online and offline.
Design & inspiration. The design and atmospheres of restaurant is very significant. That why we carefully design a modern japanese style for interior and exterior of the restaurant.
Audit. We have a quality control system in order to make you meet our standard. We have auditor team to monitor your team, so you will always delivery the satisfaction to customers.

At the moment we can not connect you to the representative of this franchise.

Find other similar franchises in our catalog!
You need more information?
Send a request to get free consultation from the official representative of the company
Ms. Karanya Jarutanin
Business analyst
Complete your request
The information is provided from public sources on the Internet
Ask a question about the franchise