Abu Dhabi to host Gulf Franchise Expo in February 2024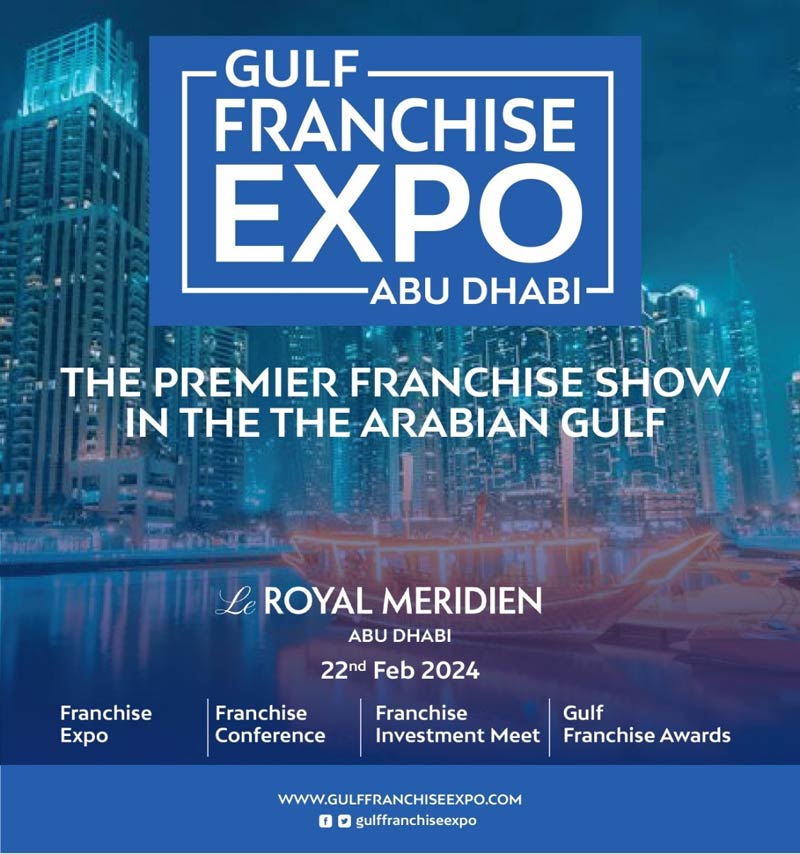 In February 2024, Abu Dhabi is set to become a global hotspot for franchise professionals. The city is gearing up to host the Gulf Franchise Expo at Le Royal Meridian. This expo, touted as the Gulf region's premier franchise gathering, is an initiative of the Arab Business Media Group, steered by the dynamic leadership of Mr. Khaled Almaeena.
This one-day event is anticipated to be a melting pot for over 100 franchise brands, ranging from budding entrants to established giants across varied sectors including food, beauty, health, and home services. Attendees will get the unique opportunity to mingle with brand representatives, franchise executives, and peers, thereby expanding their professional networks.
Highlights of the event include a cost-effective Franchise Exhibition for franchisors, exclusive conferences, one-on-one investor meetings, and the prestigious Arab Franchise Awards. These awards, encompassing various categories, aim to recognize the crème de la crème in franchising, from the "Best Franchise of the Year" to individual achievements in franchising.
Dr. M.A. Babu, the Event Director, emphasized the Expo's objective, stating, "This gathering is more than just an event. It's a platform where potential franchisees can engage with successful regional and global franchisors, unveiling avenues of mutual growth."
With representations from over 25 countries, attendees can gain insights into the latest innovations, emerging trends, and growth trajectories of various franchise brands.The Gulf Cooperation Council (GCC) region, including nations such as the UAE, Saudi Arabia, and Qatar, is rapidly emerging as a fertile ground for franchising. Favorable governmental policies, a booming consumer base, and a strategic geographical location make the GCC an ideal launchpad for franchising ventures. This strategic positioning also facilitates access to the broader markets of Asia, Middle East, and Africa.From food and beverage to retail and hospitality, the franchise potential in the GCC spans a wide spectrum, allowing entrepreneurs to carve their niche effectively. The essence of franchising in the GCC lies in collaboration; franchisors bring their brand prowess and proven business models, and franchisees introduce local insights and resources.
In essence, as the Gulf Franchise Expo 2024 unfolds, it stands as a testament to the GCC's growing stature in the global franchising arena. The event promises to be a pivotal platform for aspirants, offering them a gateway to the region's promising economic landscape.
DIDN'T FIND WHAT YOU WANT?
ASK THE EXPERTS