FRO 2018 National Franchise & Retail Show in Chennai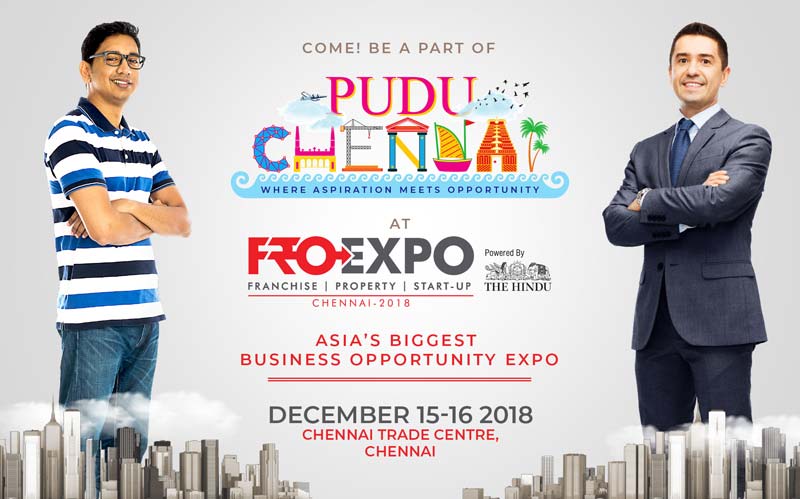 One of the most popular business & trade shows provides a platform for skilled investors and entreprenuers from all over India, surrounding countries and delegacies from the other corners of the world. The participants will have a chance to see several of biz concepts. They are also about to visit Top Business Meetings and Seminars to discover more information about India and quick increase of MSME industry there. The event aims at creation of entrepreneurial ecosystem, development of stable business, youth capability widening and new ideas.
Exhibitors profile:
Day 1
Future Of Starting Up
The Future Of Business Of Brands
The Future of Consumer Experience
The Future of Retail
Preparing Women Entrepreneurs To Grow
The Future of Food Service
The Future of Education Business
Day 2
The Future of Growth
How To Grow And Transition Your Business
The Future of Investment
The Future of the Auto Industry
Future of Business
The Future of Innovation in Franchising
Starting a SOHO Business
Startup Kickoff
Date of the conference: 15 - 16 December, 2018
Location details:
Chennai Trade Centre,
Chennai, India
Enquiries:
For Conference Delegation
Rida : +91 9311829031
Mail at brida@franchiseindia.net
Alisha: +91 9310089109
Mail at salisha@franchiseindia.net
For Exhibition
Shalini : +91 8588804788
Mail at corpcom@franchiseindia.com
Amit Gautam : +91 9971332113
Mail at amit.gautam@franchiseindia.net
%nbsp;
View all franchise opportunities
DIDN'T FIND WHAT YOU WANT?
ASK THE EXPERTS