Description of Mosigra, a board game store franchise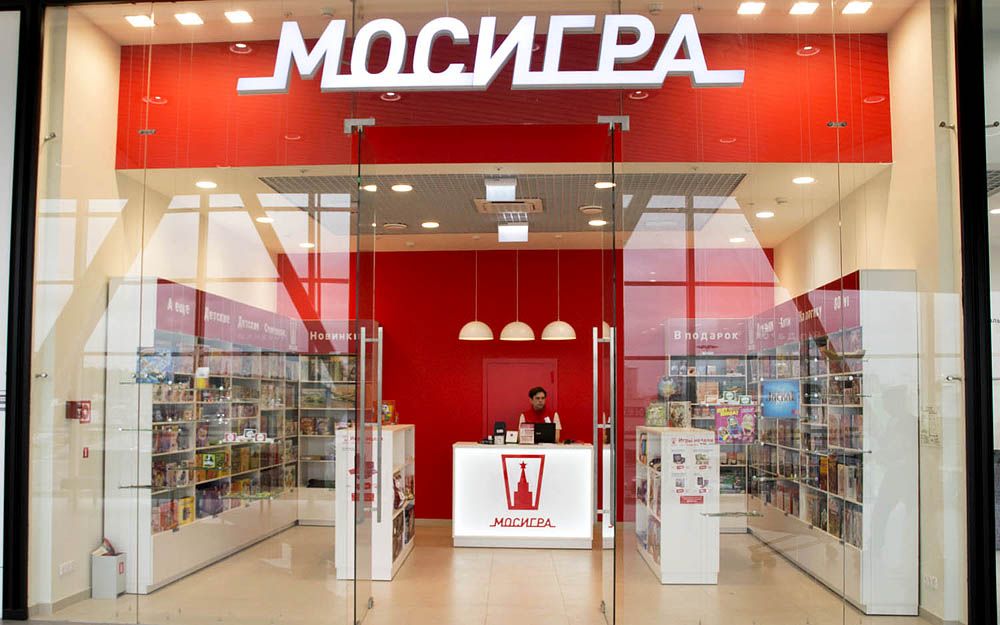 MOSIGRA — is a huge store of board games where you can get a wide variety of ideas for a gift and many cool board games. We have collected the best board games from USA, Europe and our country here. We ensure that you will find the game that will touch you and you will not be able to resist the temptation to buy it!
Mosigra is:
Affordable prices for board games
Next day delivery
Cumulative discount from the first purchase
Any game box can be opened and a game can be shown in a shop before you purchase it.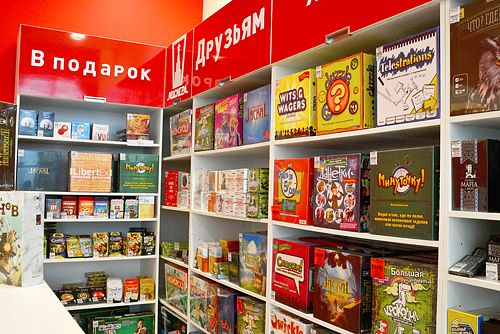 STORE FORMATS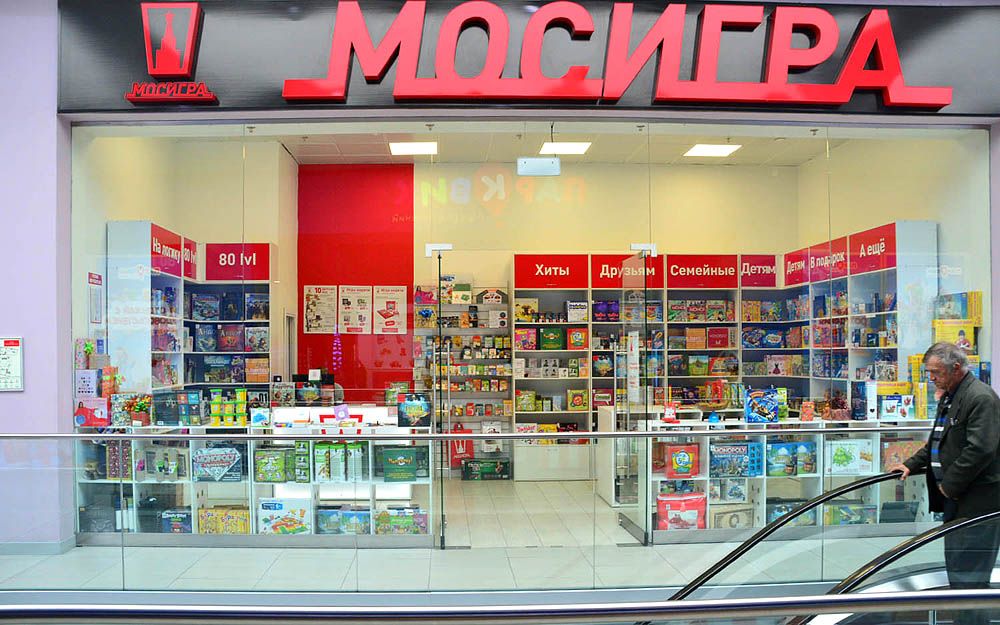 Street -retail
Shopping mall department

A shop with a separate entrance on the ground floor.
Preferably on the first line of buildings.
With the entrance from a busy street or intersection.
Combination of transport accessibility + natural passability.
Area: 20 - 40 m².

Pavilion in a popular shopping mall with good traffic.
A cinema or a food court is an advantage.
Area: 20 - 40 m².
Selling spot in a shopping mall up to 30 m².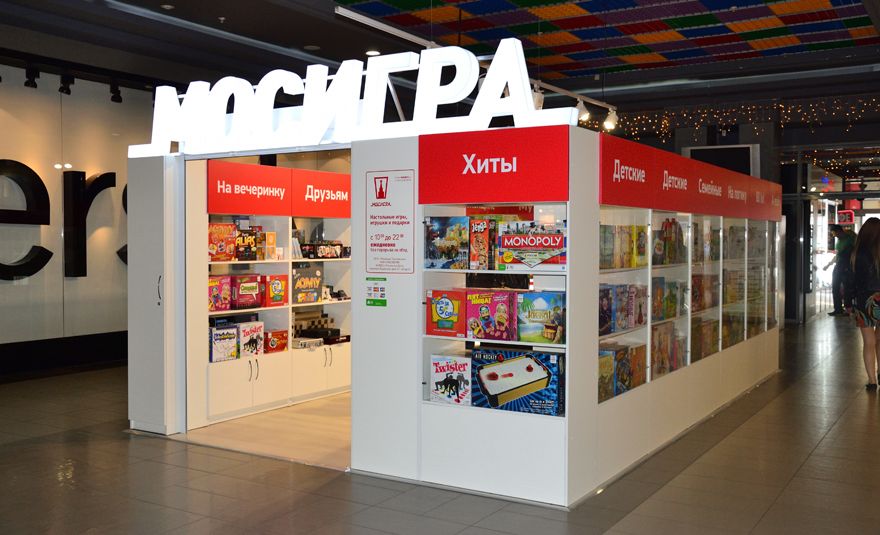 How much does Mosigra franchise cost?
Mosigra has the franchise fee of up to $1,680, with total initial investment from $16,700.
Initial investments: from $16,700.
Payback periodб avg.: 12 - 18 months.
Month turnover: from $8,350.
Royalties:
Moscow - $835 or 5% of turnover,
Regions - $335 or 5% of turnover.
Lump-sum payment:
Moscow- $2,520,
Regions- $1,680.
Other current expenses: a deposit equal to two months' royalties
Request Free Info

We provide our franchisee with:
The right to use Mosigra trademark;
Business model developed for your region and conditions;
Guide on establishing and growing business;
Remote premises assessment and consulting on all main activities;
Assistance in opening a shop in difficult locations, in particular, in shopping malls;
Premises planogram development;
Advertising support (TV, radio, internet);
Advertising models;
Ready-made website;
Marketing support at the federal level;
Commodity franchise (goods discounts, cargo consolidation and foreign economic activity (FEA);
A team of specialists (a start-group, a recruitment specialist, a animator training specialist, etc.), who can arrive at your place;
With business development, you get access to the company's information archives that contain guides on various aspects of the business, as well as layout plans and other documents;
Access to a general information resource, where you can ask a question to other program participants and get consulting support from Mosigra headquarters.
Successful business model:
Recognizable brand, introduced in the market since 2008;
A wide range of goods at affordable prices;
You will enter №1 board games network (in sales volume) in the CIS;
You will have a franchisee guide and consultations on all opening and company management techniques;
A package of documents (staff responsibilities, instructions, etc.);
Advertising models;
Ready-made online store website for your city;
Special prices for goods.
Wide assortment:
Board games and gifts for all ages;
Dozens of exclusive board games, 14 of which are in the TOP-20 sales in Russia;
Board games of leading Russian and world manufacturers;
Seasonal goods;
Quality certifications for all products;
Regular assortment updating;
A set of documents and instructions for a toy store operations management;
Joint introduction of new work technologies with the development of a store and the whole chain;
A personal manager;
A professional team of specialists with many years of experience in the field of board games and retail sales;
Regular special offers.
Our franchisee community
Closed platforms for communication;
Experience exchange;
Participation in internal events and chain activities;
Corporate training programs.
You receive a 300-page franchisee guide with a description of all processes, necessary documents and all the details about an enterprise work.
Request Free Info

Requirements to buy the franchise
Basic understanding of the business;
Business approach;
A positive life outlook.
Requirements for the room
Stationary stores from 10 to 50 m²;
Stationary pavilion up to 30 m².
MOSIGRA FRANCHISE ADVANTAGES
Our franchisees get a ready-made regional website adjusted to their needs;
Wide assortment, including rare exclusive games from the best game manufacturers;
High profitability of Mosigra franchisee project;
Low retail prices (due to direct cooperation with European suppliers);
Well-established work with wholesalers;
A high level of service;
Delivery to any point of the country and recommendations of the best transport companies;
Comprehensive assistance (in preparing an order, selecting assortment to a franchisee store, etc.);
Constant consultation and updated information on popular modern board games, the latest games in the market, etc.