Papilonia Franchise For Sale – Butterfly Houses
Papilonia Franchise For Sale – Butterfly Houses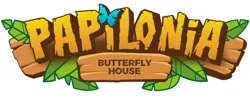 Papilonia Franchise Opportunities
What is the Papilonia Butterfly House?
The Butterfly House is a specially constructed and publicly accessible ecosystem that simulates the natural conditions for the healthy and active life of exotic butterflies. Here, visitors can see the most beautiful butterfly species in the world up close, some with a wingspan of up to 20 cm.
Papilonia is a concept of butterfly houses that is unique worldwide, and you will not find it anywhere else!
It can be realised in almost any commercial space.
Year-round operations anywhere in the world.
Savings on investment costs and overhead costs.
Appropriate even for the complete layman in the field of lepidopterans.
Original styling of the interior.
What makes Papilonia so exceptional
Papilonia is an exclusive and unique concept of butterfly houses worldwide, providing the optimal conditions for the healthy and active life of butterflies. These conditions are created in the Papilonia Butterfly Houses absolutely independently on the outdoor conditions, the surrounding climate, and the weather. This is a solution that eliminates all the limitations, problems, and disadvantages that the operators of standard butterfly houses must deal with. Thanks to this unique concept, it is possible to operate a Papilonia anywhere in the world.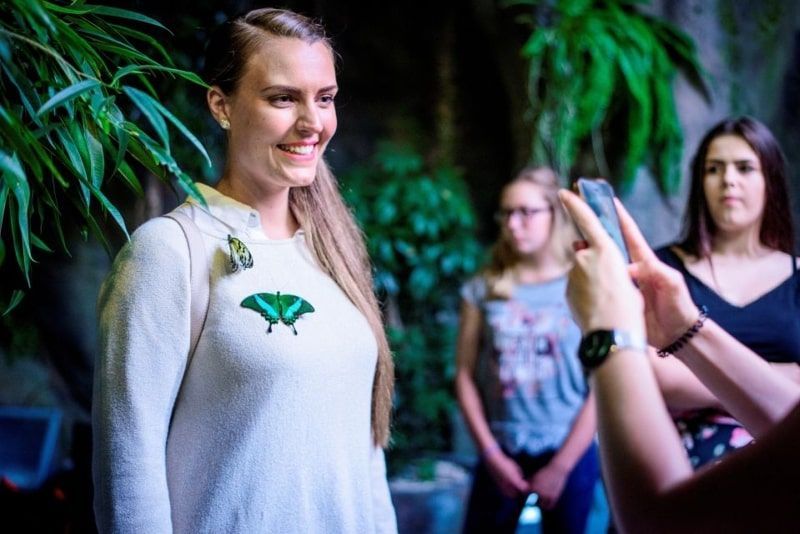 Why join us and what will you gain
Know how
We will teach you everything you need to construct and successfully operate your butterfly house. We are also able to construct a "customised" Papilonia anywhere in the EU.
Fully automated system
A complete layman in the field can operate a Papilonia Butterfly House. This business venture is suitable also for you, although you do not have any knowledge of butterflies.
Additional services
We will ensure regular deliveries of high-quality and screened butterfly cocoons, keeping in mind all customs and veterinary regulations.
Logos and graphics materials
We will provide you with our logo, our graphics, and a graphics manual. You will also get access to the prepared editing system with a website, into which you will simply paste the text and photographic content corresponding to your facilities.
Worry-free project realisation
We contractually commit to the guarantee of constructing a fully functional ecosystem at the value of 100 % of your investments.
Exclusive rights
No competition! You will be the only ones in your region who can offer visitors the experience of Papilonia Butterfly Houses.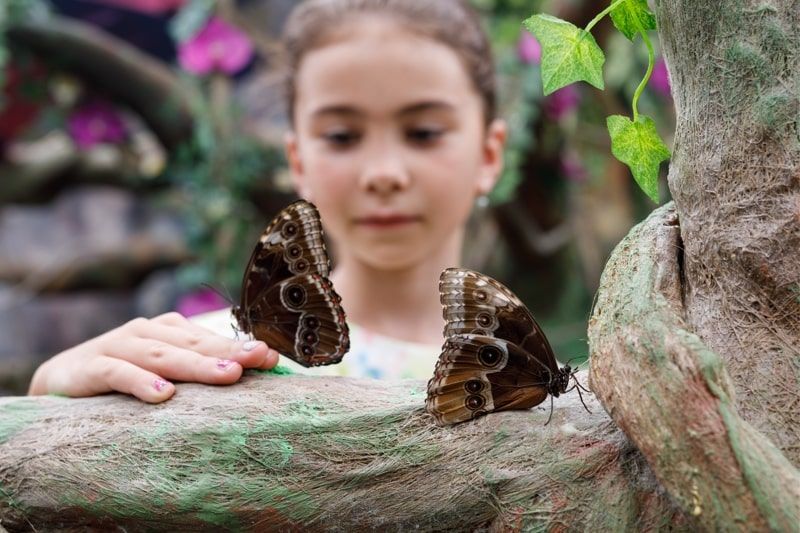 Forms of cooperation
Direct franchise
We will teach you everything you need to construct and successfully operate your butterfly house. We are also able to construct a "customised" Papilonia anywhere in the EU.
We will not ask for any percentage fees from the profits of your operations. You will never have to divvy your profits from entrance fees or souvenir sales with us. Our conditions of cooperation are conceived as fixed, and not even the significant commercial success of your Papilonia will affect this in any way. And on the contrary – the set rules protect you even during planned or forced hiatuses in operations. During those times that your Papilonia is closed to the public, you do not pay any fees to the franchisor.
Master franchise
You will purchase the exclusive rights to any Papilonia concept butterfly houses in the given region, and your task will be to find investors that will join the Papilonia franchise. The profits of the realised franchises (lump-sum fees and continual) are then divvied up between the master franchisee and the franchisor.
The license of the Papilonia master franchise is always granted exclusively and is valid for a specific country unit. The price is uniform, no matter the size of the licensed territory or of its population.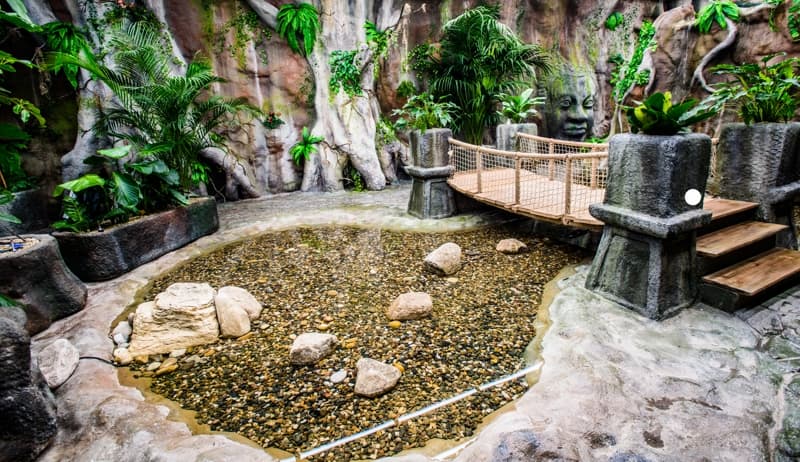 How much does the Papilonia Franchise cost?
Master franchise
Total initial investment: $94,000 for a country.
The license of the Papilonia master franchise is always granted exclusively and is valid for a specific country unit. The price is uniform, no matter the size of the licensed territory or of its population.
Direct franchise
Initial investments: from $285,000
Payback period: 3-5 year
Average turnover per month: from $43,500
Royalties:
Data from Papilonia Prague for 2019 year:
Average monthly operating costs incl. advertisements, souvenir purchases, etc.: $25,000
Average monthly franchise fees: $1,950
Request Free Info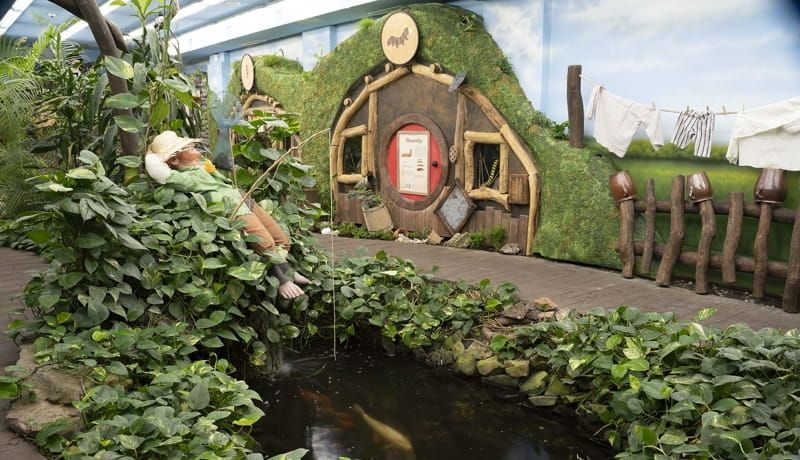 Success Story
I have been an entrepreneur since 2004, usually in tourism. I was successful in building up a prospering medium-sized enterprise aimed at arriving clientele. Somewhere around 2015, I began thinking about another activity that would divide risks, would be fun, and could be started at a time when it seemed that everything already exists, and everything has already been come up with. One of the sources of such ideas are franchise concepts, where even I found something that piqued my interest.
In its interior, the Butterfly House is somewhat of a unique concept. Despite of my best efforts, I did not find any other brand of functioning interior butterfly houses anywhere in Europe or even outside of it, only the Papilonia brand. Because this is a functional ecosystem using artificial lighting, and thus it is placeable into any sort of indoor premises with high traffic of people, it made sense to me. From making my decision and the first contact with the franchisor, we began looking for suitably located premises. Somewhere, where people naturally convene, shopping centres, aqua centres, perhaps larger museums, but even, for instance, a vestibule in the metro or at a train station. Our choice was the largest toy store in the country, located in downtown Prague, called Hamley's. After agreeing upon the rent and the operation conditions, we elaborated the project and began constructing and realising the interior. The manual that we received along with the franchise was a great help. From the planning of the construction to the air conditioning, fire alarms, and all construction work, to the interiors and the ensuing operations. The experiences of the other franchisees also helped. After launching, and the so-called test flights, we were pleasantly surprised by the positive reception of visitors and the unexpectedly quick return on investments.
This is a brief, and of course, simplified version of the process beginning with the idea and ending with the realisation. At present, we have a functioning butterfly house that generates an interesting profit. I consider operations and its management to be doable, and in comparison to my other entrepreneurial activities, also relatively simple. I have been an entrepreneur for many years, and I can absolutely and responsibly confirm that the Papilonia Butterfly House is so far the most pleasant and least stressful business activity that I have ever done. I am considering another franchise of the same type in another city, and I am glad that I made the decision to join this project.
Ing Zbyněk Černý, Executive Secretary
Requirements to buy one papilonia franchise
Are you on friendly terms with nature?
The commercial success of your butterfly house is our clear priority. Despite of this, your business should be fun and fulfilling for you.
Do you have sufficient financial reserves?
The already realised franchises of Papilonia are, commercially speaking, extraordinarily successful and show a rapid return on invested finances. Financing the realisation of the project, from its project documentation to the actual construction of the butterfly house is, however, entirely in the hands of the franchisee (more about the initial investments here).
Premises of realisation
An attractive location for a tourist attraction.
The recommended surface area of 150 m2 to 250 m2.
A ceiling height of at least 2.5 metres.

At the moment we can not connect you to the representative of this franchise.

Find other similar franchises in our catalog!
You need more information?
Send a request to get free consultation from the official representative of the company
Michael Kucera
Complete your request
The information is provided from public sources on the Internet
Updated: 13.05.2021
Ask a question about the franchise