SAPSAN Franchise For Sale – Intelligence Development School
SAPSAN Franchise For Sale – Intelligence Development School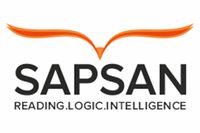 SAPSAN Franchise Opportunities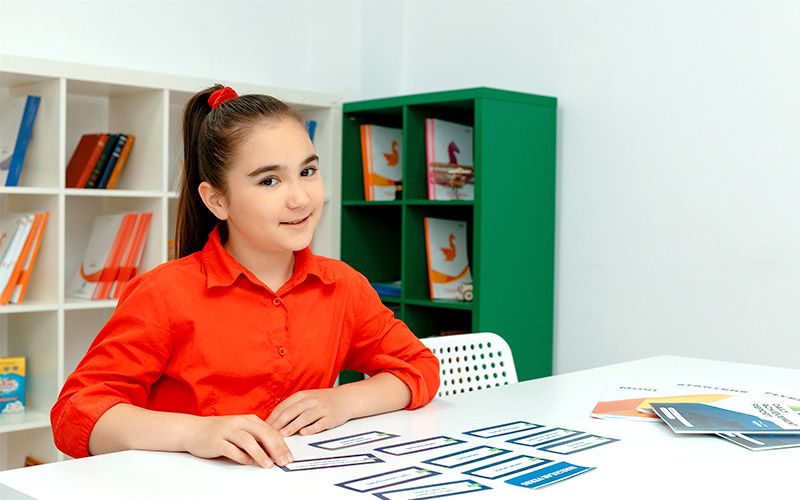 Making the world a better place is a challenging long-term goal. One of the most critical tools in achieving this goal is quality education. While the new generation needs effective complex programs to develop their prospects and talents, the current market is oversaturated with courses that lack fundamental methodological frameworks. Four years ago, two progressive educators inspired an experienced entrepreneur with a big idea: to raise a new generation of successful and confident leaders who can change the world. As a result, the SAPSAN company was founded.
Here is how an idea turned into a successful business. Methodologists, psychologists, and practicing teachers from all over the world joined the team. The graduates of Oxford University, the University of Birmingham, Lomonosov Moscow State University became part of the newly-established project. Their modern approach and persistent courage led to new solutions for various issues appearing in the field of education. With such efforts, SAPSAN won the SKOLKOVO grant competition in 2018, and two team members have become laureates of "Forbes 30 under 30".
SAPSAN continuously improves and modifies its current products as well as works on the creation of new projects. The main principles of the developers are: focusing on children's productivity and the development of their personality. SAPSAN students are a happy, conscious, and thriving generation of future leaders.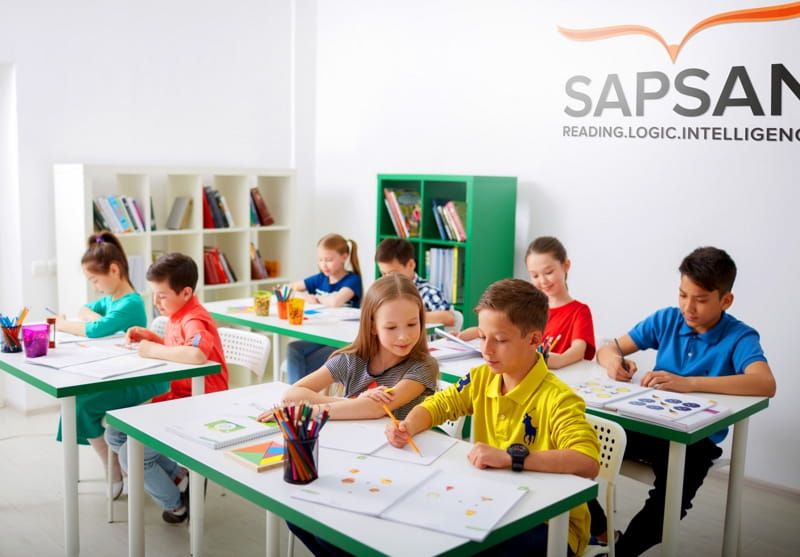 Size of centers
The interior design of centers is maintained in a minimalistic style: while the white color is the predominant one in classrooms (furniture, plain walls), orange elements (sofa in the hallway, reception desk) are used to make the outlook more diverse and exciting for children in particular. The presence of branded displays/boards with the company logo is mandatory. Large windows, an abundance of daylight, and artificial light create a feeling of comfort and order. The interior has to look stylish and modern.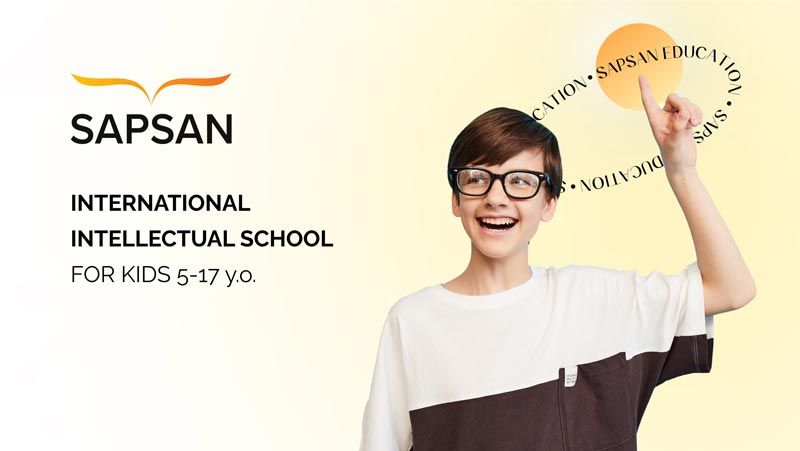 SAPSAN Franchise Offer
The Intelligence Development School SAPSAN franchise is an automated, ready-to-launch business model with unique education methods for children and teenagers aged 5-17 that has no alternatives in the CIS countries.
The franchise package includes:
'Mind Masters' course – a unique methodology for developing intelligence in 6 key areas. The method is based on six exclusive textbooks: Logic, Attentiveness, Reading, Memory, Speech, and Perception;
intensive coaching for the instructors + training and masterclasses 1-2 times a year;
access to the CRM-system SAPSAN MS* (*allows to automate the business processes of the educational center: schedules of students, personal accounts, revenue accounting, payments, product KPI indicators, business analytics, and online video surveillance of the classroom);
instructions for educational center management, existing workflow templates, and work algorithms for each process;
advertisement materials (POSM, advertisement texts, scripts for phone calls, e-mails, and SMS distribution, SMM guidelines, and content plans).
Possibilities of investments in the SAPSAN business vary and depend on the needs and preferences of a partner. The minimum investment amount, including a lump-sum payment, teaching materials, furniture, and classroom equipment, is $45,000.
The payback period of a business depends on many factors. According to our analytics, partners achieve self-repayment starting from 4 months after the date of the opening of the Center. The average marginality of centers is 46%, while the maximum annual income can reach $200,000. To achieve tremendous success, we recommend our partners strictly follow all instructions that we provide.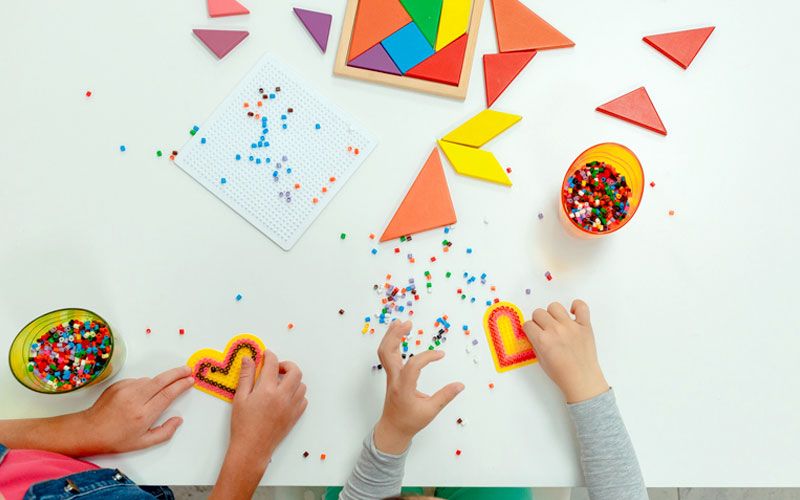 How much does the SAPSAN franchise cost?
SAPSAN has a franchise fee starting from $17,000, with a total initial investment from $45,000.
Initial investments: from $45,000
Payback period: starting from the 4th month in case of compliance with the standards and recommendations
Average turnover per month: from $15,000
Royalties: from $500 per month
Franchise fees: $17,000
Other current payments: none
Request Free Info

Business model of SAPSAN Franchise
SAPSAN is a proven and 100% ready-to-launch project. The business model is based on experience and is issued in the form of step-by-step instructions and standards. As a SAPSAN franchisee, it is possible to open a center in 2.5 months only, bring it to its break-even point in 3 months, and build a business with a margin of 46%.
The SAPSAN franchise is known for supporting partners in training, marketing, and any other business operations, starting from hiring and training employees to manage social media. SAPSAN provides each partner with a manager who is always in touch with the partner.
SAPSAN centers are connected to a CRM system that helps them manage all business processes: tracking student attendance and their study progress, company's profit, and expenses to warehouse control. This kind of automation allows us to optimize resources and conduct analytics more efficiently. As such, the franchise creates and uses unique techniques not only in educating youth but in managing these education processes, too. Thus, the franchise represents a proven quality business model in the field of education.
The SAPSAN franchise includes methodologies both for classroom teaching and online education. In addition to that, the company provides its teachers and students with exclusive book materials. Offering all the benefits mentioned above, franchise partners can choose formats of cooperation based on their preferences and tastes. They can:
launch their SAPSAN center;
purchase SAPSAN program package for online teaching;
purchase SAPSAN program package for education at an existing center.

Requirements for buying SAPSAN franchise
Not everyone can become a SAPSAN partner. The first necessary things are strong confidence and a desire to contribute to the field of education. Teaching children is a very demanding business that should not be delegated to people who are not prepared for it.
Secondly, all partners are carefully selected by SAPSAN specialists. At the initial stage, partners need to fill out a form and analyze the profitability of the business in their region. Next, the partner should pass a career aptitude test that identifies their strengths and weaknesses. Then, they should take an interview with the Managing Director. We make our decision based on the results of all these stages.
It is also essential to preserve territorial integrity: if a city already has several operating SAPSAN centers, a potential partner will be offered other cooperation options.
Premise requirements
Premises for conducting centers (classrooms), each with a capacity of 100-150 people, should meet the following requirements:
Optimal area of 180-250 square meters
Fluorescent lighting of daylight type
Compliance with sanitary and epidemiological norms
Availability of parking spaces, convenient driving, and sidewalks
Being located within walking distance from public transportation stops
As such, we are always ready to abet our franchisees and provide consulting services on location choice.
SAPSAN Franchise Advantages
SAPSAN has several advantages in comparison to many other education franchises:
Stability and profit-based calculation
Academic solid foundation and guaranteed results for clients
Step-by-step instructions for opening and operating Centers
Automatized system of business process management
Education and skills development for the instructors in online and offline formats
Tools for marketing advancement and students inflow
The franchisee becomes a partner of the company with an impeccable reputation and an ambassador for the brand recognized both in the educational business and among consumers.

At the moment we can not connect you to the representative of this franchise.

Find other similar franchises in our catalog!
You need more information?
Send a request to get free consultation from the official representative of the company
Nora Corman
International business development
Complete your request
The information is provided from public sources on the Internet
Ask a question about the franchise