MEITO announces Strong Expansion Plans in GCC Countries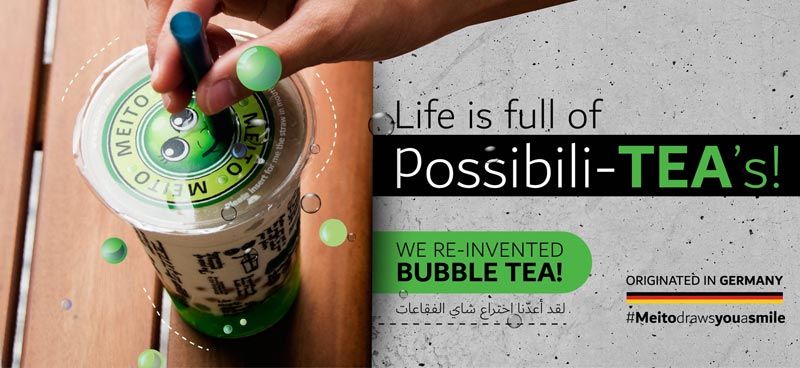 MEITO unveils aggressive expansion plans for its concept in the UAE, Kuwait, Qatar, KSA and Bahrain.
Muscat, Oman, April 2020 - Following the opening of its new office in Muscat, Oman earlier this year, MEITO ramps up expansion plans of its seriously cool international F&B concept in the Middle East.
The GCC is an economy with a strong history of international companies and a commitment to innovation. GCC consumers demand exclusive, superior and high-quality product, and therefore are a highly attractive market for international brands looking to make an inroad into the region via the franchise mode.
MEITO was launched in the German market nine years ago, based on its secret recipe for their famous signature Bubble Tea. Now the brand is an international franchise, committed to social, sustainable F&B experiences. The MEITO design is centred round the concept of "home away from home", where customers can chill, care about each other, refresh and refuel, just as they would in their own home.
"The concentration of high net-worth individuals, favourable regulations, and a young and upwardly mobile consumer market make the GCC very attractive for us," commented Ben Götze, Managing Director at MEITO Franchise. "GCC consumers are hungry for convenient, yet healthier, value-added food alternatives, making MEITO's organic and sustainable F&B concept a natural fit. With new GCC legislation leading the way towards healthier living, we feel it is the perfect time to expand MEITO in the Middle East."
MEITO is looking for franchise partners in the UAE, Qatar, Kuwait, KSA and Bahrain who are aligned to its brand values and believe in its huge potential for financial success.
Learn more about MEITO franchise
DIDN'T FIND WHAT YOU WANT?
ASK THE EXPERTS