Best USA Poke Bowl Franchises in 2023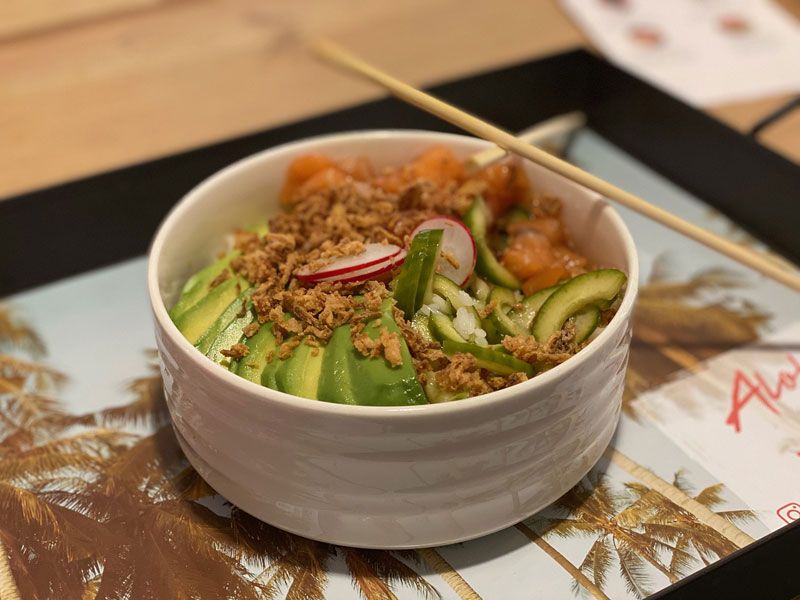 Poke bowl is a Hawaiian-inspired snack that has already taken over America. There are many restaurants that have opened in the US over the past several years, and almost every one of them has poke on the menu. Poke has gained enormous popularity not only in America, but in other countries as well.

Typically, poke is based on raw fish or seafood, and there are also options for vegetarians. It comprises sliced tuna, salmon, octopus or other seafood and is seasoned with soy sauce or other dips. They can mix it with various vegetables, like cucumbers, avocados, corn, and tofu. All ingredients are spread in a bowl with steamed rice. There are many combinations, and each restaurant serves unique variations of poke. Nowadays, there is a tendency for healthy eating, and people always look for tasty alternatives to fast food. Poke is a low-calorie meal that contains a large amount of protein.

Poké restaurants rarely focus on the sale of only one meal. Usually, there is a whole variety of foods, drinks, and desserts. The poke industry is booming, and there are a lot of opportunities there. It is not packed and is open for entrepreneurs to fill it. Below you can see the best American franchise restaurants that specialize in poke bowls.
Top Poké Bowl Franchises of 2022
Here are America's best franchises to look into.
Pokeworks
Pokeworks was established in 2015, and already in 2016 began franchising. It is the largest American restaurant chain specializing in poké bowls and poké burritos, with over 60 franchise units. The brand focuses on providing Hawaiian fusion cuisine for all healthy eaters across the country. It values quality, so it is using only the fresh ingredients to prepare tasty meals.
Customers can select poke bowls from an existing menu or build their own bowls with ingredients of their choice. There are fish and meat alternatives, as well as vegetarian options. Pokeworks is a big company, and it quickly grows by entering new markets. Acquiring a Pokeworks franchise is a great investment in your future and success.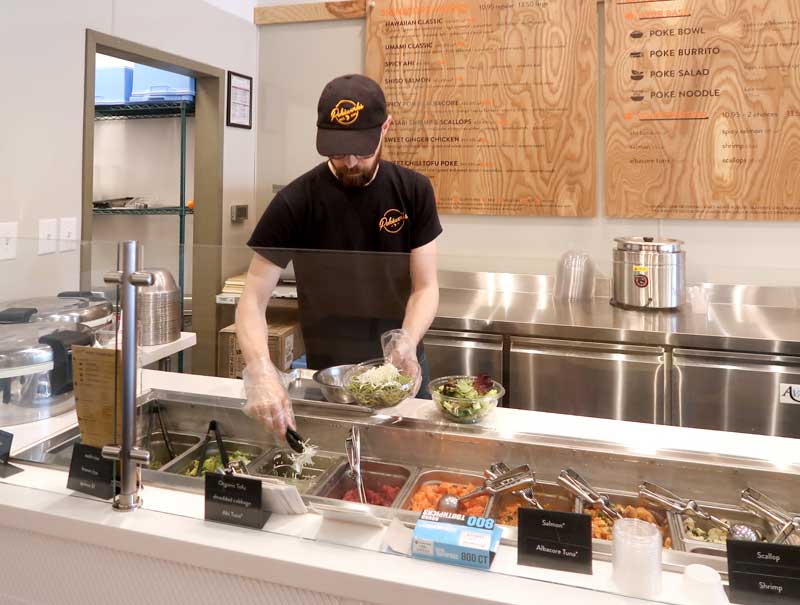 ---
Aloha Poke Co.
Aloha Poke Co. is an American brand that was set up in Chicago in 2015 by Zach Friedlander. In 2019, it began franchising, and it has about 20 locations across the country. The brand became quite popular thanks to their "build-your-own" approach. Customers can create their own poke bowls by adding raw seafood, meat, vegetables, various sauces and other fresh ingredients. The combinations are countless.
The brand cares about the quality and supplies top products like salmon, tuna, chicken that don't contain any antibiotics or fertilizers to its franchises. There are vegetarian and gluten-free options. Aloha Poke Co. is a competitive player in the poke market, and it continues to gain influence.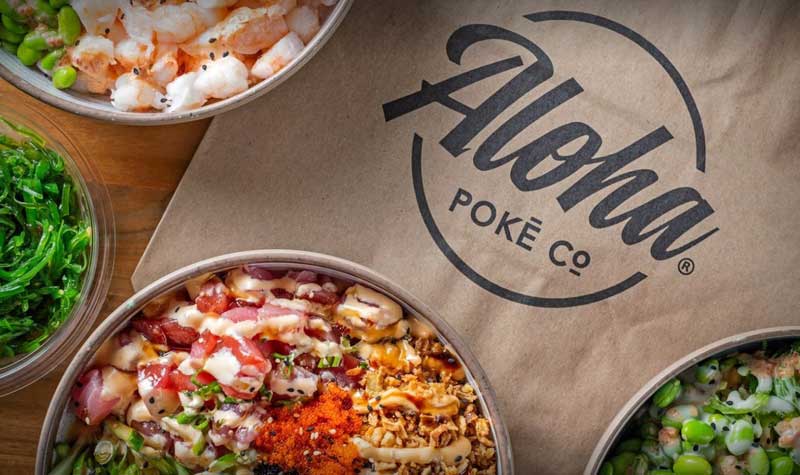 ---
Island Fin Poké Company
Since its foundation in 2017, Island Fin Poké Company has become one of the major brands in the poke market. The restaurant chain now includes over 20 outlets throughout the US. Their signature Hawaiian-style poké bowls, along with the build-your-own bowl approach, are what attracted many followers from every state.
There is a wide variety of fresh ingredients that people can combine and, in result, get a delicious poke bowl. Salmon, tuna, octopus, chicken are just some proteins available for adding. There are also gluten-free sauces and a big number of toppings to choose from. The brand offers menu sustainability. By joining the Island Fin Poké Company, you take on an interesting venture with great financial and growth prospects.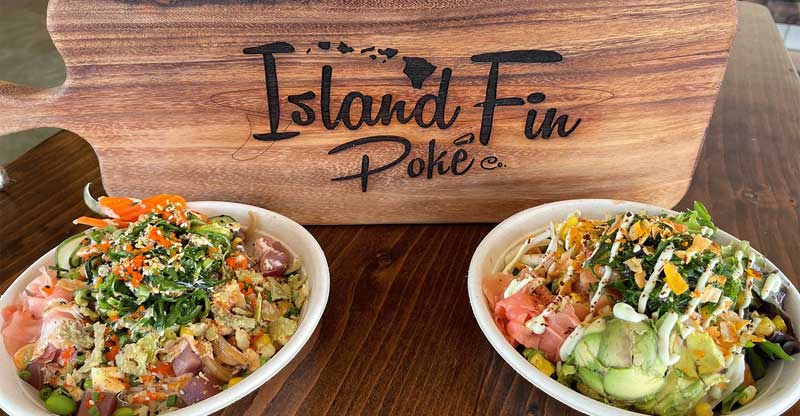 ---
Just Poké
At Just Poké, you're offered a chance to build your own bowls by adding fresh and premium ingredients, or to select from an established menu that has signature poké bowls and torched bowls, i.e. the protein is torched. There are 11 sauces and numerous toppings to add to the poke. They launched the brand in 2016, and since 2020, has been franchising. At the moment there are 20 locations, and many more are planned to be opened soon.
Customers get to experience the Hawaiian-inspired cuisine and enjoy the service. It is a great franchise opportunity for entrepreneurs who want to provide unique products to the masses and make profit by doing it.
The brand is eco-friendly. It uses recycled materials for restaurant construction and interior and limits its plastic use. All raw ingredients like salmon and tuna are caught by using safe methods that don't harm bigger ocean fauna.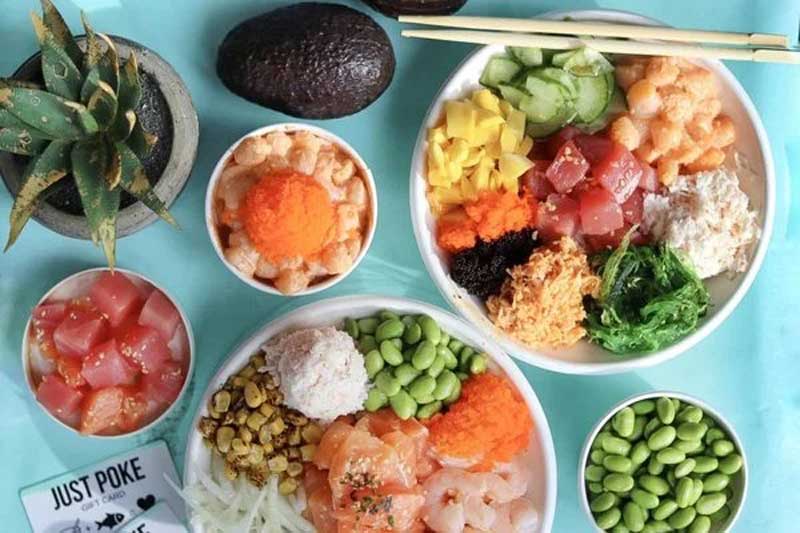 ---
Poké Mahi
Poké Mahi is an American brand that serves poké bowls. The brand combines Hawaiian traditions and Asian flavors to offer the most delicious selection of poke bowls. It is a young but prospective company. They established Poké Mahi in 2019, and it started franchising the next year. Now there are 15 stores all over the country.
The wide range of toppings and proteins, fresh ingredients, and the ability to create their own poke bowls draws customers in. It is a fast-growing company that is always in the search for goal-oriented people that are interested in selling creative products and increasing Poké Mahi awareness.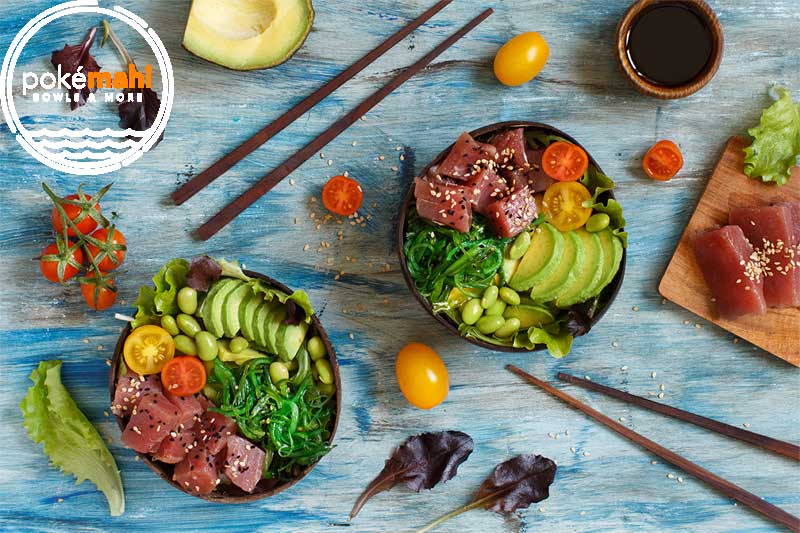 ---
Pokémoto
Thomas Nguyen set the brand up in 2017. He saw a gap in the local market and seized the opportunity. Thomas spent a lot of time in Hawaii, where he has fallen in love with traditional Hawaiian poké and brought it to the masses. His first store was a huge success, and ever since, the brand has only continued to gain popularity.
Poké is a healthy alternative to fast-food. It is prepared from natural ingredients. The brand offers quick and friendly service, big portions and quality that customers value. The menu includes customized bowls, salads and wraps that can be made of seafood, meat, vegetables, or anything a customer desires. There are takeout and delivery available.
Pokémoto provides low-cost entry, easy operation model, and comprehensive franchise support. The brand has a built-in customer base that just loves the Pokémoto's menu offerings.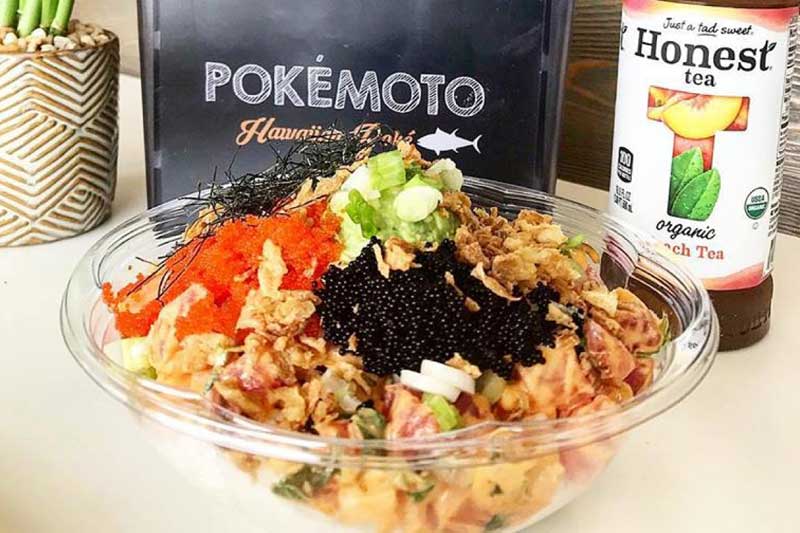 ---
Poki Bowl
They launched the company in 2015. The mix of Hawaiian and Asian cuisines brought together with warm customer service has won the adoration of customers from all over the country. There is a variety of signature bowls presented, along with options to build customized bowls.
The brand's mission is to provide delicious and healthy poke bowls to a built-in customer base and new communities, so it is always ready to expand. If you're looking for a fast-casual franchise option, then Poki Bowl is the right choice for you. Low startup costs, unique products, and great financial prospects are what awaits you at Poki Bowl.
---
KOIBITO POKĒ
KOIBITO POKĒ's mission is to provide healthy dishes that are nutritious and rich in vitamins. The brand's poke bowls are made of the freshest ingredients. Its menu offerings include bowls with chicken, tofu, and vegetables. There are signature poke bowls and the availability of build-your-own poke.
KOIBITO POKĒ provides a well-working business model that is easy to operate. The startup costs are not high either. A KOIBITO POKĒ franchise is an excellent opportunity to become a successful business owner and promote healthy lifestyle.
---
Atlantic Poké
The combination of fresh vegetables, premium seafood, and exotic spices attract people to Atlantic Poké. Founded in 2018, the brand has soon won the customers' hearts with the taste of authentic Hawaiian dishes and a friendly atmosphere.
The menu is a blend of Hawaiian traditions with Asian flavors. There are gluten-free options. The brand strongly feels about allergy awareness and offers food that doesn't contain nuts and dairy. Atlantic Poké constantly improves their service and implements new flavors. Join Atlantic Poké and develop your own business within the large restaurant holding.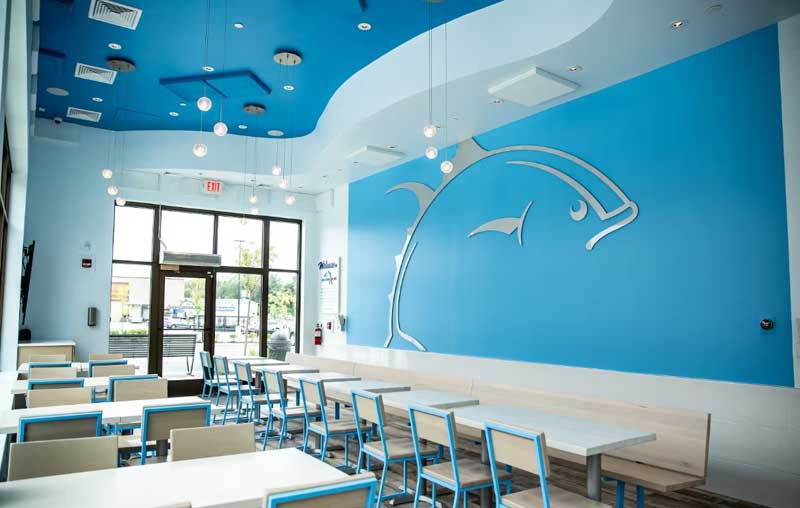 ---
Poké Bar
Poké Bar specializes in sushi and poke bowls. It has been operating since 1989, and now it has stores all over the world, including countries like the US, Australia, Canada and New Zealand. The company provides fresh poke along with a range of sushi that stands out thanks to the great taste, quality, friendly and fast service, and the use of the freshest ingredients.
There are over 65 franchise units, and the brand continues to grow rapidly. Poké Bar has several revenue streams that allow it to conquer multiple markets.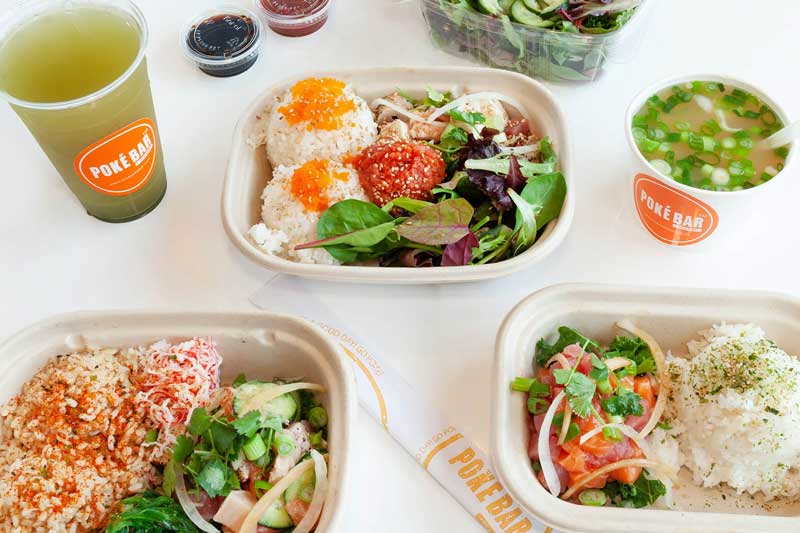 ---
Conclusion
A poke bowl is a healthy and easy food. The dish contains a lot of vitamins, like omega-3, and is widely popular among followers of healthy nutrition. The listed restaurants offer diverse menus of poke that attract a lot of customers. People have an opportunity to build-your-own poke bowls or to choose from an existing range of options. Poke bowls are tasty and affordable dishes that everyone loves.

Now is the best time to dive into the poke craze and seize the opportunities. A poke bowl franchise offers a great chance of earning high profits and work with an up-and-coming product that will only gain more popularity in the coming years. Above you can see the top US franchises of 2022. Learn more information about franchise options, analyze your financial capabilities and goals, and pick the most suitable option for you.
View all Food franchises
Want to advertise your franchise with us and successfully boost your business?
Please send us your request and we will get back to you shortly!
Easy start
of franchise
business
in USA
DIDN'T FIND WHAT YOU WANT?
ASK THE EXPERTS