The Best 10 Tea Franchise Opportunities in USA for 2023
Update: 10.01.2023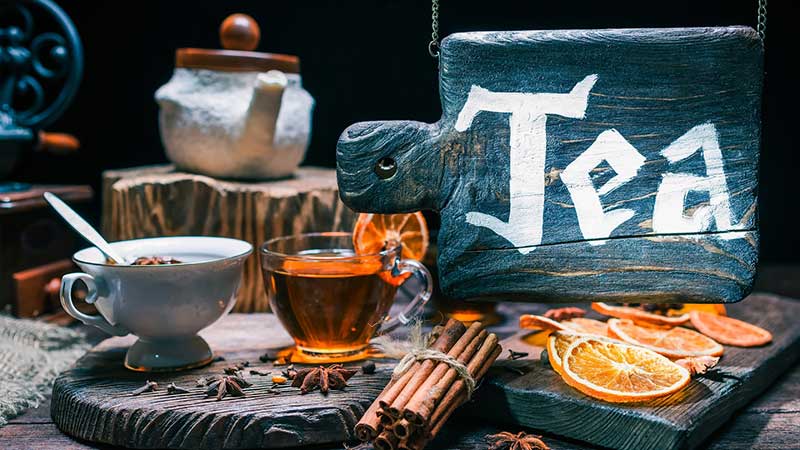 Health consciousness of USA people is growing and the market demands more green, tapioca and other healthy teas. Our list of the best tea franchises opportunities in the USA isn't expected to change much in 2023 in comparison to previous years. It includes almost the same brands with a slight movement in their positions.
Americans are getting used to tea. Up to half of the population acknowledged that they drink tea daily. Therefore, tea industry brings billions to the economy of the country, and keeps on growing. As a result, many interesting franchise concepts appeared on the US market. All around the country you can find tea houses and retail stores as well as tea rooms and cafes which work by means of franchising. The best tea franchise businesses are looking for ways to extend, and are ready to teach their partners to make profit from one of the most popular beverage on the market. Check out the most reputable tea franchise concepts here.
Here is TOP 10 Tea Franchise Business Opportunities in USA
Spice Merchants
Founded in: 2003
Franchising since: 2010
Franchise units: 9
Initial investment: $78,400 - $168,500
Initial Franchise Fee: $25,000
Ongoing Royalty Fee: 8%
Ad Royalty Fee: 3%
Spice Merchants offers superior spices, spice blends, teas, and related items using prescribed methods. The company maintains a strong competitive edge by offering products that are fresh, organic, gluten-free, non-GMO, and of higher quality than that available from competitors or grocery stores. Note that the offer of a franchise can only be made through the offer of a Franchise Disclosure Document.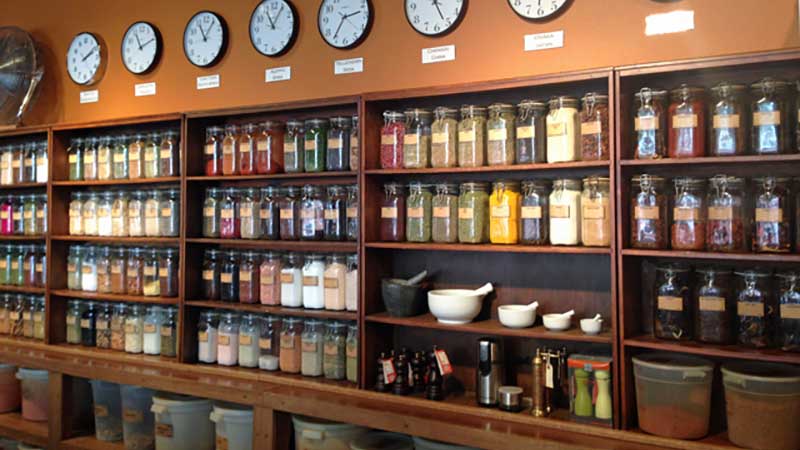 ---
TeaGschwendner
Founded in: 1978
Franchising since: 1980
Franchise units: 130+
Initial investment: $165,000 - $350,000
Franchise Fee: $15,000 - $25,000
Ongoing Royalty Fee: 3%
TeaGschwendner is a german chain of retail shops and bistros which sell loose leaf tea and tea accessories and is a global leader in specialty teas. Each shop carries a selection of more than 300 varieties including Black, Green, Oolong, White, Rooibush, Herbal and Fruit. Franchisees and one of the manager-level employees must complete the initial training program on the material aspects of operating a TeaGschwendner Store.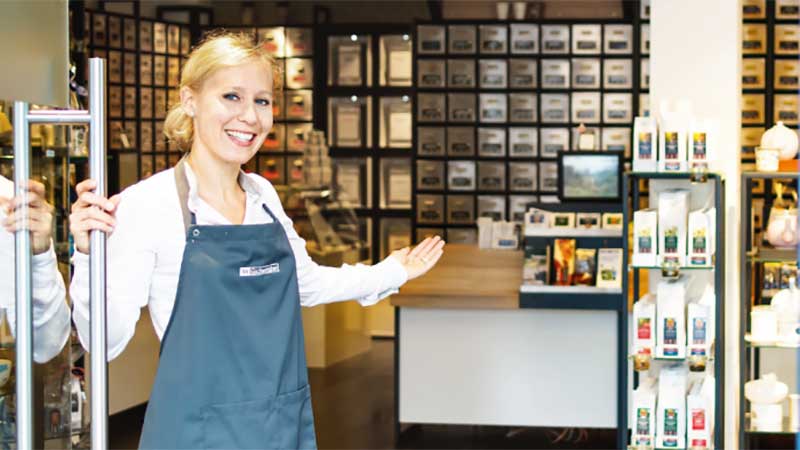 ---
The Coffee Bean and Tea Leaf
Founded in: 1963
Franchising since: 2002
Franchise units: 1200+
Initial investment: $183,250 - $615,500
Franchise Fee: $15,000 - $25,000
Royalty Fees: 5.5%
The Coffee Bean & Tea Leaf®, born and brewed in Southern California since 1963, is the oldest and largest privately-held specialty coffee and tea retailer and chain in the United States. With over 50 years of experience in the specialty coffee industry, the company has built a strong and complete business infrastructure and offers extensive franchise support.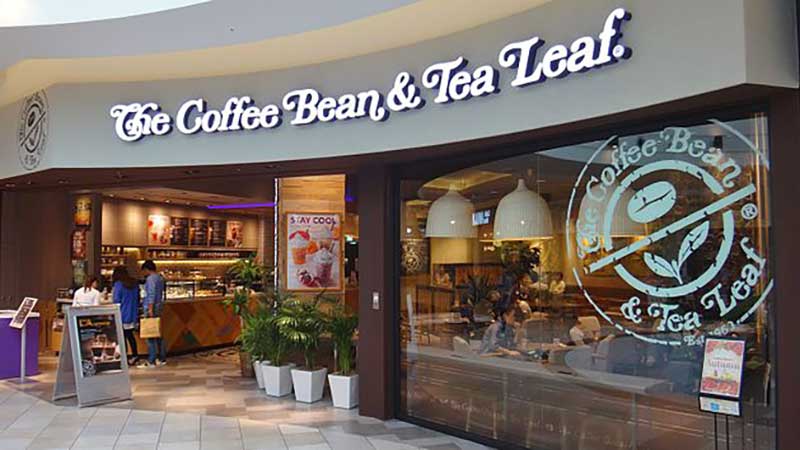 ---
The Spice & Tea Exchange
Founded in: 2008
Franchising since: 2008
Franchise units: 59
Initial investment: $200,550 - $356,150
Franchise Fee: $37,750
Royalty Fees: 7%
The Spice & Tea Exchange ®, founded in 2008 by a group of talented individuals with a passion for life and food, started as a small shop St. Augustine, Florida, has quickly grown into a nation-wide franchise powered by flavor, passionate franchise owners, and offers spices, herbs, teas, spice blends, rubs and related products and accessories in a retail store setting.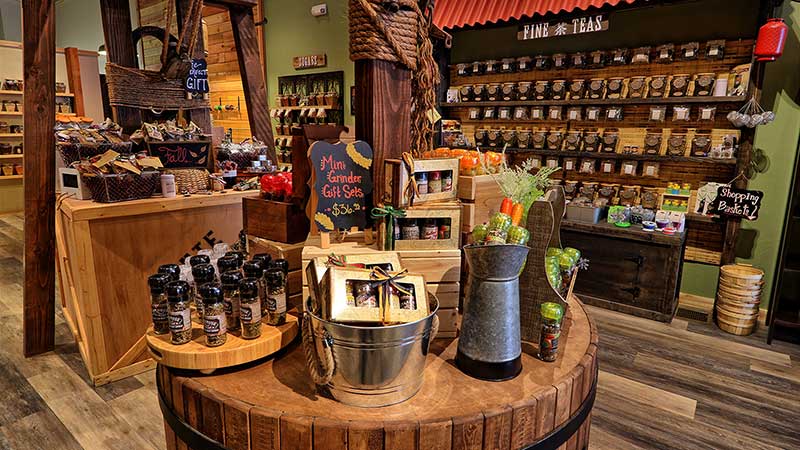 Dobra Tea
Founded in: 1992
Franchising since: 1992
LFranchise units: 30+ Worldwide
Initial investment: $50,000 - $100,000
Dobra Tea is an international chain of Bohemian style tea rooms in Europe and the USA. Founded in 1992 in Prague, Czech Republic, Dobra Tea aims to spread authentic tea culture from around the world. In 2003 the chain opened its first U.S. tearoom in Burlington, VT and years followed to Maine, Massachusetts, North Carolina, Pennsylvania, Oregon, New York. Company's team helps franchisees with training, publicity and more.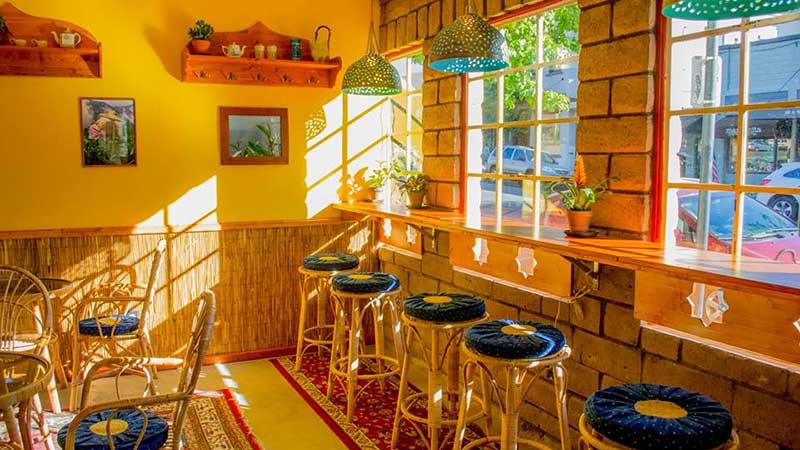 ---
Chun Yang Tea
Founded in: 1869
Franchising since: 2019
Franchise units: 10
Initial investment: $129,400 - $290,750
Initial Franchise Fee: $30,000
Ongoing Royalty Fee: 3%
Chun Yang Tea sells items from a focused menu featuring a variety of teas and juice drinks, using proprietary teas, milk teas and juices, tapioca balls, recipes and preparation techniques, freshly prepared for carry-out or consumption on the premises. They began franchising in The USA in 2019.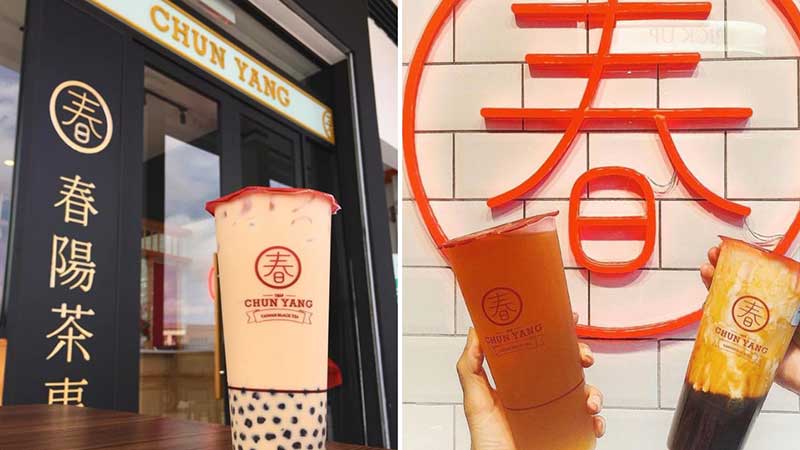 ---
Fava Tea Company
Founded in: 2007
Franchising since: 2011
Initial investment: $126,825 - $349,150
Initial Franchise Fee: $30,000
Royalty Fees: 7%
Fava Tea Company is Wisconsin's largest loose tea specialty retail store with potential expansion opportunities throughout the U.S. Fava Tea offers over 350 rare, standards, and unique specialty teas along with related products and gifts. Company offers guidance in choosing a suitable location for your store, guidance in the build-out of your store, and provides training and support for the soft opening of the store.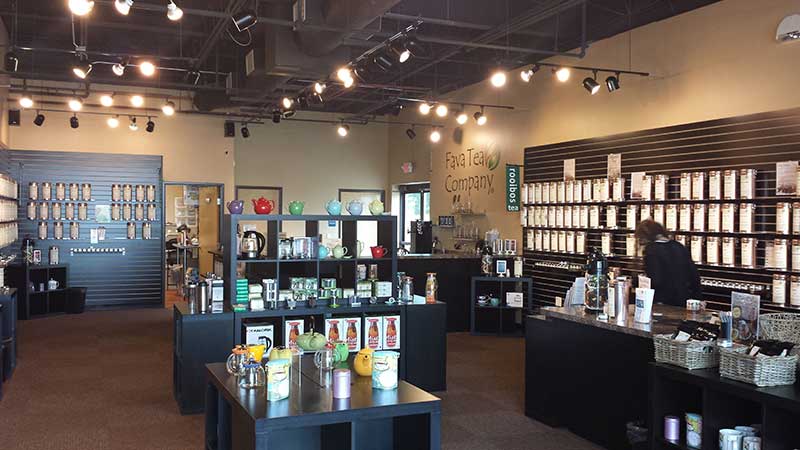 ---
Teapioca Lounge
Founded in: 2010
Franchising since: 2010
Franchise units: 3
Initial investment: $205,500 - $351,100
Franchise Fee: $20,000 - $25,000
Ongoing Royalty Fee: 5%
Teapioca Lounge,originally founded in 2010 in Austin, TX, is one of the leading tea cafes which offers high quality frozen and shaved-ice desserts, traditional and specialty teas along with other beverage options. The brand aims to mix both east and west tea traditions in quick service environments. Becoming a franchisee of Teapioca Lounge allows you to profit from some of the most popular beverages on the market.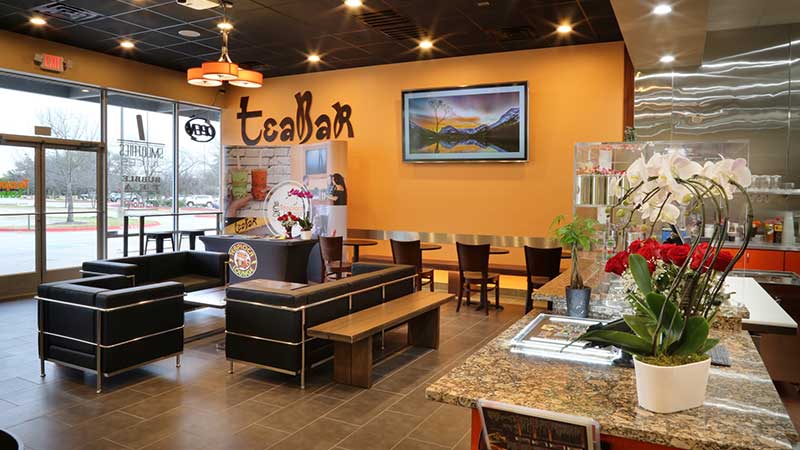 ---
The Teahouse – Tapioca & Tea
Founded in: 2000
Franchising since: 2005
Franchise units: 10+
Initial investment: $165,000 – $300,000
Initial Franchise Fee: $35,000
Royalty Fees: 4-6%
The Teahouse is Texas-based chain which specializes in tea and other healthy beverages in a quick service environment and provides custom drinks made to order in addition to the variety of their gratifying beverages on the menu. Company looks forward to providing a Franchisor with the same quality service and product that they have continued to offer their consumers for over 15 years.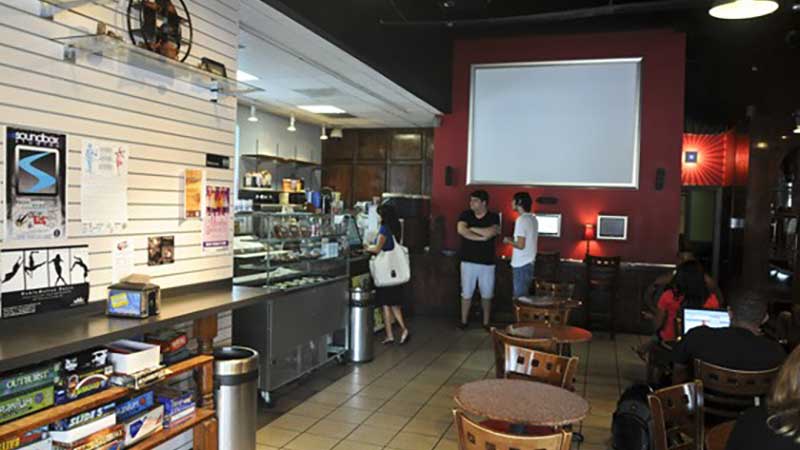 ---
Sweetwaters
Founded in: 1993
Franchising since: 2004
Franchise units: Less than 10
Initial investment: $260,000 – $395,000
Initial Franchise Fee: $49,500
Ongoing Royalty Fee: 6%
Sweetwaters Coffee & Tea is a franchise of coffee and tea house. Company's locations offer a variety of classic and premium teas, along with the tea boxes that are available for sale. Opening a Sweetwaters franchise of your own puts you in the driver's seat to owning your own business and creating a meaningful place for people to study, relax, and connect.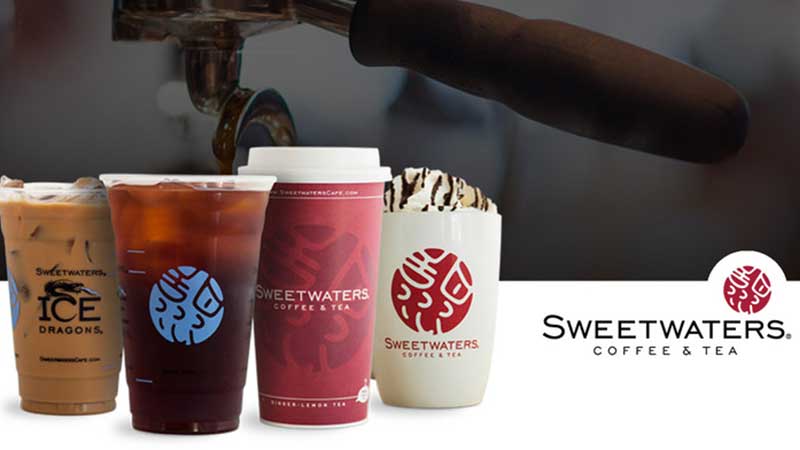 ---
Conclusion
To summarize, we can say any of the listed above tea franchises is worth buying. But there is a lot to consider while choosing the best one for you. Pay attention to the reputation of the brand, what training and support are offered, check if the other franchisees are successful. But the main thing you need to do is to align your budget with investment requirements of the brand. In order to ease the challenge, we have made the comparison flowchart of the best tea franchises in the USA for you. It shows the minimum estimated initial investment and initial franchise fee of each brand. By using it, you can figure out the difference in financial requirements for each franchise, and decide which one fits you the most.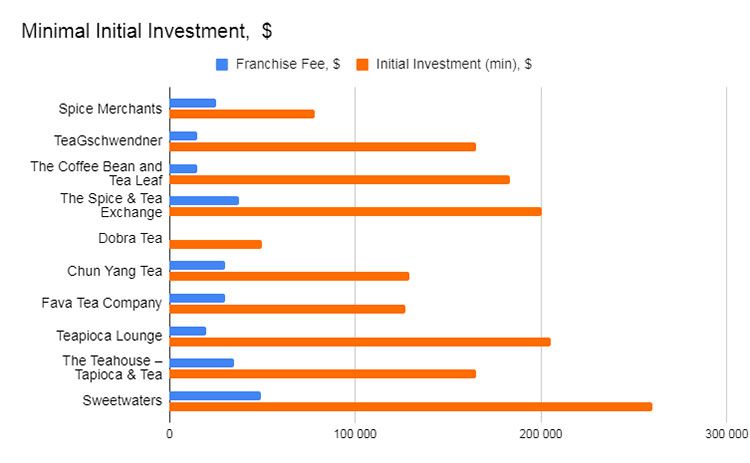 View all Tea & Coffee Franchises
Want to advertise your franchise with us and successfully boost your business?
Please send us your request and we will get back to you shortly!
DIDN'T FIND WHAT YOU WANT?
ASK THE EXPERTS