Popular 10 Bakery Franchises in India for 2023
Update: 01.06.2021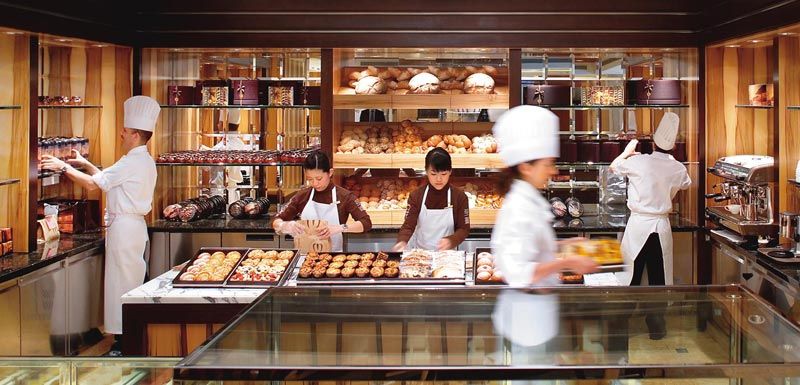 Purchasing a bakery franchise in India is starting a business which will pay off very soon. Bread, biscuits, cakes, etc. are always of high demand which means good opportunities for growth and hence an ever increasing profit. Moreover, low bakery franchise cost makes the business quite affordable to start. India is rich in both traditional domestic bakery concepts and non-traditional foreign or innovative ideas. Here an entrepreneur can choose from either healthy bakery franchises offered for sale or donut shops or cafes which serve rusks and puff pastry along with a cup of tea. Operating a bakery is much easier with the support of an experienced franchisor. They will give you full understanding of the business processes, help you with licences and permits, choosing equipment, location, and assist with advertising and promotions. We have made a list of top bakery franchises in India which have ideal reputation and a vast experience on the market.
Here are the Popular 10 Bakery Franchises in India
Atul Bakery
Founded in: 2001
Franchising since: 2007
Franchise units: 150+
Atul Bakery was founded with the goal of providing highest quality product in 2001. Having 20 years experience of Restaurant Industry and a goal to serve the best, Multigrain Food Pvt Ltd started "Atul Bakery" on 26th January, 2001. The group's focus on exports has seen its growing range of products being supplied to 12 countries. Brand is also expanding through franchising. The company has always wanted to do something new, showcasing their creativity and new innovative ideas. On 17th September 2016, Atul Bakery entered the Guinness Book of Records by creating a specially designed pyramid cake of 3,750 kg with 7 feet height that was served to 35,000 people.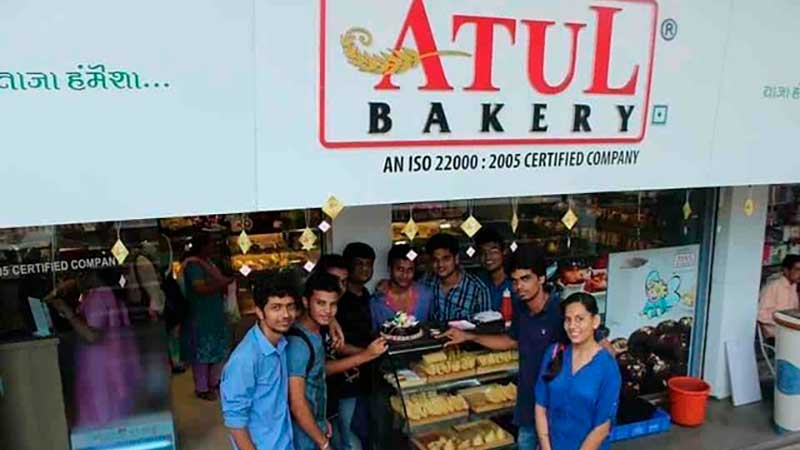 ---
Karachi Bakery
Founded in: 1953
Franchising since: 2000
Initial investment: Rs. 10 Lakhs – Rs. 20 Lakhs
Franchise Fee: Rs. 3 Lakhs
Royalty Fees: 20%
Karachi Bakery, with the first bakery opened in 1953 in Hyderabad, Telangana, by Sri Khanchand Ramnani, a Sindhi migrant, is one of the popular bakeries in Hyderabad today. The chain is known for its fruit biscuits, dil kush and plum cake, which are also exported to the Middle East, UK and USA. Always a step ahead of competition, the company focuses on innovation, developing new products while improving their existing products to evolving consumer needs. To be eligible to have a Karachi bakery franchise franchisee should be ready to have a large target audience to cater to and to have an area of 250 sq. ft in a proper location. The bakery could have 5-6 members with sufficient training in terms of sales, baking, customer interactions, etc.
---
CK's Bakery
Founded in: 2015
Franchising since: 2017
Franchise units: 50
Initial investment: $7,000 - $15,000
Royalty Fees: The company does not charge any royalty. Bakery products must be purchased from us.
In 2015, started by Mr. Manu Ranganathan with a vision of providing 'Fresh, High Quality, Delicious' bakery products at an affordable price in a 'Hygienic Environment' the brand 'CK's Bakery' has been received positively by the people of Chennai and this led to open 60+ Outlets. CK's Bakery chain, which sells sandwiches and paninis along with cakes, is expanding pan India through the franchise model.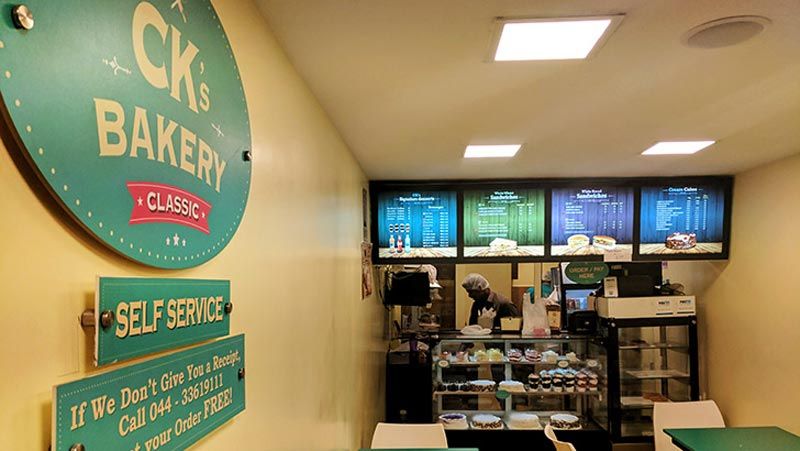 See more food franchises in India in the catalog →
7th Heaven
Founded in: 2011
Franchising since: 2015
Franchise units: 100 - 200
Initial investment: $15,000 - $30,000
Royalty Fees: 15%
7th Heaven is India's Ultimate Cake & Dessert chain with products like 3D Cakes, Cakes, Cupcakes, French Macarons, Donuts, Tarts and much more! 7th Heaven is the only Cake Shop Franchise with LIVE KITCHEN - Fresh Cakes made in 7 Minutes. Kitchen Fragrances India LLP operates 7th Heaven Franchise.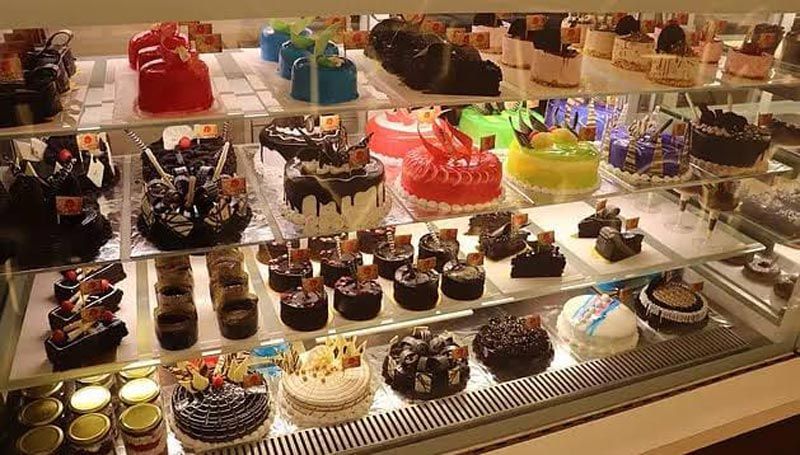 ---
Mr. Puff
Founded in: 1950
Franchising since: 2002
Franchise units: 30
Initial investment: $29,000 - $44,000
Royalty Fees: 25-30%
Mitesh Food Products Pvt. Ltd. (Shree Gandhi Bakery) is one of the largest bakery chains of Vadodara selling its products under the brand name of "Mr. Puff". If you are looking for a significant franchise opportunity with a low cost of entry and a high profitability potential, you may be a great candidate to be a Mr.puff franchisee owner.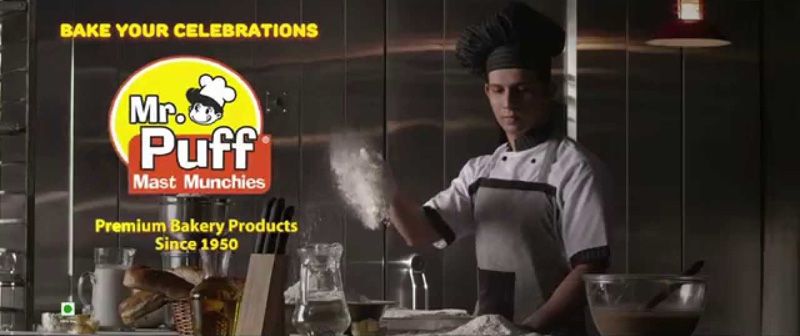 ---
Great American Cookies
Founded in: 1977
Franchising since: 1978
Franchise units: More Than 360 Worldwide
Initial investment: $2,900 - $7,300
Royalty Fees: 6%
Founded in: 1977 on the strength of an old family chocolate chip cookie recipe, Great American Cookies@ has set the standard for gourmet cookie sales in a fun, celebratory environment. From one family chocolate cookie recipe, it added a complete line of cookies and brownies and began franchising in 1978. In addition to regular cookies, most stores feature large plate- or pan-sized cookies with personalized messages for parties or special occasions.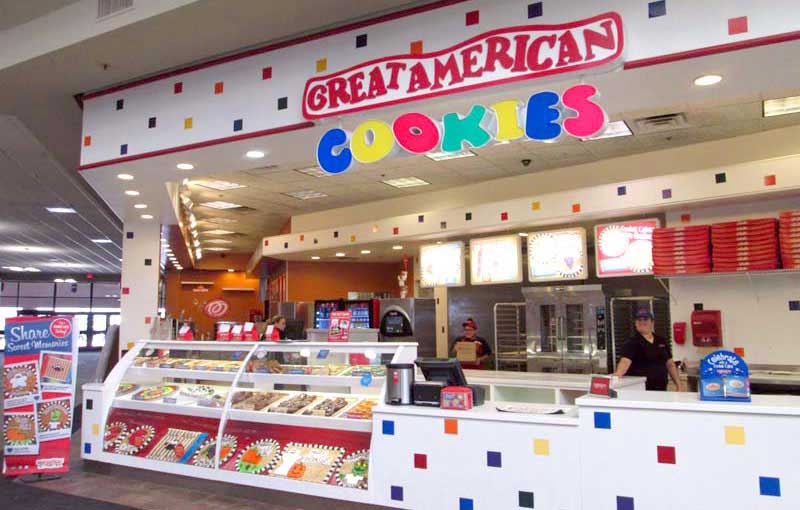 ---
WS Bakers
Founded in: 2014
Franchising since: 2014
Franchise units: 50 - 100
Initial investment: $3,000 - $7,300
Royalty Fees: 25%
WS Bakers (Way to HappinesS) is a renowned chain of pastry & confectionery shops based out of Pune, who provide specially baked, pure vegetarian cakes, pastries and desserts that are available for shopping and delivery throughout the city. All of products are pure vegetarian. Here's your chance to be your own boss, own a WS Bakers franchise.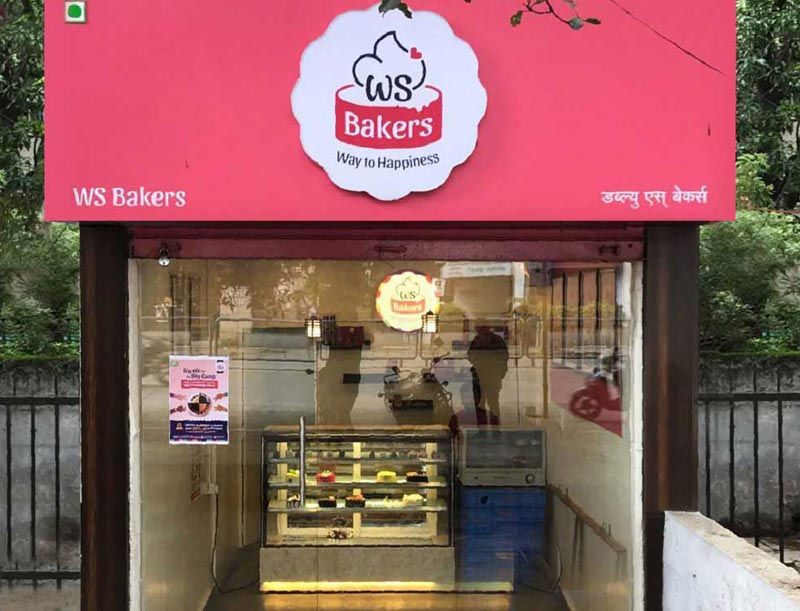 ---
99 PANCAKES
Founded in: 2017
Franchising since: 2017
Franchise units: 10 - 20
Initial investment: $30,000 - $45,000
Royalty Fees: 7%
"99 Pancakes" is first and India's fastest growing business of mouth watering pancakes, thick shakes, desserts etc. and is set to expand all over India through its franchise business also.
---
CookieMan
Founded in: 1958
Franchising since: 2000
Franchise units: 50+
Initial investment: $7,000 - $15,000
Cookie Man is easily recognized by its distinctive, bright decor and the unique traveling oven, which bakes fresh, mouth-watering cookies synonymous with the Cookie Man trademark. Cookie Man intends to bring fresh baked Australian cookies to all the major metros of India on a franchise basis. Cookie Man is committed to becoming the largest fresh baked cookie chain in India.

---
Millie's Cookies
Founded in: 1985
Franchising since: 2018
Franchise units: 50-100
Initial investment: Rs. 30 Lakhs – Rs. 50 Lakhs
Royalty Fees: Rs. 30 Lakhs – Rs. 50 Lakhs
Millie's Cookies is an international chain of small format retail bakeries based out of the UK. It specialises in gourmet cookies, muffins, milk shakes and hot drinks. The brand has raving fans worldwide including self confessed cookie lovers, carefree teenagers & adults. Retail bakery Millie's Cookies has launched its franchise model and is looking for someone to enter into a franchise agreement to expand the brand.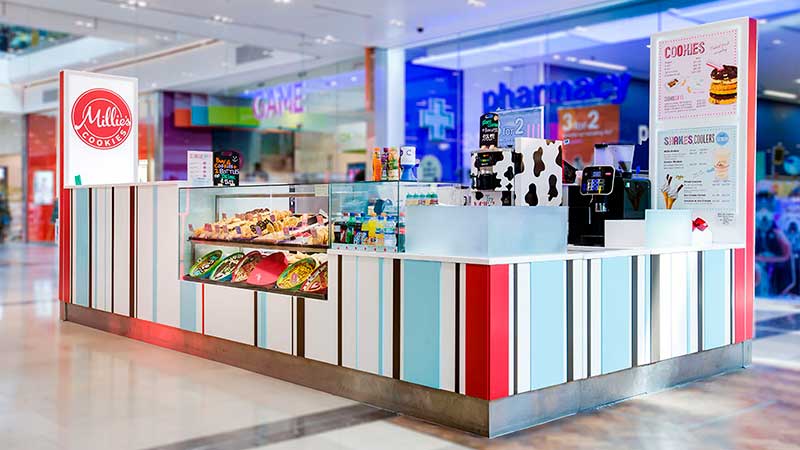 ---
Conclusion about bakery franchises in India
Everybody adores baked produce, like cakes, cupcakes, croissants, muffins, scones, and other tasty treats. So, opening a bakery franchise in India is always a great idea. The bakery industry has gained momentum in recent years. There exist many varieties of baked products that have appeared, and new flavors have been developed over the years. Thus, bakery franchise in India is a lucrative opportunity for entrepreneurs of all backgrounds. The investment required for the franchise specializing in the production of baked goods differs, but there exist offers for every budget. Research all information about the preferred brand, so you can invest in the business that provides all the opportunities that you are looking for.
View all bakery franchises
Browse franchises by countries

USA

India

Canada

The UK

Indonesia

The Philippines

Australia

The UAE

Saudi Arabia

South Africa

Germany

Pakistan

Singapore

Malaysia
Other countries
Want to advertise your franchise with us and successfully boost your business?
Please send us your request and we will get back to you shortly!
DIDN'T FIND WHAT YOU WANT?
ASK THE EXPERTS