Global Franchise Conference, 10 February 2021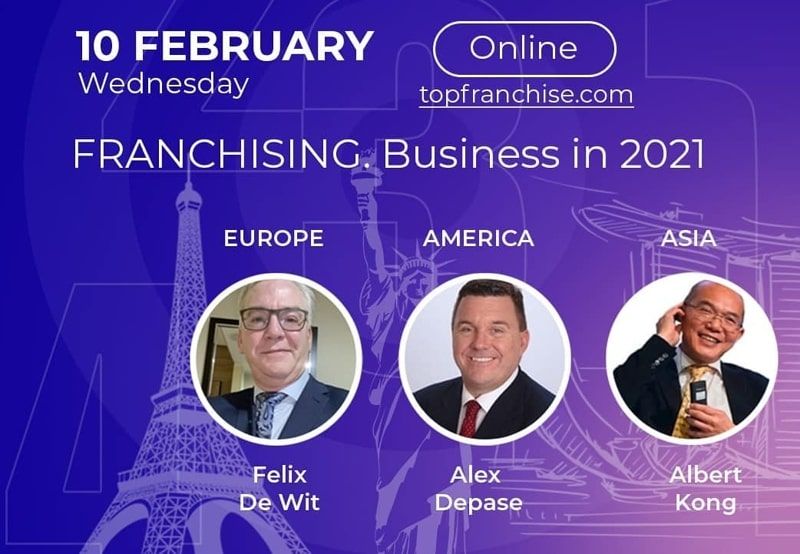 Franchising. Business in 2021.
February 10 (Wednesday).
From 11 AM (London time) / 7 PM (Singapore time).
Online.
Free Access.
Conference organizers: Topfranchise, global franchise marketplace.
The main themes
How to sell a franchise in 2021.
Strategies for achieving results in selling a franchise.
Europe. Asia. America. Overview of the market situation.
New Year trends.
Take 2 hours of your time to grow and learn about new opportunities connected with international markets, about which you will hear from interesting speakers, managers of their own franchises and experts in the field of franchising.
Conference headliners
Felix de Wit. Europe.
The ex master franchisee of the largest network of real estate agencies in the world REMAX. 1998 - 2008. Top Expert in European Franchising. Has built a network of more than 140 Franchises. Veteran. Major retired.
Alex Depase. USA.
Founder and CEO of Global Franchise Exchange. Founder and CEO of World Properties International Franchise - a network of over 150 Franchises. Veteran. Top expert in American franchising.
Albert Kong. Singapore.
Founder/CEO of Asiawide Franchise Consultants. Over 32 years of franchising experience, having helped over 1400 companies in Asia to develop franchise systems, with over 70 partners in 53 nations.
Conference host
Vasil Gazizulin.
Founder of the international portal Topfranchise. соm.
Greeting. Introductory data about the franchise market today. Features of the creation and promotion of a franchise in a crisis.
Join us!
February 10. (Wednesday). From 11 AM (London time) / 7 PM (Singapore time).
Conference partners: Global Ecxhange Franchise, AsiaWideFranchise.
The main objectives of the conference are to exchange the best business practices in times of crisis and to raise the morale of managers.
Another year of franchising is ahead. The viability and success of our companies depends on our efforts.
Participation is FREE, but seats are limited!
Pre-registration is required by the link:
Browse franchises by countries

USA

India

Canada

The UK

Indonesia

The Philippines

Australia

The UAE

Saudi Arabia

South Africa

Germany

Pakistan

Singapore

Malaysia
Other countries
Want to advertise your franchise with us and successfully boost your business?
Please send us your request and we will get back to you shortly!
DIDN'T FIND WHAT YOU WANT?
ASK THE EXPERTS