Veklich Device Franchise For Sale
Investment from:

1000 $

Payback from:

10 mon.

Turnover/month from:

40000 $
Successful medical business: the tools of success
A modern medical center is first of all a successful leader. Only a person with sufficient knowledge can bring the medical business to the leaders. Previously, a doctor's diploma was enough to run a clinic, but today it's just a drop in the bucket.
"The modern head of a medical center is a versatile person. Every day he or she solves hundreds of tasks: medical, legal, financial and organizational. Global trends dictate their own rules: continuous professional development in the field of management and marketing is an integral part of a successful business," – says Viktoria Veklich, head doctor of Ladisten Clinic.
Key management mistakes
Unfortunately, many chief executives continue to make mistakes, and the business is what suffers from this. The main shortcomings include:
ignoring of skills. It is a known fact that doctors are taught the longest among all professions. When a qualified specialist gets the opportunity to open his own clinic, he thinks he knows everything. But "to treat" and "to manage" are different concepts. To be a good manager, one needs to study in order to get additional knowledge. It is not necessary to receive a second higher education – courses, trainings and good literature would be enough. Developing the qualities of an organizer and a leader is the number one task.
lack of financial planning. The principle of "economics is our everything" is true for any kind of business. Medicine is no exception. Only at first glance, private clinics are making money hand over fist. Nobody takes into account the lion's share of expenses, but in case of an honest and high-quality business they are really enormous. These include equipment, salaries of the specialists and maintenance of the center itself. Financial literacy is a must.
lack of marketing. Together with management, a blind eye is turned to marketing. But advertising is always needed. Modern technologies and types of marketing can significantly increase the flow of patients. However, the executives don't hurry to allocate funds for them.
Trends in medicine
"Focusing on trends is one of the most important aspects for the medical business," – Viktoria continues.
Today, five main directions are distinguished:
Focus on the patient. A modern patient wants to receive an individual treatment plan, anonymous examination and high-quality treatment. It's not enough for people to just come to the clinic. They ask for comfort and appropriate level of qualification of a doctor.
Preventiveness. Precautions and prevention are the number one aspect in all types of treatment. Healthcare is now using this strategy. New rules are being developed on how medical staff should act in a given situation.
Use of digital technologies. This applies to all areas of medicine: diagnostics, information storage, treatment.
Storage and processing of large amounts of data. For each patient, separate electronic cards are created where all the information about the person, his or her diseases and physiology is stored.
Focus on important values. The key value is patient's health. Modern medical workers must make decisions based on each specific case. The same disease can be treated differently in different people.
The tools of success of Ladisten Clinic
Viktoria Veklich continues to share the secrets of a successful medical business:
"Over the years of work in Ladisten, I became not only a practicing orthopedist, but also a successful leader. It's not shameful for me to boast of this, because there is a huge amount of work, experience and lion's share of mistakes behind me. I can summarize the results of successful management in a few points ".
Work with the team. The leader works not "in the team" but "with the team". He must organize people, delegate authority to them and motivate them. Good professionals should be sent to professional advancement courses and taught new techniques.
Personal website. Advertising on the website and in social networks are the main directions in marketing. Constant promotion attracts new patients. Communication in social networks wins people over. They already know where and to whom they are coming. This narrows their choice among a wide range of clinics and doctors.
Orientation on the patient. Patients, not clients, are the ones who come to a medical center. Therefore, your task is not to "sell" them a service but to "treat". Focusing on a person's problem and development of an individual therapy plan are the main points in this strategy.
Proper planning of the center's work. This includes are all organizational issues – from schedule making and purchase of stationery to allocation of jobs between doctors.
New technologies. If you want people to hear about your center, you should introduce new technologies, invent and be innovative. This is the most effective advertisement that exists. A good option is selling franchises. For example, in Ladisten we have launched the sale of a franchise for the use of Veklich device. It not only brings additional income, but also makes an advertisement of the clinic, attracts new patients and partners.
"And of course, don't forget about global trends in healthcare. Stick to all 5 points, learn management, take bold steps and make decisions. Only in this way your business will be able to make its way to be among the leaders."
Learn more about Veklich device franchise
---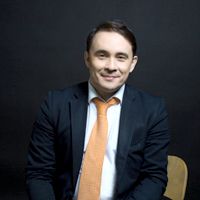 Written by
Vasil Gazizulin
Founder of Topfranchise.com
CEO Expedition 2009 - 2014
Author of a book «GROW WITH A FRANCHISE»
Want to advertise your franchise with us and successfully boost your business?
Please send us your request and we will get back to you shortly!
DIDN'T FIND WHAT YOU WANT?
ASK THE EXPERTS