The 10 Best Women Franchise Businesses in USA for 2022
Update: 12.11.2021
The pandemic had a negative influence on a lot of businesses in the USA. However, plenty of Women franchise companies have survived the challenges. Analyzing the list of the best companies operating in the field, we may assure you that it hasn't changed. Thus, the leading brands are still on the top in 2022.
Statistics shows that 11.3 million women owned their businesses in the United States which provided working places to nearly 9 million people some years ago. The number of women franchises has even increased this year. Franchising attracts women by the opportunity to have a flexible schedule, be independent and implement all their business ideas. Among the most popular women-owned franchises are senior care businesses, kids franchises, hair-care salons, fast food restaurants, and fitness franchises. If you would like to join business women community and run the business of your dream, take a look at the Top 10 list of Women Franchise Businesses in the USA for 2022.
Here are the top 10 best women franchise businesses in the USA
Red Mango
Founded in: 2006
Franchising since: 2007
Franchise units: 314
Initial investment: $193,500 - $466,000
Franchise Fee: $30,000
Royalty Fees: 6%
Red Mango is a frozen yogurt restaurant chain that focuses on serving natural, healthy frozen treats. The frozen yogurt choices are nonfat, and often rich in protein and calcium. At Red Mango, we know that our success depends on the success of our franchisees. That's why we make it one of our top priorities to provide outstanding support and training to all of our franchisees. At Red Mango, we truly enjoy helping our franchisees build strong, successful businesses and make a positive impact in their local communities. With more and more consumers realizing the importance of a healthy diet and lifestyle, there's never been a better time to own a Red Mango Yogurt Café Smoothie & Juice Bar franchise.
---
Executive Care
Founded in: 2004
Franchising since: 2012
Franchise units: 23
Initial investment: $99,650 - $169,900
Franchise Fee: $44,900
Royalty Fees: 5%
Executive Care is more than just a Senior Care company. We are a full-service home health care company serving clients from infants to seniors. Executive Care will give you the opportunity to leverage your motivation, drive and knowledge to move your personal career and aspirations forward and to make a real difference in your community. Executive Care is a franchise opportunity built on very strong core values and experiences. We know what works and what doesn't as well as the type of person best fit for our business. Executive Care has developed a comprehensive one-week instructional and hands-on franchise training program to guide new franchise owners every step of the way as they move toward opening their own Executive Care business.
---
Signarama
Founded in: 1986
Franchising since: 1987
Franchise units: 709
Initial investment: $110,013 - $295,520
Franchise Fee: $49,500
Royalty Fees: 6 - 2%
Every business needs signs. And there's no better way to tap into this lucrative $8 billion-plus market than with a Signarama franchise. Signarama is more than just a franchise print shop; we're our clients' marketing partner of choice. Our customers count on us for a variety of materials such as banners, tradeshow props, storefront signs, digital displays, vehicle graphics, color wrap film and more. There are many advantages to becoming a Signarama franchisee, and of them is our highly recognized comprehensive training program. We make sure you get off to the right start with all the tools you need to succeed.
---
Kiddie Academy
Founded in: 2000
Franchising since: 2006
Franchise units: 245
Initial investment: $400,000 - $4,869,000
Franchise Fee: $135,000
Royalty Fees: 6%
Investing in a Kiddie Academy franchise is more than a business venture. It's a life-changing decision serving the growing educational needs of young families nationwide. Kiddie Academy gives you the freedom to control your career and your future, and enables you to balance your time the way you want. As a Kiddie Academy Franchisee, you'll have the dedicated support of our full-time subject matter experts. Our experienced team will help you establish goals and give you the tools needed to achieve them. We're here for you every step of the way—from site selection to Grand Opening and beyond.
---
Kona Ice
Founded in: 2007
Franchising since: 2008
Franchise units: 1,048
Initial investment: $124,750 - $147,550
Franchise Fee: $15,000
Royalty Fees: $3,000 - $4,000 per year
Kona Ice is a mobile, Hawaiian-style shaved ice franchise based in Florence, Kentucky. We pride ourselves on our franchising process. When you decide you want to start your own business, we understand that you don't want to wait years to make that dream a reality. We can guarantee that we'll have you in business, generating revenue within 30-60 days of your deposit. This is an opportunity to own your own business and make a difference in your community. We want to be the company that can get you where you need to go. Don't miss this opportunity!
---
Right at Home
Founded in: 1995
Franchising since: 2000
Franchise units: 579
Initial investment: $79,250 - $137,900
Franchise Fee: $49,500
Royalty Fees: 5%
Right at Home was founded in 1995 by Allen Hager in Omaha, Nebraska. Unlike any other home care franchisor, Allen's background was in hospital administration. When you become a Right at Home Franchise Owner you can take pride in changing people's lives for the better. As you improve the quality of life for your clients, you achieve fulfillment in your everyday life as well. Join Right at Home, an international home care franchise with more than 500 locations serving tens of thousands of people every day.
---
Fantastic Sams
Founded in: 1974
Franchising since: 1976
Franchise units: 1000
Initial investment: $215,000 - $479,000
Franchise Fee: $30,000
Royalty Fees: $362+ per week
Fantastic Sams Holding Corp. is an American chain of full services hair-care salons in the U.S. and Canada. With 995 franchised locations at 2018 year end, it was the first nationally franchised unisex salon chain in the U.S. Fantastic Sams is affordable to start and simple to expand. Our long track record of success has attracted bank partners who have set aside funds to help franchisees start and expand their businesses. Our "manage the manager" business model makes it easy to own multiple locations. Training resources help employees build their skills, which expands their earning potential and the earning potential of franchisees by enabling high-end salon services.
---
Hardee's
Founded in: 1960
Franchising since: 1962
Franchise units: 2124
Initial investment: $1,469,000 - $2,061,000
Franchise Fee: $25,000 - $35,000
Royalty Fees: 4%
Hardee's is a quick-service restaurant franchise that is widely known for its charbroiled burgers, in addition to offering a variety of other American cuisine options. The chain operates as a subsidiary of CKE Restaurants alongside sister brand Carl's Jr. as well as concepts Green Burrito and Red Burrito. To qualify for a Hardee's franchise, you should be able to demonstrate $300,000 in liquid assets and a minimum net worth of $1,000,000. We have a team of franchise business consultants who will assist you with your business.
---
Elements Massage
Founded in: 2000
Franchising since: 2006
Franchise units: 245
Initial investment: $222,350 - $369,250
Franchise Fee: $39,000
Royalty Fees: 6%
Elements Massage® was born with a focus on connecting therapists and clients in a way that gives the client the most effective, personalized massage and that allows the therapist to provide a massage that matches their strength. It's this focus that propelled the brand to where it is today, more than a decade later. While industry and/or franchise experience is a plus, owners do not need industry or business ownership experience to bring the benefits of high quality, superior massage services to their community. We'll provide owners with all the operational training, support, and tools you need to open the doors of a new Elements Massage® studio.
---
Fitness Together
Founded in: 1984
Franchising since: 1996
Franchise units: 142
Initial investment: $143,600 - $258,100
Franchise Fee: $39,900
Royalty Fees: 6%
Fitness Together® is the premier, private-suite personal training studio offering clients a custom fitness and nutrition experience. The simple model is backed by a 20+ year track record of marketing and operations support. Founded in 1996, Fitness Together® was born out of a trainer's desire to take control of his future and fulfill his entrepreneurial desires. With over 140 franchise locations nationwide, Fitness Together® continues to inspire its owners and clients to propel their future and live their best lives. Own your own personal training business and benefit from joining a franchise company that has over 20 years of franchising experience and over 30 years of business experience.
---
Conclusion
To summarize, we can say any of the listed above women franchises is worth buying. But there is a lot to consider while choosing the best one for you. Pay attention to the reputation of the brand, what training and support are offered, check if the other franchisees are successful. But the main thing you need to do is to align your budget with investment requirements of the brand. In order to ease the challenge, we have made the comparison flowchart of the best women franchises in the USA for you. It shows the minimum estimated initial investment and initial franchise fee of each brand. By using it, you can figure out the difference in financial requirements for each franchise, and decide which one fits you the most.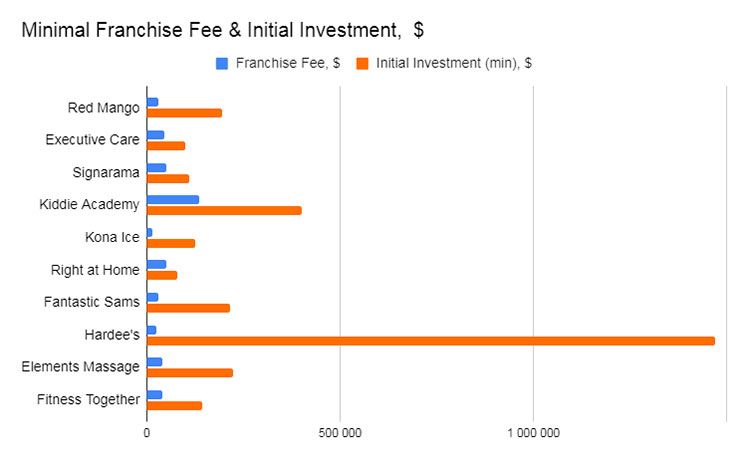 View all Franchises For Women
Want to advertise your franchise with us and successfully boost your business?
Please send us your request and we will get back to you shortly!
DIDN'T FIND WHAT YOU WANT?
ASK THE EXPERTS