The Top 10 Franchise Businesses For Sale in Florida Of 2022
Update: 16.12.2021
Despite a setback for a lot of businesses caused by the pandemic, the situation with the Top 10 Franchises in Florida hasn't changed much. If comparing the list of the leaders for the past years with the one for 2022, we will see the same brand names with not remarkable shift in the ranking.
Florida is considered to be the fourth largest economy in the USA. The state offers many significant perks for those who start their own business there. Florida is known for low taxes, high cost of the living, competitive labor market and tourism. Franchise opportunities in Florida are favorable, especially for businesses related to health and beauty, hotel, restaurant and home improvement services. There are many good franchises for sale in Florida, therefore it could be a challenge to pick up a business to run. While choosing a franchise, pay your attention to the brand with a good reputation and a proven business concept. Here is our collection of the best franchises to own in Florida.
Here are the 10 best franchises to own in Florida
Oxi Fresh
Founded in: 2006
Franchising since: 2006
Franchise units: 430
Initial investment: from $46,000
Franchise Fee: $40,900
Royalty Fees: $395 per month
Oxi Fresh is the frontrunner in the evolution of the carpet cleaning industry. Oxi Fresh carpet cleaning franchise's innovative technology and non-toxic, but powerful cleaning solutions, has won over hundreds of skeptics. Our rapid growth is due to both the result of providing a fantastic cleaning system and our commitment to our carpet cleaning franchise owners' success – giving you a perfect carpet cleaning franchise opportunity. We also offer tested and proven marketing campaigns that are ready to be used by our new franchise owners.
---
Fastsigns International Inc.
Founded in: 1985
Franchising since: 1986
Franchise units: 756
Initial investment: from $234,000
Franchise Fee: $49,750
Royalty Fees: 6%
While FASTSIGNS is known among businesses as a quick and reliable signage and graphics provider, we are known in the franchise industry for equipping our franchisees with the tools for success. Partnering with over 700 franchise locations, FASTSIGNS® is committed to franchisee success. We understand that the secret to our continued growth is the creativity, ambition, and passion our franchisees bring to the table. FASTSIGNS International, Inc.'s goal is to continue equipping them for success in all areas by providing exceptional resources and support.
---
Amazing Lash Studio
Founded in: 2010
Franchising since: 2013
Franchise units: 258
Initial investment: from $238,000
Franchise Fee: $39,900
Royalty Fees: 6%
Semi-permanent eyelash extensions have now become a mainstream part of beauty regimens for women around the world. Amazing Lash Studio is defining this beauty category and is the definitive market leader. Amazing Lash Studio is the industry leader in franchising, appealing to seasoned multi-unit franchise owners and novice franchise owners alike due to its consumer appeal, flexibility in ownership options, and franchise support from every step of the grand opening to each new level of business growth. Whether you want to be a hands-on owner or own several studios with managers handling the day-to-day, we have effective training, business intelligence, and support systems that create an environment for success.
---
Fitness Together
Founded in: 1984
Franchising since: 1996
Franchise units: 132
Initial investment: from $189,000
Franchise Fee: $39,900
Royalty Fees: 6%
We are changing lives by helping people set and stick to their fitness and health goals. Fitness Together® is not just another gym franchise in the fitness industry. Here, clients find their ideal custom fitness plan and owners change lives. As a Fitness Together® franchise owner, you will have access to ASPIRE8™, the proprietary Fitness Together® strength-training program that is not only customizable and results-oriented, but also sure to elevate any client's workout. Fitness Together® owners have access to progress assessment systems to support client's success and track improvement.
---
Pet Supplies Plus
Founded in: 1987
Franchising since: 1990
Franchise units: 343
Initial investment: from $440,000
Franchise Fee: $49,900
Royalty Fees: 2-3%
Pet Supplies Plus offers retail pet supplies and services such as grooming, self-serve pet washes and adoptions events. If you've always dreamed of owning a business that gets you out of the corporate rat race and lets you do something you love, Pet Supplies Plus is the opportunity you are looking for. As a Pet Supplies Plus Franchise Owner, you not only work with pets and fellow pet lovers, you are an integral part of the community. You'll love having the freedom and flexibility of ownership, backed by an experienced leader in the pet industry.
---
PuroClean
Founded in: 1990
Franchising since: 1991
Franchise units: 328
Initial investment: from $84,000
Franchise Fee: $55,000
Royalty Fees: 3-10%
Recognized as one of the fastest-growing franchises, PuroClean is a leader in emergency services, helping families and businesses overcome the devastating setbacks caused by water, fire, mold, and other conditions resulting in property damage. Our franchise owners follow a business-to-business and business-to-consumer sales model that paves a pathway to success in the recession-proof, multimillion dollar property damage restoration industry. As a new PuroClean franchise owner, you will receive three weeks of intensive training during New Franchise Training (NFT) at the PuroClean Academy.
---
California Tortilla
Founded in: 1995
Franchising since: 2003
Franchise units: 34
Initial investment: from $432,000
Franchise Fee: $40,000
Royalty Fees: 5%
California Tortilla is a unique fast casual Mexican restaurant franchise that serves "California style" Mexican food. Our Mexican food franchise business model proves that if you are hyper-focused on providing a high quality product and a great customer experience, then you will be successful. We're looking for individuals who share our passion for providing a best-in-class experience, products and customer service. Each year, we invite all of our Franchise Owners to a meeting of collaboration, motivation, best-practice sharing and system discussions to continue to improve our brand.
---
Elements Massage
Founded in: 2000
Franchising since: 2006
Franchise units: 247
Initial investment: from $313,000
Franchise Fee: $39,900
Royalty Fees: 6%
Elements Massage® was born with a focus on connecting therapists and clients in a way that gives the client the most effective, personalized massage and that allows the therapist to provide a massage that matches their strength. At Elements Massage® our franchisees benefit from the established and well-developed operating systems, ongoing training and innovation, comprehensive marketing support, strong vendor programs and a dedicated staff ready to support with individual needs.
---
Pinch A Penny
Founded in: 1974
Franchising since: 1976
Franchise units: 257
Initial investment: from $290,000
Franchise Fee: $50,000
Royalty Fees: 6%
Pinch A Penny offers pool and spa products along with pool service and maintenance for both residential and commercial customers. One of the hallmarks of running one of the best franchise business opportunities is offering a comprehensive training and support program to help prepare new franchisees even before they set foot in their new store. Once a store is open, we offer on-site help during your grand opening and have continuing education opportunities throughout the year to make sure that you've got all the tools you need to operate and grow your Pinch A Penny business.
---
Right at Home
Founded in: 1995
Franchising since: 2000
Franchise units: 643
Initial investment: from $82,000
Franchise Fee: $49,500
Royalty Fees: 5%
Join Right at Home, an international home care franchise with more than 500 locations serving tens of thousands of people every day. With Right at Home, you leverage your previous life and work experience with our business model to create a business that makes life better for families in your own community. You don't need previous business ownership or home care industry experience. With Right at Home, you will leverage your passion for serving others with our highly acclaimed training and support to create a business that makes a remarkable impact on your local community.
---
Conclusion
To summarize, we can say any of the listed above top 10 franchises is worth buying. But there is a lot to consider while choosing the best one for you. Pay attention to the reputation of the brand, what training and support are offered, check if the other franchisees are successful. But the main thing you need to do is to align your budget with investment requirements of the brand. In order to ease the challenge, we have made the comparison flowchart of the best 10 franchise businesses for sale in Florida for you. It shows the minimum estimated initial investment and initial franchise fee of each brand. By using it, you can figure out the difference in financial requirements for each franchise, and decide which one fits you the most.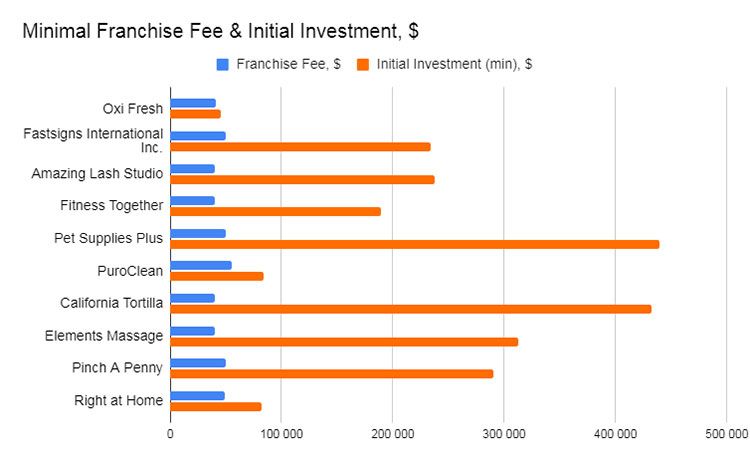 View all Franchise Opportunities
DIDN'T FIND WHAT YOU WANT?
ASK THE EXPERTS